Top 10 Best WordPress Design Themes – From Clean to Creative
WordPress is probably the most famous content management system (CMS) online. It is also the most flexible and user-friendly CMS on the web.
The best design theme for WordPress can make a website look so unique that you won't want to change a thing. But when looking for a suitable theme, you must think beyond the aesthetics. 
An excellent WordPress theme can also enhance your online presence by bringing a professional polish to your content while keeping the user experience fluid and easy to navigate. Here are our top 10 recommendations for the best WordPress themes to help you build your online presence.
If you need a website for your blog or your personal needs, you might search for the best WordPress design themes that you can find. There are many good ones to choose from regarding WordPress design themes, but if you want a website that can be highly attractive and professional at the same time.
We have compiled a list of the best WordPress design themes from various categories and platforms. So without further ado, let's start with the best ones.
GeneratePress: The Perfect Foundation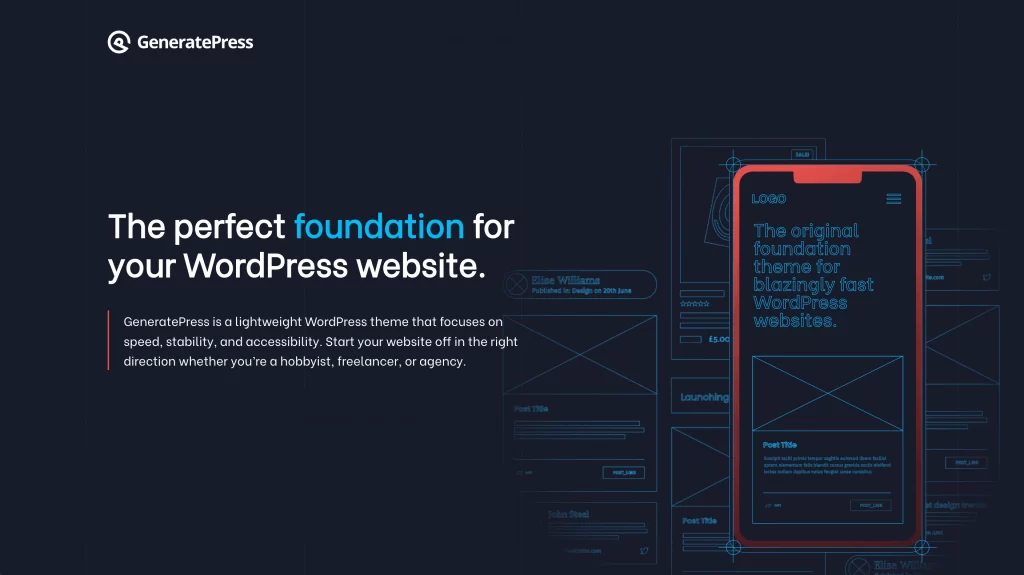 It's one of the most popular WordPress themes, rated by users with a five-star rating and over 400,000 active installations.
If you need a simple, clean and fast WordPress theme, then GeneratePress is the right choice.
With GeneratePress, you can create a professional website in just a few minutes. GeneratePress is light, simple and fast to load. It's perfect for beginners and experts alike!
Gutenberg is a powerful content management system allowing authors to create and manage pages easily. The block editor allows authors to create and edit content blocks. It works with the block editor in WordPress and other themes.
It does this by providing tools for building blocks (such as images, headlines, and text) and assembling them into pages. This lets you manage the content of your website in a way that allows you to build more pages than would otherwise be possible.
GeneratePress is a suitable theme for you if you use a page builder. It provides much of the functionality you'd expect from a page builder and includes several unique features.
The WooCommerce integration makes it compatible with all well-coded plugins and ensures full functionality.
GeneratePress is a fully responsive WordPress theme that uses the power of HTML5 and CSS3 to deliver a stunning visual experience on all devices. It also comes with many translations to be adapted to all languages.
The premium theme has powerful features like 60+ colour controls, dynamic typography, dropdown menus, and five navigation locations. Additionally, there are five different sidebar layouts and nine different widget positions. All these widgets can be easily adjusted by simply clicking on them.
You'll have to purchase a license to unlock the premium plugins. The premium plugins are a set of add-ons that give you access to cool new features, including the ability to change the site's colour scheme and add custom CSS and HTML to any site page.
The Site Library contains beautiful pre-built sites to help you start projects. You can add your content and easily modify the template. Each site is already optimised to provide the best experience for your visitors.
For a low cost, you can upgrade to a premium membership. This includes access to their priority support forums and free updates for the license duration.
Astra: Ideal for Beginners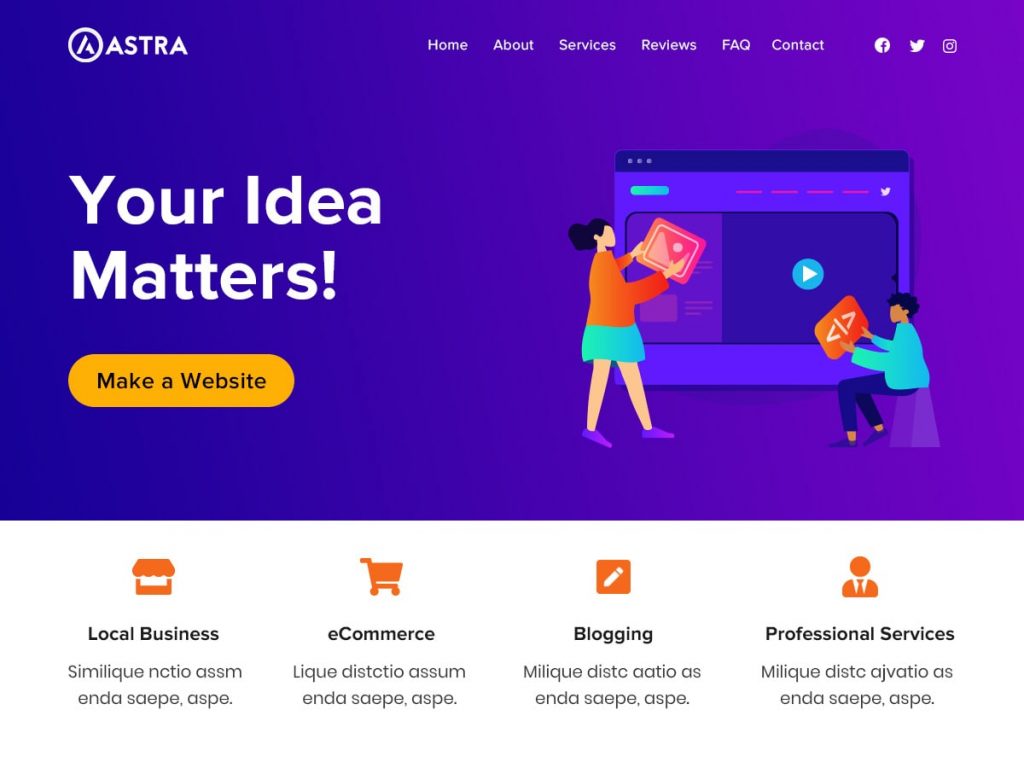 Astra is a gorgeous WordPress theme that is perfect for any creative business!
The theme features a modern, minimalist design. The front page of your site is packed with lots of great content. It includes a drag-and-drop page builder to help you quickly build and customise your site. It comes with pre-installed features like Google fonts, WooCommerce, Revolution Slider, and more.
The free version of this WordPress plugin is currently being used on over 1 million websites, and it offers a great range of features for customising your WordPress theme.
The plugin allows you to create custom buttons, backgrounds, typography, and more for your site. It includes a drag-and-drop element tool, allowing you to quickly drag and drop widgets onto your website.
Astra isn't just a new template, however. It's a complete overhaul of the underlying WordPress core, making building a website and adding features much more manageable. Astra uses fewer resources than other alternatives, making it a great option if you want something fast and easy to use.
Astra includes more than 30 free pre-made layouts that you can use to get started. You can use these layouts to create any website, including blog pages, landing pages, eCommerce sites, etc.
The theme also offers more than 80 pre-made blocks that you can use to customise your site further. You can choose from various block types and layouts, including content, headers, typography, navigation, widgets, sliders, galleries, and more.
Astra is an excellent platform for website owners to create professional-looking websites without knowing how to code. The more features and functionality they add, the better the service becomes. I like that Astra is offered at only $59 per year — as this price makes it much easier to switch between different themes.
Astra allows you to create responsive websites that look amazing on any device. You can also create full eCommerce stores, create membership sites, or even start a blog within Astra.
Divi: Complete Design Framework
Elegant Themes is a company known for developing WordPress themes designed to suit any website you might want to build with WordPress. Divi is one of their best-selling themes. It's a multipurpose theme you can use to build any website.
Divi is a powerful, customisable, and affordable drag-and-drop page builder. It allows you to create beautiful websites quickly and easily without knowing any code. Web admins highly rate the software.
The Divi Builder is a plugin allowing you to create pages and sections easily. It is compatible with almost all modern web browsers, including Chrome, Firefox, Safari, Opera and Internet Explorer. The Divi Builder allows you to create multiple columns and access various background options.
You can easily create different page designs with a single click. The Divi Builder is straightforward to use. All you need to do is click the "Add media" button and drag and drop the images to where you want them to appear. And you are ready to go.
The Divi Builder allows users to create a fully customisable site without coding knowledge. Its drag-and-drop functionality makes the process incredibly easy and allows designers to manipulate every aspect of the site easily.
Over 60 pre-designed content templates are available for the Divi Builder, and you can easily customise them. The Divi Builder also has a gallery builder that lets users add pictures, videos, and other media to a website.
After being built, the Divi Builder user experience differs significantly from the default WordPress one. Due to this, you'll need to learn a new way of working to get the most from the page builder. The learning curve is rather steep, especially if you want to master the Divi Builder UI. The Divi Theme includes a comprehensive tutorial, video, and written instructions.
With Divi, you can choose either lifetime or one-year access. However, there's a price difference. You should get lifetime access to continue getting updates and support after your Divi membership expires. On the other hand, if you want to try out Divi but don't want to commit to the subscription, you should opt for the one-year access.
You can buy Divi at two prices: one-year access for $89 and lifetime access for $249. Both versions of Divi offer the same features. The difference is that the one-year access does not provide access to any additional themes or plugins. If you choose the one-year version of Divi, you can only download one of the three main themes available.
If you go for lifetime access, you can download all three Divi themes. If you buy Divi one year later, you can upgrade to the new version of Divi to access the new themes and plugins released after your initial purchase.
Hello Elementor: Fast & Stylish
Hello, is a minimalist, fast and lightweight WordPress theme optimised to work with Elementor. 
When you use Elementor on the Hello theme, you don't have to worry about the theme getting in the way of your beautiful design ideas.
This plugin is primarily designed to be a responsive WordPress theme. It works great for almost any website, including business, portfolio, eCommerce, and blogs. It is a very flexible theme with many features that allow it to be customised.
In addition, it is fully responsive, so it looks great on every device, from phones to tablets to desktops.
Because of the low amount of code by default, Hello Elementor may just be the best WordPress theme for Elementor.
The minimalistic design makes it easy to create beautiful websites without being distracted by unnecessary features. Hello supports Elementor and the new WordPress editor, making it easier for web developers to use.
It provides a simple way to create web page elements. They have been used for years by professional web designers to create visually stunning web pages. With the release of the Elementor plugin, Hello now makes it easier than ever to use the product on any kind of website.
While it works fine with the free version, at the end of the day, Hello Elementor feels more like a theme for Elementor Pro.
We understand that not everyone wants to use Pro. However, we thought it would be good to clarify that the free version is designed for people who use the Elementor plugin but doesn't include the Pro features.
There are many different elements involved when choosing a WordPress theme. Some are very personal, so it's hard to say what suits you without knowing your needs. The final choice will always depend on what project you're working on and your personal preferences.
If you're looking for a great starter theme, Hello Elementor is a great choice. It's great for most websites that use Elementor. However, if it's unsuitable, you can opt for the three best Elementor themes above. They're all great, and they're all free.
Blocksy: Based on Gutenberg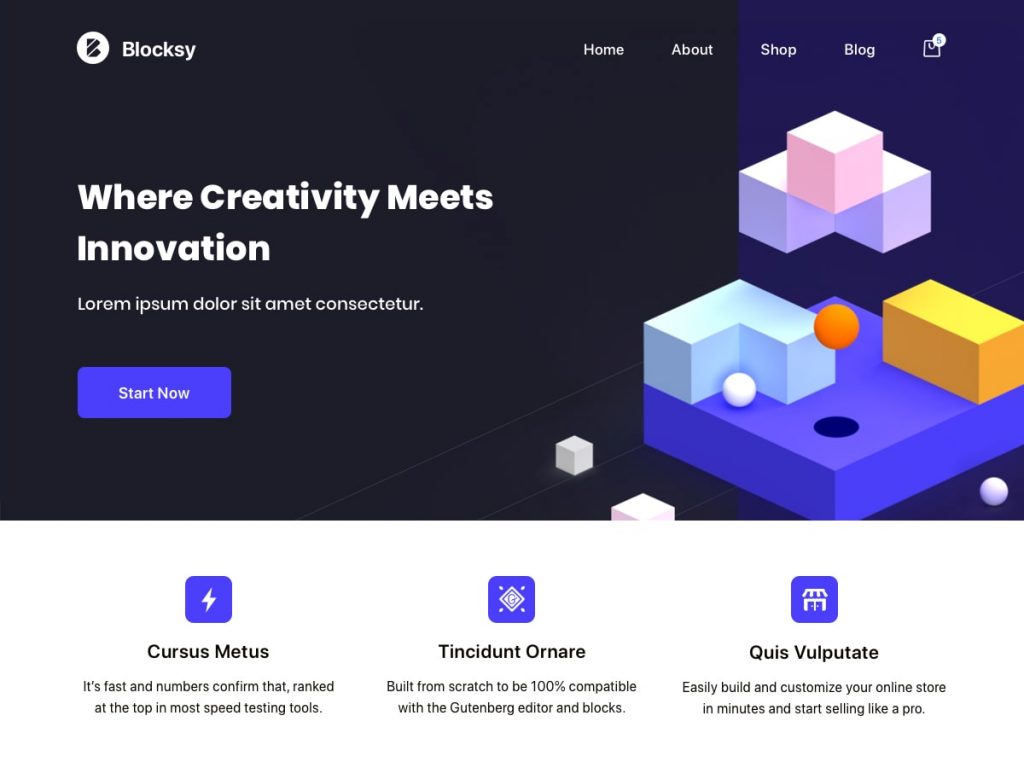 Blocksy is an excellent tool for anyone who wants to add a modern, clean and elegant look to their website. It also gives you plenty of flexibility, so you can easily customise your new website's layout, colours and fonts.
The blocks in the theme are easy to customise, and there are many options for you to change and alter to get precisely what you want. You can even create unlimited pages and posts in Blocksy, which is perfect if you have lots of content to show off.
Blocksy also comes with several page builders and shortcodes, making building and editing your pages a breeze. It also offers a massive range of shortcode options for you to use in your templates, including a sticky menu, full-width slider, contact form 7, etc.
You can use this theme for various purposes, including websites, eCommerce, portfolios, blogs, business, portfolios, etc.
Blocksy is an excellent tool for a WordPress developer. It allows you to create multiple layouts from a single page. It does so by allowing you to choose from four different page types:
A single post layout
A featured post layout
A single-category layout
A portfolio layout
These layouts are great for WordPress bloggers who want to create a professional look for their blogs. You can also use the pages to display a blog's content.
For example, a WordPress blogger could have a single page that showcases a recent post. They could also use a single page to showcase their categories and another page to showcase a portfolio.
The best part is that you can create these pages from one page. So if you'd like to create a custom template, it's as easy as choosing the correct page type.
Blocky is one of the more recent themes to enter the market, and while it has already proven itself to be a success in the marketplace, there are some real advantages to it over its predecessors.
The theme's installation is a breeze, and it is also straightforward to customise it. There are many ways to configure Blocky, and the possibilities are endless.
Genesis: Open-Source Framework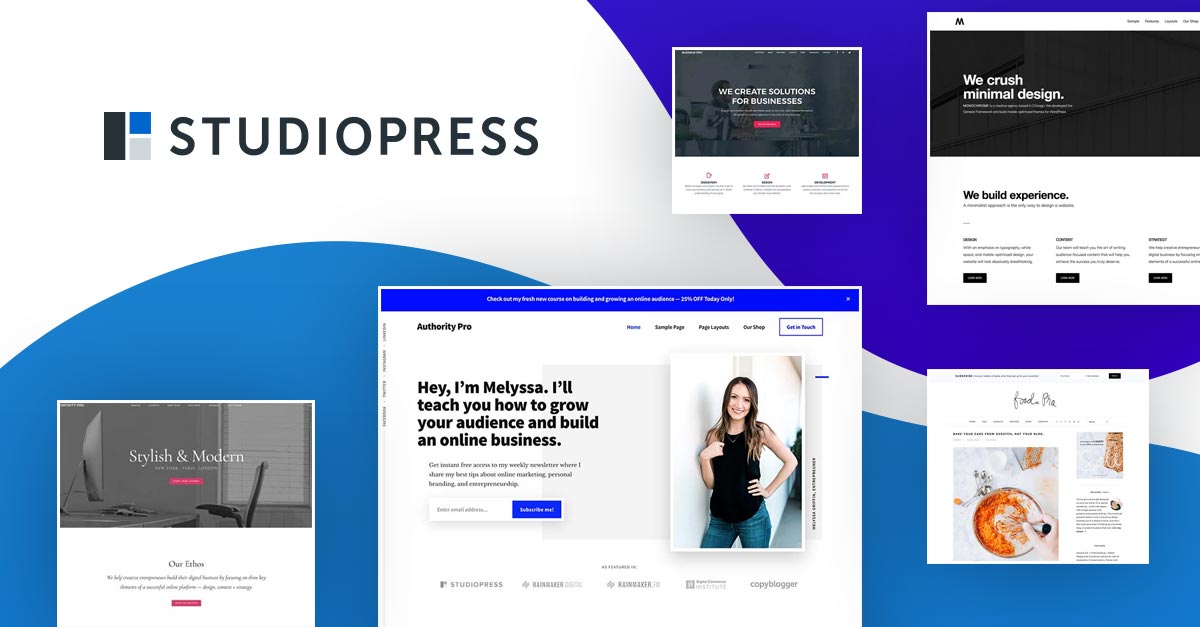 The Genesis Framework is a powerful theme that makes it easy to create professional websites with WordPress. The Genesis Pro package is a more comprehensive solution and offers you access to 40+ themes. If you want to host your website on WP Engine's servers, you'll also get the company's services and the support, security, and optimisation that come with this hosting.
When using Genesis, you can opt for rich snippets and Schema microdata. Both offer Google, Bing, and Yahoo users more information. This includes title tags, meta descriptions, and image alt tags. This will help Google understand your site better.
Given the high professional level of the developers, the code is quite resistant to hackers. Once there's a new version, your theme will automatically update if you've set it up. Due to the clean code used, no errors occur in the design after an upgrade, which is often the case with many other themes. Many themes also have code prone to be hacked, and here you can guarantee that this will not happen, primarily if you use their perfect WP Engine.
Four options are available for web admins and bloggers just beginning to get started in the blogging world. The cheapest one is to use Genesis Framework with its Open Source theme. This costs $59, and you can compare this with Astra or Generatepress, which are very fast, relatively light, and trendy themes. For more professional bloggers, the second option is to select a specialised theme.
The cost of this is usually around $99 to $129. The third option is Genesis Pro, which gives you access to all 40 themes, and you can build as many sites as you want. You can also pay $360 per year. The final option is WP Engine; with this, you are on their WordPress-specialised server with your websites and have nothing to worry about.
Kadence: Lightweight
Kadence is a multipurpose WordPress theme available for free download and includes a pro version that enables you to get more creative and productive.
Kadence is not just a powerful WordPress theme. It also includes a free plugin called "Kadence Blocks." One of the most remarkable features of this particular plugin is that it comes with a fully functional free version. The most outstanding feature is that you can build any site you want.
If you're looking for a responsive, lightweight WordPress theme to help you make a great first impression on your visitors, you've come to the right place. Kadence is one of the best free WordPress themes around. It loads quickly and comes with many customisation options, making it easy to turn your site into what you want it to look like.
At first glance, the free version of Kadence may seem less capable than the pro version. However, while the free version of Kadence is competent and will meet the needs of many users, it's not the most comprehensive theme in its class.
With Kadence, you get an all-in-one solution for designing any website. Whether you need a blog, a corporate website, a portfolio, or anything else, Kadence makes it easy.
The best thing about this theme is that it includes several pre-installed features that make the experience of building your site straightforward. Select a layout, add a few elements, and start building.
While Kadence is an excellent theme, it has some limitations. For starters, it doesn't support responsive web design. The website will be less than optimal if you use the theme on a mobile device. In addition, the theme is missing a few basic features. For example, it lacks Google Fonts, which means you won't be able to add custom fonts to the site.
Kadence also doesn't provide an option for a sidebar. While you can add one manually, it's not intuitive and a little tricky for beginners. Overall, Kadence is a great theme. It does have some limitations, but it's worth checking out anyway.
OceanWP: Free, but Pro Features
OceanWP is a modern popular WordPress responsive theme with over 700,000 active installations when writing this.
OceanWP offers both free and premium versions of the theme. Both have the same features.
The premium version includes additional features such as unlimited colour options, custom widgets, sliders, headers, and footers.
The WooCommerce integration in OceanWP is fantastic. Thanks to many WooCommerce tweaks built directly into the platform. For example, it has an integrated shopping cart popup and a shopping cart floating bar. It also features a quick-view mode that allows customers to view products without leaving the page.
OceanWP has a large selection of pre-made demo themes. They're great for a site that needs a quick makeover and doesn't want to spend much time tinkering with things. The quality of the demo themes is excellent.
The range is comprehensive, from a simple blog theme to a multi-functional website with a store and an eCommerce portal. The themes are organised into categories, with most coming in one of five colour styles.
The demo themes offer everything a typical WordPress user would require regarding functionality. They include a customiser, widgets, shortcodes, a powerful and flexible editor, and a wide array of page templates and content types.
Neve: Superfast Design Themes
Neve is a theme that provides a quick and easy way to build a website. If you're new to the WordPress platform or want to build a new site quickly, Neve might be the perfect theme.
The first thing you must realise about Neve is that it's not as big as you might imagine. If you compare it to WordPress, the installer weighs nearly 200KB. Neve is a slim and light platform capable of running WordPress. Neve comes as a single PHP file with no dependencies.
Neve is a handy tool that lets users quickly and easily create and edit websites without programming knowledge. With an intuitive interface, you can customise your site's look and feel, header, style, etc., in just a few clicks. With its native support for Google AMP, Neve goes beyond being merely responsive, focusing on mobile-first design and even baking to support the Google AMP.
If you want to create a fully-functioning web page without technical hurdles, you may be better off using one of the pre-built demo sites available in WordPress. But if you want to build your own from scratch, Neve is an excellent choice. Both versions of the Elementor demo sites feature a Gutenberg-based editor.
Neve is one of the newer WordPress themes that focus on giving you a lightweight, customisable foundation and integrating with WordPress page builders like Elementor to control the actual content of your pages.
Neve is a fast, lightweight theme that makes creating pages quick and easy. It has tons of options to customise it to your liking. The Optimole plugin makes it possible to edit and preview the page quickly.
It also has its custom header and footer builder, so you can quickly create awesome-looking headers, footers, and content boxes. The Pro version unlocks even more options and functionality for your site.
Storefront: Official WooCommerce
Storefront is a free WordPress theme developed with a minimalist mindset. You can use it for various purposes, including building a simple business site, a portfolio, or a blog. The theme also has many great features that allow you to build almost anything.
With the help of the WordPress Theme Customiser, you can easily modify colours and see changes in real time. However, if you want to modify or create your logo or header, you must do this manually. If you want to modify the site's functionality or add new functionality, you'll need to purchase the Storefront Powerpack plugin. The developers of the Storefront theme will appreciate that the core functionality of their product can be extended using Hooks.
Storefront is a free WordPress theme with a range of features. It provides a clean, modern, minimal and responsive design that helps you create a robust online store. The Storefront also includes several premium options that can add a unique and professional touch to your online store.
For example, there's the Storefront Revolution Slider, a powerful and fully customisable sliding image slider that you can use to display your products and services. Also, Storefront has a built-in shortcode generator that helps you quickly and easily generate custom shortcodes.
With Storefront, you can also use the popular WooCommerce plugin to power your store. With various plugins and themes available, you can use Storefront to power your store with the theme of your choice.
Although free, Automattic provides a wealth of resources to support the Storefront theme. There is a documentation area explaining how the theme works, a discussion board for submitting feature requests, and a WooCommerce help desk to assist with any WooCommerce issues. For everyone else, the support forum on WordPress.org offers an excellent resource.
Hestia: #1 Multipurpose Theme
Hestia is a popular theme from Themeisle. The theme is available in five styles and optimised for all screen sizes. Its clean and minimal design is perfect for various websites and blogs. Hestia comes with a large selection of shortcodes that make adding advanced functionality to your site easy.
The theme is highly responsive and looks good on any device. It supports the latest WordPress version, which makes it easy to upgrade. A massive bonus of this theme is its wide array of support. Whether you're looking for help customising the theme or want to know if there are any issues, you will likely find the answers here.
The basic concept behind this theme is not particularly original. However, the theme offers a free version and a premium version. Additionally, there is a free version of this theme for WordPress users and a premium version for those using WordPress.
Hestia Pro is fast and very responsive, and it's something to consider if you want a high-performance experience. But there are a few things to note: this results from testing Hestia with no plugins. This will change depending on what plugins you add to the backend.
Hestia Pro is an excellent choice if you're looking for fast, high-performance WordPress design themes. But, there is a trade-off in performance. Hestia Pro is not the best approach if you're looking for a setup with many plugins.
Hestia is beneficial for anyone who needs to create a website. It provides an excellent template; you can add your content to the site. You can also choose to have the content automatically created and even your domain name associated with the site.
Hestia is a paid service with a free version that lets you create small businesses and personal websites.
Conclusion
You must know which themes you want to use to build a new website from scratch. They will determine the look and feel of your site and which options you have available to customise it to your liking. I prefer clean, modern and elegant themes, but some excellent free WordPress themes exist. Check out these ten best WordPress design themes and find the best one that suits your needs.
Whether starting a personal blog, building your portfolio or creating a website for your online business, you need a clean and beautiful WordPress theme. These themes make it easy to set up and get started.