Startup Branding Tips – A Logo Design Guide for Startups
What's the first thing that people see when interacting with a business? What element makes a brand attractive, relatable, and (perhaps most importantly) memorable to its target audience? 
It wouldn't be wrong to argue that it's a great logo design.
The first time a potential client interacts with your brand – whether on your website, through your social media profiles, or at a brick-and-mortar location – they're likely to walk away with a first impression. 
And, it turns out that first impressions hold much power over how potential clients think of your company in the future.
With that in mind, you should aim to create the perfect startup logo design, which will help the branding of your startup business.
This expert guide will give you the steps to achieve this.
Let's take a look.
Why Logo Design Matters
Before we go into a step-by-step guide on how you can create the perfect logo for your startup business, it's not a bad idea to reflect on the reasons logo design matters as much as it does.
Yes, we already mentioned that having a well-made logo helps create a stellar first impression. But that's not all you stand to gain by making good design choices.
For one, research shows that logs make for the most recognisable brand identifiers, with as many as 75% of people stating that it helps them recognise a brand (followed by visual style, brand colour, and unique voice).
Secondly, logo recognition plays a significant role in ensuring conversions. According to Finances Online, a recognisable logo will prompt as many as 50% of consumers to shop from a brand.
On the other hand, a bad logo can cause as many as 60% of potential customers to seek other shopping options.
Last but not least, it's good to remember that some design choices go a long way in presenting your startup in a positive light.
Elements like colour, typography, and even the type of your logo, can all communicate messages that will resonate with your target audience.
Therefore, investing in a stunning logo for your startup business should be on the top of your list of to-dos when considering branding.
Types of Logos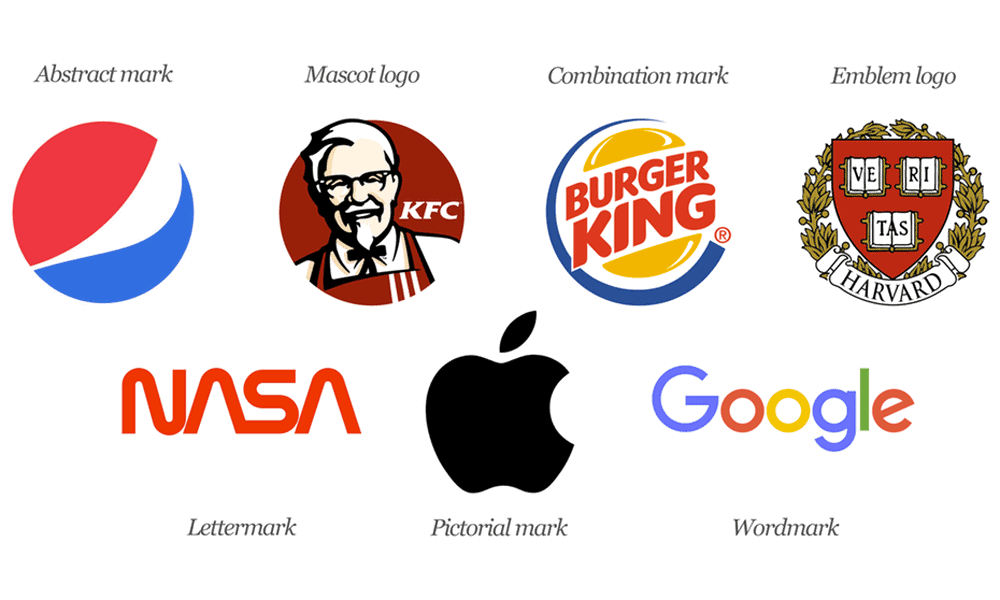 Now that you know why you need a great logo for your startup business, it's time to understand the different ways to approach logo design.
You see, not all logos are made equal. While they all serve the same purpose, the type of design they utilise significantly impacts how they resonate with a brand's target audience.
On the whole, there are seven types of logo design:
1. Abstract
2. Mascot
3. Combination mark
4. Emblem
5. Letter mark
6. Pictorial mark
7. Wordmark logo design
Each of these types has its pros and cons. But, the thing is, today's design tendencies allow for a blurring of lines.
Brands can combine types and styles, as long as they do it in a way that's consistent with the impression they wish to leave on their audience.
Let's do a quick overview of the seven types of logos.
Wordmark (Logotype)
When picking a logo for your startup brand, the simplest solution will always be to use the wordmark or logotype style.
Based on your company's name, these types of logos will allow you to drive brand recognition much faster than any other kind.
Think about companies like Google or Coca-Cola, or Ford. All of them use the name of their brand for the logo. And, it works, seeing as they're some of the most recognisable brand representations out there.
The great thing about wordmark logos is that they're pretty easy to use and, when necessary, adapt. Plus, they make the perfect choice on busy sites where abstract or pictorial logos may get lost.
Letter Mark
If your company name seems like going a bit too far (or if it's simply too long), then you might want to go with a letter mark logo for your startup.
Usually, using a brand's initials and letter marks (also known as monogram) logos ease brand recognition and overcome obstacles caused by prolonged or complex company names. 
Think about it, what's easier to remember: H&M or Hennes & Mauritz?
Pictorial Mark
While for many brands, using their name or initials seems like the perfect choice when designing their logo, for others, there are better ways to drive recognition. More often than not, they come in the form of images.
The human brain is hardwired to process visual information faster than text. And, if a brand can use a picture instead of a word, that's probably the better choice.
Another advantage of using a pictorial mark is that it can do an excellent job of making your brand name more memorable. For example, it's only natural for a company like Flamingo to use a pictorial logo instead of relying on words.
After all, there's no better way to describe a flamingo than to show it. Plus, by using the image of the animal, the design team gained a unique opportunity to utilise an already existing colour palette that would make the entire website creation process much more manageable.
Abstract Logos
For brands who feel like what they're about can't be described with words or images and requires a feeling instead, abstract logos make for a great choice.
Not only are these highly stylised representations of a brand's identity, but they're also some of the most creative ways for brands to describe themselves.
Plus, they can make a great asset when designing merchandise, exploring alternative distribution channels, and examining new ways of grabbing audience attention.
An excellent example of an abstract logo in action comes from the fashion brand Organic Basics.
Using two types of logos on its channels, this company usually goes with the abstract version when it needs an effective way to capture attention, like in the Instagram post below.
Mascot
Think about consumer perception of most brands. You'll quickly realise that most organisations come off as no more than businesses only interested in making money.
And naturally, this creates many obstacles when trying to appeal to audiences. After all, people don't want to support brands that are after profits. 
They want to support brands whose values they relate to and whose mission they find consequential.
Therefore, if your objective is to humanise your startup brand and make it more relatable, using a mascot logo is not a bad idea.
Mascots are a great branding tool because they represent the personalities and values that a company wants to display.
Moreover, they make it slightly easier to pull off a unique voice and provide a face and name to support a brand's claims.
For a great example of a startup using a mascot logo, check out Ad Badger. Not only does this company use a mascot to represent its name visually, but it goes a step further on its about page, where it lists the traits of badgers its clients should aim to have: fierceness, decisiveness, cunningness, sharpness, and wits.
Emblem
Looking to hint at tradition or establish authority? In that case, your best bet will be to go with an emblem logo.
Inspired by traditional family crests, these types of logos use slightly more intricate designs that look vintage and evoke a sense of nostalgia.
Think of the Starbucks siren as one of the most famous examples of an emblem logo.
Combination
As you can see, each of the previous six types of logos has its advantages and branding benefits.
But here's the thing: today's markets and distribution channels have high demands from organisations that want to stand out.
This is why so many brands nowadays opt for combination logos.
Whether it's a mix of wordmark and abstract design, like Spores or Mozart Data, or a wordmark coupled with a mascot (think Lacoste), this is an excellent path forward for most brands.
Not only is it versatile, but the combination logo also offers advantages to those who want to trademark their logotype, seeing how the combination of text and images makes for a unique whole.
Logo Design Guide for Startups
Now that you know the seven types of logos and what effect they achieve best, it's time to start planning the perfect logo for your brand.
Generally, the best way to approach logo design is phase-by-phase.
This will allow you to consider each element of your brand's identifier (and what messages it communicates). 
But it will also prevent you from becoming overwhelmed by a task that under no circumstances is an easy one.
So, let's get down to business.
Start With Your Brand Identity
The best way to come up with a winning logo for your startup is to pause and think about all the things that define your brand.
Ask yourself the following questions:
What is your mission?
What user needs do you aim to answer?
Who is your target audience?
What are your core values?
What impression do you want people to leave after interacting with your brand?
Once you have the answers to these questions, you can start making design decisions. The critical thing will always be to ensure your choices reflect your answers to those questions.
Analyse Your Competitors
Once you have pinpointed the effect you wish to achieve with your logo, it's time to look at the other businesses in your industry.
Essentially, you want your logo to stand out from the crowd in a sea of logo designs.
The main idea of a logo design is to distinguish yourself from your competitors.
You can consider the following two tips to decide on an excellent design for your logo.
First, compare different brand names in your industry that are the most popular.
Look at the complexity or simplicity of the designs.
Are they clean-cut or made up of intricate lines and drawings?
Identifying design tendencies will not only inform you of the preferred choices among your competition. But, more importantly, they'll tell you what you shouldn't do if you want to make a splash.
Secondly, look at competitors that think outside the box.
For example, Apple could have had a computer as their logo. But instead, they chose an apple. 
Does your current brand name allow you to have a twist on what your logo could be?
Don't be afraid of playing around. After all, a different visual identity will only aid you in grabbing consumer attention.
Keep in mind that some industries won't be as suited to experimentation. If you're in law, insurance, or healthcare, you will do much better if you go with something traditional than bold.
When In Doubt, Choose Simplicity
Many marketers make the mistake of thinking that a great logo design has to be intricate. But that's as far from the truth as possible.
Some of the world's most recognisable logos aren't much more than a wordmark or simple pictorial.
If you're willing to keep your logo simple, start with your brand's name.
Chanel's brand name, for example, is simply the name of the brand.
Nothing more.
This works exceedingly well to carry across a luxurious feel due to the black block letters.
Simple elegant, and it represents the brand well.
Why not do the same? Start with the name and change the colours. If this does not feel right, start by adding an image around the name.
Don't be afraid to experiment with a few ideas. Who knows, you might just come up with the next big thing.
Or Show Off Your Wit
If you are inventive enough, you can choose to be clever with your design.
As seen from the example below, this brand chose an intelligent solution while keeping the design simple.
This design is for a golf course, yet the play on words is mimicked in the design.
At first glance, it looks like a Spartan warrior, but on closer look, it is a golfer.
This design choice is an excellent way to deliver a unique and fun brand name. But it also allows for a combination of creativity and professionalism.
Does your brand name allow you to do something like this? Think about it and give it a try.
Pick a Colour Palette
Colour is vital when designing your logo.
The colour is one significant part of the visual appeal, which helps to draw in your key target audience and makes the logo memorable in their minds.
However, before you choose any colours, there are some key points you need to remember:
Make sure the colours you choose complement each other well.
Verify that the tone mimics the feel and voice of your brand.
In life, colours represent certain feelings and voices.
The colour you choose should reflect what you want your audience to feel.
Here's a guide on the colour and the overall feel some colours can represent.
Green
Organic, growth, instructional, finance, money.
Red
Sexy, energetic, bold, and creates a sense of urgency.
Yellow
Inventive, optimistic, youthful and happy.
Orange
Creative, friendly, and used for calls to action.
Blue
Medical, trustworthy, tranquil, professional.
Purple
Wise, spiritual, evocative, used to build trust with women.
Pink
flirty, fun, romantic.
Black
Power, luxury and credibility.
White
Pure, clean and simple.
Brown
Steady, historical and rural.
When matching colours for your logo, keep it at a 2-3 colour maximum.
If you look at some of the most famous logos, they only use a small number of colours.
This helps to not only draw attention to themselves. But, it also helps them be memorable and easy to identify.
Think About Balance
Logos that work well for startup branding purposes are those that are balanced correctly in their design.
Proportion is everything if you want to have a well-designed logo.
When considering the balance of your logo design, here are some questions you should ask yourself:
When looking at the finished design, does it feel weighted on one side? 
Do you feel that the design is pulling you to the one way all the time?
Does the design fit well into the shape you have it in? 
Or does it appear too big or too small?
An unbalanced logo design will tend to feel like drawing to one side.
To fix this, you may need to work out a few ways to move the design on the shape. Or, add an image that helps to even out the symmetry of the design.
The Apple logo is a creative example of a well-balanced logo.
Choose the Perfect Font
For any logo, you will have some form of lettering.
This lettering needs to stand out and give your logo and brand the voice you are after.
However, how do you know which type of font to use?
To find out the answer to this question, you need to ask yourself a few questions:
What is the voice you are looking to achieve for your brand? Examples: professional, casual, mysterious, feminine, romantic, etc.
How many letters are you placing on the logo?
It's a good idea to experiment with a few fonts before choosing one. At least until you get a sense of the best one for your brand name, some font types offer different voices all on their own.
For example, compare the font on the Skillcrush logo with that used by Harvard Business School.
You'll immediately see a massive difference in the typography.
You see, while Skillcrush aims to be approachable and casual (plus, the company focuses on women as its target audience), HBS, on the other hand, is establishing its tradition and authority by using a vintage-looking font in a sombre black colour.
As you can see from these examples, different fonts give off different voices. You cannot ignore this when searching for the perfect font for your logo.
And this is why experimenting is so valuable. It helps you find a suitable font to bring life to your logo.
Letter Size
The size of your lettering is also critical when building your logo from scratch.
The logotype should be big enough for your audience to see but not too big that it distracts from the rest of the logo.
This helps create an even structure across the logo without being unproportioned.
When deciding on a lettering size, it is essential to use your judgement as some lettering sizes may not work for your logo design.
So, keep this in mind.
If you are unsure of a size you have chosen, don't be afraid to ask for a second opinion from colleagues, family or friends to see if they have any input that may help.
Long Term Use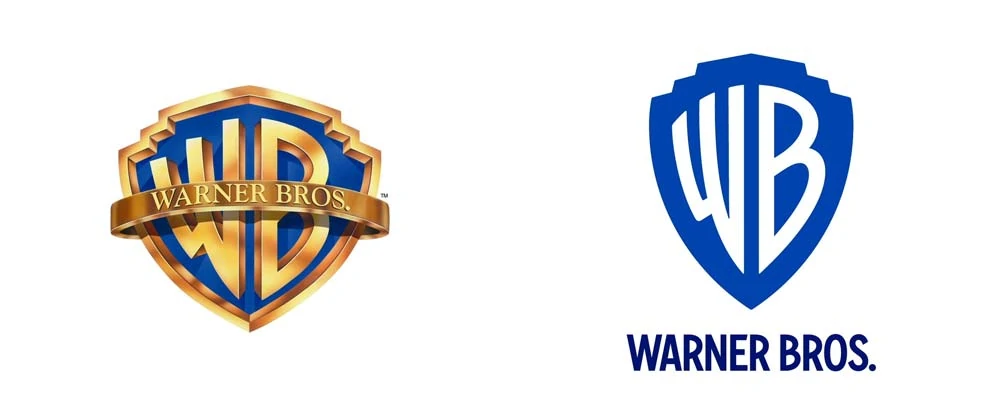 When creating the design, you also need to think long-term and where your logo will be used.
For example, right now, you may believe that you'll use it only on your website. However, what about the following marketing channels:
• Posters
• On the sides of trucks
• Business directories online and in the phone book
• TV ads
• + many more places
Without considering the future use of your logo, you can run into significant problems if the design does not suit larger advertising spaces.
If you plan to grow your business in the future, make sure the design can cater to the size and is impressionable enough for people to notice.
Startup Branding Tips: In Closing
Whether you are a startup agency or an entrepreneur, these startup branding tips can get your brand off the ground
Logo design is not easy, so bear in mind that investing your budget in working with a Branding agency for your Logo design is worthwhile.
This is why it is vital to try and use your creative imagination to develop more inventive ideas than the businesses around you.
After you have completed your logo, you will find that the voice and personality of your brand will come alive.
So, are you ready to create a fantastic logo or brand design this year?