5 SEO Metrics to Track: How Successful Is your SEO Campaign?
To improve your visibility on Google and calculate the ROI achieved from SEO, you need to evaluate the effectiveness of your SEO tactics. Sure, to do so, you first need to set clear SEO goals and choose the right metrics to track.
Here is a brief list of the essential SEO metrics every professional should track.
Organic Traffic
Organic traffic tells you how many visitors come to your site from organic searches. While your overall traffic informs you about your site's general performance on search engines, organic traffic directly indicates the success of your SEO campaigns.
Tracking your organic traffic in Google Analytics is simple. Go to Acquisition > Overview > Organic Traffic. The report will show you how your organic traffic performed during the previous month. It will show you the total number of sessions and explain how that number changes monthly.
Based on your specific goals and the scope of your SEO campaign, you can adapt your time frames to get better insights into your organic traffic. Typically, there are three different time frames to observe – week-over-week data, month-over-month data, and year-over-year data. 
CTR
Your click-through rate (CTR) is the percentage of searchers that saw your page in Google's SERPs and clicked on it. For example, if 50 users saw your page ranking on Google for a particular keyword, but only 5 of them clicked on your link, your CTR would be 10%.
Your click-through rate shows how appealing and attention-grabbing your pages are. If your CTR is low, this means you should work on your title tags and meta descriptions. Those are the first elements of your page searchers see in the SERPs. Based on them, users decide whether they will click on the page. That is why you should never spam your meta descriptions and title tags with keywords. Instead, make sure they are natural, informative, and relevant to your target audience.
When calculating your CTR, you can rely on the Search Analytics section in Google Search Console. Now, you can calculate your CTR by landing page to see what pages are gaining the best results in the SERPs. You can also use this option to identify the pages with the lowest CTR so you can optimise them.
Alternatively, you can track your CTR by your top keywords. For example, if you know that a particular term is attracting clicks, your next step is to identify the pages that are ranking for that keyword and make sure your content matches the search intent. 
Bounce Rate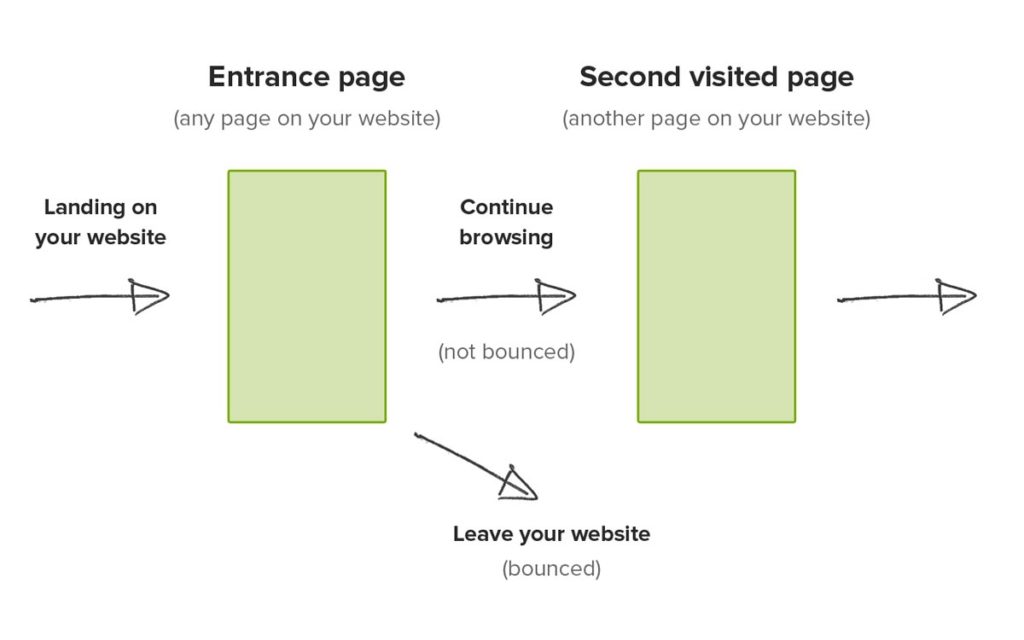 When a searcher lands on your page and then leaves your site without clicking on another page, that is called "a bounce." Logically, the bounce rate is the percentage of users that leave your site right after landing on it. 
The bounce rate is one of the significant indicators of user satisfaction. Given that Google prioritises user experiences, high bounce rates may profoundly impact your rankings. 
Namely, if a large percentage of people kick your website without clicking through your pages, it is time to check website SEO health. 
High bounce rates may tell you whether your website content is quality enough and in line with users' expectations. For example, if your page content does not match users' intent, chances are people will leave the page immediately. Many additional factors may frustrate your website visitors, including slow page load speed, complicated navigation, poor-quality content, etc.
Stats say that the excellent bounce rate is between 30-50%, while the bounce rate above 70% indicates that something is wrong with your site. Still, keep in mind that the bounce rate in different industries varies. For example, eCommerce sites usually have a bounce rate of up to 40%, while the bounce rate on service sites is somewhere around 10-30%.
However, the bounce rate is not always accurate. That is why you should look at the bigger picture when tracking our bounce rates. Say a user wants to learn what the medical term for the nostril is. They open your page, find the term they are interested in, and leave the page immediately. 
In this case, the high bounce rate does not mean your page is irrelevant or poorly optimised. On the contrary – it tells that your content is to-the-point, legible, and user-friendly. That is why you should track the bounce rate on a page-by-page basis and try to understand what causes it.
Crawl Errors
Tracking crawl errors is one of the most critical parts of your SEO strategy, as they help you find the URLs that are not accessible to Google's crawlers. Only by eliminating all crawl errors from your website will you help Google index and cache your pages and rank you higher. 
To access your crawl error report, you should go to Google Search Console > Crawl > Crawl Errors. One of the most significant benefits of Google Search Console lies in the fact that it categorises your website's crawl errors to make them easier to find and fix. 
Sure, tracking crawl errors is not a set-and-forget SEO tactic. To boost your website's performance and improve its online visibility, you should keep an eye continually. Crawl errors can come up unexpectedly, preventing your pages from being cached and ranked appropriately.
Keyword Rankings
This is probably the most common and popular SEO metrics. Its purpose is clear – it tells you what keywords your site ranks for and how high you rank for those phrases.
Now, you can always choose to track your keyword rankings manually. All you need to do is perform a simple Google search for a particular keyword and see where exactly your pages stand. However, this process requires significant time investments. 
To save time and ensure your keyword rankings are tracked accurately, you should use keyword rank tracking tools like SEMrush Position Tracking. The data is updated automatically, meaning you will see your pages' progress over time. Most importantly, it allows you to compare your keyword rankings to your competitors' rankings. 
Over to You
When investing in SEO, tracking your keyword rankings, organic traffic, bounce rates, crawl errors, and CTR is half the battle. 
These SEO metrics will help you learn whether your strategy is working, whether you are gaining the desired results, and what SEO tactics you should prioritise or eliminate. 
Sure, those are just some of the numerous SEO metrics you should track to evaluate the effectiveness of your SEO campaigns. What other SEO metrics do you use to measure SEO success?
Last update on 2023-05-31 / Affiliate links / Images from Amazon Product Advertising API