Guide to Screen Printing Vs Digital Printing for Branding
Do you want to take your branding to the next level? Ready to get your logo on t-shirts, sweatshirts, caps, and socks? Then you need to know about screen printing and digital printing.
When you started your business, the chances are you created your logo, website and social media pages. But over time, new opportunities for getting your branding in the public eye have arisen.
Printing your branding on fabric opens up a whole new world of marketing possibilities. It creates customer awareness at an entirely new level and allows you to grow your reach.
If you sell branded items, you'll also capitalise on the free marketing this gives you. If other people pay to buy your branded item and then wear it in public, it's a great form of free advertising.
There are other benefits of printing your branding on fabric, including:
Creating unity between employees
Inspiring interest in your company
Improving your reach in the local market  
Offering loyal customers the opportunity to share their enthusiasm
Customised branded corporate gifts
A great giveaway or promo tool
The idea of branding fabric items isn't new. Printing designs on fabric via the use of dyes, pigments, inks, and paints is something humans have been doing for thousands of years. 
But for much of history, textile printing was a practice limited by the tools and knowledge available at the time. 
Nowadays, we have access to technology that makes printing onto fabric much more accessible for large and small-scale production. 
Plus, fabric printing has become extremely popular worldwide, especially as the design industry pushes new frontiers of accessibility and marketability. 
Currently, the two most popularised forms of textile printing are silk screen printing and digital printing—sometimes referred to as direct-to-garment or DTG printing. 
Because they are both so different, each form of printing holds its own merits and drawbacks. All of which we are going to review today for anyone curious about the process, advantages, and disadvantages of each method.
Silk Screen Printing 
Silk screen printing has its origins in China and emerged during the Song Dynasty between 960 and 1279 AD. 
Japan was one of the first countries to create silkscreen prints, and the first examples of this craft are simple stencils on fabric. However, the screens used were not made of silk but human hair.
In the 4th century BC, textile printing made its debut appearance in China via the ancient practice of woodblock printing. 
Early versions of screen-printing then appeared across other parts of East Asia and India before eventually making its way to the rest of the world. 
In the 17th Century, artists in France started using silk screens. But it's unknown who introduced the idea of stretching the silk over a frame to support the stencil.
By the 20th Century, artists refined the technique and squeegees were introduced to cleanly pull the ink through the mesh. The same technique is still applied to this day.
The art of screen printing typically starts with a fine mesh screen pulled taut by a wooden or metal frame for support. 
Initially, the mesh was high-quality silk, hence the name "silk" screen. But because of expense and practicality, polyester is a typical modern, longer-lasting substitute. 
A design is printed or manually drawn onto the mesh screen using either a stencil or precise handiwork. Once the design is clearly in place, the negative space gets covered by an emulsion that prevents the ink from coming through when it is time to "print" the design. 
The emulsion forms an impenetrable layer that coats the silk, and once it has cured, the screen is ready. This emulsion and excess ink is washed away if a screen is cleaned and a new design is drawn on.
A squeegee is still used to pull the link(s) of choice over the mesh screen while in flush contact with the fabric, resulting in a bold print when the screen is lifted from the fabric. 
There may be several screen overlays for highly detailed or colourful designs to create the desired assortment of colour and shading. 
This means that there is a stencil for each element of a design and a screen to match. Complex designs thus require several screens. Each element and colour is printed individually, and the more detail the print has, the longer the printing process. 
Screen printing is the older and therefore more practised form of printing that many people prefer for its authentic, retro feel. Some other reasons for its popularity include:
1 – Versatility of Printing Techniques 
The versatility permitted by screen printing techniques reaches far more comprehensive than that of digital printing. This applies to the variety of ways screen printing can facilitate unconventional design placements, print locations, and garment styles. 
You can use screen printing on a wide variety of different fabrics, including cotton, denim, canvas, polyester, blends, and even moisture-wicking fabrics such as rayon (unlike DTG, which can typically only print on cotton). 
This means that the scope for printing unique, stand out marketing material with your branding on it is enormous. You don't necessarily have to stick to the usual t-shirts and caps.  
Not only can you print on wearable fabric, but you can also print on fabric for gazebos, tents, bunting, and banners. You're not limited by size, and your logo can scale accordingly to the purpose of the print.
This versatility opens up a world of possibilities and allows you to stretch your imagination. Creative branding opportunities abound. It would be best if you decided how to use them.
2 – Easier & Cheaper Bulk Production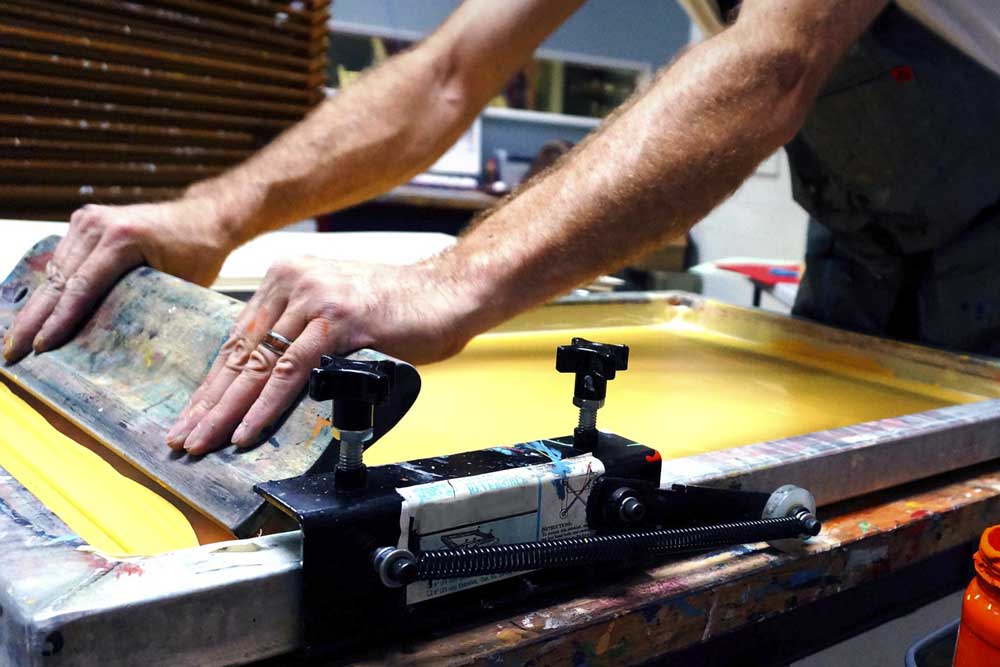 It's much easier and more affordable to bulk produce print designs when using the screen-printing method. While the set-up process is quite expensive, the screen only needs to develop once before you use it as many times as you like for design reproduction. 
This means that large volumes of identical graphics are easy to mass produce in a short time. Quantities are also easy to vary, and if only a tiny top-up run is needed, this is cost-effective.
Additionally, once a screen is set up, it can print on any fabric type. This means that the same screen is used for t-shirts, caps, banners or any other items. There's no need to create a new screen for new items unless the size of the logo or print changes.
For small businesses, this provides an added advantage as there are no additional set-up fees. Once screen does the job for whatever textile prints are required.
When it's time for a new design, the screen is easy to clean and re-use. 
3 – Vibrancy & Durability 
Screen printing leaves a wonderfully aggressive motif that is bolder, more vibrant, and saturated than digital printing achieves. The ink is absorbed deeply into the fabric, and this creates a crisper, cleaner image.
Screen printing ink is also easy to apply in thicker layers, leading to increased vibrancy, even on the darkest shade of fabric. 
The durability of screen-printed designs far outlasts that of digital prints, easily keeping their oomph for decades after production. 
The prints easily withstand years of washing and drying, and coatings and additives can be added to the ink to boost its longevity. These additives protect against UV, moisture, and scratches, preserving the integrity of the print. 
Digital Printing (DTG)
Having only arrived on the textile printing scene in the late 1980s, the practice of digital printing is still evolving. DTG is constantly improving, and it offers an innovative tech-driven alternative to traditional silk screen printing methods.
However, from the moment it arrived in its most basic form, it impacted the textile industry. 
Previously, textile printing using the silk screening method was limited to drawing layer by layer, and capturing an element of realism (especially in people) wasn't always easy. 
Photographs and faces were particularly challenging to print, and the replication wasn't always spot on. DTG removes this issue entirely. 
With DTG, the scope for creativity has grown tremendously, and the ability to print photographs and hyper-realistic images quickly and efficiently is a game-changer. Photographic replication is a massive drawcard of DTG. 
For brands that incorporate photographic elements in their logos or marketing material, it's a huge plus. 
Presently, the basic process starts with a digital rendition of a pattern or design file uploaded to the digital printing machine. 
With DTG, there is more room for experimentation in design as details are far easier to paint digitally than via the stencilled screen-printing method. 
Once the design uploads to the printing machine, you can print it onto fabric for a crisp, modern, and professional-looking finish.
DTG is applied via two different methods: digital pigment or dye sublimation printing. Quite comprehensibly, the former entails printing with dyes, and the latter entails the use of pigments. 
Here are some popular pros associated with digital printing:
1 – More Environmentally Friendly 
If you want to opt for a more environmentally friendly printing method, DTG is the way to go. 
Because a digital printing machine will only ever use the exact amount of pigment necessary for the design, there is no material wastage (screen printing requires ink spread across the entire mesh screen, which is usually much larger than the design itself). 
This means that with every screen printed, there's excess ink to wash away. If several screens are used per print, this is a large amount of excess ink and water. 
Additionally, not all screen printing inks are environmentally friendly, and some may contain toxic chemicals. 
DTG eliminates the need for using up a large amount of electricity and water required for screen printing. 
If your brand focuses on going green, then DTG is a far preferable option. There's no waste and no water required whatsoever.  
2 – Quick Turnaround 
The process involved with digital printing is considerably faster than screen printing. 
A client can send a digital printing company their desired design online. 
The design uploads to the machine much faster than it takes for someone to manually set up the screen-printing tools and execute each print, one at a time. 
DTG is also ideal for small run prints or one-offs. This means that if you want to print a few shirts for a special occasion or promotion, you can do so with ease. 
There's no screen to set up, and you can have the same day or even same hour turnaround on production times. 
It also means that creating once-off designs gives you the flexibility to customise your marketing for whatever occasion arises. From corporate gifts to branded employee outfits with names or designations on, the options are unlimited. 
3 – Colour Variety and Detail Intensity
Another benefit of using the digital approach is the unlimited number of colours you will have access to. Screen printing relies on paints, dyes, or inks for its colour. But the digital world can conjure up just about any colour (along with every shade of it) with no trouble at all. 
The richness of detail also becomes a lot more accessible when created with high-powered digital design technology. 
The overall look of a digitally printed design tends to be much crisper and cleaner than screen printing. 
Printing photos is also far more accessible. DTG prints the design or image supplied, and this can be a photograph too. The replication of the print is 1:1, and even the tiniest details are captured. 
Which is Better?
Realistically, screen printing has been the dominant printing method for such a long time that many people consider it the go-to option when looking for a high-quality fabric print. 
However, digital printing makes up for the lost time by being a more eco-conscious option and delivering more detailed designs. 
When it comes down to it, the printing method you choose should be the one most in alignment with your desired objective and your brand's requirements. 
The size of your budget, the type of material, brand ethos, time, and the number of units all play a role.  
Ultimately, both screen printing and DTG offer pros and cons that will meet the needs of different brands.