Nationality: American
Born: 1920
Died: 1996
Famous For: his design of motion picture title sequences, film posters, and corporate logos.
---
Saul Bass was the king of the movie poster and opening title sequences throughout the mid-twentieth century. From 'The Man With The Golden Arm' to 'The Shining', the Saul Bass Graphic Design style stands out as an earmark of 1960's American design. Working with a minimal look, his paper cutout approach with an always eye-catching colour scheme worked so efficiently because it was so aesthetically removed from the 'Hollywood 50's' style of visuals predating it.
Bass was also an accomplished brand and corporate logo designer with some very famous and iconic companies employing his services. Many of these logos still exist fundamentally (albeit through subtle tweaks here and there) showing their timelessness – an essential aspect of logo design. According to this post, the average Saul Bass logo design has a lifespan of 34 years!
Saul Bass Logos
Girl Scouts Logo – Designed in 1978
Continental Airlines Logo – Designed in 1967
Kleenex Logo – Designed in the 1980's
Saul Bass Posters
The Man With The Golden Arm – Designed in 1955
Vertigo Posters – Designed in 1958
Anatomy of a Murder Title Sequence – Designed in 1959
---
In 2011, fifteen years after his death, a book showcasing his life and work was finally published – Saul Bass: A life in Film & Design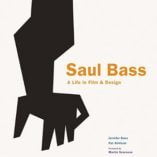 With more than 1,400 illustrations, many of them never published before and written by the leading design historian Pat Kirkham; this is the definitive study that design and film enthusiasts have been eagerly anticipating… Designed by Jennifer Bass, Saul Bass' daughter and written by distinguished design historian Pat Kirkham, who knew Saul Bass personally, this book is full of images from the Bass archive, providing an in-depth account of one of the leading graphic artists of the 20th century.
Saul Bass Quotes
Design is Thinking Made Visual.
I want everything we do to be beautiful. I don't give a damn whether the client understands that that's worth anything, or that the client thinks it's worth anything, or whether it is worth anything. It's worth it to me. It's the way I want to live my life. I want to make beautiful things, even if nobody cares.
Sometimes when an idea flashes, you distrust it because it seems too easy. You qualify it with all kinds of evasive phrases because you're timid about it. But often, this turns out to be the best idea of all.
Further Reading
Jennifer Bass
Jan-Christoper Horak
Saul Bass
if you are looking for a professional graphic designer, click here to get a quote now!