Responsive Web Design vs Adaptive Web Design – Which One Is Better?
The variety and ubiquity of the different devices have made the app and web designers build up various distinct screen sizes to cater to the needs. 
We can now access information in several ways as from big giant desktop monitors to small smartwatch screens. 
Web designers are bridging the gap between the devices with the help of responsive and adaptive websites. 
There is much confusion between adaptive and responsive design.
However, this can be quite challenging to make sure that your website can fit into every device. 
Both responsive and adaptive design can face this challenge, they can look similar, but they have different advantages and disadvantages. 
Which website design is better for you? Which of them can fulfil your needs? Which will be the perfect choice for you?
Responsive Web Design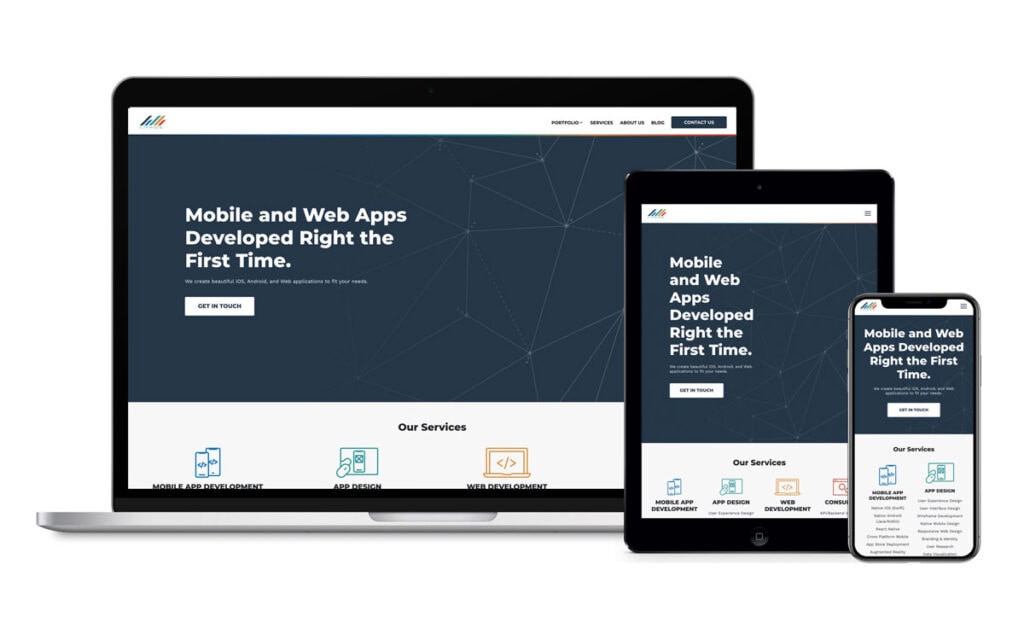 Responsive web designs are a GUI (graphic user interface) design approach used to create content that can smoothly adjust with various screen sizes. 
Web developer and designer Ethan Marcotte first used the term in his book "responsive web designs". 
These designs respond very quickly to the browser width changes by adjusting the design components' placement to fit in the available space.
A responsive site shows all the content, which is based on the provided browser space. 
When you open a responsive website on a desktop and then try to change the browsing window's size, the web site's content will move dynamically and arrange itself according to the size.
Moreover, this process is automatic on the smartphone as the website checks for the available space and presents it in an ideal way.  
Responsive web designs are genuine and straightforward as they are fluid, which means users can access your website online and enjoy it on their available devices even if you do not have a big monitor to enjoy your website. 
These approaches are an ideal conceptualisation of the website. 
They majorly work through CSS (Cascading Style Sheets), which uses several settings to serve different styles, which majorly depends on the resolution, screen size, colour capabilities, and other device components.
Adaptive Web Design
In 2011, the Adaptive website design concept was first introduced in the book Adaptive Web Design: Crafting Rich Experiences With Progressive Enhancement by Aaron Gustafson. 
Adaptive Web Design was also known as a progressive enhancement of a website. 
Adaptive website designs are very different from responsive web design as no one layout changes every time. 
Responsive websites rely on a design pattern that keeps changing to fit the monitor, whereas adaptive web designs have several fixed layout sizes. 
Whenever the website detects the space, it selects the most appropriate layout according to the available area. 
It chooses the space according to the size of the screen. Therefore, when you open the browser, the website will choose the best possible layout for the screen, resizing of the browser will have no impact on the website design. 
Most of the websites are very quick to embrace adaptive website designs. 
Adaptive designs ensure a better user experience to whatever device is used by the user to the interface. 
The strength of adaptive web design is more relevant to the modern experience of the user. 
The owner can also optimise advertisements for their audience with adaptive web design. You can easily access and fulfil the user's needs. 
Comparison of Responsive and Adaptive Website Design
The difference between the two is subtle and not noticeable for those who don't have experience in website design. 
Here is some most crucial component of both the forms.
Layout
In responsive web design, the layout of the website is decided by the user's browsing window. 
On the other hand, in adaptive web design, the structure is mainly determined on the back end, not by the browser or client. 
The designs produce unique templates according to the device class. 
The server itself detects the factors like operating system, device type and sends the correct layout to the browser. 
Load time
No one likes slow websites. 
A user gets impatient and tends to bounce back if the website does not load fast. 
In a comparison of responsive web design, adaptive web designs load much quicker. 
This is mainly because adaptive websites majorly transfer the critical asset, which is specific to every device. 
For instance, if you check an adaptive site on a high-quality display, then the images will adjust themselves and load faster on display. 
Difficulty
This is one of the touchy topics. 
There are several arguments that adaptive web designs are quite difficult to build as you need to have different layouts for different types of devices. 
On the other hand, responsive web designs only require a single layout that is relatively easy to implement. 
Responsive web designs generally have only one layout for all the devices and require more time and effort upfront. 
Moreover, these designs involve some extra attention. The organisation needs to ensure that it is fully functional to all the screens.
Flexibility
Adaptive web design is less flexible as a new device with a new screen size can break the layout. 
Do we need to add a new layout and edit the old one every time? 
We all know the screen sizes continuously change, and they are highly variable. 
Where else, a responsive web design requires less maintenance. Responsive websites are very flexible and can work on their own. 
If there is a new device, it will automatically market the screen size. An adaptive web design needs occasional maintenance. 
Google rewards and recommends responsive web design, as mobile-friendly sites rank higher on the SERP (search engine results pages). 
Adaptive web designs are quite challenging to SEO.
When Should You Use Responsive Web Design?
If you doubt where to use responsive web design, then here are some considerations where you can go for them.
For small to medium size companies that require updating their ongoing websites, responsive web designs are perfect.
For businesses that need to build brand new websites, responsive web design is a good option.
For service-based companies, which are primarily made up of images and text, responsive web designs are highly recommended. Responsive website designs are highly budget-friendly. So, you can have a friendly, fully functional website for very affordable prices.
Here are some disadvantages of responsive web design which one should be aware of.
Responsive websites are great, but it too has various setbacks. 
Here are a few things to see while deciding which format will best suit your needs, goals, and requirement:
Slow page load: One of the most significant drawbacks of responsive design is the load time feature. Responsive sites can load the information for all the devices, but it takes time to load.
Difficulty in integrating advertisement: As advertise have to accommodate all resolution, it can be quite challenging to implement them effectively with responsive websites. The site will flow from device to device; it might be possible that advertisement may not properly configure to adjust the specific screen sizes. 
When Should You Use Adaptive Website Design?
While considering adaptive website designs, here are some of the most important consideration which you should keep in mind:
For the existing complex sites, which highly require a mobile version, adaptive website design is acceptable.
For speed-dependent websites, adaptive web designs are recommended.
For a highly targeted user experience, adaptive web designs are good as you can adapt to someone's connection speed, location, etc.
For those who want more control over their website and see how their website delivers an experience to different users using different devices, adaptive web designs are perfect. 
Below are some disadvantages of Adaptive web design which one should be thinking of:
Labour intensive – Adaptive web design requires more intensive work if you consider the technical aspect.
Hard to maintain – As there are multiple versions of the site, every version needs to be updated individually. The website owner must design for almost six most common screen widths, which are 1600, 100, 960, 760, 480, and 320 pixels. This number keeps on growing, which makes the designer job harder. Moreover, when it comes to website maintenance, these websites are more time-consuming.
Expensive – Besides being very time-consuming, these web designs require a large number of developers. One needs to incur more expenses to handle the complexity of supporting, maintaining, and developing an adaptive website design. 
Which website design approach should you pick?
With so many similarities and dissimilarities between the two designs, how will you come to know which one is best? 
As we know, a company website is the first point of contact where the potential consumer will contact your business, product, or brand. 
If users have a poor experience, then it means loss of feedback and income. 
This is why it is so important to decide which one will best fit your audience. 
Who is viewing your website? Whom do you want to view your website? On what kind of device they are viewing your website?
This data can be found through Google Analytics or even through group testing. 
If your Google Analytics shows a higher bounce back rate, then your website might be loading very slowly, have a lack of aesthetic appeal, it may not have resized to the user's device screen. 
By pointing these points, you will identify what you need to do and determine which website design style will help you the most. 
The Decision – Responsive vs Adaptive Web Design
The decision is choosing between a responsive design, and adaptive design needs to be taken into careful consideration. 
It will be prudent to stick to a responsive web design for expedience (improving SEO, cost-saving, and keeping the users with a good experience between their devices). 
Moreover, it is essential to check the advantages and disadvantages of both designs. 
Adaptive web designs can quickly turn to more visitors' needs. 
Therefore, it is essential to keep a finger on it. 
The key to use these designs is to know and consider your audience. 
Once you know who your audience is and what device they use to access the website, it becomes relatively easy to design a website to keep in mind the layout. 
Moreover, it will depend on whether you have an existing website to work on or start from scratch. 
Responsive web designs have become easy-to-go designs, and most of the site now uses responsive web designs. 
Even the adoption rate for responsive web design is increasing rapidly.
But, if a company has a reasonable budget, then adaptive web designs are a good choice. 
The plug-in in adaptive designs provides more accessible themes and provides configuration options to streamline the process smoothly. 
Adaptive web design also comes up with several benefits like more target and personalised user experience. 
Whichever design you choose, always remember that your choice will impact the overall usability of your website. 
The primary key to use the designs is planning and understanding your needs, budget, and goals.
About the author: Ravi is a digital entrepreneur who has a vision of helping businesses to increase their online presence through websites, mobile applications, and SEO. He is the Founder & CEO of Webomaze Pty Ltd, a one-stop digital agency based in Melbourne.
Last update on 2023-06-02 / Affiliate links / Images from Amazon Product Advertising API