How to Quote a Logo Design Project that Wins Clients
If you work as a graphic designer, sales might not be your strong suit or even be within your comfort zone. 
Your profession is not sales, but you have a sales aspect to your job, and the pricing decisions that you make when quoting logo design projects will have a bearing on your total income.
Graphic designers that quote low will find themselves working long hours to make a living. But those who quote too high might suffer from landing a few accounts.
To offer your prospects fair logo design projects, you'll want to complete some research, factor in your experience from similar projects and ask in-depth questions on what the customer is looking for.
Gathering Project Requirements
Logo design projects generally come from business owners who have little experience with design. Because of this, it's challenging to get to the root of what they are looking for to offer a proper proposal.
Ask questions that include:
How do you plan to use the logo?
What's your budget?
Do you have a style you like?
Is there any existing branding you want me to follow?
What are your likes and dislikes as far as colours, fonts, etc? Learn more about fonts and colours here.
What are your goals for your business?
That final question might sound unrelated but don't be fooled. It's an important question and a way you could turn a logo design project into a full graphic design client.
The more you know about what the client is trying to achieve, the more you can bring your expertise to light. Remember, you're more than just an order taker. Make recommendations in addition to the request your client is making to showcase your broad skillset and services.
Evaluate Time Required for a Logo Design Project
Now that you know the client's expectations, you can build out a timeline for how long the project will take you. If they have a preconceived idea of what they want their logo to look like, you might spend more time making that come to life, than you would when creating a logo from your concept.
This is where your experience with other similar projects will come in very handy. If you can, keep a log of how long you spend on various projects to give yourself a baseline in your proposals.
For example, a text-based logo might only take you an hour, whereas an icon with a custom illustration might take several hours.
When you're calculating how long a logo design project will take you, don't forget to include all the administrative time. That means answering emails, completing revisions and invoicing the client. Failing to account for this could mean you make way less per hour than you anticipated.
Sale
Set Expectations
It's essential that you include in your proposal information about working together. This will help you set expectations with the client to get the project started off right.
Logo versions: how many versions of the logo will you provide? This might be a single-colour, reversed, transparent, etc.
The number of revisions: designers that fail to set several revisions could lose massive time on one project. Make sure that you discuss with the client how many times you will make changes to the logo file before the contract must be renegotiated and they'll be required to pay more.
Ownership of the source file: some designers choose not to hand over the source file to the customer. This means that the customer can't take the file to another designer for modifications. However, some clients don't appreciate this practice once they've paid for the logo design. Make it clear who owns the source file once the logo is complete.
Non-refundable: make it clear that under no circumstances can the logo design fee be refunded. New businesses that fail or struggle financially in the early years might come back to you saying the logo no longer meets their needs. Close that door with a clear non-refundable clause in your proposals and contracts
Timeframe: you don't want the client to use two of the three revisions and then several months later come back wanting changes. Additionally, some business owners get distracted and fail to respond to emails. When this happens, you end up spending more time trying to track them down, thereby decreasing your hourly rate for the project.
Payment: discussing payment terms can make some designers uncomfortable. Remember, logo design is your livelihood, so don't shy away from this aspect of your proposal. Set expectations for pre-payment to ensure the customer doesn't run off with the design without paying you. Or have half due at signing and half due after the project so that both parties have some assurances.
Itemise Your Proposal
Part of setting expectations with a client comes from itemising your proposal. Within your proposal, state how much it costs for revisions outside of what's included in the standard design project.
Include information on preparing other assets, such as stationery design, PowerPoint templates, invoice templates, etc.
The itemised section of your proposal also might include add-ons that you recommend, such as updates to website design in light of the new brand colours, social media graphics, email headers, etc.
Offering suggestions on additional assets might come from your initial project discussions with the client where you gathered project requirements. This is where knowing the customer's goals can help add additional services.
Leave Room for Negotiations
Sale
Many people don't feel like they've gotten a good deal until they've done some negotiation. When you put together proposals, start with a quote that is slightly higher than the amount you'd like to walk away with.
Leaving room for negotiation means you won't be left with a project that is too low once the client has negotiated a lower price.
The key here is ensuring that you don't start too high to the point where the client brushes off your quote entirely. Don't pad your quote more than 10 per cent above the price you want from the project.
When a customer comes back to you with a lower price, remember that you also have the right to negotiate. If their price is too low, explain that you can't take less than a certain number. This leads us to our next point on making sure you know what a competitive rate is so that your negotiations are productive.
Know What a Competitive Rate Is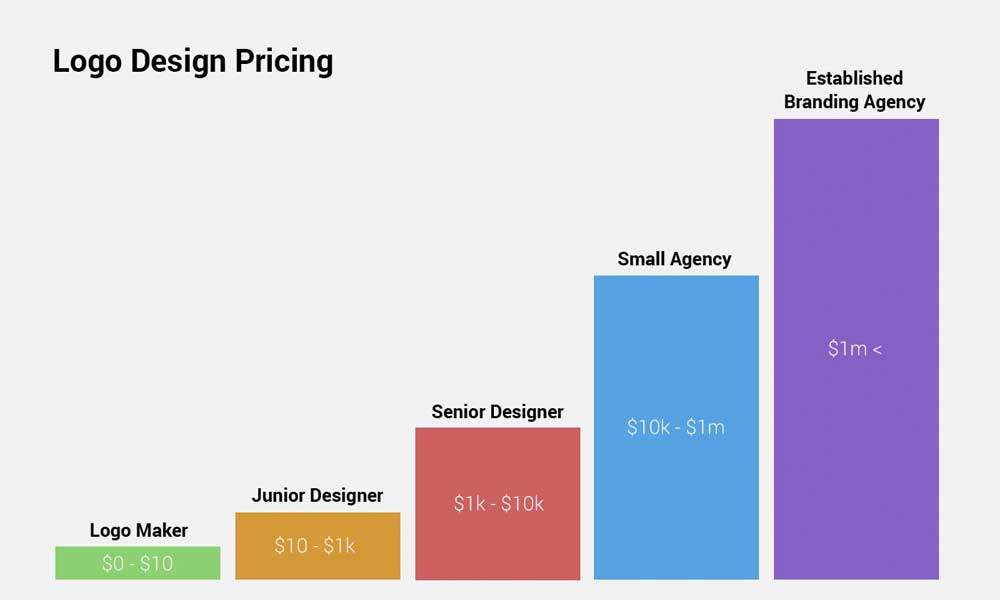 To offer competitive rates, you need to know what the competition is charging. Start by researching other logo designers in your area. Many will publish their prices on their website.
For example, we at Amberd Design Studio, publish our starting rates online, then we require the client to fill out a form, which helps us understand the project requirements better and helps us provide a final, more accurate quote.
But you can't stop at learning a competitive rate for your area because, with the prevalence of digital media, you could have customers from around the world approach you. Look at designers in areas with a higher cost of living than your city.
You'll want to balance out your level of experience and skills with what the competition is charging. If you're charging top dollar, be sure that your designs look the part. They should be exceedingly polished, modern and unique.
Don't Be Afraid to Walk Away
Designers who get uncomfortable with the negotiation or fear not having enough work might be tempted to take every project that comes their way, regardless of compensation. Don't be that designer.
To love what you do, you need to receive fair compensation. If a client isn't prepared to offer you a reasonable rate, walk away.
In some cases, business owners might get sticker shock when you send over an initial proposal. When this happens, be prepared to show the value of a well-designed logo. 
Tell customer success stories, present research and encourage the business owner that a logo is not where they should cut corners since it establishes a brand.
But don't forget to walk away if the client is still not willing to pay you what you know you're worth. There will be other projects.
Factor in Long-term Potential
Sometimes a logo design brings in a new customer for your business. Some designers view logo designs as a loss leader targeted at bringing new business through the door. 
You can prove your skills and worth during the logo design project and then earn further and recurring business from the client.
Long-term potential is not something you want to use as an excuse to accept just any logo design project though. You want to ensure you see real the potential there.
Generally, the only businesses you should take on a logo design for where you don't see expanded work, later on, are companies that are well established.
When a business is new and has little to no income yet, they are unlikely to be a business worth counting on for future graphic design projects. Choose your loss leaders carefully as taking on too many logo projects at low rates could lead to burning out and severe frustration.
Some businesses use a logo redesign as a test of working with a graphic designer. This is why it is crucial to learn as much about a new customer as you can. It's in those initial discussions that you can learn more about potential future projects.
If the company is already working with a graphic designer, tread lightly. However, if you see that they've been doing everything in-house and are considering hiring more of that work externally, this could be a fantastic opportunity for you.
Author Bio: Emin is an award-winning logo designer at Los Angeles-based Amberd Design Studio. On his free time, he enjoys writing about graphic design, illustrating and drawing.
Last update on 2022-12-09 / Affiliate links / Images from Amazon Product Advertising API