7 Inexpensive Branding Strategies for Your Small Business
Just because your business is not as big as Apple or Google does not mean you cannot implement a brand strategy.
Here's the thing: Every business must have a branding strategy. That's because it allows your venture to be unique and easy to remember. 
Your branding can also help your market determine the kind of business you have without saying anything.
For instance, bright colours signify a youthful vibe. Hence, a mother would know that your business's target market is her daughter.
However, branding is more than just colours, typography, and images. It is an all-encompassing way of making your business identifiable. Hence, you will need effective branding strategies.
What is a Branding Strategy?
Also known as a brand development strategy, a branding strategy is a long-term plan of making your business identifiable to your customers. This includes your brand's mission, promise, and how you can get your message across.
So what should be included in your branding strategies?
Your business's objectives and how you want to communicate them.
An identification of your ideal customers or people who will likely benefit from your brand.
Your competitors or any business that provides the same products and services as yours to your ideal customers.
Your plan to engage your customers, including tone of voice and brand personality.
But where do your logo, brand colour, and typography lie in all of this? They are part of your branding strategy, but they are not a strategy. Instead, these are the results of your brand development.
Concerning this, we should also debunk misconceptions about branding strategies:
It's Not Just How Things Look
This is one of the typical misconceptions about branding. But as mentioned earlier, branding is all-encompassing. This means that you should reflect your branding in different aspects of your business, such as your customer service.
It's Not Advertising or Marketing
Branding involves a process that is different from advertising and marketing. Branding is a long-term plan, while advertising is a short-term campaign. On the other hand, marketing is all about nurturing your potential and existing market.
Trends do Not drive it
Again, branding is a long-term plan. Hence, you cannot let a trend that comes and goes determine your branding. Nonetheless, your strategy should be forward-thinking and progressive.
Importance of Branding to Small Businesses
No matter the size of your business, it is vital to have a branding strategy. That's because it gives your customers an insight into what they can experience when transacting with your business.
That said, we have listed x reasons developing a brand strategy is vital for your small business:
1 – Recognition
One of the primary reasons you need effective branding is because you want your target market to recognise your business quickly. Whether someone passes by your physical store or sees your Facebook post, people should quickly recognise that it is your business.
 2 – Legitimacy
Imagine this: There are two small businesses in front of you.
One lacks a logo, and their content's colour palette is all over the place. The other exudes consistency.
Which one would you prefer to transact with?
This shows that a robust brand strategy makes your business trustworthy. And when you are reliable, you can easily attract your target market.
2 – Differentiation
You may not be the only business that offers the same products and services as you do. However, an effective branding strategy makes your small business stand out.
This goes beyond a logo, branding colours, and typography. You can also differentiate yourself by the content you produce and the customer experience that you provide.
3 – Emotional Connection
We all know that colour schemes in design can impact a consumer's behaviour. Hence, our branding strategy allows us to make an emotional connection to our target market.
Why is emotional connection meaningful, you ask? That's because it fosters brand loyalty.
When a person is loyal to your brand, it is easy to entice them to support your business.
4 – Promotional Efforts
We mentioned earlier that branding is neither advertising nor marketing. However, these three works hand-in-hand.
Your branding strategy is a long-term, yet fluid, plan of how you can make your business recognisable. 
Meanwhile, advertising allows people to discover your business, products, and services. Marketing, on the other hand, is all about nurturing your potential and existing customers.
Without an effective branding strategy, you would not know your target market and the marketing message you should get across.
7 Inexpensive Branding Strategies You Can Do for Your Business
Now that you know what a branding strategy is and its importance for your business, it is time to discover the different approaches you can implement.
Before You Begin
There are a plethora of inexpensive branding strategies that you can use for your business. However, just because one method works on your competitor does not mean it will do the same to you.
If anything, it is essential to know the different components that inexpensive branding strategies must have.
Purpose
You are not the only business that makes a promise to consumers. Hence, having a defining purpose allows you to differentiate your small business from the rest of the competition.
Your branding purpose can either be:
Functional. This is where you focus on why you started your business in the first place (i.e., serving people and generating income).
Intentional. This is where you focus on fulfilling your business's function (i.e., employing the local community).
Consistency
This is not just about using the same colour palette and typeface across all your social media posts. Instead, consistency has something to do with how your content aligns with your branding.
For example, you are a Mindfulness Teacher for kids. Would it make sense to use a photo of a working woman or a little girl in one of your Facebook posts?
Pro tip: If you want to stay consistent with your social media content, it will help if you have a Facebook post maker. 
This tool allows you to save your Facebook post design as a template. That way, you do not have to create content from scratch over and over.
Emotions
Here's the thing: People choose to transact with your business because they feel a sense of belongingness.
Believe it or not, your branding strategy can help you connect with your target market emotionally. It can be through the colours you use, your marketing message, or the community you build around your brand.
Flexibility
As mentioned earlier, nothing is definite when it comes to branding. As your business and target market matures, you need to revisit your strategy to ensure that you stay relevant to your target market.
Competitive Awareness
Identifying what makes your small business unique can be challenging if you do not know what your competitors do. 
That said, check out what your competitors are doing and note how you can provide more excellent value through your branding.
Now that you know the components of an effective branding strategy, let's share some examples of utilising these components.
Brand Purpose
The purpose of your small business should go beyond having another income stream. There should be a greater good behind your products or services.
It answers the question, "Why do you want to start this business in the first place?"
Answering this question allows you to have a purpose-driven brand.
An excellent example of a purpose-driven brand is Tesla. They believe in clean, sustainable energy and wanted to prove that people do not need to compromise anything to drive electric cars.
Hence, their purpose statement is "to accelerate the world's transition to sustainable energy."
It is because of this purpose that Tesla now offers more than just electric cars. They now have a solar-powered generator that ensures you have electricity even when there is a power outage.
Brand Vision
Your brand's vision is what navigates your business in the right direction. That's because your vision signifies your long-term desired end-state for your business.
Take a look at Starbucks, for example. They want "to be the premier purveyor of the finest coffee in the world."
Because of this brand vision, Starbucks is now known as the largest coffeehouse chain in the world. When you have a well-defined vision statement, you can clarify what business decisions you should make.
Brand Values
Your brand's core values are all about defining what your brand stands for.
This will serve as your small business's guiding principles on how you operate and produce your products and services. 
Hence, it is not surprising that Apple is deemed the most valuable company specialising in consumer electronics.
That's because Apple has these brand values:
Accessibility. Ensure differently-abled people are not left out.
Education. Provide educational solutions to different schools across the United States.
Environment. Build products that are safe for consumers and the environment.
Inclusion and diversity. To create products that serve everyone.
Supplier responsibility. Holding suppliers and partners responsible for producing quality products.
Privacy. Offer the utmost security for the user, as privacy is a fundamental human right.
Together with your brand purpose and vision, your core values will guide you through running your business.
If one of your core values is inclusivity, it will make sense to hire differently-abled individuals. Mind you, this can lead to a positive branding identity.
Brand Positioning
As an entrepreneur, you need to set your business apart from your competition. This is where brand positioning comes in.
Amazon has the best example of what a brand positioning is:
"For consumers who want to purchase a wide range of products online with quick delivery, Amazon provides a one-stop online shopping site. Amazon sets itself apart from other online retailers with its customer obsession, passion for innovation, and commitment to operational excellence."
It details what they can provide to their users and what makes them different from other online marketplaces.
However, you do not have to do many things to position your small business. You have to be known for one thing only.
Say you sell baked goods. Perhaps your brand positioning can include being the only store that sells plant-based baked goods in your area.
Brand Personality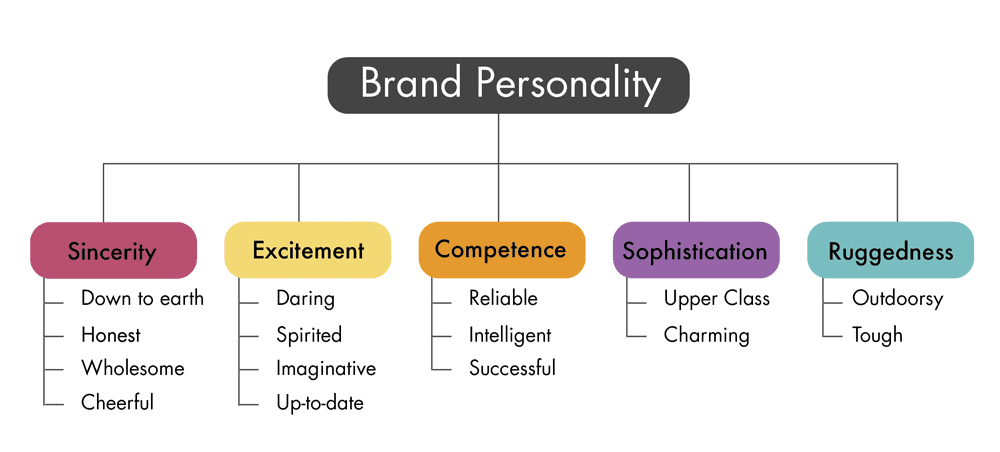 Your brand personality is what adds a human aspect to your business. It is your way of telling your customers that there are people behind your brand.
How can you build your brand personality? Consider describing your business as a person.
For instance, Harley-Davidson has a freedom-seeking, America-loving personality that fits the rugged, outlaw archetype.
When you know your business's brand personality, you know how you can best express yourself through your marketing efforts.
Brand Voice
Your brand voice refers to how you want to sound to your target market.
For instance, Tiffany & Co.'s voice is witty, elegant, and classic. They know when to add humour to their social media posts without being informal. This is something that is appealing to their high-fashion millennial market.
On the other hand, Cartier's visual content is primarily black, white, gold, and red. Their visual content is often paired with short, no-fuss social media captions.
Brand Tagline
Here's the thing: Your target market can't be bothered to take the time and read your mission and vision to know the kind of business you are running. Hence, you will need a brand tagline.
Let's take Nike's tagline, for example: Just Do It.
They have been using this tagline for decades, and for a good reason.
Sure, there is a grim story behind the largest supplier of athletic shoes' tagline. However, this is also their response against Reebok's campaign of turning aerobics into a fitness craze during the late 1980s.
Nike wants to build a brand that is universal and inclusive. They want Americans to view their products as more than just fitness gear. Hence, if you feel like wearing Nike's athletic shoes even if you're not sporty, "Just Do It."
Conclusion
An effective branding strategy aims to let your target market know that your business exists. It also allows your business to be identifiable and relatable to your clients and customers.
Hence, your strategy has to be fluid and long-term. That's because nothing is set in stone when it comes to branding. It would help if you also revisited your branding strategy often to know what works and whatnot.
Sure, a branding strategy uses intangible elements that are not easy to quantify. But that should not stop you from identifying what KPIs you should measure.
What inexpensive branding strategies have worked for your small business? Let us know in the comments below.