Top 10 Illustrator Plugins To Download In 2019
Adobe Illustrator is a very popular and very powerful vector graphics program.
It is used by millions of professionals around the world, and there are around 180 million graphics created on this platform every month.
Illustrator is so popular because it is a versatile platform.
The editor has several tools and features built in, which allows designers to customise their work easily.
However, no program is perfect, and Illustrator isn't an exception to this rule.
There are some features and additions that designers need but can't find in the base program.
That's where plugins come in handy.
These plugins make the designing process more manageable and less time-consuming.
Designers don't have to rely on other platforms and can get their full work done on Illustrator itself.
This article includes 10 Illustrator plugins that you will enjoy in 2019:
VectorScribe is one of the most popular plugins for Illustrator because it is so useful.
The software is compatible with CS6 and CC 2017, which means it will run smoothly on the latest platforms.
The plugin's most useful features include the ability to manage pathways, points, and handles efficiently.
Designers can use it to create vector shapes and then edit them to their liking.
They can also reduce the file size of the graphics, which can help with different kinds of design projects like website design.
The plugin also has a PathScribe feature that makes complex vector editing easier, which saves time and effort.
VectorScribe provides dynamic measurement tools that can help you measure everything from lines to angles.
This allows you to get the perfect size for your graphics without any trial and error.
VectorScribe isn't a free plugin, but the less than $100 price tag is worth it because VectorScribe v3 can quickly become a cherished tool in your arsenal.
2. Cineware
This is a free plugin compatible with CC2017-2018 and is designed by a company called MAXON in collaboration with TurboSquid.
This plugin is ideally suited for novice designers who want to venture into the field of 3D.
Users can access important Cinema 4D files and fiddle with it.
They can adjust the lighting, view, textures, and other such factors to get a feel of 3D tools.
You can render your graphics through Cineware without having to leave the Illustrator program.
This feature allows designers to maintain a smooth, streamlined workflow.
You can also make changes at any time and have it automatically rendered at the end of the session.
3. Gold Rush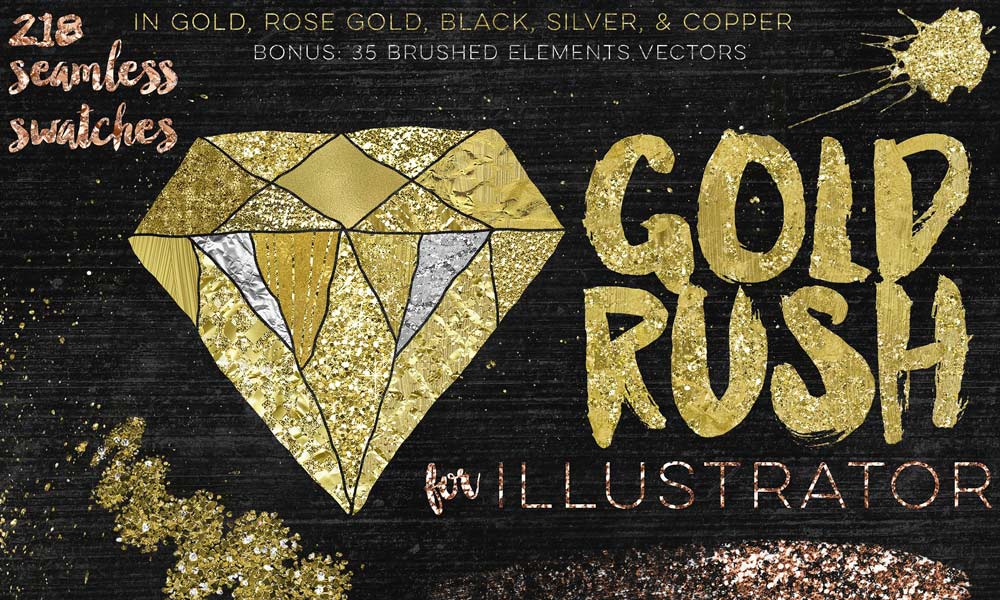 This plugin is designed for CS3+ and is very popular with designers who like a little flair and glamour in their work.
The plugin provides gold, metallic, glitter, and foil elements that a designer can easily include in their work.
The plugin contains around 218 raster swatches along with 35 brushed elements that can be used for a wide range of applications.
You can create any graphic with great, glittery embellishments using this kit.
While the plugin's name contains the word "gold," your options aren't just limited to that colour.
You can choose silver, black, copper, and rose gold options as well.
There are also different effects like bokeh, gold leaf, metallic paint, crumpled foil, hot foil, and other such options.
That makes this tool very versatile and suitable for a wide range of projects.
The plugin only costs around $18, which is worth the benefits it provides.
This plugin is compatible with CS to CC 2017 and is a simple, easy-to-use toolset.
Designers can use this tool to position shapes accurately.
It includes several useful tools like the Rotate to Collision tool, Space Fill feature, offset spacing, etc.
All of these tools in the kit allow designers to create cleaner and more precise vector graphics.
This plugin offers three different alignment tools to help to align your graphics perfectly.
The tool also allows you to create clear annotations at intersecting points.
The first version lacks many features that were added in version two.
If you want to use this helpful plugin, it might be a good idea to stick with the newer version.
The latest version is available for $33 and can be a useful addition to your collection.
If you're a serious designer who works with repetitive patterns and intricate graphics, this tool is a must-have.
While SymmetryWorks is a hefty investment with its $364 price tag, it can make your workflow much more streamlined and save you much time.
You can quickly generate repeat graphics using this plugin by drawing the base pattern in Illustrator using drawing tools.
When your base pattern is done, you can use the plugin to apply transformations and grow the pattern.
It is possible to save the completed pattern in swatches once the project is complete.
You can then edit and alter the content as you wish later through a live edit button.
The latest version comes with some great features that make this tool even more appealing.
You can create patterns automatically by including colour reversals in geometric transformations.
This allows designers to create intricate and beautiful patterns easily.
You can save hours and much effort by incorporating this tool into your kit.
It brings over many CAD functionalities to the Illustrator platform, which can make the design process more manageable.
Designers love being able to project art onto isometric grids through this tool.
That can save time and make the design process easier.
This version adds 96 new features to your Illustrator platform, which gives you many options.
While it is $379, the tool adds much functionality to your platform.
Many designers consider it a worthwhile investment.
Phantasm forms a bridge between Illustrator and Photoshop, providing you access great Photoshop features.
You can incorporate the Bitmap editing functions from Photoshop into Illustrator projects.
The plugin comes with some duotone and halftone features, separation options, overprint preview, and other such features.
Some of the most useful tools like Curves, Saturation, Hue, Levels, and Automation functions are included in the plugin
You don't have to juggle two different programs for a single project if you have Phantasm.
Your Illustrator projects will have much more weight and polish with this tool.
8. Magic Exporter
Exporting projects from Illustrator to other platforms can be a time-consuming chore.
You can improve your project's efficiency by a considerable margin by just using Magic Exporter to create web-ready PNG files.
It is possible to create multiple PNG files from the same project with the help of this tool.
This file copies can be of different screen sizes, which can help a designer get the most out of their graphic.
This particular feature will be useful to website designers.
There is no need to slice and hide layers manually as this tool allows you to select and export with the help of a drop-down menu.
The plugin costs around $25, but it can save you much time.
As they say, time is money.
This is a versatile plugin that is compatible with Ai 8 to CC2018.
This plugin allows you to work with paths without the need for setting control points.
You can drag from anywhere on the path and edit it according to your preferences.
Some designers need time to get used to this tool, but once you know how to use it, your workflow will be easier.
You can create artwork more efficiently with less time commitment through this tool.
Many designers particularly enjoy the Smart Rounding tool and the Symmetric Edit tool available in the plugin.
Xtream Path 2 costs $139, and it is an excellent investment for professional designers.
If you want something that will make your work easier, try the Xtreme Path plugin once to see if it suits your requirements.
All designers want to improve their productivity and ensure their designs are completed in a reasonable amount of time.
This plugin can help you with the workflow and make things easier to manage.
Control is one of a set of seven such plugins.
It allows you to organise, edit, and label your work effectively.
You can easily keep track of all the information and ensure all your projects are on track.
Control is a part of a series of plugins.
It costs $20 and the entire series of seven costs $98.
These plugins provide some benefits like the ability to custom search in different criteria, printing, organisation, shifting artwork by less than one pt increments, etc.
Experienced designers appreciate the level of control they get by installing the plugin.
These tools can take your Illustrator game to the next level in 2019, so it is a good idea to incorporate them.
There are several such plugins available for the Illustrator platform, so you're sure to find something that suits your requirements.
However, it is essential to make sure you choose a software program from a reliable source to avoid things like bugs and malware.
Author Bio: Lalit Sharma is the Founder & CEO of Ranking By SEO. He has been working in the SEO industry since 2005. He can be seen contributing to SEMrush, Social Media Today, and Entrepreneur etc.
---
If you wish to discuss how we can develop your brand or provide graphic design for your product or business, email us: hello@inkbotdesign.com
Inkbot Design is a Creative Branding Agency that is passionate about effective Graphic Design, Brand Identity, Logos and Web Design.
T: @inkbotdesign F: /inkbotdesign
---