Digital Nomads: 7 Best Places for Freelance Designers
Not all of us were made for the nine-to-five lifestyle.
Going to the same stuffy office day in and day out and continually doing the same tasks can soon get boring.
It's no wonder people decide to give it up and look for other options.
That is one of the reasons why people decide to become freelancers.
It is expected that, by 2035, there will be around a billion digital nomads in the world.
This alternative lifestyle provides people with a chance to work from home or travel the world and work from all sorts of exciting locations.
However, when you decide to follow this path, there are plenty of things you have to keep in mind.
Before you uproot your life, you have to look into your potential destinations carefully.
Aspects you have to consider include the cost of living, the quality and prices of accommodation, the healthcare system, transportation, the speed and availability of the internet, the weather etc.
Moreover, one cannot forget about their own safety, so looking into the political situation of a prospective destination is also crucial.
In case you are a graphic designer looking to become a digital nomad, we comprised a list of the best places for freelancers.
Take a look.
1 – Lisbon, Portugal
Let's start with Portugal's capital – Lisbon.
The city built on seven hills is one of the sunniest in Europe.
When it comes to the weather, the summers are dry and warm, and the winters mild, with the temperature rarely going below zero degrees Celsius.
The cost of living in Lisbon is quite cheap compared to other Western European metropolises, which is great news for digital nomads.
For getting around the city, you can get a pre-paid card which can be used for the metro, trams, buses and ferries.
Seeing as how you will need the internet to work, you'll be happy to know that it is available all over the city.
However, the speed might not be super fast.
You should also look into their healthcare system before you go.
Furthermore, the community of digital nomads is quite welcoming, and there are various meet-ups you can attend.
2 – Tallinn, Estonia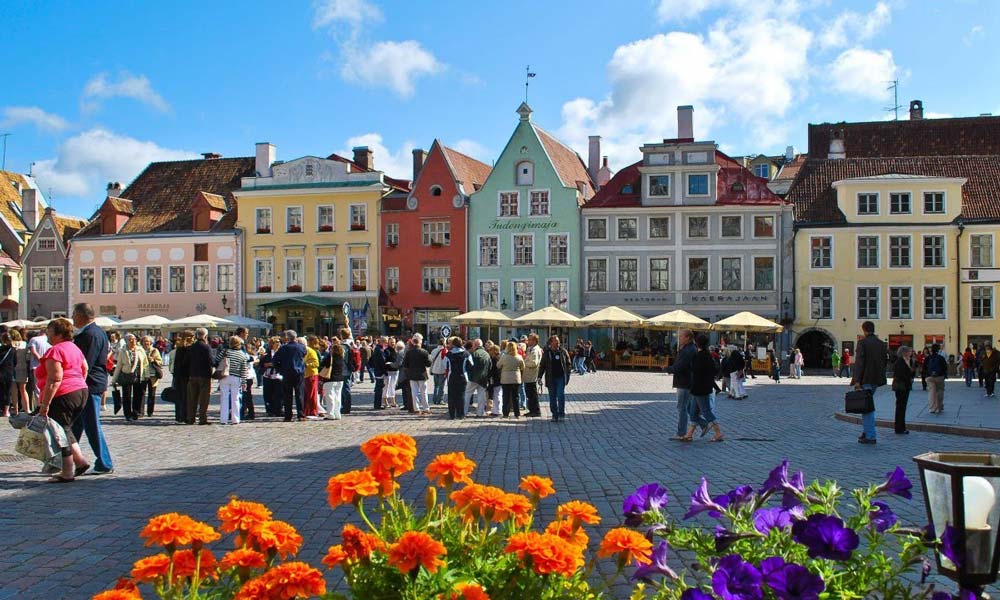 Did you know that Estonia was the first country which declared that it is a human right to have internet access?
Moreover, they keep investing in their digital infrastructure.
All of that is excellent news for any graphic design freelancer looking to travel to this beautiful city.
While the winters are quite chilly, during summer, you can enjoy the golden beaches.
English is widespread, so there should be no problems with communication and the locals are extremely friendly.
The quality of life and safety are quite good, and the cost of living is not high.
Plus, plenty of cafes and co-working spaces offer Wi-Fi, so all your assignments should be done on time.
3 – Budapest, Hungary
This gorgeous Hungarian city has much on offer to any potential adventurer.
The most significant advantage for a digital nomad is the excellent state of their internet, which is around 30mbps.
Moreover, Budapest has a well-developed public transportation system which is not expensive.
You will have buses, the metro, trams and trolleybuses at your disposal.
While their high-quality healthcare is very affordable, you should opt for private facilities as the public ones are often understaffed.
For all the benefits you stand to experience, the cost of living in this metropolis are somewhat affordable.
If you don't mind snowy winters and mild summer temperatures, this could be the city for you.
4 – Pune, India
When we hear India, we mostly think of Delhi and Mumbai.
However, other cities offer much better living condition.
Take Pune, for example.
It is one of the cleanest cities in India; it's full of greenery and has roads that are well maintained.
Due to its smaller size, getting around the city is much more comfortable, and there is less traffic than in the bigger counterparts.
Seeing as how the office sector is booming in India, you are sure to find a co-working space that fits your needs.
Thanks to the variety of festivals and cultural events the city host regularly, it has a young demographic which can help you settle in more easily.
Moreover, consider the facts that Pune is much cheaper and safer than other Indian cities when making your decision.
5 – Ho Chi Minh City, Vietnam
If you're looking for another Asian destination, you should definitely not neglect Ho Chi Minh City in Vietnam.
Their friendly people will make you feel at home instantly.
Even though this is a big city, the prices are not too high, and you can find quite economical rent costs as well as affordable meals.
Vietnam's street food is fantastic; you will get to enjoy many fresh, delicious and diverse dishes.
The climate is quite hot and humid, with two distinct seasons – dry and rainy.
Take that into account if you decide to move here.
Another potential downside is that even though there are cheap taxis and buses, the traffic is quite bad.
It would be best if you also watched out for pickpockets.
6 – Medellin, Colombia
If you've been watching Narcos, you probably associate this city with crime and Pablo Escobar.
However, you will be glad to know that safety has improved massively and it is now a city that welcomes digital nomads.
Seeing as how it has only recently become a hotspot for start-ups and entrepreneurs, the cost of living is not that high, and you can find reasonable prices for accommodation.
Medellin's nickname is "the City of Eternal Spring", which means that it's never too cold or too hot.
However, during the rainy season, daily thunderstorms are almost guaranteed.
The metro and buses are great for getting around the city, and taxis and Ubers are also quite cheap.
Wi-Fi usually depends on the part of the city, but you can definitely find a place to work.
However, you should be aware of the fact that the air quality is not stellar in certain parts of the city due to traffic congestion.
7 – Florianopolis, Brazil
Another South American destination you should consider is Florianopolis.
While we would suggest Sao Paulo's Vila Madalena as the neighbourhood for all sorts of artists, from graphic designers to musicians, it's not really the safest of options.
Instead, consider Florianopolis as the city with the third highest quality of life in Brazil.
If you are looking for a beautiful destination, here you will find both mountains and white-sand beaches.
The summers are hot and humid, and the average winter temperature is around 18 degrees Celsius.
This great weather means that most entertainment takes place outside.
You will love this if you're into hiking, surfing and other outdoor sports.
Furthermore, they have amazing parties and nightlife.
When it comes to the internet situation, it mostly depends on where on the island you are located.
So make sure to do some research to find the spot with a good connection.
The downside is that you will probably need a car to get around as it is a pretty big city and the transportation system isn't the best.
You can also consider other locations like Bali, Berlin or Chiang Mai, but they have been a hotspot for digital nomads for so long that their prices have become too high and they are becoming too crowded which makes it hard to find a good co-working space.
Make sure to weigh the cons and pros of these locations before you decide whether they are worth it.
With that in mind, these seven locations we listed are your safest bet if you want to start your adventure as a digital nomad.
Take all your needs into account.
Are you looking for cheaper options?
Is the weather vital to you?
Do you care about amazing views?
All of these things will help you decide which path to take.
So, follow your dreams and good luck!
Author Bio: Theodora is a passionate blogger from Sydney, and she is someone you would call an IT nerd that travels the world. Also, she takes great interest in psychology and helping people deal with their mental and anxiety issues. Besides that, she loves martial arts and enjoying nature.