7 Creative Business Card Ideas for Design Inspiration
In the past, business cards only contained a company's contact information, but nowadays, that is not their only purpose.
Now, designers have turned business cards into proper instruments to communicate a company's core message.
It is also kept in mind that if the business card is distinctive and memorable, only then it becomes part of a brand-building process.
If the design of your business card is unique and attractive, your clients are most likely to remember it and keep it with them.
Your clients will put your business card in their drawers at home or office if it has an attractive design.
Most business cards (almost 80%) distributed to the people are shown the way to the dustbin.
So, it is essential for business card designs to be professional and aesthetic to retain your clients' information.
The primary intention of these business card ideas is to provide contact information for a company, but the aim should also be to make an impact on the clients as well.
The Importance of Unique Business Cards
Business owners have to contend hard in their niche markets and want to discover all the possible opportunities to draw consumers' attention toward their companies, products or services.
For them, a business card should be of prime importance to propagate their vision of the company.
For business owners, the key is creating business card ideas that exceed customers' expectations.
The cards must instantly catch the interest of your business and what it stands for regarding values.
For example, while designing a card, the company logo and colours are some of the essential parts that must be well-considered.
Also, the unique idea of design inspiration emerges by changing and altering these two elements.
So proper research about the latest trends and colours is also necessary before deciding on brand design.
Remember that a unique design conveys the brand's core message to the audience.
Graphic designers have to experiment to develop unique designs that people can take.
Each year, we witness several new designs of business cards, many of which fade rapidly, while some continue to be present in our minds for a more extended period.
Here are some creative business design ideas you can use to create a powerful impact on your marketing materials.
1 – Minimalistic Design
Business cards are mainly intended for notifying the recipient about a company's business and its contact information.
As contact details, every business card must have an email address, phone number, and company website address.
The aim of the graphic designer should be to deliver these details most directly.
The recipients should get the contact information at a glance.
The potential consumers can focus instantly on the details without being distracted by other fancy elements if the graphic design is simple.
So, the latest trend is avoiding fancy designs and keeping the business card with simple features without losing seriousness.
Nevertheless, simplicity does not mean that the card should not be stylish.
The business cards should have a decent style, but they should not surpass the company logo design and contact details.
2 – Focus On Elements of the Brand
A business card design should be simple and present your contact details instantly to the recipients.
However, while doing it, don't forget to ensure that your brand's core message is delivered to your potential consumers.
The brand message lies in its colours, imagery, icons, or any marketing material that you use in your visual identity.
Therefore, always represent colours and logo design on your business card in a balanced way.
For designers, this trend is increasing in popularity as they keep the companies' colours, icons or images in the background.
It is typically favoured that the card uses colours obtained from your logo design and scheme of the website.
There is also a lot of white space usage in the background; in this way, the contact details are noticeable when the purpose is to utilise the cards with the intention of branding.
3 – Use Bigger Typefaces
The use of a larger typeface dominating the space of the card is also one of the emerging trends.
Bigger fonts instantly draw the viewers' consideration to the company's name and tagline.
Now, most business cards are being designed to include a very readable font size.
If your business card has a large typeface with a single colour in the background, it gives a unique look to the design.
However, ensure that your business card and other marketing materials, such as pamphlets, have the same components of the typeface and colours.
Since the typeface presents the story of your brand identity, you must use the font you have already used in your marketing campaigns.
4 – Witty Puns and Symbols
Another creative business card idea for design inspiration is to include some witty lines on the card.
The catch is that humour invigorates the card's recipient and stirs excitement.
Remember that the words create their unique impact on the thinking process.
Including a witty statement related to the company makes your business card design more acceptable to consumers.
"Including an icon further complements the design of the card, so pick the icons that communicate the values of your business and the message of the brand at its best," says Anna Bella, a logo design specialist.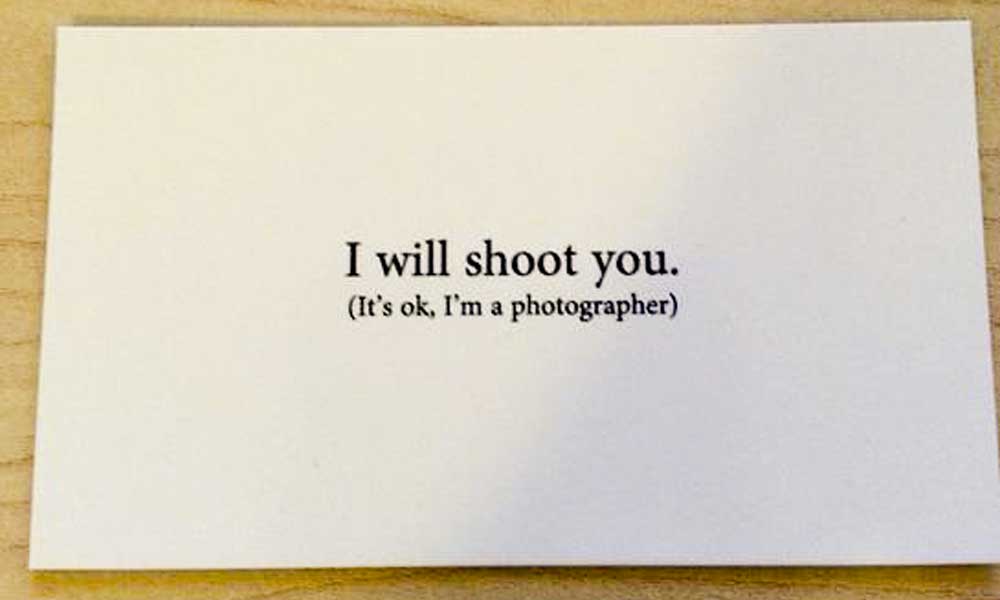 5 – Interactive Design
Many designers conduct various experiments with the designs to make cards more interactive or empower users to have something more to explore.
For example, many interactive designs have hovered or suspended slots of information.
The user drags out the rest of the card, including further information, through a sliding piece.
Creative designers are experimenting a lot with numerous ideas for creating interactive designs.
Some graphic designers create dual or triple-layered cards.
We propose you not exaggerate it, as it damages the overall presence.
While creating interactive designs, you must remember that the users will not spend much time toying with the card's design, so try to keep it uncomplicated.
However, you must ensure that the design elements used in your interactive card design go with the other marketing materials' graphic elements.
For example, a pamphlet is often disregarded as an unimportant marketing tool, but your pamphlet and business card designs should preferably have the same elements.
6 – Special Finishing and Cutting
An immediate way to add impact to your business card is to use a unique finish.
These individual finishes comprise things like foil blocking, metallic inks, etc.
Giving a unique finishing touch to your business card will make it more tangible, visually inspiring and memorable.
However, don't overdo the finish as well to create the overall balanced look of the card.
One of the great ways to make your card unique is to use a die-cut process to remove elements from the stock of the card, leaving a void.
You can either use a die to modify your card's shape or cut elements out of the centre.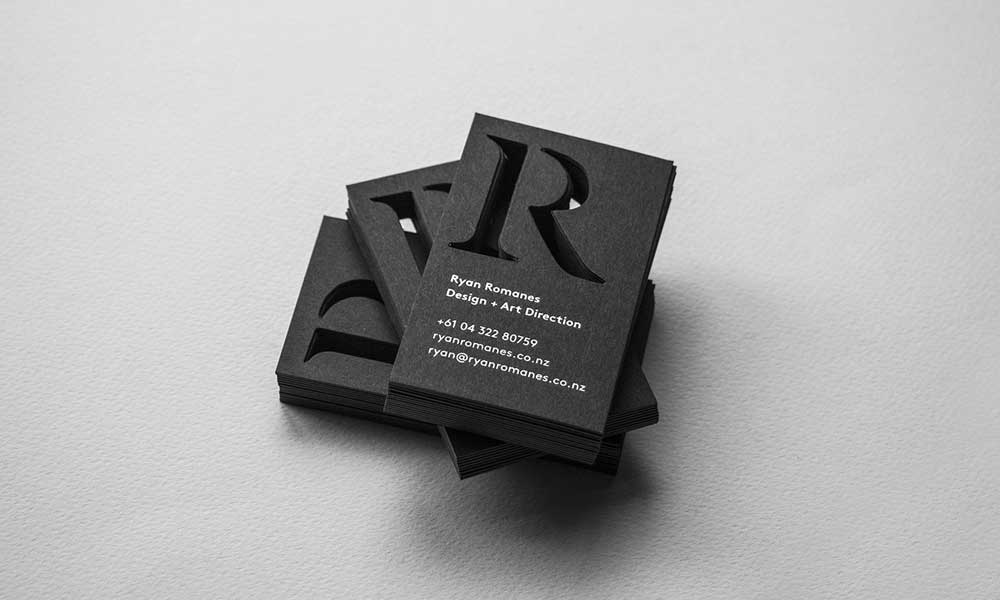 7 – Change the Orientation and Experiment with Materials
One of the unique design ideas for business cards is to change the orientation from horizontal to vertical to make your card stand out.
If you change the orientation of the business card, then it can be a powerful branding and used as a unique marketing tool.
Primarily when your design distinguishes you from the competitors and provides an impression of quality.
Also, "you can make your business card ideas unique by being more unconventional through the use of different materials," says Mike Edison, a professional writer.
If you change the material, you can always make an enormous difference in the feel of your business card ideas.
For example, if the wood is used, it gives a natural and earthy look and an unusual feeling in the hand.
You can also opt for a coated business card with a shiny surface, such as gloss or satin, which will give your business card a unique look.
Concluding our Business Card Ideas
Nowadays, choosing a unique design or size can help to make your business card ideas stand out from all the rest.
Distinctive and exclusive business card ideas in design will always get the recipient's attention.
So when you choose the design of your business card, then you must be well equipped with all the aspects of creating it.
If you appropriately select symbols and colours for your business card, keeping in mind all the aspects from the business point of view to the recipient's perception, it will pay off quite well.
Ultimately, your business card design should be unique and convey a positive image of your brand and company.