How to Get the Best Logo Design for Your Startup
Branding design speaks a lot about a company's credibility.
Especially if you are a startup, you need to pay extra attention to your company branding.
Out of all the branding elements, custom logo design has the most impact on your brand reputation; it sets a tone for your company.
A logo design is a symbol that represents the entire brand essence and helps a company to establish its identity among millions of companies out there.
For a startup, it is crucial to get the best logo design for their brand; otherwise, the market will not take them seriously.
Excellence made symbolic!
A logo design can make or break your brand reputation; therefore, we suggest not to design it by yourself, instead hire professionals that can create the best logo design for your company.
However, we highly recommend doing the initial homework because no one can understand your brand better than you do.
A brand is your creative child, and no matter how efficient the design agency is, no one can guard the idea better than the guardian.
A logo is a brand ambassador promoting your brand 24/7, so design one wisely!
The old mindset has always ignored the significance of a great logo design, but modern times have proved them wrong and forced the ideology to go obsolete.
In this digital era, the world is now connected.
Your company can achieve much more if the language barrier does not hold it back; a good logo design can help you connect internationally because the design does not depend on words to convey the message.
Design is a universal language!
If you are starting a business, we recommend you read this blog till the end because now we are going to talk about the ways you can ensure the best logo design for your startup.
Know What You Want – Conduct Extensive Research
The secret to getting the desired results is in knowing how to get those results.
The first step towards your dream logo design is to decode the aim you are looking to achieve through your brand.
The secret of building a strong brand lies in the way you construct it; a logo design might be one of the initial elements of branding, but it is not the first step.
The concept that brought your company into existence is the base upon which the entire branding will be based.
Therefore, before designing a great logo, you need to answer some questions.
What is your brand vision?
What is your target market?
Who is your competition?
Where are you based?
How will it resonate with the company vision?
Remember, the quality of your research will decide the effectiveness of your logo design.
The amount of time you will spend on the research will help you come up with a unique logo design that will do the justice of representing your company at all levels.
A logo is a custom-tailored suit designed only to fit your brand.
The best logo design is the one that can resonate with your target audience.
Brand managers often don't consider being relatable; instead, they are more focused on being different and more creative, which often results in a logo that might seem to have a stunning visual appeal but at the cost of losing your audience's attention.
Trust us; this is not what you want for your brand.
The idea of being different may make you a total alien to your target market; indeed, you don't want to be this different.
A logo design is more about relatability than being different!
Keep Your Logo Design Simple And Significant
Simplicity is the key to achieving significant feats; this might be an unpopular opinion, but it does wonders in the design world.
Less is more, and surely enough to make an everlasting impact.
Logos are your marketing assets published on every marketing medium; be it traditional or digital, logos are printed on every marketing collateral.
Hence, they should be simple so they can be easily reproduced on every medium.
Simple logos are reliable for multiple reasons.
Recognisability: The mind reads symbols 60,000 times faster than words; the more straightforward the character, the easier it will be for the brain to remember the image. That's why it is crucial to keep your logo as simple as possible.
A Prompt Emotional Response: In this busy world, you have got milliseconds to attract the consumer. A simple design is quickly processed by the brain and prompts an immediate emotional response.
Visually Appealing: Minimal approach is getting popular day in day out. They look visually superior to the old fashioned graphic designs. Moreover, simple designs are easy on the eyes and have a higher recall than a complicated design logo.
Clarity Of Message: Like mentioned earlier, you have very little time to get your message across. A simple design makes the message crystal clear and makes it memorable for the audience as well.
High Recall Value: due to their minimal design approach, simple logs are easily remembered and relatively high recall. There is no brainer in this; obviously, less information is efficiently stored in our minds.
Which Type Of Logo Is Best Suited For Your Brand?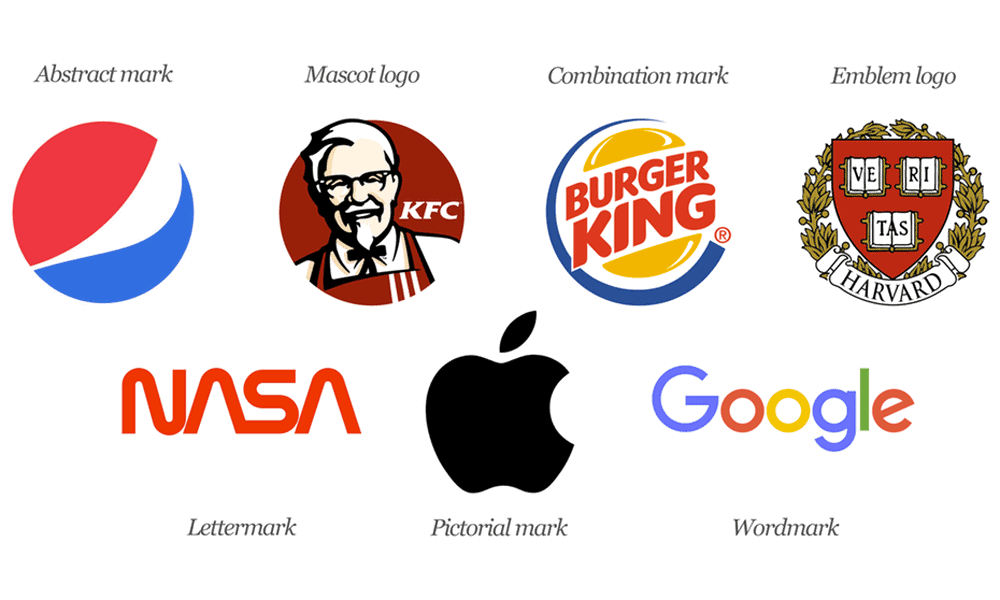 What is the best logo design? It all comes down to personal preference; some may consider a logo to be perfect, while others may find it unpleasant.
But as a brand, your target audience must be your priority.
There are mainly seven types of logo design methods:
Logotype logo design
Lettermark logo design
Mascot logo design
Brand Mark logo design
Combination Mark logo design
Abstract logo design
Emblem logo design
All the logos mentioned above will only be useful if you choose them wisely.
Any logotype can help you get the best logo design if utilised intelligently.
A visually appealing logo that your audience doesn't like is crap!
Picking up a logo design style might appear to be easy, but the process is more straightforward said than done.
We can help you choose the best logo design type for you. Just follow the following steps:
Quickly go through every design type and the industries they are mostly used in. Also, consider your market segment; it is always a good idea to keep track of your competitors.
The best thing to do is to sit with the designer you are hiring and brainstorm together. Your input, combined with his experience, you will find a way forward.
Never go with the flow, and always consider will this logotype will benefit your brand. It is not necessary that if a particular type of design works for a brand, it will work for you too.
Whatever style you may choose, keep one thing in your mind that a logo design should be versatile and timeless.
A logo stays with a company for a long time, so make sure that your logo shouldn't age as time passes.
The slogan of a company is like a smile, and the logo is like the teeth, make sure they are always sparkling!
How Much Can You Spend?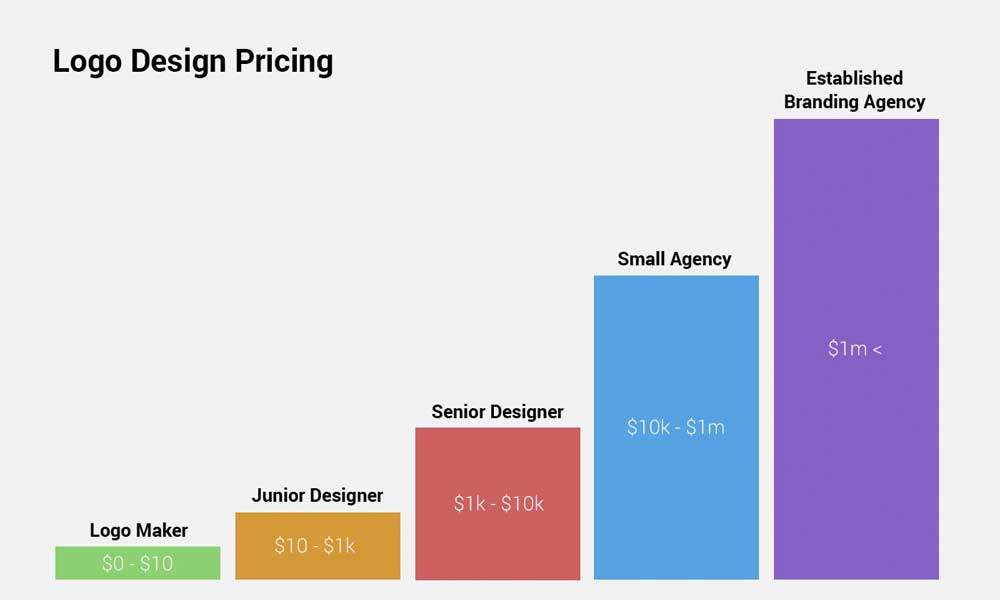 It all comes down to one thing: what is your budget?
The logo design market is as vast as the Milkyway.
Pick a rock, and you will find an agency that will readily design a logo for as low as $5.
Many have fallen prey to the $5 charm, but hopefully, you won't.
If you are looking for the best logo design, then you better loosen those pockets up!
Nothing worthwhile comes for free. You always have to pay a premium price for the best.
Some agencies will design a decent logo for about $1000, and then some promise to deliver the best logo designs, but the claim comes with a huge price tag that might force you to file for bankruptcy.
The trick is to find the sweet spot that balances the cost and the benefits.
We never recommend a startup to spend tens of thousands of dollars for just a logo design, but the budget shouldn't be too little, or else you might end up with a generic-looking logo.
Your Will To Achieve Is The Assurance To Your Success
Last but not least, we assure that you will get the best logo design if you follow what you have read above.
Getting a logo designed is no biggy, but you have to be consistent with your efforts and approach.
Don't change your mind in the middle of the process; stick to what you decided at the beginning.
Never take logo design for granted or else people will take your brand for one!
A well-designed logo can stun the masses and shape the perception of the people.
A product that sells for a dollar can be sold for a lot more if the branding is up to the mark.
Undoubtedly, logos speak so much without uttering a single word.
A logo won't make you rich, but indeed it will connect you to those who can!
8 Best Logo Design Tips for Any Business to Grow!
The first challenge that a startup comes across after its conception is the struggle to spread brand awareness on a large scale in limited time duration.
A startup that gains recognition at the initial stage can rest assure that it will sustain an essential place in the market if kept going smoothly.
Whereas, businesses that fail to become a familiar brand name, in the beginning, tend to face problem meeting the profit targets in the decided time limit.
In other words, it is the foremost goal of a startup to become known in the market, and thus, every business attempts to achieve it.
However, obtaining a good reputation and a recognisable status in the market demands much homework and insightful decision-making.
One of the most active elements that influence brand awareness and its recognition in the market is the business logo.
A logo is an alternative to the lingual name of a business— a visual identity of the company that combines the business name with its functionality.
A great logo can make an enormous difference in how a business is perceived in the market.
Everything from the softness or firmness of the logo design to the choice of the colour palette plays a role in locking the eyes that interacts with it.
That is why; businesses have to be very careful while choosing a logo design.
This article is an attempt to gather some of the best suggestions that can help businesses make excellent logo designs.
Exploring the best logo design tips will lead to a more focused and clear logo design strategy.
Let's start with one of the most important design concepts for delivering the business's core messages efficiently.
1 – Visualise The Business Identity
Socrates famously said, "Know thyself" and this quote seems to fit quite well to the businesses who are willing to design a beautiful logo.
Creating a functional logo design for a business is impossible without understanding the company itself.
A logo is the visual representation of a business, and thus, it should be infused with the brand's central message.
So the first to learn is that before starting to work on a logo designing process, a business should always look into what is its core business message and how that message can be incorporated into a logo design.
Use your creativity and make sure the message is reflected through the design.
2 – Analyse Your Target
Every culture and demographic background has a taste and preference in design and art.
A logo that would suit a brand for children may not go well with an adult product, and every business has an individual target market that it plans to serve.
So a business cannot base its logo designing strategy only on its business message.
It has to make its identity relatable for the right targets to attract them towards its visual message.
Moreover, to make a logo design appealing for a specific audience, a business has to put in some effort for building an understanding of that particular target audience.
Once a business knows what its core function is, and who are the prospect audience is, designing a logo design strategy would become more comfortable.
3 – Make Them Go 'Wow'!
"There are three responses to a piece of design – yes, no, and WOW! Wow is the one to aim for."
Milton Glaser
This quote translates into captivating the attention of the audience instantly.
A logo has to be designed in a way that can capture the attention of the audience at the very first glance and hold it for a while.
Researches show that the first 8 seconds of the audience's interaction with a business decide whether the brand will influence their buying decision or not, and mostly, this first interaction involves the logo.
If your brand logo is made to click and stick to the minds and sights, the customers are likely to give it a chance.
So try to come up with a design idea and technique that will arrest the sights and engage the minds immediately, delivering the right message to the audience and harvesting a positive response.
That is, providing your audience with a creative art experience can lead to the fulfilment of the marketing goals that were just mentioned.
4 – Minimalistic Designs Do Not Miss The Mark!
Antoine de Saint-Exupery, the creator of all-time-favourite The Little Prince and one of the best illustration artist, once said,
"A designer knows he has achieved perfection not when there is nothing left to add, but when there is nothing left to take away."
Antoine de Saint-Exupery
Minimalistic design trends in the logo are a refined design concept as they never miss the mark and hits the audience powerfully.
A minimalistic logo design has fewer design elements and colours, making the design centralised around a single business concept.
They keep the logo design free of any distractions and eliminate the chances of clients misunderstanding the business message conveyed through the logo.
5 – Fonts Speak Loudly
The selection of the font in a logo design affects the entire tone of the design, and thus, it should be selected carefully.
If you want a logo for an App development service that claims to speed up the business growth, a fluid font style will go well.
However, if the tagline and the overall theme of that same App development service company has an action-game genre, the font style may have a bold metallic touch to suit it.
There, you see, the font selection can completely change the aura of the design and help the designer deliver the message with transparency.
6 – Colours Can Fill-In The Meaning!
If you have ever come across the concepts of colour psychology, you will know that every hue or shade of colour has some special meaning that the minds perceive while looking at it.
Logo designers and designers who work on marketing-oriented designing fields understand the concepts of colour psychology and implement them efficiently.
The excessive use of red and yellow colours in the logo designs of top restaurant chains and food items is an observable notion for proving the point.
Pepsi, Coca-cola, McDonald's, KFC, Subway, Hardees, are one of the many examples.
The red colour stimulates the hunger, and the yellow grabs the eye instantly.
The colour palette of your logo must go with your business concepts, and it should also be able to stimulate the right emotional and mental response among the targets.
Learning about the details of colour psychology and its use in marketing and advertisement can be a great idea before choosing the colours for your business logo.
7 – Tell a Story!
One of the most beautiful ways to convey information that humankind has discovered up until now is through storytelling.
The information that is delivered in the form a story is memorised effortlessly.
A business that understands this factor uses their logos as an opportunity to reveal their brand stories.
It, no doubt, demands much creative effort and artistic skill to implement this technique but the results that it delivers, worth the struggle.
The idea of telling your brand's story through a logo is built around the concept of constructing strong associations between the visual business identity and the already existing narratives.
For instance, many products associate their products with nature.
They use a 'wave' or a 'drop' like design, or an animal's picture to establish the relationship between nature and their brand.
Nestle is a good example.
This helps the audience build a perception about the brand that is related to that particular sign.
In the case of using nature, the brand will be perceived as original, pure, motherly, wholesome, and so on.
8 – Send Subliminal Messages!
Clear messages do strike most of the times efficiently, but the messages that are hidden in the design hit even more powerfully.
Using the blank areas and gaps in the logo to be suggestive of a subliminal business message can influence the audience through reaching the subconscious instead of the conscious minds.
Take the example of FedEx's forward arrow that is not noticeable at first.
Still, it gives an impression that the brand is associated with the attributes like speed and direction, emphasising on the brand's values efficiently.
Similarly, using multiple colours in a brand logo where diversity is a business value can stress upon the underlying concept productively.
Businesses should make a list of their business values and try to fill up their logo designs with some of their primary business values.
Conclusion
These are a few most valuable strategies that a logo designer should consider to design a well-to-do brand logo.
A designer who is willing to grab the attention of an audience should never rely on his or her instinct or opinion.
Still, instead, they should always explore what works in the marketplace and how logo designing functions generally.
A logo is designed to cater to a broad and diversified audience, and that is why, underestimating the practices of checking out the techniques that have worked for others and looking for the inspirations everywhere while following the basic design rules, can lead to massive design failures when it comes to logo designing, specifically.
Author Bio: Tahha Ashraf is a Digital Brand Manager at Techxide, a popular digital agency. He loves chipping in creativity and ideas that are worth execution. He loves to build a brand persona and strategies that are poised to skyrocket the brand's success. He writes and read poetry in his free time.