Top 10 Best Large Format Printers for Businesses
Large format printers allow businesses to create oversized prints for banners, posters, and signs. With printing capabilities between 24 and 100 inches wide, these specialised machines open up visual communications and promotion possibilities.
But with so many large format printer models available from leading brands like Canon, Epson, HP, and others, how do you determine which one best fits your business needs and budget?
This comprehensive guide examines the top 10 best large format printers for business use based on print quality, speed, features, reliability, operating costs, and overall value. Read on to find the right fit for your wide-format printing projects.
Why Businesses Should Invest in a Large Format Printer
Before diving into the top options, let's look at why a large format printer makes sense for many businesses:
Print banners, signs, and posters – Promote your business, products, or services with professional oversized prints for trade shows, events, retail displays, outdoor signage, and more.
Create window and floor graphics – Print custom decals, clings, and graphics to decorate storefronts, office spaces, and events.
Produce blueprints and technical drawings – Architects, engineers, and contractors rely on crisp, detailed, large-format prints.
Print artwork and photography – Photographers and graphic artists can print portfolio pieces, murals, and oversized media.
Offer printing services – Print shops can benefit from offering wide format printing services to clients.
Stand out from the competition – Large signage and displays help businesses attract more attention and look more professional.
Replace outsourcing – Invite wide format print jobs for faster turnaround and privacy.
A large format printer is a wise investment for any business looking to improve visual communications, branding, signage, or offering print services. The expanding capabilities and falling costs also put these machines within reach of more small businesses and startups.
Factors to Consider When Choosing a Large Format Printer
With many options available, it's crucial to determine your must-have features and priorities to select the right large-format printer. Key factors to consider include:
Print quality – Resolution, colour accuracy, printhead technology, and ink quality all impact print quality.
Print speed – Faster print speeds improve productivity for high-volume jobs.
Print size – Confirm that the maximum print width matches your needs. Standard options range from 24″ to 64 "+.
Media handling – Some printers support thicker materials, roll or sheet-fed media, speciality substrates, etc.
Connectivity – Review connectivity such as WiFi, Ethernet, USB, etc.
Printer drivers – Availability of drivers for your operating system and design software.
Running costs – Ink and substrate costs can vary considerably between models.
Reliability – Durability and low maintenance requirements minimise downtime.
Warranty – A robust warranty provides peace of mind for a critical capital purchase.
Brand reputation – Stick with recognised, established brands for better support.
Business applications – Match specific features to your intended signage, display, or graphics needs.
Once you finalise your must-have features, you can narrow the choices to the best large-format printer for your business.
The 10 Best Large Format Printers for Business in 2023
Based on the criteria above and hands-on testing and reviews, these top 10 options represent the best large format printers for business use this year:
1 – Canon imagePROGRAF TX-3000
The Canon TX-3000 is a superb mid-range 44″ large format printer for office and print shop use. It replaces the popular TX-2000 model with improvements all around.
Outstanding print quality comes from a new 5-Color LUCIA TD Pigment ink system. The printer handles cut sheets or rolls up to 44 inches wide. It prints briskly up to 23.4 m2/hour in draft mode.
This Canon printer is loaded with smart technologies like a sub-ink tank system for continuous printing and automatic nozzle checking and cleaning. It switches effortlessly between multiple rolls with auto-media switching.
The TX-3000 has an intuitive 4.3″ colour LCD touchscreen and is compatible with Canon's Print Studio Pro plug-in software. Reliability, print quality, and ease of use earn this Canon a spot among the top large-format printers.
2 – Epson SureColor SC-T3100x
Sale
Epson SureColor T3170 24" Wireless Desktop Printer,White
Breakthrough Print Speeds — produce accurate A1/D-size prints in 34 seconds (1).
Easy to Operate — large, intuitive 4.3″ LCD color touchscreen simplifies print tasks.
Compact, Clean Design — ultra small footprint4 and sleek, minimal design that enhances your workspace; easily fits on a desktop, or on its own with optional stand (sold separately).
Replace Ink Less Often — high-capacity cartridges, up to 50 mL color and 80 mL black.
Print from Virtually Anywhere in the Office — easily print from tablets, smartphones and more (3) with integrated wireless plus router-free Wi-Fi Direct printing (2).
Epson's 24-inch SureColor SC-T3100x delivers outstanding print quality in a compact, office-friendly design. It's an excellent choice for smaller businesses ready to move from a desktop printer to actual wide-format printing.
Despite the small size, this Epson printer can handle cut sheets up to 24 inches wide or print banners up to 98 feet long. It utilises Epson's PrecisionCore MicroTFP printhead for remarkable detail and a wide colour gamut.
The SC-T3100x prints CAD and technical drawings, posters, photos and more at speeds up to 22 seconds per A1 page. It has integrated security features, supports various media types, and has user-friendly controls with a 2.7″ touchscreen.
3 – HP Designjet T650
Sale
HP DesignJet T650 Large Format 36-inch Plotter Color Printer, Includes 2-Year Warranty Care Pack (5HB10H), Black
Includes 2-year Warranty Care Pack: Including onsite and remote support, HP parts, as fast as next business day device service if your issue can't be resolved. Plotter printer epairs performed by HP technicians using 100% genuine HP parts.
Ideal for: Technical line-drawings, renders requiring precise, accurate line-quality and crisp text, posters, and maps. This printer is popular among architects, engineers, construction professionals, and high-quality wide or large format prints.
Media Sizes: Up to 36-inch wide media rolls (large format), and up to 13-inch by 19-inch sheets (wide format) using the included automatic sheet feeder accessory.
HP's smart, efficient DesignJet T650 serves up stellar prints up to 36 inches wide, ideal for architects, engineers, construction firms, and in-house marketing teams.
The T650 has a compact, office-ready design with quiet operation. It utilises HP's dual-roll and automatic switching technology to improve workflow productivity. With six vivid ink colours, vivid prints come from HP's Drop-on-Demand and Thermal Inkjet printheads.
This intelligent printer has built-in security features to protect sensitive documents. The T650 also has self-monitoring capabilities to minimise downtime. Fast print speeds, dual rolls, smart security, and running cost efficiency make this 36-inch HP a leading choice.
4 – Epson EcoTank Photo ET-8550
Epson EcoTank Photo ET-8550 Wireless Wide-Format All-in-One Supertank Printer with Scanner, Copier, Ethernet and 4.3-inch Color Touchscreen, Large, White
Cartridge-free printing for lab-quality photos, graphics and creative projects — get vibrant colors and sharp text with Epson's high-accuracy printhead and Claria ET Premium 6-color inks; print a 4 x 6″ photo in as fast as 15 seconds (4).Product protection you can count on — 2-year limited warranty with registration (10). | Genuine Epson Ink for Genuine Epson Quality― Epson strongly recommends the use of genuine ink to ensure optimal print quality and performance. Use of non-genuine ink could cause damage not covered under the printer's ltd. warranty.
Extraordinary media support, including borderless photos up to 13″ x 19″ — accommodates cardstock, CD/DVDs and other specialty media up to 1.3 mm thick; auto 2-sided printing
Amazing value — save a ridiculous amount on photos (1) and creative projects with affordable in-house photo printing; print 4″ x 6″ photos for about 4 cents each vs. 40 cents with traditional ink cartridges (1)
Epson's all-in-one delivers excellent value for small businesses seeking affordable wide-format printing up to 13″ x 19. It prints, copies, scans, and faxes with automatic 2-sided printing.
This flexible Epson printer has a built-in 9″ colour touchscreen and print speeds up to 22 ipm. Connectivity options include Ethernet, USB, wireless, WiFi Direct, and NFC tap-to-print. It supports printing from iOS, Android, and Windows devices.
It can print on sheets or banners up to 51″. To maximise efficiency, businesses will appreciate the automatic document feeder, dual paper trays, and high-yield ink cartridges. Priced under $800, this Epson all-in-one is a budget-friendly wide-format solution.
5 – Canon imagePROGRAF PRO-300
Sale
Canon imagePROGRAF PRO-300 Wireless Color Wide-Format Printer, Prints up to 13″X 19″, 3.0″ LCD Screen with Profession Print & Layout Software and Mobile Device Printing, Black, One Size
Take complete creative control of your images and bring them to life with the imagePROGRAF PRO-300 professional inkjet photo and fine art printer.
EASE OF USE — ultimate productivity with Nozzle Recovery System and Skew Correction.
The PRO-300 offers professional image quality, productivity, and outstanding workflow with a smaller footprint, allowing you to consistently deliver theresults your images deserve.
9-color plus Chroma Optimizer ink system—designed to meet the demands of every photographer, from advanced amateurs to professionals.
Easily check ink levels, printer status, and other settings with the 3.0" COLOR LCD MONITOR.
Canon's professional-grade PRO-300 is a premium 13-inch wide photo printer primed for photography studios, graphic designers, and artists. It delivers gorgeous gallery-quality photo prints and sharp detail in technical drawings.
This printer utilises a 12-colour LUCIA PRO Ink system with Chroma Optimizer coating for stunning colour accuracy and gamut. Prints resist fading for over 200 years. It supports various fine art and photo media up to 13 inches wide.
The PRO-300 has built-in PictBridge plus Ethernet, USB, and wireless connectivity. Canon's Print Studio Pro plug-in lets you print directly from Photoshop and other design programs. For professional photographic reproductions, the PRO-300 is a superb choice.
6 – Epson SureColor SC-P900
Sale
Epson SureColor P900 17-Inch Printer,Black
Outstanding image quality and color — all-new UltraChrome PRO10 Ink with Violet produces a wide color gamut for vibrant and rich colors
No Photo and Matte Black ink switching — dedicated nozzles for both black ink types — no switching needed
New 10-channel MicroPiezo AMC printhead — consistently delivers prints with outstanding speed, consistency and accuracy
Easy printing from smart devices — print color-managed files directly from your iOS device (1) using an easy-to-use interface
New Carbon Black Driver Technology — all-new Carbon Black Driver mode dramatically increases Dmax for best-in-class black density on glossy papers
Epson's photo-centric SureColor SC-P900 is a professional 13-inch wide desktop printer for photographers, graphic artists, and businesses. It delivers exceptional print quality up to 13″ x129″ with vivid colour and deep blacks.
This printer utilises Epson's PrecisionCore TFP printhead alongside ten channels of Epson UltraChrome HD ink for accuracy and an expansive colour range. The ink set includes three levels of black for incredible contrast and detail.
The user-friendly SC-P900 has a large 4.3″ customisable touchscreen. Connectivity includes USB, Ethernet, and WiFi. Compatible media includes fine art paper, canvas, vinyl, and coated papers. For pro-level wide format photo printing, the SC-P900 excels.
7 – Canon imagePROGRAF TX-4100 MFP T36
Sale
The Canon TX-4100 MFP T36 mounts this 44-inch large format printer onto a multifunction copier for powerful printing, copying, scanning, and sharing functionality. It allows businesses to consolidate devices into one high-performance unit.
This Canon printer provides top-notch image quality with a five-color LUCIA TD Pigment ink system. It has enhanced security features, integrated software, dual-roll capability, and up to 65 feet of banner printing.
The TX-4100 MFP has fast print speeds of up to 21.3 m2/hour. It scans documents up to 2mm thick and copies in colour or black and white. Built-in smartphone/tablet links enable scanning or printing from mobile devices. Canon's large format expertise helps this MFP excel.
8 – Roland VersaUV LEC2-300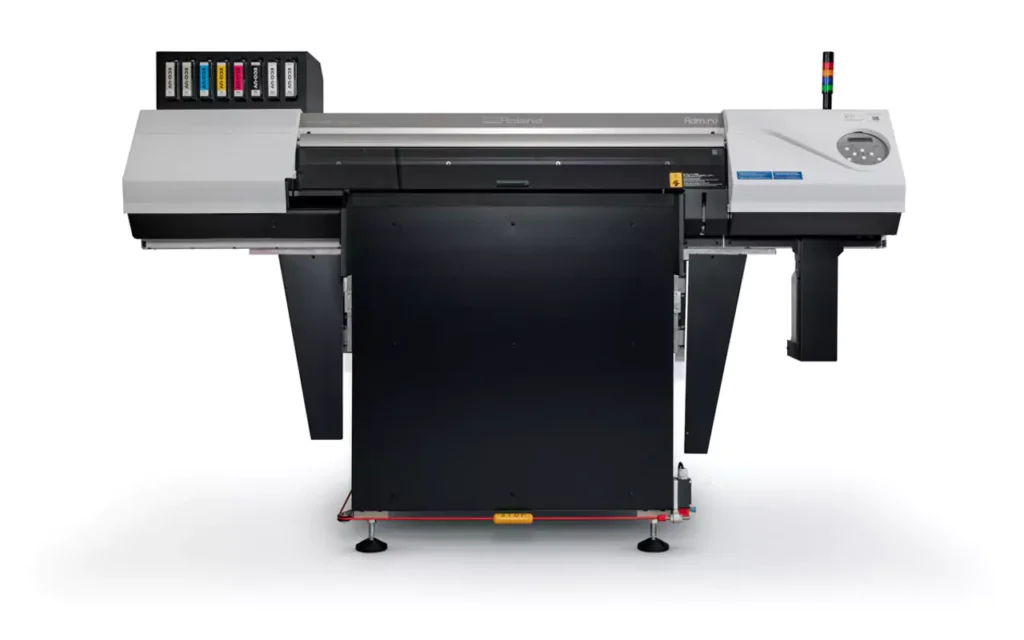 Roland's VersaUV LED UV printer stands out because it can directly print on 3D objects, fabrics, leather, wood, acrylic, and more, up to 7.9″ thick. The 30-inch LEC2-300 opens innovative printing possibilities on unusual surfaces.
This unique printer utilises LED-UV curing inks, which quickly cure and bond to various materials. Transparent and White ECO-UV inks allow stunning effects, textures, and finishes.
The LEC2-300 has a built-in Roland Texture System for simulated embossing on flat prints. It also delivers accurate spot colours, vibrant CMYK process printing, crisp contours, and refined text reproduction on select surfaces. This speciality printer excels for bespoke projects.
9 – HP Latex 310 Printer
HP's eco-friendly Latex 310 printer allows businesses to print odourless, environmentally safe indoor signage up to 54 inches wide. The water-based HP Latex inks contain no hazardous VOCs or heavy metals.
The smart HP Latex 310 is designed for quick, easy operation with automatic unattended printing and media profiling features. Fast print speeds and dual rolls enable productivity. The printer is optimised for use with HP's flexible, low-cost Latex media.
The 31-inch wide Latex 310 produces sharp, consistent graphics with six ink cartridges. Built-in spectrophotometer colour calibration ensures colour accuracy. This odourless HP printer is ideal for green wide format signs, displays, backlit, and graphics printing.
10 – Xerox Baltoro HF Inkjet Press
Xerox's top-tier Baltoro HF inkjet press delivers industrial-grade production capabilities for high-volume printing up to 57 inches wide. Features like dual-roll and auto-switching maximise uptime and productivity.
This heavyweight press provides stunning image quality with a waterless HD inkjet process. It supports diverse substrates from porous to plastic, metal, and more. Automated image quality controls and colour calibration ensure consistency.
The Baltoro HF reaches blazing-fast speeds up to 4,381 sq ft/hour. It has a robust duty cycle of over 4 million linear feet per month. The press is suited for indoor signage, graphics, packaging, POS displays, and technical drawings. For 24/7 production, the Baltoro HF excels.
Key Considerations When Buying a Large Format Printer
Before selecting from the top options above, take a moment to confirm which features and specifications are most important for your business applications and budget:
What is your maximum print width needed? Match this to printer capabilities.
Will you primarily use cut sheets, roll/banner media, or both? Check compatibility.
Do you require single-roll or dual-roll media handling?
What thickness of materials do you need to print on?
How frequently will you use the printer? Match duty cycles accordingly.
What print speeds are necessary to meet production requirements?
Does colour accuracy, gamut, and longevity matter for your uses?
What connectivity options are essential (WiFi, Ethernet, USB, etc)?
What level of running costs are acceptable? Compare ink and media prices.
Does the printer require permanent installation, or can it be moved?
What RIP or printer software is preferred? Verify compatibility.
Do you need scanning, copying, or other functionality beyond printing?
What level of tech support and maintenance does the printer brand offer?
Answering questions like these will help narrow the choices and ensure you select a large format printer optimised for your business needs.
Maintaining Your Large Format Printer Investment
To keep your new wide format printer running optimally for years to come:
Perform regular nozzle checks and cleaning cycles to maintain printhead health.
Follow manufacturer guidelines on installing firmware and software updates.
Use only recommended print media and OEM inks for best performance.
Clean the printer by removing dust, dirt, and stray ink from flat surfaces.
Replace worn-out parts like feed rollers, wiper blades, and belts when required.
Schedule periodic maintenance checks by authorised technicians.
Store materials properly in sealed bags when not in use to prevent dust and moisture damage.
Taking proper care of your large format printer will maximise uptime, print quality consistency, and the printer's lifespan.
Conclusion
Investing in a large format printer opens new avenues for business signage, displays, promotional graphics, and revenue-generating print services. Closely match the printer's capabilities and features to your specific business applications.
For most small to mid-sized businesses, Canon, Epson, and HP offer excellent options to strike the right balance of print quality, speed, smart features, and operating costs. Models like the user-friendly Canon TX-3000, high-value Epson SC-T3100x, and versatile HP T650 represent great starting points for wide-format printing.
On the professional graphics side, Canon and Epson's pro photo printers, like the Canon PRO-300 or Epson SC-P900, provide stellar quality suited for galleries, photographers, artists, and design agencies. For industrial-level production, Xerox's heavyweight Baltoro HF inkjet press is in a class of its own.
No matter your business, following this guide's printer recommendations, buying considerations, and maintenance best practices will set your organisation up for success with wide-format printing. Choose the suitable model for your needs and create oversized visual communications that significantly impact you!
Frequently Asked Questions About Large Format Printers
What is a large format printer?
Large format printers can print oversized media 24 inches or wider. Standard models top out at widths between 36 to 64 inches. Large format printers use specialised inkjet technology to print banners, posters, signs, technical drawings, photography, backlit displays, POS graphics, and more.
Why do businesses use large-format printers?
The ability to print full-scale banners, signs, technical drawings, and oversized graphics opens up visual communication possibilities ideal for retail, restaurants, trade show exhibits, construction firms, photographers, print shops, and marketing teams.
How much do large format printers cost?
Entry-level printers start around $300 for simple desktop models up to 12 inches wide. Mid-range workhorse printers from Canon, Epson, and HP for 24 to 44-inch prints range from $1,500 to $4,000. Professional photographic printers cost $1,000 to $2,000+. Full-scale industrial presses easily exceed $100,000.
What print speeds do large format printers achieve?
Basic models print 1-2 pages per minute. Faster mid-range printers reach print speeds of 500 sq ft per hour for graphics and over 20 m2 per hour for technical drawings. The fastest industrial presses print thousands of square feet per hour.
What ink and media do large format printers use?
Most use aqueous inkjet inks – either dye or, more commonly, pigment. Photographic printers utilise more expensive chromogenic inks. Media includes paper and film rolls, vinyl, canvas, speciality substrates, and coated/uncoated options.
Last update on 2023-12-06 / Affiliate links / Images from Amazon Product Advertising API