Why You Need a Website to Create a Digital Impression
Whenever a company starts from scratch, they have to consider many different things. Capturing and captivating customers' attention is not as easy as you think. A digital presence is significant as the world moves towards digitisation, and everyone wants to create a sustainable position online.
Suppose you own a versatile business with tons of beautiful outfits and sell them cheaply. However, you are not getting enough people ready to purchase from your store. What will you do next?
Here comes a stage where we are less concerned about the products and become heavily frustrated and think, are we making a mistake? However, the error is evident if we ask these questions from a marketer. The answer will be pretty straightforward.
Without a website, how can you create a digital impression in the digital sphere where everyone tends to compete with each other and win the digital race?
It's better to have a website with all the constraints in mind, creating an improved and better website. However, keep reading if you wish to know more about the details.
But, first, let's first know what a website is and why it's necessary?
What is a Website & Why is it necessary?
A website is a digital blueprint that helps you deal with different things and market all of your information on the storefront. However, a customer will not move to another brand without reason.
There are different reasons due to which a customer chooses another website like:
When they feel the website is not correctly created or has something missing making a considerable drawback.
The content is not appealing enough to captivate the customers' attention and make them look through other pages.
Missing layout and the website's load time is so high that customers get frustrated due to lag and move towards someone else.
Missing creativity, like the website, has much absence in the overall webpage like creativity, colours, and animation that are good enough for enticing the audience to stay.
Services are not elaborated correctly, and everyone feels like they're missing out on something, which is a considerable drawback.
These were why customers move towards someone else with a similar offering. However, if we talk more in detail, let me tell you one more thing.
The importance of websites is very mandatory these days. Suppose you're visiting a store and want to know more about them, what will you do next? Of course, you will go through their social pages and see different mediums through which you can dig for detailed information.
If you somehow fail to find more information about the services and company, you will ultimately move towards someone else. It's a win-win situation if the service provider understands this fact. Otherwise, they will regret it later.
However, we're now clear with the basics of websites and why it is essential to get one.
Let's jump into the main topic: the top 6 reasons a website is mandatory for driving customers' attention and making an appealing digital impression.
Top 6 Reasons To Get Started With Your Website To Create A Digital Impression
In this section, we will know about the tips and reasons why choosing a website is necessary for your business needs, also, how a website assists in creating a digital impression in the digital sphere.
1 – Creates A Digital Impression Online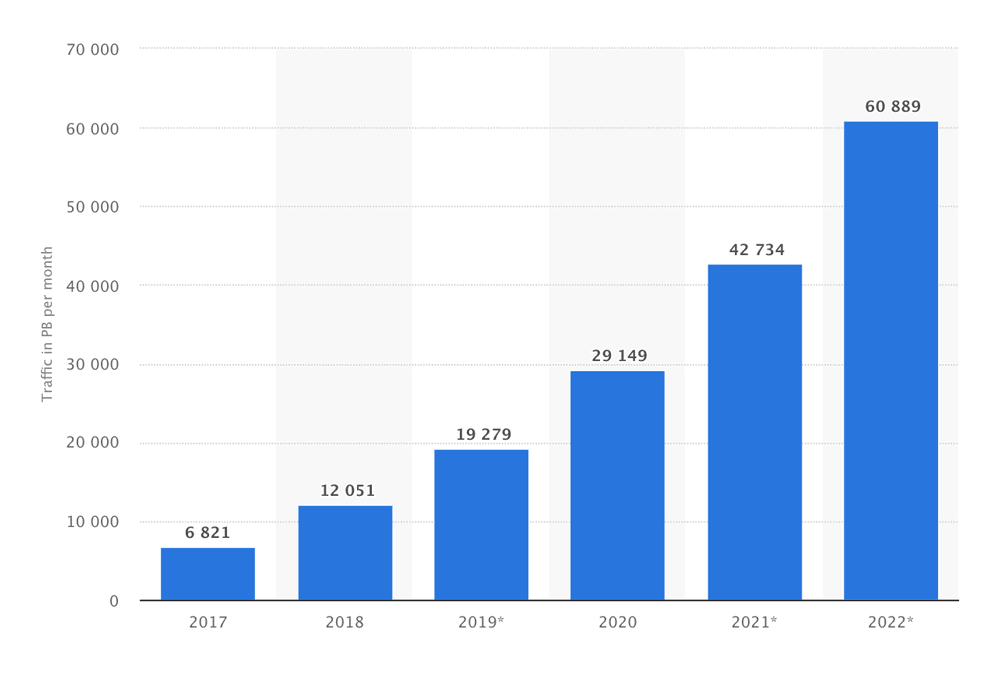 The first and most important thing which comes to mind while creating or building a website is a digital impression in the digital world. With the help of different things and ideas, we can create a website worth the effort and time.
Also, it would help if you had a team of writers who have years of experience building sleek, flawless, and robust websites for creating a website.
A team of marketers, writers, and developers with years of experience will help you build a digital impression that will remain in the mind of the viewers for a more extended period.
A customer purchases with the eyes first and then moves towards other things. And of course, when your website is not created correctly, they are not motivated at first and move towards your competitors.
So, a website assists in creating digital impressions with its sleek, robust, and flawless features, turning the customers' entire journey into an everlasting one!
2 – People Will Get To Know Your Brand
When we are in our early days, we rarely know and understand the literal meaning of the website. However, when we gain experience, it's easier to learn about branding and how important a brand is for any business.
Your brand is the fundamental pillar, and a brand is only possible when it has a website available worldwide. For a brand, it's essential to have a website. Otherwise, you cannot claim that your brand is present in the digital sphere.
Moreover, in most cases, brands fail because of the worst website conditions. So, ultimately the approach should be to create a website that is sleek, robust, and seamlessly easy to navigate for a better customer experience.
To show your customers about your brand, the first and most important work to do is start with the planning process of the website. Establishing what you're going to present and where you stand is also important. Understand the customer persona, and know how you can tackle things in a better way.
And this is something which you will learn from your competitors. They will let you know how things are going in the digital world, and then you can understand how you will hit them!
3 – For Creating A Sense Of Credibility
And one reason to have a business website is to create a brand's credibility in the world of competitors where everyone wants to be number one. The chances are that several providers will be offering different services. One way to stand out is to get the website done in a way that appeals to the customers.
Your website should communicate with the customers, and you should fluently answer them. With a website, you will have more opportunities to make an excellent first impression and give people the comfort they have been craving so far.
A business website should not be a piece of paper, but it should be converting. A customer who lands on your website will leave, creating a digital impression. Your website should be very sleek and captivating with all the colours to give a perfect feel to them.
4 – Best Way To Let People About Your Services
As you're a small business owner, your shoulders have different responsibilities. Some have to move further with the marketing side, while some have to manage the website and technical. When you're letting people be in your team, the goal is to match the vision collectively.
So, you can post about your services on social media platforms, but it won't make sense if it's not linked with a website. Here comes the need for a website, where you can start with creating separate pages for all the services.
You can consider different SEO strategies like content pillars in those pages and appropriately write the details.
Remember that you can convert leads only through your website services page. And if your website doesn't have well-optimised services pages, you are missing out on something significant.
5 – Websites Are The Major Source Of Converting Leads
Also, in most cases, the easiest way to generate revenues is to create a website for your business sharing all the minor details creating a chance of getting leads.
You can get leads through different pages, and if your website is not optimised, how can you convert those into a valuable source of income? Once people start finding you online, they will get interested in knowing about you more and explore the services accordingly. They will see how you're targeting your audience and converting that information into a valuable source of income.
The service pages should be written so that the customers feel the urge to purchase from you. You can increase your sales only if you convert those pages into a valuable source of income. From the website, you can directly start the earning process and return more ROI.
So, be creative while writing the content of your website and come up with more exciting points adding more value to the website.
6 – Websites Help You Generate Organic Traffic
Do you know about organic searches and the importance of organic traffic? And here comes the fundamental questions. From where do we get organic traffic?
Of course, the ultimate source of generating traffic through organic means is your website. Without a website, you can not generate traffic.
If you ask any SEO expert about the organic means for generating the traffic, you would be amazed to know that it only happens when you have a website, it's easier to perform optimisation and come up with better results.
This collectively means you're showing up on the search engine results over Google. The key is to add keywords to the content and backlinks on the backend.
Once you have a website and you're online, you can induce all the best SEO practices and get a chance of showing up in the Google search engine. This means that your people, i.e., the audience, are getting the opportunity of seeing you against the keywords they search online. This also lets you know more about the audience and their search intent.
The ultimate goal should always be to build a better customer base and know the terms they're searching for online. So, with those keywords, you can create your online presence and win a good experience in the world of technology.
Digital Marketing Is Incomplete Without A Website
So, if you are planning to get started with your marketing services as a small business, then first start with building a website. A beautiful website with the perfect fusion of colours will help you with other things, like leveraging all the digital marketing practices that help increase the leads and grow into a much better business.
With SEO optimisation, you can quickly drive traffic to the website or the landing page. And ultimately, these are only possible if you have a website with an appealing impression. To generate ROI, your journey is incomplete without a website.
Websites have become an essential thing to the business these days, and we strongly recommend everyone, whether it's a small business or a large enterprise, start with creating a website first.
You can improve your website with time and then think of more ideas that will help create a much better website for a lasting digital impression.
We hope you're all clear now with the need for a website and start with the website designing and development process right away! However, if you still have some questions in mind, feel free to share them in the comments section.