Top 7 Essential Tools for Graphic Design
Global digital marketing is a highly demanded business vertical with a net worth of approximately USD 321 billion in 2022. Graphic design is a visual asset that has become integral for digital marketers worldwide.
According to reports, the global graphic design industry is ranked #9 among all business activities. Do you know the reason behind these numbers? Studies have revealed that people can remember 65% of visual information and only 10% of written content three days later.
Consequently, nearly 80% of digital marketers use graphic design in social media marketing. This reflects in the ebbing and flowing demand to hire graphic designers. When looking for the right talent, you must be well acquainted with the essential tools for graphic design and market trends in the industry. This article will shed light on these details.
Future-Proof Your Design Work with These Essential Tools for Graphic Design
The digital landscape is constantly evolving and fast-paced, with graphic designers needing to be highly skilled, competent, and ready to steer ahead of the competition. In the tech-oriented era, the repository of tools and technologies is constantly updated. Therefore, your design team should know the essential tools for delivering compelling and unique designs.
The top 7 tools for graphic design that are a must-have out of the array of options are:
Adobe Creative Suite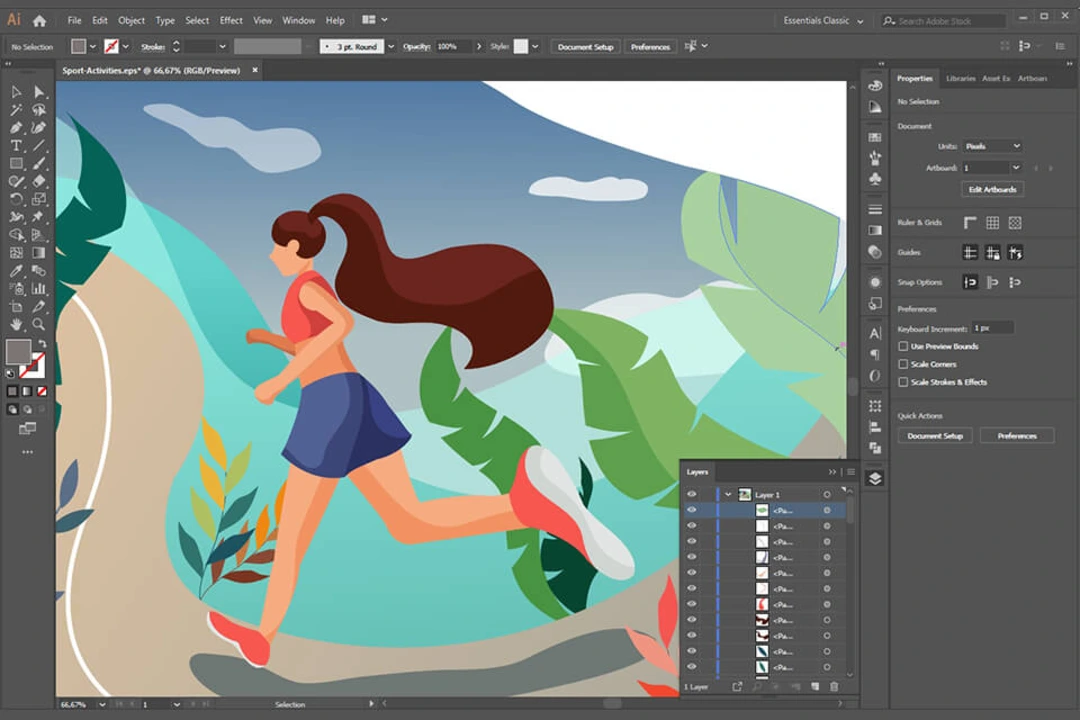 As a graphic design expert, I've been using Adobe Creative Suite for twenty years, and I can confidently say it's a game-changer. This industry-standard software suite offers various creative tools and applications, making it indispensable for professionals and enthusiasts.
It is a collection of software applications for various creative disciplines, including graphic design, video editing, web development, and more. The suite encompasses powerful applications such as Photoshop, Illustrator, InDesign, After Effects, Premiere Pro, and many others. These applications work seamlessly together, allowing users to create, edit, and export projects across various platforms.
Critical Applications for Graphic Design:
Adobe Photoshop: Photoshop is the go-to tool for editing and manipulating images. It has many features, like layers, brushes, filters, and adjustment tools, which help users create stunning designs. The robust layer management and non-destructive editing capabilities make it a staple in the graphic design world.
Adobe Illustrator: Illustrator is a vector graphics editor that excels in creating and editing scalable illustrations, logos, and icons. Its precision tools, such as the Pen tool, can create intricate shapes and paths. The advanced typography and colour management features make it perfect for designing branding, packaging, and print materials.
Adobe InDesign: InDesign is an industry-standard application for layout and page design. It streamlines the creation of multi-page documents, such as magazines, brochures, and eBooks. With its advanced typographic controls, master pages, and styles, designers can create consistent and professional layouts effortlessly.
Strengths:
Industry-standard applications: Adobe Creative Suite is the gold standard for creative professionals, providing a consistent and reliable experience.
Seamless integration: The applications within the suite work harmoniously, enabling users to move projects between software with ease.
Regular updates and improvements: Adobe consistently updates its software, adding new features and addressing user feedback.
Vast online resources: Adobe offers a wealth of tutorials, guides, and community support, which is invaluable for beginners and experienced users.
Extensive file format compatibility: Adobe applications support many file formats, making it easy to work with clients and collaborate with other designers.
Weaknesses:
Cost: Adobe Creative Suite operates on a subscription model, which can be expensive for some users, especially freelancers and small businesses.
Learning curve: The robust features and tools can be overwhelming for beginners, and mastering each application takes time and practice.
System requirements: Adobe applications can be resource-intensive, requiring powerful computers to run smoothly.
Adobe Creative Suite is an essential toolset for graphic design experts, offering powerful applications catering to every design process aspect. Its seamless integration, constant updates, and vast resources make it an investment worth considering. Despite its cost and learning curve, the suite provides unmatched capabilities that enable designers to unleash their creativity and produce professional-grade work.
GIMP
It's reputed as one of the first free, open-source graphic design software programs. Designers have access to a customisable workspace with user-friendly navigation for photo editing. GIMP is a beginner-friendly tool with features like image retouching, image composition, and colour correction. 
Pros:
Robust
Extensive community support.
Frequently updated.
Cons
Steep learning curve.
Old-fashioned CMYK image support.
Inkscape
This free vector graphics editor is similar to Adobe Illustrator. Whether you have a team of expert graphic designers or newbies, this is an appropriate fit for everyone. It is an excellent free collaboration tool with cross-platform compatibility. Inkscape has many functionalities and features like path-editing, gradient, pattern fills, etc. 
Pros:
Easy to use with a user-friendly interface.
Built-in XML editor.
SVG file support.
Cons:
It needs to be more insightful.
Challenging to navigate on small screens.
Affinity Photo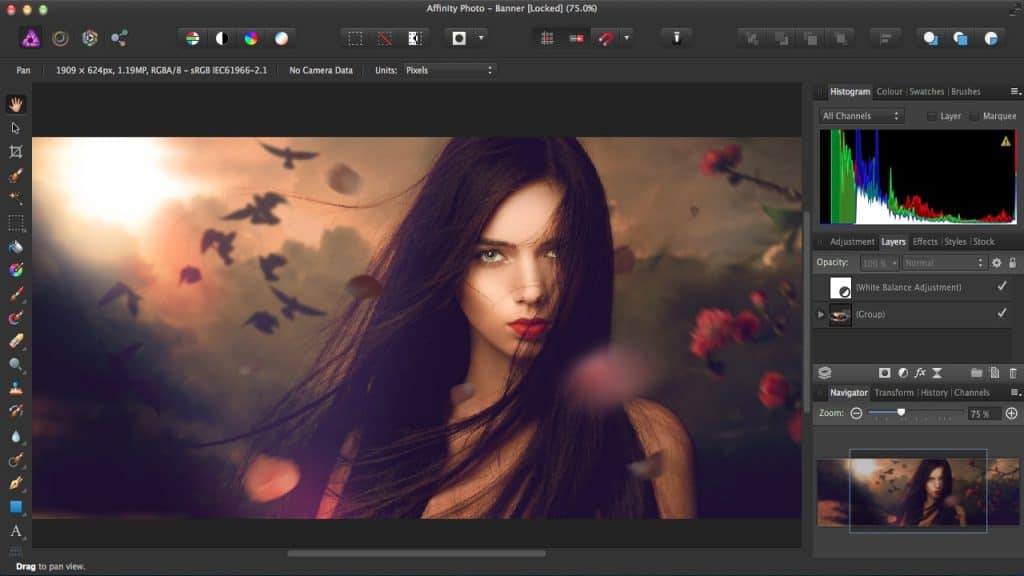 This new kid on the block is a value-priced alternative to Adobe Photoshop or Adobe Illustrator. It offers a 90-day free trial that can help create stunning effects for your images by working with layers and filters. 
Pros:
Packed with many features like 360-degree image editing, panoramic stitching, and HDR merge.
Lightweight and versatile tool.
Customisable brushes.
Cons:
Provides no templates.
Absence of keyword tagging feature.
Canva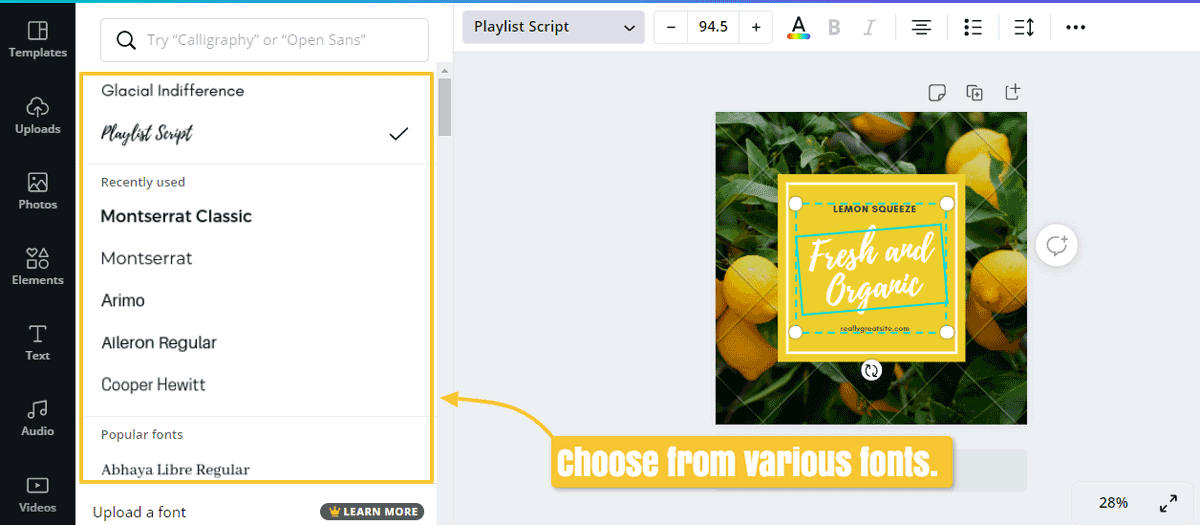 This all-rounded tool helps create distinctive designs like infographics, web designs, etc. There is an extensive stock of images, templates, backgrounds, and fonts for the designers. Many of these items come for free, and Canva is reputed for its application across various industries. 
Pros:
It offers a drag-and-drop design to render a user-friendly interface.
Three pricing plans are available, including a free version.
Easy to learn with a wizard for on-the-fly creation.
Cons:
Limited free stuff and requires in-app purchases to unlock more features.
Uneditable downloads.
Pixlr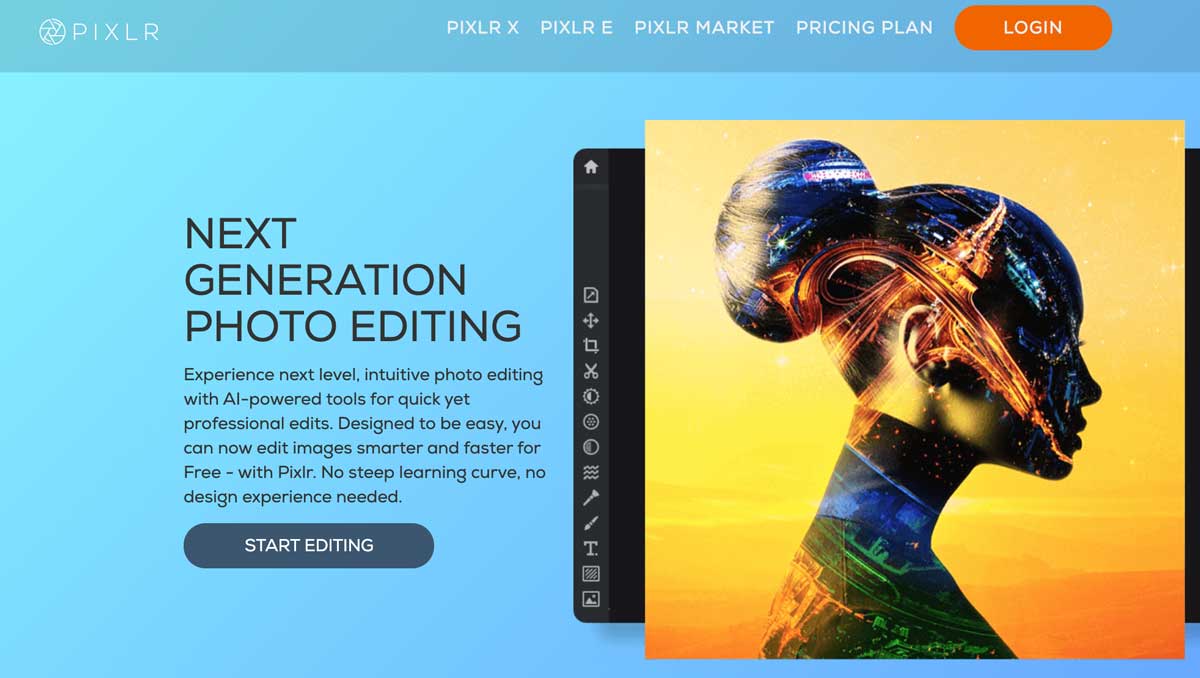 This image-editing web tool supports both iOS and Android platforms. If you don't need bells and whistles of sophisticated features, its basic program is perfect for editing. 
Pros:
Easy to use drag-and-drop interface.
Reasonably priced with the ability of social media integration.
Supports several file formats, including but not limited to SVG and PSD.
Cons:
A limited number of templates.
No TIFF or BMP support.
It needs to be more intuitive.
Sketch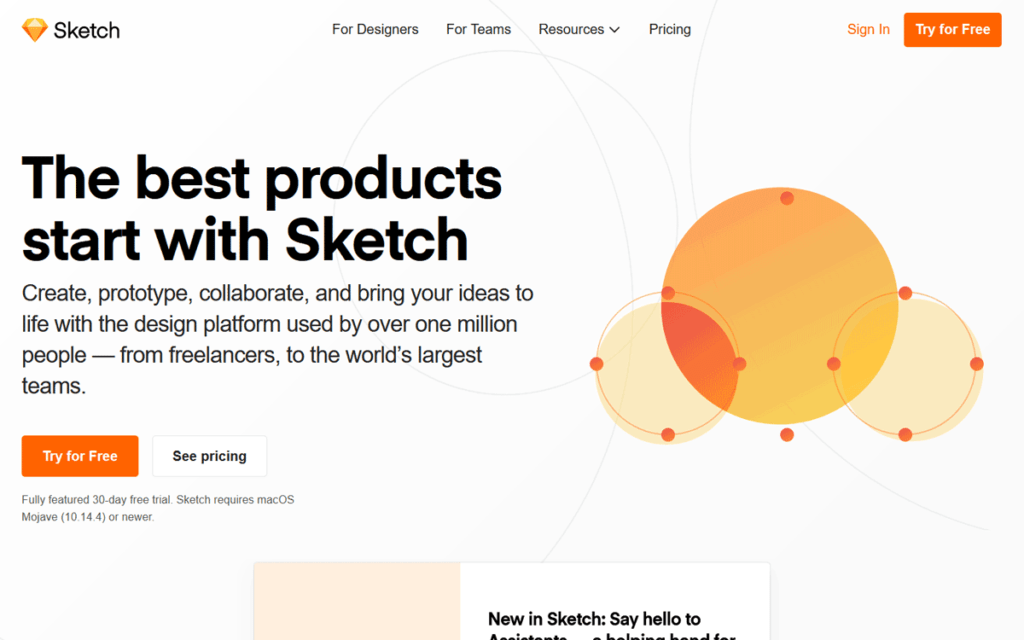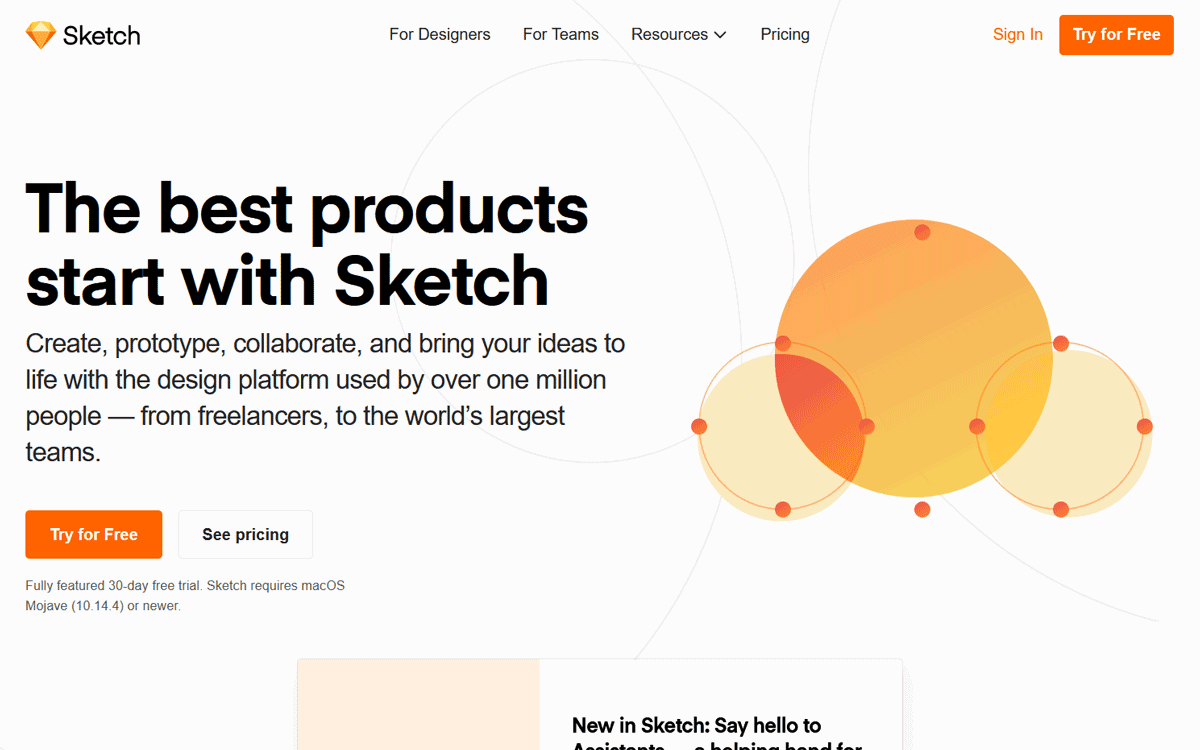 This vector-based tool is designed for web, mobile, and icon design. Designers have the freedom to curate graphics from scratch without relying on code. Sketch has a user-friendly and uncluttered interface that is fun for designers.
Pros:
Beginner friendly.
On-point support documentation.
Strong community support.
Cons:
Early Sneak Peek of the Graphic Design Trends
As the online user community expands, the trends in graphic design will keep evolving based on the style and approaches on social media. This highly active fragment can uplift your digital marketing strategy if executed correctly. 
If you want to gain a competitive advantage, ensure that your designers are up-to-date with these four trends that are likely to shape the future of graphic designing:
Distorted Typography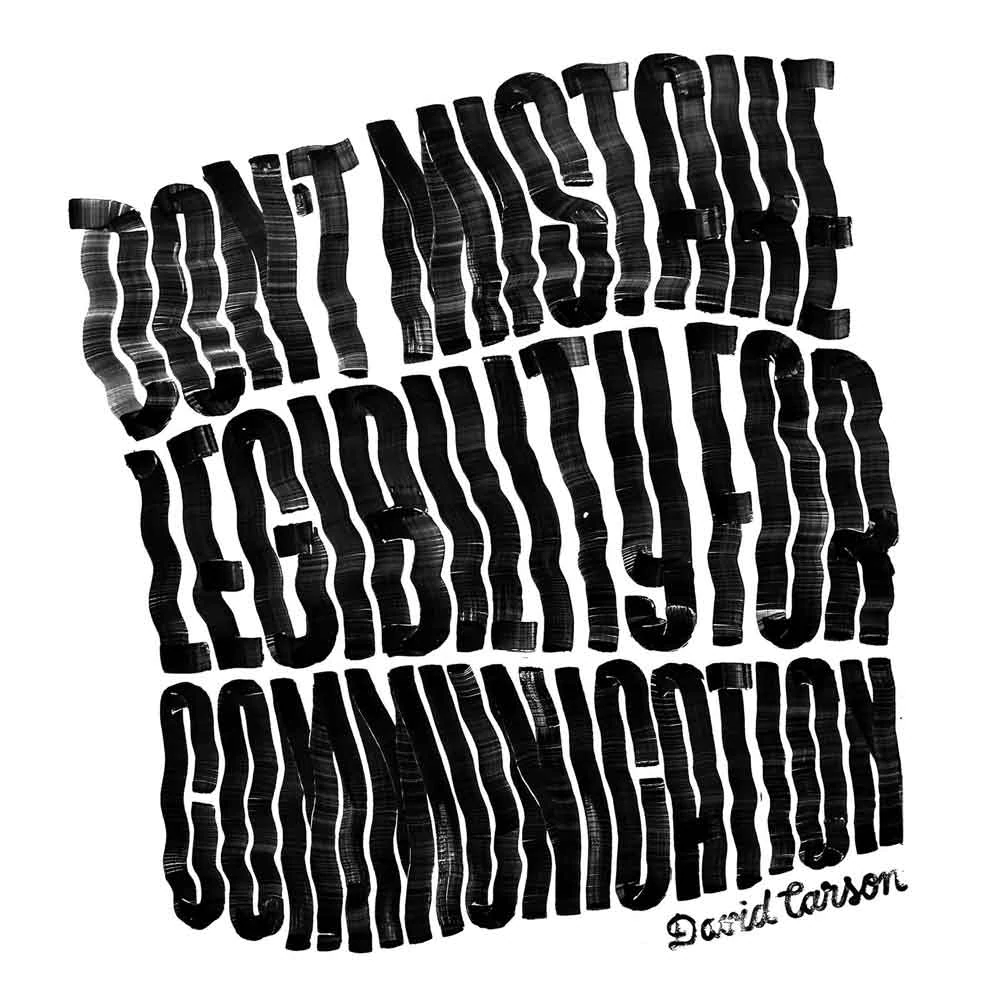 This is a graphic design trend where typography does the magic. In layman's language, it's the art of arranging written letters into legible and visually aesthetic text. Distorted typography offers an off-beat aspect, allowing designers to represent their type as digitised.
Some ways to do this are to melt your letters into a gradient for off-beat typography or pair your text with surreal-tinted photography for Mad Max's impact.
Ideographic Logos
It's no longer a novel concept to have logos represent a brand. Type logos have been in the market for the last few years. Ideographic designs give a visual identity to your brand by simply incorporating a symbol related to the role of the supporting icon. 
Contrary to the myth that businesses will lose revenue if they downscale their logo to a graphic alone, this has become a popular rebranding strategy. The golden arches of McDonald's are the most prominent example of success. 
Dark Mode
It would be best if you designed it based on customer-centricity. There is a growing trend of dark mode; therefore, many modern-day apps allow users to switch between light and dark modes. The website and UI designs should also be able to render this feature. 
Designers have realised that introducing dark mode brings tech-inspired moodiness to many designs that can be effectively translated to print layouts. 
Mix It Up
Consumers are no longer interested in a single image visual. They like a mix of clutter and colourful visuals on their feeds. As a result, collage elements, eclectic typography, grunge textures, and messy mood boards have become a trend. This is referred to as the mix-it-up trend. 
You can cultivate a behind-the-scenes feel with this graphic design trend that is particularly effective for social media platforms. 
Wrapping Up
You know how graphic design is such an unpredictable and ever-changing part of the digital marketing world, right? To grab people's attention and make their online experience smooth and enjoyable, your team of designers has to be on top of all the latest trends, tools, and tech. That's the only way to keep your designs fresh and exciting, so you can reel in and hold onto your audience, even with all the competition.
Being innovative is crucial for getting noticed in the digital space, and ultimately, it can make or break your business's success. So, let's work together to stay in the know and keep creating awesome designs that wow users and set us apart from the rest!