Social Media Automation – It's Your Future Strategy Starting Today
If you've been struggling with keeping up with posting, replying to messages, sourcing for hashtags, or writing social media marketing reports, then this post is for you.
As a business owner and marketer, you should be spending more time planning your marketing strategy than answering DMs.
I believe there's a better way of handling all the nitty-gritty of social media marketing without compromising your brand's content quality standards.
And that's social media automation.
With the right tools in your toolbox, you can get the most out of your marketing campaigns.
You'll get to keep your audience's appeal, tone of voice, and engagement without the usual hassle and without putting an insane amount of time into it.
Ready to learn the easiest way to automate social media? Let's go!
What Is Social Media Automation, and Why Is It Important?
Social media automation uses apps and tools for content scheduling, posting, and engagement on social media platforms.
These helpers do the heavy lifting for you by managing the most time-consuming and tedious activities to give your brand a professional look on social platforms.
And no, it's not the same as using bots and spam to generate likes, comments and followers. This is bad for your brand for many reasons, and I do not advise it.
Here are the 3 top reasons why automated social media posting should be your strategy of choice going forward.
#1 – Consistency
Your content needs to be relevant and informative, and it must come out consistently for you to gain more trust and brand recognition on a social media platform.
Using social media automation tools, you can design a content calendar and schedule content to be posted for weeks or months ahead.
Creating a social content calendar in such a manner will ensure that you always have something interesting to share with your audience, whether you are available or not.
Automation also helps maintain your brand's tone of voice and time of updates across multiple channels.
Keeping a similar content and publishing schedule across all your social media outlets will train your audience and present you as a reputable brand that knows what they're doing.
These reasons and more is why you need to start automating your content as soon as possible, ideally immediately after reading this thorough guide on Stuart's blog 🙂
#2 – Better Results and Higher Visibility
Automation tools provide you with analytics that tells you about the success of each campaign. You can use that data to improve subsequent campaigns for better results.
With proper social automation, you not only get to post content regularly, but you also get to post it when most of your audience is online and more likely to interact.
This will without fail increase your engagement, visibility, and followers, which you can then use as social proof to dig deeper into your niche.
Social media automation tools help you engage with all your audience across different channels in one dashboard.
You can monitor mentions, replies, and direct messages in one place. This gives you more efficiency in connecting with your audience and answering their questions.
Chatbots are also a vital feature with most automation software. You can achieve more by using these bots to answer generic questions about your product, business brand, and work schedule. This helps you create better customer service and further improves your audience engagement.
#3 – Saves You Time
Writing several social posts per day, per platform, is bound to make you stressed and give you a miserable existence even if you're having ample success with your strategy.
The solution is to use social media automation tools that can help you in 3 ways.
First, many of these tools come with social listening capabilities. This helps you follow discussions about your brand or industry across all channels in one place. You can then come up with content ideas for each social media channel based on this precious knowledge.
Second, automation tools save precious time through batch scheduling. Creating content to be posted in advance eliminates the pressure of coming up with ideas and posting relevant content then and there.
It also relieves you of the stress of juggling from one platform to another to upload content.
Finally, specific tools use AI (Missinglettr app, I'm talking about you) to create content for you, and you just need to approve their campaigns.
This is the ultimate time-saver as it effectively removes 99% of the work involved.
Now let's get into the nitty-gritty of things…
Social Media Automation Do's and Don'ts
Now that you know why automating your social media presence is so important, it's time to learn how to do it both effectively and efficiently.
And yes, there's a difference between the two:)
DO'S
Once you get the knack for social automation, you'll start to wonder how you ever lived without it. And you'll often tend to overdo it as it's so easy and tempting to share everything and from everyone.
Don't.
Know thy audience and share accordingly.
Share only the stuff you know is quality and that they'll enjoy learning about.
#2 – Be Consistent
Being consistent on social media will give you 3 distinct benefits.
First, you'll get to be in front of your target audience more often than not.
Second, you'll get passive channel growth just from the platform recommending you more and more.
Here, I have 1544 Twitter followers. Which is nothing groundbreaking, I know, but I never invested a minute in trying to get more followers.
They came passively as Twitter recommended me more and more to relevant folks in my industry.
Third, you will get social media traffic which, though not as high quality as organic, is still nothing to sneeze at.
#3 – Mix Content for Better Results
Though social media shares disappear quickly down the feed (for example, the average shelf life of a single tweet is just 18m), it is still possible to overdo a particular post to the point that even your most devoted fans think, "arghh, this post again!".
It would be best to avoid that at all costs unless your goal is to alienate your audience to the max.
Yes, it's ok to share your best stuff over and over, but it needs to be spaced out over several months, and you also need to mix your social content with other people's blog posts, articles, infographics, videos etc.
I talk more about this below more in what not to do when it comes to social media automation.
DON'TS
Three facts you need to know.
Every social platform is different.
Each network gives different ways to promote your content.
Each platform has its niche community which might react adversely to the same post being shared everywhere.
In other words, what Twitter folks dig, Instagram peeps might despise, or in reverse.
Bottom line – it's ok to promote the same post on multiple platforms, but if you wish to create a proper relationship with your tribes on different platforms, you need to create different social campaigns for each.
#2 – Don't Repost Content Too Frequently
I touched on this before, but you need to keep your social stream diverse and not promote the same article repeatedly.
If you have just one excellent article, then the answer is not to promote just it into oblivion, but to make more awesome stuff, so you always have something to share.
#3 – Don't Schedule Too Far Ahead
Scheduling social content has some clear benefits, but it also has vital drawbacks you must know of.
For example, let's say you own an eCommerce store selling guitar equipment. And you'd like to promote your product pages on Twitter in a bid to get more traffic.
So you schedule product page X to be promoted for six whole months in advance.
Great!
Except that you failed to calculate in that unexpected sales explosion a month ago, which depleted your stock, and now you're all out.
But you're still promoting that product page which means that when people click the link in their Instagram feed, they find either a 404 page or out of stock message.
Bad UX and horrendous impression of your company.
The remedy here is to schedule only a month's worth of content in advance and always be on top of things lest you embarrass yourself.
#4 – Don't Automate DM
I don't know about you, but to me, there's nothing more off-putting than following someone new on Twitter and immediately getting a DM from them.
You know it's fake, you know it's not them, and it's just super sleazy, at least to me.
So far, I've gotten hundreds of Dm's, and I bet you can guess as to how many I've responded to.
Yes, NONE!
Social Media Automation Is Your New Strategy Starting Today
By now, you probably realise you need to start using social media automation due to the enormous benefits it offers. The next question is, what automation tools should you invest in?
There are dozens of social media automation tools on the market, and most of them are solid and can help you.
But, for optimum results, these two are the only ones you need (or their equivalents, though I use those).
Buffer;
Buffer is ideal for promoting general content such as industry news and also content from your blogging peers.
Missinglettr is your automation tool of choice for promoting content from your blogging platform, whether WordPress or any other CMS.
How To Use Buffer (Tutorial)
Buffer is a top-rated social media automation tool that lets you post on multiple platforms and schedule your content.
The software then posts your content at the best times for audience engagement.
Buffer gives you access to:
content calendar;
analytics tools;
advanced reporting;
audience engagement monitoring.
You can hook up this tool with all major social media networks like Facebook, Twitter, Linkedin, Instagram, and Pinterest.
Buffer offers different paid plans as well as a free option.
The free plan comes as an unlimited trial and allows you to check out some basic features. However, for the ultimate experience, and actual social automation, you will need a paid Buffer account.
The paid plans include; Pro for $15 per month, Premium for $65 per month, and Business for $99 per month.
To start using Buffer for social media posting, you just have to follow these four steps.
Sign in and set up an account;
Connect your social media profiles;
Schedule updates and publish;
Analyse your posts.
Step #1:
The first step is to sign up and create an account on the Buffer platform. After that, you can sign in directly using any of your existing social media accounts. This is the fastest way to log in to your account; no email and password are needed.
The account you use for this initial sign-in will be your go-to account anytime you want to log in.
So, never forget it.
The other option to sign in is to use your email account and a password.
Much slower and a bit cumbersome if you ask me, but hey, to each their preferred log-in method 🙂
Step #2:
After setting up your account, the next thing to do is connect Buffer with your social media profiles. If you've signed in with your email, you can then select a profile.
Next, it shows you a page where you can connect one of your social media channels.
If you've logged indirectly with one of your social media accounts, the process is relatively straightforward.
Upon completing the initial sign-up, you are taken directly to the Buffer dashboard.
From here, you can then connect all other accounts. Buffer allows you to connect up to 8 different social media accounts.
The next step is to link all the accounts you have connected to your Buffer account, one at a time.
Buffer usually requests authorisation to be appropriately synchronised with your social media platform for the first account linked.
Step #3:
Now you are good to go. You can start scheduling your content by clicking on the Schedule tab at the top of your social media profile. You can post each social post immediately or schedule using the content calendar.
As an example, here's how I scheduled my web hosting trial guide using Buffer.
Another exciting thing about Buffer is that you can schedule posts to be posted at the best engagement time.
However, nothing is written in stone. You can change the schedule and time as you deem fit.
It is important to note that Buffer comes with a default time zone. So, you'll have to reconfigure the time tracking setting for each social media account.
Step #4:
Buffer offers robust analytics to determine the success of each post and your overall marketing campaign.
The analytics tab comes with three sub-sections:
posts;
analysis;
and insights.
You can easily navigate all other features and enjoy your new social media automation tool from here on.
Open up a free Buffer account here and give it a whirl.
You have nothing to lose!
Pro tip: when sharing with Buffer, using hashtags is essential, especially on Instagram.
Think about it, when you don't use a hashtag, only your followers see your post.
But when you are using hashtags on Facebook and other social media platforms, potentially millions of people across the globe and the web can see it. Think of the potential.
As a bonus, when you use an Instagram hashtag, your post gets posted on the hashtag page. If it's a bit of a niche page and not super popular and active, it has a chance of staying at the top for days, sometimes for weeks giving you free exposure with that niche (read- passionate) audience.
Pro-tip #2 – The more hashtags you use, the better. So don't forget to use link shorteners to shorten your link maximally.
This will give you more space to include relevant hashtags. This is especially important for Twitter, whose biggest disadvantage (but also its most significant appeal) is its strict 280 character limit.
Note: both Buffer and Missinglettr come with custom link shorteners automatically applied to any link you want to share via those platforms.
How To Use Missinglettr (Tutorial)
Missinglettr is another automation tool that can help you create excellent social media marketing campaigns.
From content curation to analytics, audience engagement, brand visibility and team collaboration, Missinglettr's got you covered.
This app uses AI to generate a year's worth of social media content from your blog posts, and other industry curated content.
Two things I specifically like about Missinglettr are its interface and content curation from blog posts.
First, it has a friendly interface that even a 14-year-old would quickly master without any hassle.
Second, it can also create entire campaigns from any of your blog articles.
And all this at a very economical cost.
Regarding pricing, you can use the free but limited option or subscribe to either of the two paid plans. The Solo plan starts at $9 per month, while the Pro plan is $39 per month.
Setting up an account with Missinglettr is straightforward.
You can do it by following the steps below.
Step #1 Sign Up
Sign up for a Missinglettr account with your first name, email, and password. You don't even need a credit card to do this.
You can try out the features and see the unique tools with the 14-days free trial.
Step #2 Connect an Account
The next step is to input your brand name and connect a social media profile. Missinglettr supports four social media networks:
Facebook;
Twitter;
Linkedin;
and Instagram.
As soon as this is set, you can set up default timing for when you want your content to be sent.
Step #3 Add a Source Blog
Upon setting up and verifying your account, you can then add your blog's URL. It is from this blog that Missinglettr will create social campaigns.
Set up your current time zone and select the days of the week and the specific time you want your content to be published.
After doing this, the software will generate new posts from any recent article on the source blog.
You can also order it to create campaigns for older articles on your blog.
All you have to do is create a new campaign, select the relevant blog post, select a time frame for the campaign, and in a couple of minutes, you'll have a year's worth of content at your disposal.
How about an (instructive) example?
Here's how I'll whip up a quick campaign for this HostGator Black Friday guide.
First, I need to enter my post URL into the box that pops up:
After that, I need to choose whether I want to manually create the content or let Missinglettr create a campaign from scratch.
When I pick that Missingletter should generate it, I get to pick the desired timeframe for the campaign.
I chose the yearly time frame to take care of the social promotion for that post for the entire year.
Once Missinglettr creates that campaign, it's going to drip social posts in the predetermined yearly schedule.
Step #4 Review
Although Missinglettr auto-generates the posts, you can still review each post to see if the campaign is up to your brand's lofty quality standards.
In addition to that, you can edit text, change images, add hashtags or add/delete entire posts.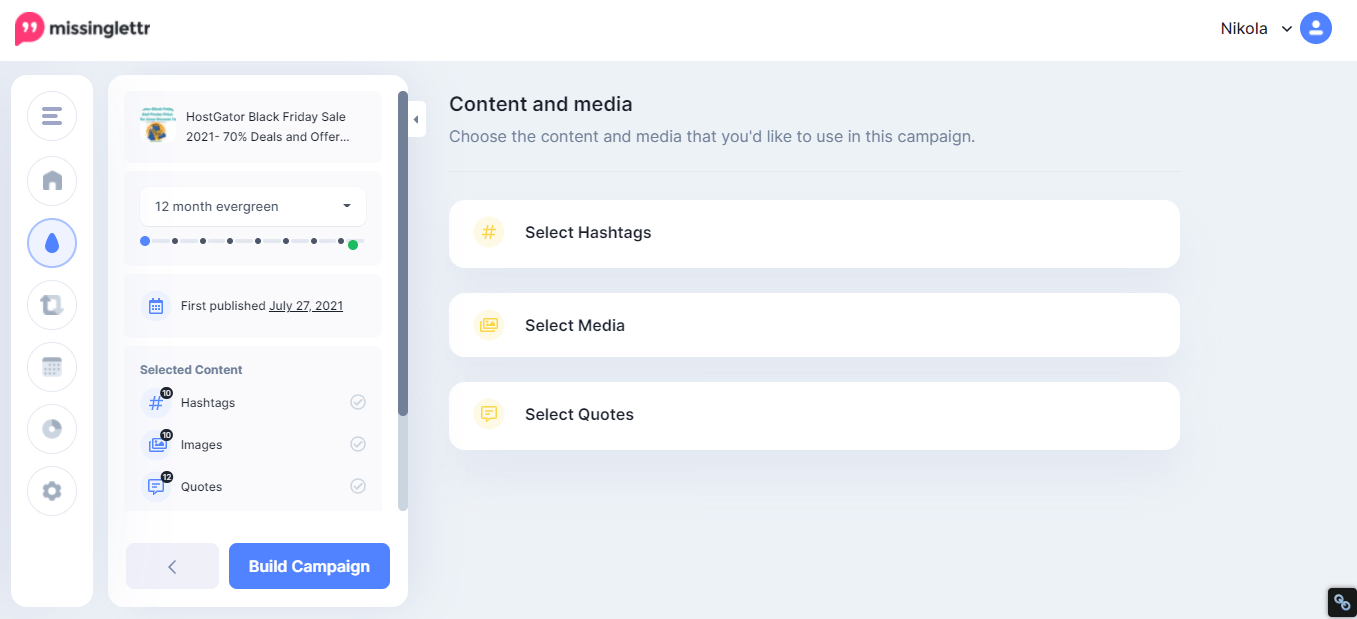 After ensuring the contents are satisfied, you can then approve the campaign to be published on your social media accounts.
Social Media Automation FAQ – All Your Questions Answered
Well, actually, "all your questions answered" is quite a bit of an exaggeration.
I admit it.
I don't have the answers for all the possible questions you have, but I know the most important ones (thank you, Quora), and the answers to those are below.
#1- What are the Best Social Media Automation Tools?
There is no "best" tool.
There's the best tool for you, and it solely depends on your taste and what you need in a social media strategy.
For example, Missinglettr is mainly used to promote your own content, while Buffer, Social Pilot, and Bulkly promote other people's content.
As you saw in this guide, I use Missinglettr for personal content marketing and Buffer to promote others.
But you can use whichever tool you want. The crucial thing is that you use a tool to automate your social media posts as much as you can.
The benefits are too significant to miss out on.
Pro tip: all of these tools use your post's feature/header image when promoting it. This means your image needs to be custom made and quite frankly stellar to stand out.
The good news is that you don't have to spend money on some expensive Skillshare course, and you don't need to hire a costly designer to help you.
Instead, make them yourself.
If I could do it (and I'm a lousy visual type and artist), so can you.
Note: for image editing, I use Canva, or one of numerous Canva alternatives, for example, Visme and Design Wizard for image creation and Biteable's free tools for video editing.
These tools are free (or have excellent freemium versions), intuitive, and super easy to use.
#2- Social Media Engagement Automation – Is It a Thing?
I get it. You can automate the heck out of broadcasting using social media, so why not automate the second part of it, i.e., being social?
Because you can't.
It's that simple.
The tools I talked about here are great, but they can only take you so far, and human touch is still very much needed for your social accounts.
In other words, a faceless brand that doesn't really care about its visitors and followers on a given platform would try to automate social engagement, probably using chatbots. Still, I trust you're not a faceless brand, nor do you want to act like one.
Right?
#3 – What are the Benefits of Social Media Automation Exactly?
As mentioned at the top of this guide, the benefits are threefold.
First, you're able to be consistently consistent, and consistency will give you more success on any platform you pick.
I understand I said consistency and its derivative words 3+1 times in the last two sentences.
Do forgive me, as I obviously repent oh so very much:)
Second, better results. These come from using a dedicated tool that will give you the crucial info you need to reiterate your social strategy and improve it with every iteration.
Third, better time management. Automating social media posting as much as possible will free up extra time, which you can then use to grow your business in other areas.
Social media is required, but it isn't everything.
#4- Is Social Media Automation Actually Using Bots?
No, it's using the right tools to gain an advantage over people who're not using automation software and are doing everything by hand.
They're amateurs, and you be the pro.
#5- Do Social Signals Count Towards SEO? Will Automation Help Me Get Better Rankings?
Social signals are not an SEO technique.
According to Google's John Mueller, social signals are not a direct ranking factor.
However, things are not that clear-cut, and there's proof in the wild that social signals can influence rankings in a positive way.
I speculate that social signals don't influence SEO, but real traffic does.
When people arrive from Twitter, for example, and stick to your page as if they're glued to it, they obviously liked it, and Google can track and notice it.
If they start to think your page is high quality, they'll reward it with better rankings, simply because Google wants to rank the best page on any topic, and satisfied users are a crucial and (non-gameable) UX signal for them.
Pro tip: this is just my crazy theory, but social signals might have a direct positive effect on rankings in situations when competing pages have zero social shares. Then, getting some legit shares makes your page distinct and better in the eyes of Google.
For example, I checked, and this video compression software listicle post has zero shares across several platforms.

So do their direct SERP competitors (I checked).
The easy way for this page to stand out and potentially get a boost would be to get some actual social shares under their belt.
How?
They can submit to Viral Content Bee. It's a free service to place their link in one of the designated categories and get it shared by real users with real accounts.
I believe that would positively affect the rankings of this page though as I said at the start, I can't prove it.
Note: these social shares would significantly help if they were to result in an organic, natural backlink.
Yes, it sounds like a long shot, but it happens more often than you think that a page that's often shared and viewed on social media gets an unexpected backlink and thus receives a huge trust signal for Google to rank it higher.
I share this from experience as I have a habit of checking my link profile with Ahrefs, and I often see actual organic links popping up. Those were gotten solely through social exposure, as I know I wasn't actively trying to link to those.
Getting social content posted, even with automation tools, is only half the battle won.
The second half is getting engagement on those shares. You want your followers and other onlookers to see that you're a brand that engages, is friendly and responsive to enquiries.
The easiest way to get more engagement is to engage first, simple as that.
Ask questions, comment on other peoples threads, jump into conversations wherever you can, like, share, reshare, all those things build up till the point where you start receiving those things back.
The law of reciprocity at work.
Pro tip: your brand needs to have a face, and my face, I mean a human face, not a logo.
It makes you much more approachable, and a human avatar is much easier to establish a bond with.
For example, I recently got interested in Kalimba and was looking for some free Kalimba tablatures.
I learned where to get them on this website.
Since the resource was helpful, I shared it on Twitter and then checked out their official Twitter profile.
This is what I saw:
It looks classy, but I would've preferred a face.
Honestly, I have no idea who runs that site, and if I were looking to buy a Kalimba, or some other musical instrument, I probably wouldn't have clicked on their affiliate link.
Concluding My Social Media Automation Guide
Social media marketing is about the consistency and relevance of your content. With automation tools, you can have your cake and eat it too.
The real catch here is that social media automation is practical and cost-efficient when you have the know-how and know which tools to use.
Now you have them both.
Please leave me a comment below; let me know what you think; thanks!
Author bio: Nikola Roza is an upcoming blogger who writes at nikolaroza.com
Click the link above to read his crazy theories on how to rank highly in Google. You can also get in touch with him on Twitter or via email Cheers!