Meme Marketing Strategy: How to Gain Traction with Memes
Gone are days when marketing was about creating ads to sell a product. Brands have now shifted their attention to building organic engagement. And the latest strategy to achieve maximum engagement is the meme marketing strategy.
Marketing with memes is an underrated strategy that's gradually becoming a norm. The idea behind this is meme-jacking; this is when marketers utilise trending memes to market their products.
Meme-jacking is becoming a viral trend in marketing because it's an easy way to share captivating content that can go viral.
What is Meme Marketing?
Meme marketing is the act of leveraging funny, entertaining, trending, and shareable memes to increase your brand's visibility.
This meme marketing strategy is new but effective to engage the millennial audience.
Simply put, meme marketing is the combination of content marketing and social media marketing. This can be highly advantageous if you run an online business.
If you search "meme" on Google trends, you will see that it has been a hot topic for the last 12 months. The trend is pretty consistent.
In fact, a study has proven that a meme marketing strategy can help brands with ten times the reach with 60% organic engagement.
Benefits of Using a Meme Marketing Strategy
Wider Audience
Memes are social media sensations that resonate with everybody, regardless of age, interests, demographics, etc. They are funny, captivating, and can reach a broader audience without much hard work.
Logically, no one will intentionally share an ad, except rare cases. In contrast, your meme could go viral even if you have your brand name on it.
Your followers are more likely to share your memes because it's hilarious and entertaining than your apparent ad content.
It's Free
Unlike an online advertisement, you don't pay for the engagements such as likes and comments you get for your meme. It's an organic content marketing strategy and social media strategy that requires zero cost.
However, if you choose to work with a designer or a content marketer for your meme creation, it will cost you a few bucks. But meme marketing itself is free.
It requires only a little effort, time, and creativity to get things set up.
Higher Recall Rate
With the number of hours we spend on our phones daily, it's unlikely that we remember everything we saw on our phones, except if they caught our attention.
Because memes are entertaining and funny, it is easy for them to get stuck in our brains.
Having a proper meme marketing strategy could help your brand pop when your products or services are required.
Since your target audience has already encountered your brand's meme, they are more likely to remember your product when it's needed.
Easy to Create
Memes are easier to create compared to other pieces of content marketing. You don't have to build one from scratch; you can modify an existing one within a couple of minutes.
If you study those brands using meme marketing as part of their social media strategy, you will see that they ride on viral memes. They never create them from scratch.
Your goal is not to create viral memes that get much engagement but to create memes that boost your brand's visibility.
Higher Engagement
Memes are pretty engaging. You can quickly get thousands of likes, comments, and shares with a single viral meme. All this will help in achieving your social media marketing goals.
When you master your meme marketing strategy, your dedicated ad content will stop feeling like an ad to your audience.
And to maintain a balance, you can follow the 80/20 rule, where 80% of your posts are tailored towards promoting your products, and the remaining 20% showcase your content marketing.
Meme Marketing Strategy Examples
Since memes have become a cultural phenomenon, you should use meme marketing to energise your weak social media strategy.
The best part is that there is no plagiarism with memes. You can take inspiration from the memes that are already gaining traction.
You can leverage a trending meme and spice it up with your branded content to engage your target audience.
And if you are looking for real-life examples, here are a few brands milking the meme marketing strategy:
1 – BarkBox
A perfect example of marketing with memes can be seen with BarkBox. They are a Newyork-based subscription service with 600k+ subscribers selling dog products and services. One thing all their customers have in common is their love for dogs.
BarkBox understood this and started to capitalise on dog memes to win over potential customers.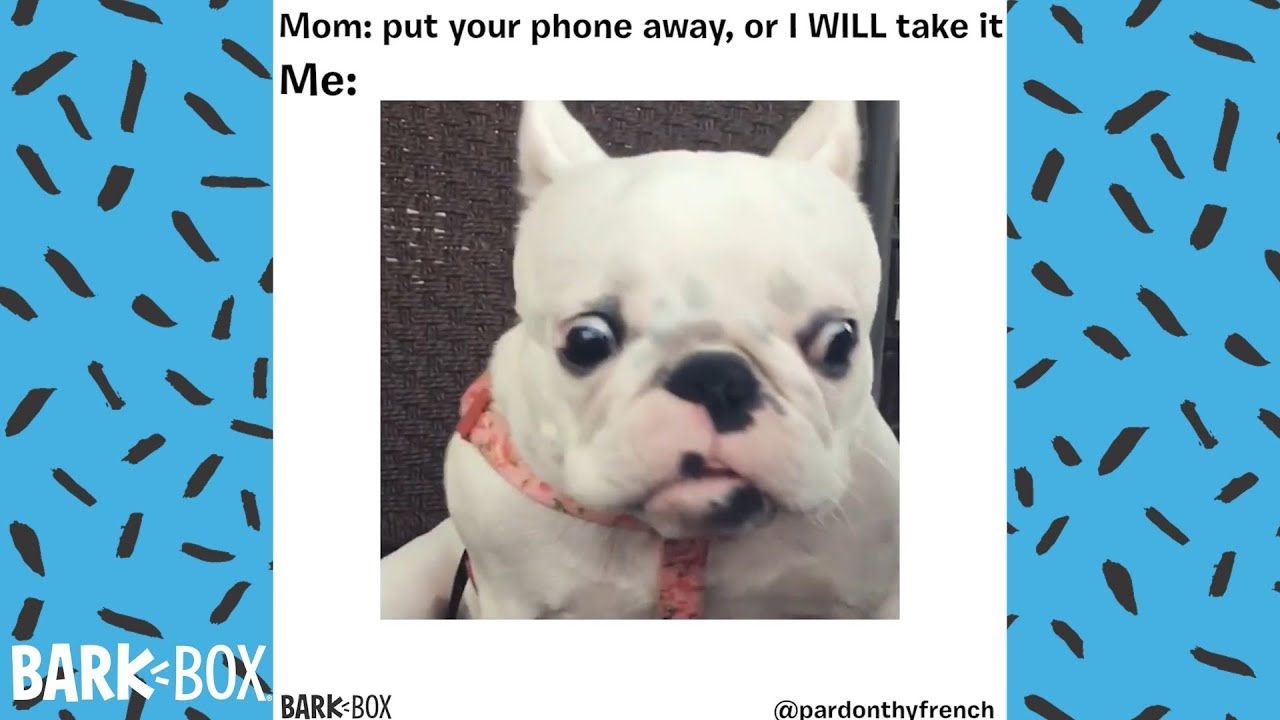 Instead of blatantly promoting their products, which isn't guaranteed to yield a good ROI, they use memes to gather all pet lovers under their umbrella.
Since their memes resonate with their audience, their followers actively engage their social media content and even tag friends and family.
2 – Kai Collective
When the black wojak memes went viral on social media in the fall of 2020, Kai collective was one of the brands that used this meme to connect with their audience.
The concept is simple: two black girls meet and bond over something and become friends. Kai collective used this meme and added customised text to promote their print top product.
Anyone can do it. You find a meme that can connect your audience and product and customise it with your branded text. Easy, right?.
3 – Netflix's Strong Black Lead
When it comes to meme marketing among brands, Netflix has no competition. The subscription-based video streaming service team knows how to connect with their audience by leveraging memes.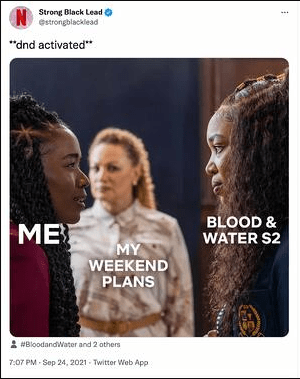 Netflix posts memes 3-4 times a week. They take inspiration from trending memes and use their images from their extensive media library to recreate them.
Tips to Energise Your Meme Marketing Strategy
I bet you are convinced that meme marketing is a reliable way to improve your brand's visibility. But how do you create an effective meme marketing strategy?
Answer: it's a no-brainer. There are no rules to follow. But it would help if you kept a few things in mind to get the best result when marketing with memes:
Understand your Audience
Like any other digital marketing strategy, the first and most important thing to consider before creating a meme is knowing your audience.
If you get it wrong at this stage, your meme will not appeal to your audience, hence, poor engagement. You should always ensure that your meme resonates with most of your audience.
For example, if your brand targets corporate workers and pushes in a millennial-based meme, your effort will not yield good results. Instead, it would help if you used memes that fit well with corporate workers.
Knowing your audience and understanding what interests them the most can help you craft a meme that gets high interaction and engagement.
Add Originality to your Memes
Memes are funny and entertaining. But when using memes for marketing, you should aim to use them to increase your brand awareness.
While your target audience is having a good laugh with your memes, they should also be promoting your brand.
Memes are everywhere on the internet. To stand out and achieve your marketing aim with them, you need to get creative. Instead of just reposting the trending memes, you need to add your originality.
First, you need to understand the message behind the meme and find ways to align it with your products or brand.
After that, you can add your brand's name, mission, message, slogan, or picture into the meme to create brand awareness.
For example, Ruffles does this meme-jacking a lot. They often add their brand name into trending memes to help their brand become memorable.
Hop-On Viral Trends
One of the benefits of meme marketing is that you can always leverage viral trends for your meme marketing. Look up social media platforms like Facebook and Twitter for trends.
If you can create your meme based on the most popular trends at the moment, it's likely to go viral.
For example, Denny's, an American restaurant chain, is often labelled with having a quirky sense of humour. After Apple launched Mac Pro, netizens were making jokes about how it looks similar to a cheese grater.
Denny's quickly jump on the trending joke by creating a meme on it.
Pro tip: use a social media scheduling tool like Missinglettr to schedule your meme to be posted and repost on your channel without you doing it manually. It'll save you precious time.
Keep It Simple
Memes are not sales copy or infographics that you have to spend hours paying attention to details.
Instead, you target audiences who know about your brand and are somewhat aware of your content. Do not complicate it by thinking you need to have the perfect meme everyone must resonate with.
Keep it straightforward. Most importantly, put your audience first.
Evaluate your Meme Idea
Memes are funny, entertaining, engaging social media and content marketing strategies.
However, before posting a meme, you should understand how it will reflect your brand. Stay away from memes that can offend a part of society or suppress any section or person in general.
Posting a meme that's insulting to a group of people can seriously affect your brand. You can lose tons of customers if that happens.
Conclusion
Meme marketing is an excellent way to promote your brand without looking too salesy. Memes are easy to produce; they are relatable and quickly improve your brand visibility and engagement.
You need to be on the lookout for the latest trends and see how it resonates with your audience. You can use designing tools to add your brand name, slogan, or customised text into memes.
Now it's your turn. How do you use memes in your meme marketing strategy? Please share in the comment section below.
Author Bio: Folajomi Ballo is a digital marketer and Content writer that creates content for SaaS companies and small businesses. You can check his Adrian Morrison course review to see his writing style.