LinkedIn Marketing Trends: How to Stay Ahead
LinkedIn is a marketing powerhouse with 950 million members and 59 million companies using it to connect. LinkedIn marketing offers numerous advantages, including brand exposure, B2B marketing opportunities and lead generation. Staying informed about the latest LinkedIn advertising trends is essential for maximising your results on this platform.
In this post, we take a look at the emerging trends in LinkedIn advertising as well as best practices for LinkedIn ads, how to use LinkedIn for lead generation, content marketing on LinkedIn, targeted campaigns with LinkedIn advertising, boosting engagement on the platform with likes and shares of posts; working out which groups you should join or what pages you should follow and how they can be used in a strategy; making sure that analytics are not ignored.; influencer marketing on LinkedIn; optimising company pages and setting up groups within LinkedIn.
By implementing these strategies into their business plans, marketers can get more out of an excellent business-to-business (B2B) social media site!
Emerging LinkedIn Marketing Trends
Companies should be aware of how the site changes to keep up with the latest trends in LinkedIn marketing. One direction is using virtual experiences such as augmented reality (AR) and virtual reality (VR) to create interactive and emotional journeys for consumers. For example, a furniture company could use AR to let people see what its products would look like in their homes, improving the shopping experience.
Another trend is making content more human and using storytelling to forge consumer relationships. Storytelling can help brands stand out digitally and make personal connections with customers. For example, a skincare brand could use storytelling to explain how it makes its products – from ingredients used to customer benefits.
Using conversational marketing techniques on LinkedIn is also increasing. This involves personalised messaging and chatbots aimed at engaging potential customers. Companies can improve customer service or build stronger relationships by offering personalised recommendations or instant assistance via chatbots.
LinkedIn Stories are another feature that companies could exploit if they want to drive engagement and footfall. The stories format lets businesses share behind-the-scenes material or showcase new product launches, or event highlights in an authentic way that users find engaging – think teasers for fashion collections being produced inside designers' studios.
Lastly, video chat has turned LinkedIn into a hub for remote collaboration and communication: think virtual meetings, interviews or showcasing new products via video demonstrations – all valuable tools given the current digital landscape we're operating within.
Best Practices for LinkedIn Marketing
To achieve success with LinkedIn marketing, it is crucial to implement best practices that align with your marketing objectives. The first step is setting clear goals for your LinkedIn marketing strategy and ensuring it aligns with your overall marketing objectives. For instance, if you want to generate leads, ensure your LinkedIn strategy focuses on lead generation tactics (like optimising your profile or utilising LinkedIn ads).
Optimising Your LinkedIn Page
Creating a professional and compelling brand presence by optimising your LinkedIn Page is critical. Complete all relevant tabs and sections, including a concise description of what the company does, showcase products/services, and include relevant keywords to improve visibility within the platform.
Understanding the demographics of users
Understanding who uses LinkedIn will help tailor content that resonates more effectively with the target audience. Focusing on industry insights and relevant topics allows for delivering valuable content, reaching maximum engagement.
Track and refine performance using LinkedIn analytics.
Track performance refined from LinkedIn analytics repeatedly to measure how effective efforts are at generating results aligned with goals set earlier in this process. Monitor key metrics such as reach, engagement, click-through rates, etc., gain insight into what's working/not working, and then use these data-driven insights when making decisions about optimising future strategies.
Encourage employees to be active on LinkedIn.
Extend reach by encouraging employees to be active on Linked In and sharing their work life. Showcasing the human side of company culture can help attract a wider audience and build trust.
If you want to be a LinkedIn marketing master, it's all about relationships and credibility.
Connecting with your ideal audience by engaging them in meaningful conversations is so much more effective than trying to sell to them directly. And that goes for all those spammy DMs, too.
Start by leaving valuable comments on posts from potential leads or industry insiders. Then, if appropriate, follow up with a private message. Or share someone's post with an insightful comment of your own – this can help you get noticed correctly.
There are loads of ways you can create value-driven engagements: commenting on articles or company updates, sharing details about resources or events, contributing to group discussions, posting educational content, etc…
If you establish yourself as an authority figure in these spaces – rather than Mr/Mrs Salesman – then people will come knocking at your door when they're ready for something you offer.
Here's how some pros tweak their approach:
Experimenting with content types
What works? What doesn't? If people don't seem interested in text-based posts, try images instead. Or is video where it's at?
Salespeople have been saying 'video is the future' for years (at least since YouTube was invented). Still, according to LinkedIn data, only 38% of marketers used video on the platform as recently as February 2020.
So, there might still be time to gain a first-mover advantage and experiment. How about customer testimonials? Product demos? Tips from industry experts?
Images work well, too: research shows they tend to attract twice as many comments* compared with text-only posts.
Leveraging LinkedIn for Lead Generation
To generate leads on LinkedIn, you must approach it strategically. Start by optimising your LinkedIn profile to draw potential leads. Use relevant keywords and engaging content to boost visibility in search results and capture the attention of your target audience.
Another critical step is creating targeted content that offers value to your intended audience—this positions you as a thought leader in your field. Share industry insights, tips, and solutions to common challenges for better exposure and lead generation.
Engaging with people in groups or discussions helps, too; this shows off expertise while offering something valuable to potential leads.
If you're after more precise targeting options, consider LinkedIn advertising—a powerful addition to any lead gen campaign. You can get granular with who sees ads based on job title, industry, or company size—all helpful for reaching the right people at scale and generating higher-quality leads.
Put these strategies together effectively and ensure you're using LinkedIn fully as a platform for driving business growth through lead generation.
The Importance of Content Marketing on LinkedIn
LinkedIn relies heavily on content marketing to establish thought leadership and brand authority. By posting informative articles, industry insights and case studies, businesses can provide value to their audience while positioning themselves as experts in their field.
Sharing good content that resonates with your target audience is critical for generating engagement and driving traffic back to your website. LinkedIn's algorithm rewards posts that get high engagement – likes, comments and shares – by showing them to more people. So creating content that provides value, sparks conversations and resonates with your audience will lead you towards getting more visibility (free) exposure on the platform.
For example, A marketing agency might share tips and best practices for optimising social media campaigns on the platform. As well as giving potential clients something actionable they can try immediately (showing expertise), this post could attract attention from those looking to improve their social media marketing efforts.
So, adding content marketing to your LinkedIn strategy is a smart way to boost brand awareness and establish thought leadership in whatever sector or industry you operate in – attracting more of your ideal customers in the process.
Utilising LinkedIn Advertising for Targeted Campaigns
LinkedIn advertising is a goldmine for marketing professionals. Why? Because it offers you precise targeting options and access to a professional audience, making it an invaluable tool for targeted campaigns.
This means that by specifying your target audience based on criteria like job title, industry and location, you can ensure that the right people see your ads.
Personalising the ad experience is vital when it comes to improving the effectiveness of your campaigns. Creating personalised ads that speak directly to your target audience's pain points, needs, and interests will increase the chances of capturing their attention, thereby driving conversions.
LinkedIn has improved how the personalisation of ads works, allowing for better targeting and customised experiences. By leveraging this feature, businesses can create tailored ad experiences that resonate with their audience and drive desired results.
For example, A software company looking to target IT professionals could create an ad highlighting how their software can streamline workflows, thereby improving productivity. Tailoring the advertisement in such a way as to hit IT professionals' specific pain points along with showcasing what value their solution delivers would have all eyes on them – thus boosting conversions in no time at all!
Incorporating LinkedIn advertising into your strategy effectively allows you to reach a professional audience – ultimately achieving those campaign aims quicker!
Maximising Engagement on LinkedIn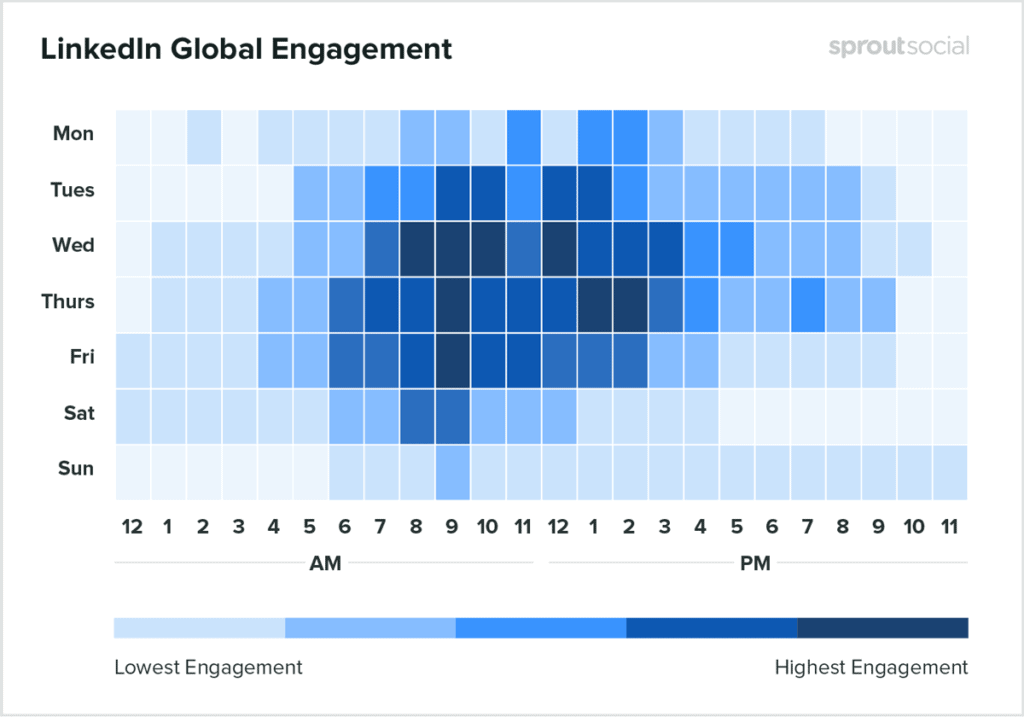 If you want to build relationships, widen your network and grow your business, it's vital to maximise engagement on LinkedIn. One way to increase engagement is by asking questions in your posts. By posing thought-provoking questions, you can encourage people to share their insights and experiences, sparking conversations and increasing the number of comments, likes and shares.
Another effective way of increasing engagement is participating in discussions and responding to comments. By actively engaging with people who comment on your post or contribute ideas to a discussion you've started or even jumping into others' conversations (so long as you have something interesting/informative/constructive/generally worthwhile to say), you demonstrate that you value other people's opinions – and this helps foster a sense of community around what you're posting.
Sharing valuable content is also crucial when trying to drive engagement on LinkedIn. If what you post offers insight/solution/tip, etc, that helps address someone's challenge/need, it stands far more chance of being seen (and responded to).
For example, I'm a marketing consultant targeting businesses seeking help growing their website traffic. If I publish a case study showing how one client grew its website traffic after adopting a particular strategy/process that I recommended (or something similar) – rather than just saying, 'Look at this great thing we did!' – then there's half-a-chance my target audience will be interested enough in what we achieved together/how we achieved it (or whatever) to read more about it/get in touch/share the info themselves/etc.
By focusing on these strategies within your LinkedIn marketing efforts, the theory goes that more people will engage with your posts/content – hopefully resulting in stronger connections with potential customers/people who might refer work or job opportunities/etc.
Sale
Harnessing the Power of LinkedIn Analytics
LinkedIn analytics can provide important insights to improve your marketing efforts on LinkedIn. You can track how they're doing by using data to make decisions about your campaigns.
LinkedIn offers several different metrics that can let you know when what you're doing is working – and when it isn't. These include reach, engagement and click-through rate – all critical indications of whether people respond to what you're putting out there.
These analytics can also help you identify trends in the data that will let you know if what's happening now is an anomaly or part of a broader pattern. For example, by looking at how different posts perform with varying levels of engagement (likes, comments, shares, etc), it might become apparent that certain types of content tend to drive more interest than others.
That information could then inform future content strategies, focusing more on what audiences seem to like best and less on what doesn't work.
In short? If making decisions based on data is your thing (and why wouldn't it be?), incorporating LinkedIn analytics into your strategy will allow for better decision-making and improved results over time.
Influencer Marketing on LinkedIn
Maximising the power of influencers on LinkedIn is an effective method to grow your brand's influence and reach. Influencers are individuals in a particular industry or niche with a large, engaged following. By teaming up with appropriate influencers who share your brand values and audience, you can use their platform to get more people interested in what you're doing.
LinkedIn's first stage of influencer marketing is identifying relevant influencers in your industry and building relationships with them. You can begin by engaging with their content, sharing their posts and offering something valuable to them – this enables you to connect with the person behind the profile.
When you've built rapport, it's time to move on to collaboration: working together on a piece of content creation such as guest articles, co-hosting webinars or featuring them in your own LinkedIn content. By tapping into their expertise and credibility, you can increase yours.
For example, I'm a tech company keen for more people in my target market to know about me. I could collaborate with an industry expert everyone knows regarding technology trends – we could co-host a webinar discussing the latest developments.
By leveraging their expertise and network, I'd be able to get in front of far more people than if I presented alone – plus, those tuning into the session would consider me somebody worth knowing, somebody knowledgeable about what was happening right now.
By incorporating influencer marketing into your LinkedIn strategy, you'll contact higher-profile members (who otherwise may have yet to notice what you're doing), increase trust among potential buyers and run high-profile campaigns from which others will benefit.
Sale
Optimising LinkedIn Company Pages
Creating an influential company page on LinkedIn is vital for advertising your brand and attracting followers. You can insert applicable keywords, dynamic visuals, and captivating content.
To lure potential customers and top talent, you must draw attention to what makes your products or services unique. This will help you stand out from the competition and appeal to individuals who could become engaged followers.
For example, a software company might use its LinkedIn business page to emphasise how its software can enhance productivity, save money or time, or improve efficiency. By making these points forcefully and using customer success stories as proof of effectiveness, the firm may attract people looking for a solution that addresses their pain points.
You'll be more likely to increase engagement and follower numbers by strategically optimising your LinkedIn company page – including branding efforts that highlight what distinguishes you in the marketplace.
The Role of LinkedIn Groups in Marketing
Joining the right LinkedIn groups can be vital for networking, industry discussions and sharing knowledge. It's a way to expand your network and contact other professionals in the sector.
The best way to build credibility and establish yourself as an expert is by getting involved, contributing insights regularly and helping others if they have questions or problems.
If you're always giving good stuff away – ideas, advice, solutions – you can become someone trusted in their expertise. This approach can be helpful for marketers looking to join a group devoted entirely to digital marketing on LinkedIn, say.
LinkedIn Groups also offer lots of chances for collaboration. You'll find yourself working with people you meet through networking on the platform: co-hosting webinars or events, writing guest articles, and doing joint projects.
Being active in these groups might help you branch out your contacts list so that it includes not just clients but potential collaborators as well.
Conclusion
To sum up, keeping abreast of the latest LinkedIn marketing trends and implementing best practices are fundamental to finding success on the platform. The emerging trends in LinkedIn marketing—such as virtual experiences, storytelling, and conversational marketing—create new opportunities for businesses to engage with their target audience.
You can effectively generate leads by optimising LinkedIn profiles, leveraging LinkedIn advertising tools, and using LinkedIn analytics to measure the impact of your efforts. Moreover, a comprehensive LinkedIn marketing strategy involves content marketing tactics like influencer collaboration, optimising company pages, and actively participating in LinkedIn groups. Incorporate these strategies into your approach and remain adaptable as the platform continues to evolve so that you get the most out of your efforts and achieve your objectives.
Last update on 2023-12-09 / Affiliate links / Images from Amazon Product Advertising API