How to Write a Project Proposal as a Freelancer
Freelancing has become much more common in recent times, and more than 63% of freelancers find their work online. 
Are you one of these freelancers vying for jobs on the internet? If so, you need something to help you stand out among the millions of other freelancers.
You need a write a project proposal that will show potential employers that you're the best fit for the job.
Wouldn't it be great if you could send your project proposals and have real success? 
Of course, it would! That's why you're here, and this article will discuss the purpose of project proposals as well as practical tips.
What Is a Project Proposal, and What Is Its Purpose?
You've heard the advice a million times: 'Write a good project proposal, and it's as good as yours!'.
But how do you write a project proposal that no one can resist you and your skills?
First, you need to know what a project proposal is.
It would be horrible if you dedicated hours to perfecting your proposal to have it all wrong.
A project proposal is a pitch for a job. It's usually in the form of an email, but you can also submit proposals on freelancer sites like Upwork.
However, a good project proposal is more detailed, visually appealing, and well-planned than a pitch. 
With a good project proposal, you can show prospective clients who you are, what you're capable of, and why they need you. 
You'll also be able to describe the services you offer in better detail and go into expected outcomes.
Critical Elements: How to Write a Project Proposal
Although your proposal will be unique to your skills and the industry you work in, there are some common elements all proposals need to have.
If you ensure that you've included these critical elements, your proposal will already stand a higher chance of making a great impression.
Every project proposal is different, so make sure that you know exactly what the project entails. You have to be confident that you can do the work and do it exceptionally.
You should start your project proposal with a detailed explanation of how you plan to approach the project. 
Show that you are dedicated and excited to be part of the team and display your professional attitude.
The main goal of a project proposal is to wow the client, and making a good impression with the first part of your request is essential.
Here are the main elements to know: 
Intro With Expertise and Skills
Let the client know of any similar work you've done in the past related to this project. 
Tell them about your skills and how they'll be useful for the project. Your expertise has been hard-earned; show off with it.
Your Approach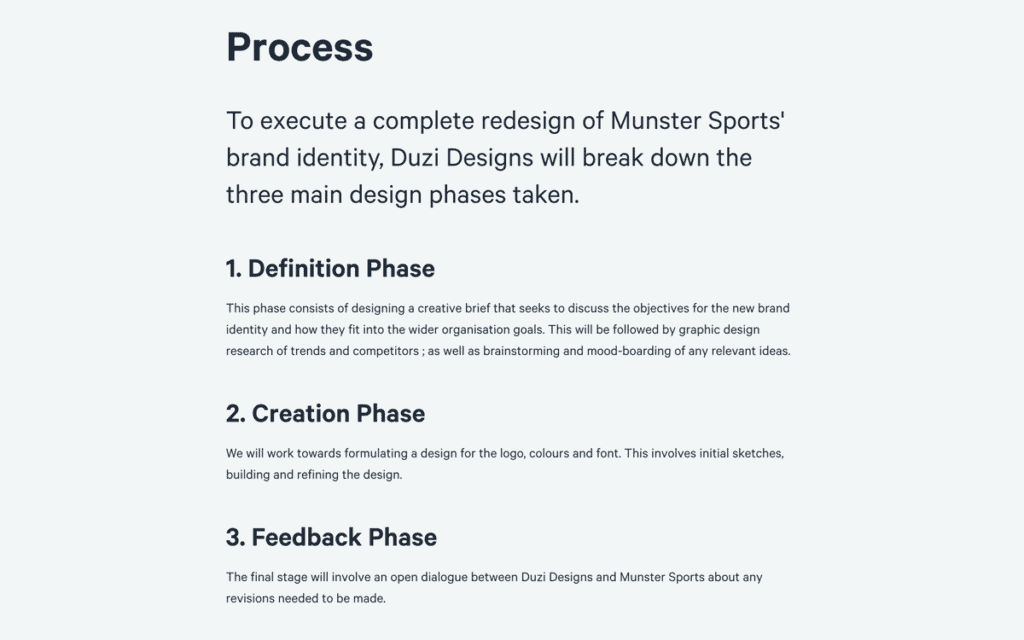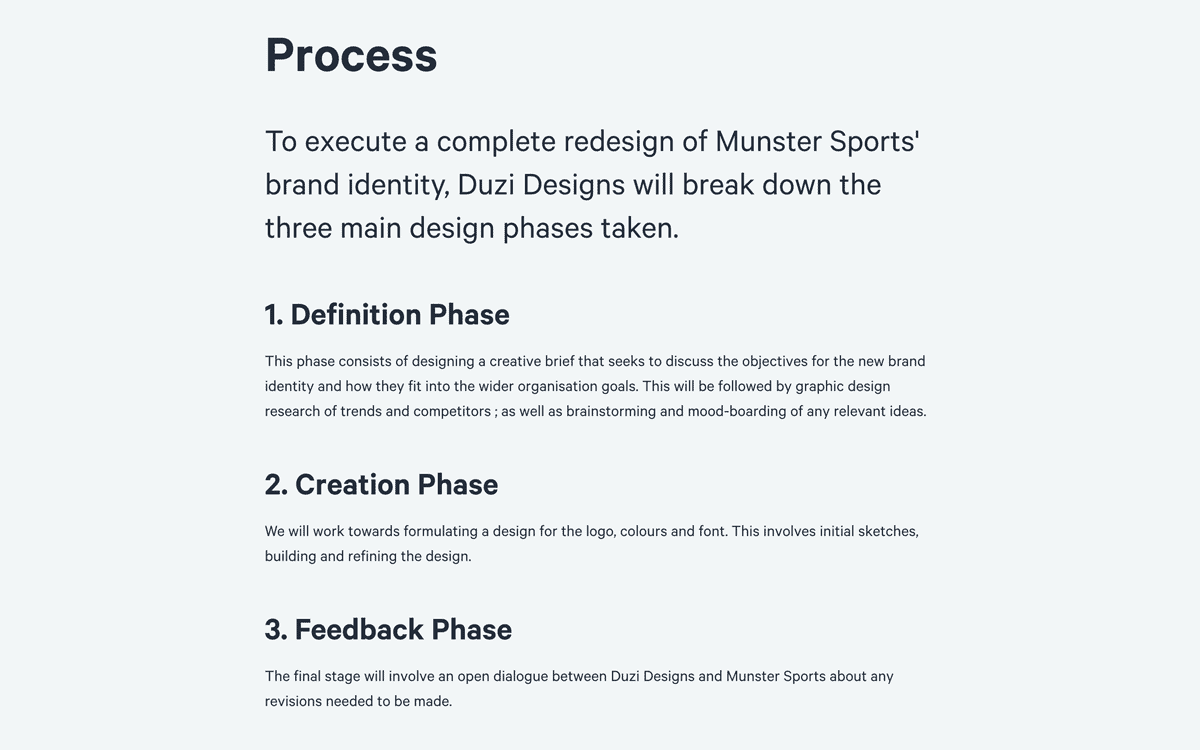 This is where you explain to the client just how you'll handle the work. If you have any ideas to make the workflow more manageable or enhance the project, share them. 
Just be careful to do so with care. You don't want the client to feel like you're nitpicking at their current plans and ideas. 
Include Concepts or Examples for the Project
When you include concepts and examples related to the project, the client will see that you're serious about it. 
These details will show that you've given the project much thought and genuinely want to work on it.
If you can provide some examples of your previous work that could add value to your proposal, don't hesitate. 
Images
Add plenty of images that can help visualise the various elements of your proposal. 
People like seeing images much more than they like seeing text. 
Suppose you can work in high-quality PowerPoint presentations, excellent. They'll add a bit more merit to the proposal.
Expected Time for Completion and Budget
Letting your client know how long you expect to take with the project and its cost is a good idea. 
Doing this will avoid difficulties or confusion further down the line.
Overall, make sure that your proposal has a professional design and is appropriately formatted. 
If the client is multilingual, you might want to use a quality rewriter to give your proposal a bit of an edge over the competition.
Tips to Ace Your Project Proposal
Right, now that you know what precisely a project proposal is and what it should look like, let's discuss some tips on making it shine.
Follow our advice, and you'll see that your proposal can compete with the best of them.
Get to Know Your Client First
The most crucial step to creating the perfect project proposal is paying attention and getting to know the client. 
If you don't know who's behind the project, how will you know exactly what they want?
An excellent way to get to know the client without speaking to them is to look at the project's description. 
Look at how it's written and the kind of language that was used. This will give you some insight into who the client is and how they think.
You don't have to be a psychologist to know that the kind of language that a person uses reflects who they are. 
Of course, this isn't as simple as it sounds because it's not always easy to read a sentence's tone. 
However, you can use the client's language and way of describing the project to your advantage.
If the client wrote professionally and firmly, you should use the same kind of attitude. 
If the client was a little more relaxed, still be professional but don't hesitate to let your personality show.
The project's description will also help you get an idea of the company you will be working with. 
This will help you decide if the relationship will be a good one. It would help if you also considered doing some research on the company.
Find out who they are, how long they've been in business, and what others think of them. 
If they have a good reputation, chances are you'll enjoy your time with them. 
Take care to do qualitative research instead of quantitative – there is a difference, and you'll get better results.
Knowing the client and the company a little better will also inspire you to use your proposal's information. 
Showing interest in this way is bound to impress the client and show them you're the right candidate for the job.
Showcase Your Strengths
When you're sitting down, ready to write your project proposal, think about everything that makes you perfect for the job. 
All your skills, strengths, and abilities will show the client why they should pick you above anyone else.
Demonstrate how your strengths will benefit the project and flaunt with your expertise. 
Don't be shy about your accomplishments – you worked hard to earn them.
For example, if the client is looking for a website designer, show them the sites and pages you've created, detail how you went about designing them, and handle any hurdles that popped up. 
No project ever goes 100% smoothly – something will likely go wrong sometimes or another. 
The client should see you can deal with unexpected difficulties and overcome them.
Many free and inspiring project proposal templates might get your creative juices flowing.
List all your strengths that fit the project and back them up with proof. 
Anyone can claim to be an expert designer, writer, or creator. But if you can provide samples and excerpts, the client knows that you know your stuff.
Avoid adding any skills that aren't relevant to the project, no matter how tempting it is. 
Yes, it's incredible that you can find memes that make even your grumpy neighbour laugh. But if it won't add any value to the project, don't mention it.
You might even consider including an employee performance assessment in your proposal if one of your former clients will complete one for you.
Be as Specific as Possible
Yes, when you write a project proposal, you want it to be exciting and blow the client away, but don't unnecessarily draw things out. Keep everything you write concise and specific.
Remember that you're not the only freelancer who sent in a proposal; the client likely doesn't have much time to spend reading through windy submissions.
Be especially specific when you detail your vision of the project and how you plan to carry it out. 
It will help to list the various steps you will take to complete the project.
If you can, work in an organised and well-thought-out timeline. Define every step of the way in short but creative sentences.
It can be challenging to determine a precise timeline before starting on a project but give rough estimates. 
Make it clear that you're only giving estimates but that you'll work hard to stick to them, if possible.
Don't Overcommit Your Time
Speaking of timelines… don't promise a finish date to impress the client. 
You'll be stressed and struggling to meet deadlines if you over-committed your time, and that won't do you or the client any good.
As a freelancer, it's easy to compare yourself to others in your field, but that's a mistake. 
Everyone works at their own pace, and you should never try to work faster than you can to try and look better.
If you fail to meet the promised deadline, you'll look unprofessional and unskilled. 
Instead, think carefully about how long it will take to give the project all the attention it deserves.
It's better to give an estimate of the time and give yourself more time than to put yourself in a box. 
This will inhibit your creativity and open doors to mistakes and unnecessary errors.
With more time to finish the job, you also have more time to make sure everything is fine-tuned to perfection.
Hand in a job quicker than expected, and your client will be impressed and happy. 
You'll undoubtedly be on top of the client's list should they need someone for a similar job again.
If you're afraid that life might throw a curveball your way, try using an app to organise your time economically.
Proofread Your Proposal
So, you write a project proposal: you've included interesting images and relevant examples. You've written down all the reasons why you're perfect for the job and highlighted all your skills and abilities. 
You have also decided to either email the proposal to the client or share it on a secure portal on the internet. (You can also share it on social media if that will be appropriate for the job in question.)
There could be nothing else left to do, right? Wrong, unfortunately.
You have to proofread when you write a project proposal, even if you're a writer with years of experience in writing.
Few things can ruin even the best proposal of grammatical errors, and lousy spelling can and will.
It might be tempting to use a spell-checker, but that's not always the best idea. 
Sure, apps and extensions such as Grammarly can help you avoid mistakes, but they're not mistake-free.
Use software like that but don't rely solely on it. 
Instead, step away from your finished proposal and relax for a bit. Drink your favourite warm beverage and return to it with fresh eyes. 
You're more likely to spot mistakes if you haven't been staring at the same proposal for hours on end.
It's also a good idea to ask a friend to take a look at your proposal. 
Ask a friend who won't be nice about mistakes and who wouldn't hesitate to point out whatever you did wrong.
If you're running out of fresh ideas, do yourself a favour and let your proposal sit for a while. 
Come back to it later when you've given your brain time to rest and refresh a bit. 
It's easy to get distracted these days, so if you're scared you'll forget about your proposal, use a goal-tracking app that comes with built-in reminders. 
It will make sure you don't forget to go back and finish your proposal on time.
Wow Your Clients With a Brilliant Project Proposal
Writing a project proposal may seem like just another way to apply for a job, but it can be your key to success. 
Invest time and effort in your proposals, and you'll have a lot more success in getting the jobs you want.
The freelance world is a competitive one, but when you write a project proposal it will make things a lot easier.
Follow our advice, and don't forget to show off everything you're bringing to the table. There is only one you, after all! 
Author Bio: Mark Quadros is a SaaS content marketer that helps brands create and distribute rad content. On a similar note, Mark loves content and contributes to several authoritative blogs like HubSpot, CoSchedule, Foundr, etc. Connect with him via LinkedIn or Twitter.