The Perfect Graphic Designer's Home Office
As a freelance graphic designer in the ever-evolving world of visual communication, having an inspiring workspace that fuels your creativity is essential. Your home office is where your innovative designs, campaigns, and branding emerge. More than just a place to work, your creative space should uplift and energise you. This comprehensive guide will help you transform your home office into a personal sanctuary tailored to graphic designers.
We'll begin by discussing laying out your office to maximise productivity and comfort. What's the ideal desk setup? Should you invest in a standing desk? How can you section off your office within your living space? Next, we'll explore which tools and equipment best serve a graphic designer. We'll cover the hardware that brings your visions to life, from drafting tables to powerful computers.
No creative space is complete without the right furnishings. We'll dive into the elements that make a comfortable and motivating environment – from your choice of desk and chair to organisational must-haves. Lighting is also essential, so we recommend lighting solutions to illuminate your work and show off your artistic creations. To nurture your imagination, your office should reflect your style. We'll share tips on infusing your space with inspiration through wall art, textiles, and meaningful keepsakes.
From boosting productivity to displaying your work pridefully, your home office impacts every facet of your graphic design career. Whether you're just starting or looking to upgrade your current workspace, this guide will give you the tools to build your ideal creative haven. Let's begin designing a space specifically for you that sparks innovation day after day.
1: The Perfect Graphic Designer's Home Office Layout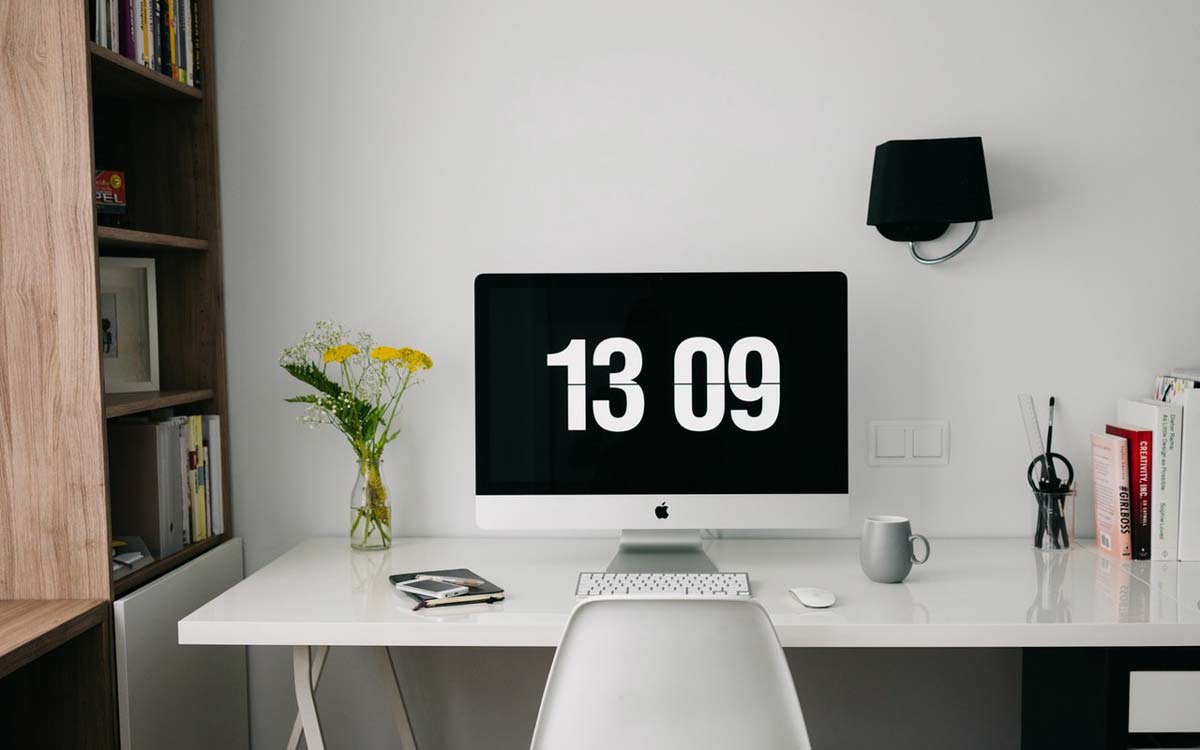 Creating an efficient and inspiring home office layout is vital to boosting productivity and comfort when working from home. The arrangement of your furniture and equipment directly impacts your ability to focus, be creative, and avoid distractions.
Begin by positioning your desk in an optimal location. Situate it near a window to benefit from natural sunlight and provide views outside, which can re-energise your mind during work sessions. Ensure your chair and monitor are ergonomically adjusted to avoid strain. Also, consider traffic flow – avoid placing your desk in high-traffic areas of your home to minimise disruptions.
Strategically zone your office space into different areas for varied tasks. Create a dedicated computer station for intensive projects requiring extended screen time. Set up a standing desk area for phone calls or reviewing documents. Add a lounge-style setting with a comfortable reading, brainstorming, or video conference chair. Consider including greenery, art, or other design elements to inspire each zone visually.
Remember storage solutions to maintain organisation. Incorporate file cabinets, shelves, and bins to neatly store office supplies, files, and other items. Wall-mounted racks can hold frequently used reference materials within easy reach. Regular tidying up of your work zones will maximise clear thinking and efficiency.
With some planning, you can configure your home office to align with your workstyle and needs. Thoughtfully arranged furniture, equipment, and décor will help you stay focused, motivated, and productive when working from your four walls.
2: Furniture Selection and Comfort
Creating an ergonomic and visually striking home office space is an essential investment for your health, productivity, and creativity. The furnishings you choose for your office environment can significantly impact your physical comfort, mental focus, and overall job satisfaction when working from home. Follow these tips when designing your ideal remote work habitat.
Select an office chair that correctly supports your body during lengthy work sessions. Look for adjustable features like seat height, armrests, and lumbar support to customise your needs. High-quality leather or mesh chairs with ample cushioning can prevent back pain and discomfort over time.
Your desk plays a critical role in your daily routine. Opt for a spacious desk with an adjustable height to alternate between sitting and standing. Position your computer monitor directly before you and place your keyboard, mouse, and other accessories within easy reach to avoid repetitive strain. An organised, uncluttered desk surface helps maximise productivity.
Proper lighting is essential for reducing eye strain from screen glare. Install task lighting like a desk lamp to illuminate your work area without shadows. Position lights so they shine from the side or behind computer monitors. Natural light from windows also enhances focus and mood.
No office is complete without storage for essential supplies, files, and equipment. Mounted shelves, desktop organisers, filing cabinets, and drawers allow you to arrange office clutter out of sight neatly. Proper storage systems lead to a tidy workspace which can improve concentration.
Choosing furniture and accessories with both ergonomic function and aesthetic appeal creates a motivating home office environment tailored to your needs. Invest in pieces that optimise comfort, increase efficiency, and reflect your style.
3: Lighting: Illuminating Creativity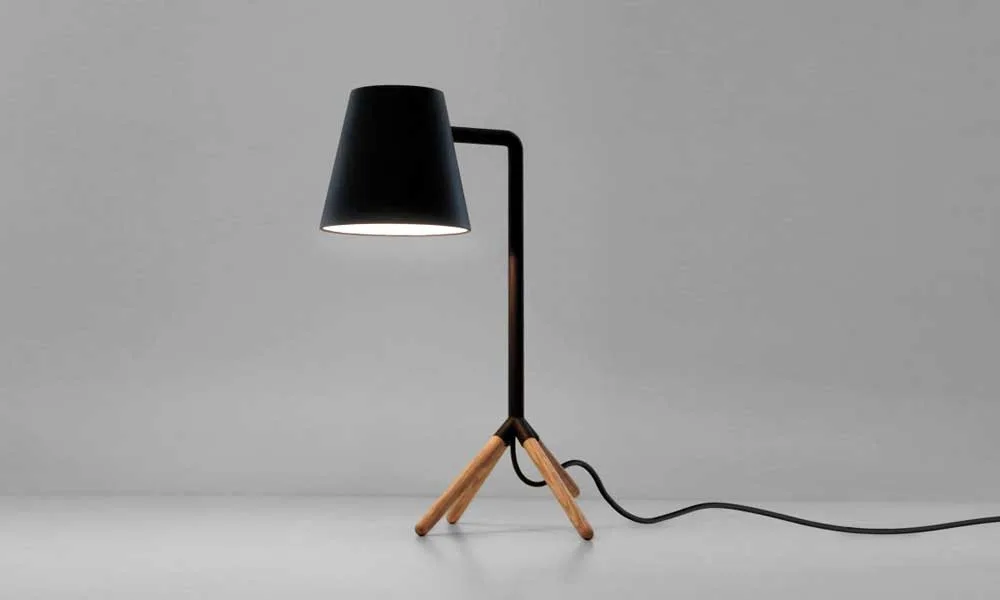 The quality and type of lighting in your workspace can significantly impact your energy levels, focus, and creative output. Harnessing the right lighting solutions will help boost your performance and inspire innovative thinking.
Natural Light
Position your desk near a window or work area with ample natural light when possible. Daylight helps regulate your circadian rhythm, elevating mood and energy. Studies show that natural light enhances cognitive function, allowing you to tackle analytic tasks more efficiently. The variability of natural light also encourages creativity and flexible thinking.
If your options are limited, consider investing in a daylight lamp. This artificially simulates the full spectrum of sunlight indoors to provide the same benefits. Be sure to place it nearby but not directly in your line of sight to avoid glare.
Ambient Artificial Lighting
Supplement natural light with soft, ambient artificial lighting throughout your workspace. Overhead lighting, such as pendant or recessed lighting, illuminates the entire area evenly. Dimmers allow you to adjust the brightness to suit your needs. This removes harsh shadows and prevents eye strain while providing sufficient light for most tasks.
Task Lighting
Increase focus on detailed work with directed task lighting. Desktop lamps with adjustable arms let you position the light precisely where needed. LED task lights offer flicker-free illumination without excess heat. Point the beam downward to eliminate glare on screens or surfaces. Task lighting gives your eyes the support they need for intense concentration.
Accent Lighting
Incorporate accent lighting to add visual interest to your workspace: track lighting, wall sconces, and table lamps with directional shades spotlight decorative features or plants. Accent lighting breaks up the space and prevents a sterile, uninspiring environment. Uplighting behind monitors or on the walls also adds a layer of warmth to the overall lighting design.
Adjust Colour Temperature
Look for tunable LED lighting solutions that allow you to change the colour temperature. Cool white light between 5000K to 6500K promotes alertness and supports analytic thinking during crunch times. Warmer 3000K lighting sets a relaxed tone for brainstorming sessions where creativity flows freely. Adjust the lighting to match your needs and activities throughout the day.
The thoughtful use of varied light sources results in an inviting workspace tailored to your productivity, focus, and innovation goals. Experiment with different lighting combinations to uncover what works best for your needs and preferences.
4: Enhancing Creativity and Productivity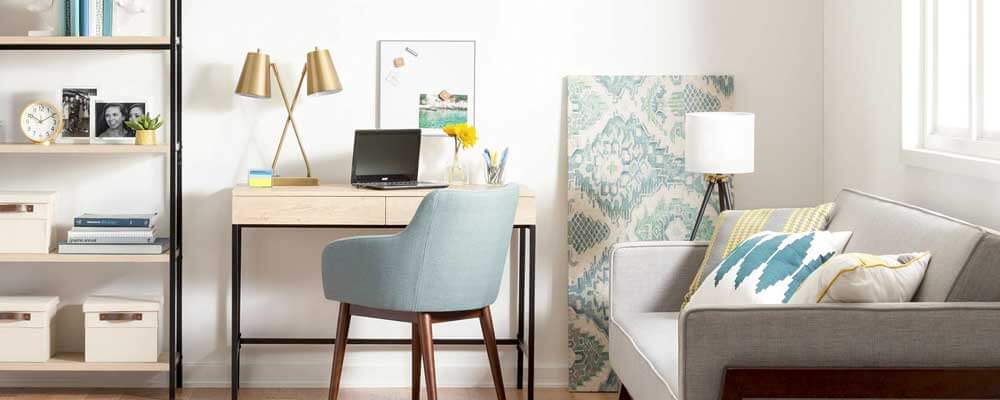 Creating an inspiring yet productive home office space takes thoughtful planning and design. Consider the following strategies to boost creativity, focus, and efficiency in your personalised workspace.
Incorporate Meaningful Decor
Surround yourself with items that motivate you and reflect your aesthetic style. Display art, photos, collections, and other decorative elements that have personal significance. Bold graphics, vision boards, and uplifting quotes stimulate creative thinking and encourage you to reach goals.
Introduce Natural Elements
Bring nature indoors with potted plants, fresh flowers, and other organic decor. Living greenery improves indoor air quality, reduces stress, and provides mental restoration needed for sustained focus. Strategically place plants to soften hard surfaces, add warmth, and increase energy levels.
Limit Distractions
Setting boundaries limits interruptions from digital devices, household tasks, and other obligations. Silence notifications, close doors, and utilise noise-cancelling technology. Create a sanctuary focused solely on your creative projects and professional endeavours.
Add Motivational Reminders
Surround yourself with inspiring quotes, vision boards filled with images of your goals, and other motivational elements. Display artefacts from accomplishments, awards, and milestones to bolster confidence. Tangible reminders reinforce your purpose and keep you on track.
5: Organised Chaos: Workflow and Storage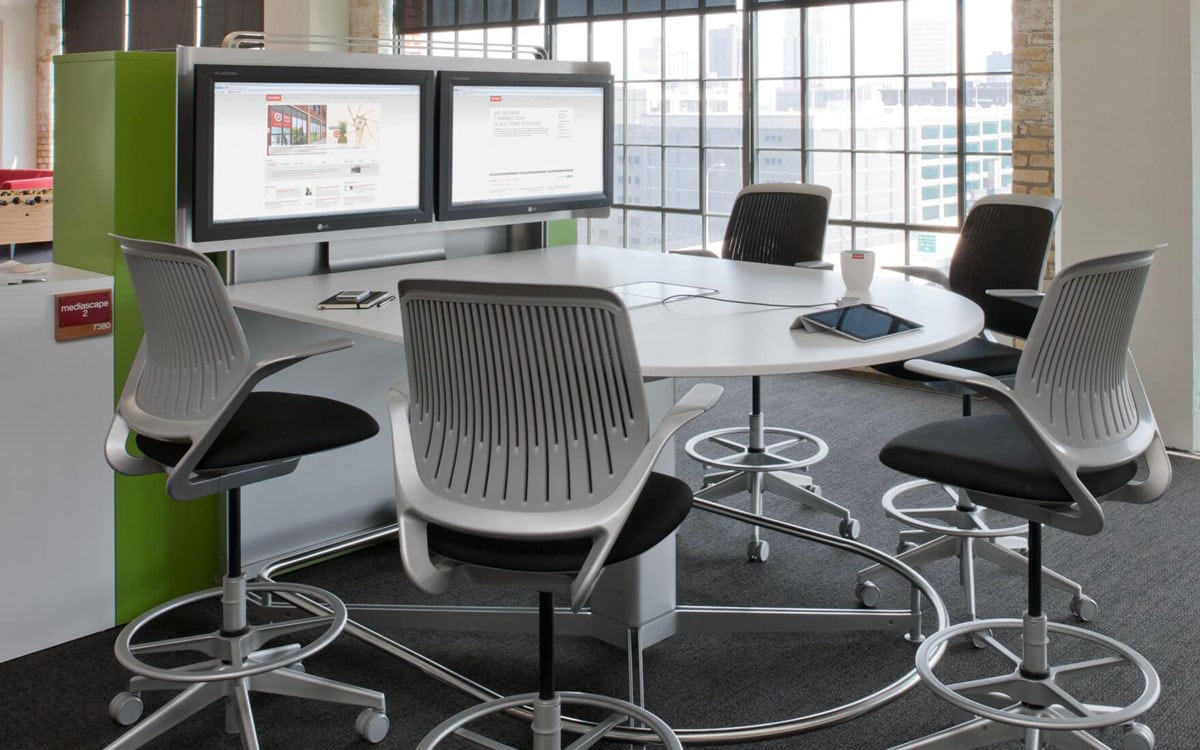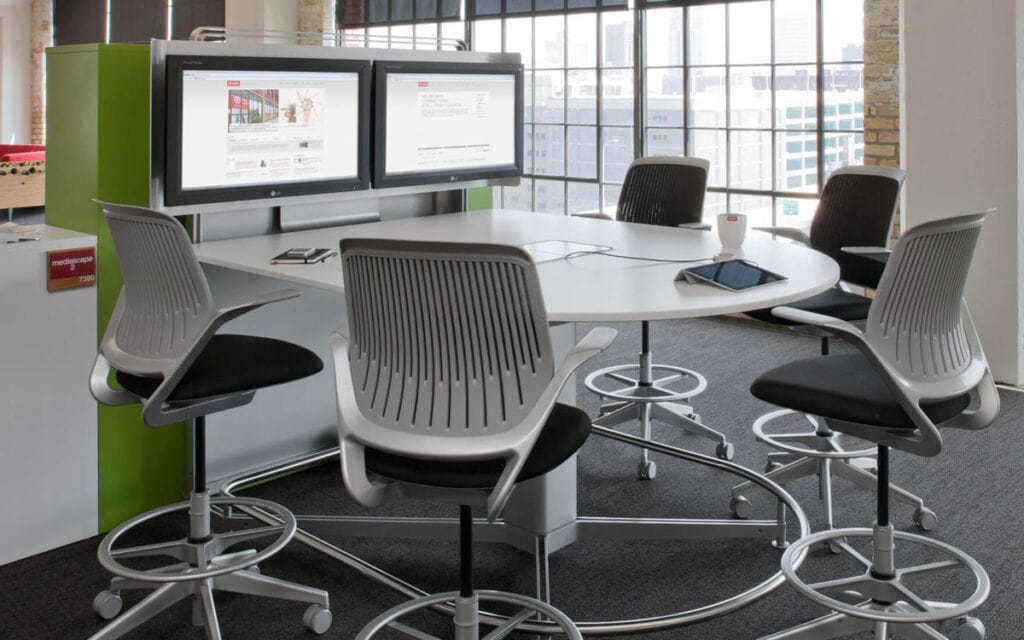 Setting up an efficient and organised home office is critical to maximising productivity and maintaining a professional workspace. Implementing organisation systems helps streamline workflows, reduce clutter, and create an inspiring environment conducive to deep-focus work.
Digital Organisation
The digital side of your business requires just as much organisation as the physical. Utilise cloud-based storage platforms like Google Drive or Dropbox to access important files from any device. Set up a clear folder structure to categorise projects, reference materials, image assets, and other resources for easy search and retrieval.
Project management tools like Asana, Trello, or Notion provide ways to organise tasks, track progress, and collaborate with team members remotely. Establish processes for file naming conventions, version control, and project archiving to keep current work organised. Schedule periodic digital organisation maintenance time, like cleaning up old files and restructuring folder systems as projects evolve.
Physical Organisation
In addition to digital organisation, optimise the physical workspace for efficiency. Inventory all physical materials like sketches, prototypes, books, and supplies. Implement a labelling, categorisation, and storage system to tame the chaos.
Dedicate areas or shelves for specific items. Boxes, baskets, filing cabinets, and clear storage containers corral projects in progress. Label all containers and shelves for at-a-glance identification. Store reference materials close at hand while archiving past project materials farther away.
Minimise clutter in the main workspace to promote focus. Contain small items like pens, post-its, and other office supplies in organised desktop accessories like trays, jars, and drawer organisers. Establish a "clean sweep" routine at the end of each workday to maintain order.
Cable Management
One of the easiest ways to introduce visual clutter in a home office is through cables. Containing cables for devices like computers, phones, lamps, and other electronics keeps the space neat and professional looking.
Use cable sleeves or clips to bundle wires and route them neatly against walls and behind furniture. Hide surge protectors and power strips out of sight while keeping outlets accessible. For especially tangled areas, cable ties and anchors can tightly fasten cables.
Proper cable management reduces clutter and makes weekly dusting and cleaning of the office much more straightforward. A few simple tactics go a long way in creating a polished, distraction-free workspace.
In summary, organisation systems for both digital and physical materials are essential for home office productivity. Invest time in setting up efficient processes, storage solutions, and maintenance routines to get the most out of your professional working space.
6: The Creative Mindset
Setting up a productive workspace goes beyond just the physical elements. Fostering a creative mindset is crucial for generating innovative ideas as a designer. There are several ways to cultivate an environment conducive to free-flowing imagination.
Incorporating mindfulness practices like meditation into your daily routine can work wonders. Even just 5-10 minutes of meditation or deep breathing exercises in the morning helps reduce stress and clutter in your mind. This clears the slate for new ideas to emerge effortlessly throughout the day.
Having an inspirational corner in your home office is another impactful strategy. Pin up vision boards, artwork, colour palettes, textures, and other visual materials that align with your aesthetic and design direction. Regularly update this corner with new samples and images to inject a dose of fresh inspiration. Surrounding yourself with these tangible representations of your style keeps your creative juices flowing.
Music also enhances imagination and original thinking. Curate playlists that evoke the mood you want to design. Upbeat tempos promote energy and productivity, while mellower tunes facilitate free association and "out of the box" solutions. Always keep a speaker on hand to set the soundtrack of your workspace.
By carefully crafting the physical and mental landscape, you allow your ideas to flourish organically. A mindset of openness paired with space for visual inspiration gives rise to innovation and original designs.
Conclusion: Your Masterpiece in the Making
Designing a graphic designer's home office is an artistic endeavour that intertwines functionality, aesthetics, and personal expression. It is a journey of carefully curating a space that will ignite your creative spark and inspire your best work.
The process begins by selecting furniture and lighting that optimise workflow and productivity. The ideal desk and chair provide ergonomic support for long hours behind the screen. Task lighting eliminates eye strain, while accent lighting sets the mood. Storage solutions keep tools and materials organised yet easily accessible.
Beyond the pragmatic choices, the office must also please the eye. Wall decor, rugs, plants and other decorative touches introduce visual interest, colour and texture. A gallery wall filled with inspiring art and designs stimulates the imagination. The overall aesthetic should motivate and uplift.
Ultimately, the office should feel like you. Display favourite possessions, artefacts from travel, and other souvenirs. Work surrounded by what makes you smile. The space will reflect your style, passion and personality.
Approach designing your home office as you would any creative endeavour. Curate, refine, and experiment. Filling the room with intention and purpose will make it feel welcoming and productive. This is your sanctuary where you can think, design and bring your visions to life.
When you step into the thoughtfully crafted haven you have designed, you will feel centred, motivated and able to do your best work. Your office environment impacts your process, so make it one that fosters growth. Shape it into a space where creativity flows freely.
The journey of designing your home office is about more than the result. It is about mindfully crafting a backdrop for innovation and an empowering environment where you can thrive creatively. Make it distinctly yours, and let it inspire you every day.
Last update on 2023-09-22 / Affiliate links / Images from Amazon Product Advertising API