Graphic Designer's Home Office – Top 10 Design and Setup Tips
The art and craft of graphic design is becoming more popular and sought-after by companies and employers around the world, and it's safe to say that this is one of the most lucrative industries you can become a part of as an aspiring freelancer. 
Now, to do your job right, you have to be in a productive, healthy work environment, so you need to design and set up your home office just right. 
That said, it's important to note that a graphic designer's home office is quite different from your typical freelancer's home office, as this is a highly specialised vocation that requires a unique set of tools along with some unique office design considerations.
Some of the design tips and setup essentials we're going to talk about today might seem like a significant investment. 
However, they are all a necessary part of your work environment and can greatly influence your productivity and output, as well as your relations with your clients and partners. 
With all of that in mind, let's dive deep into the design and setup tips that will bring your graphic designer's home office to life.
Start by scaling the lighting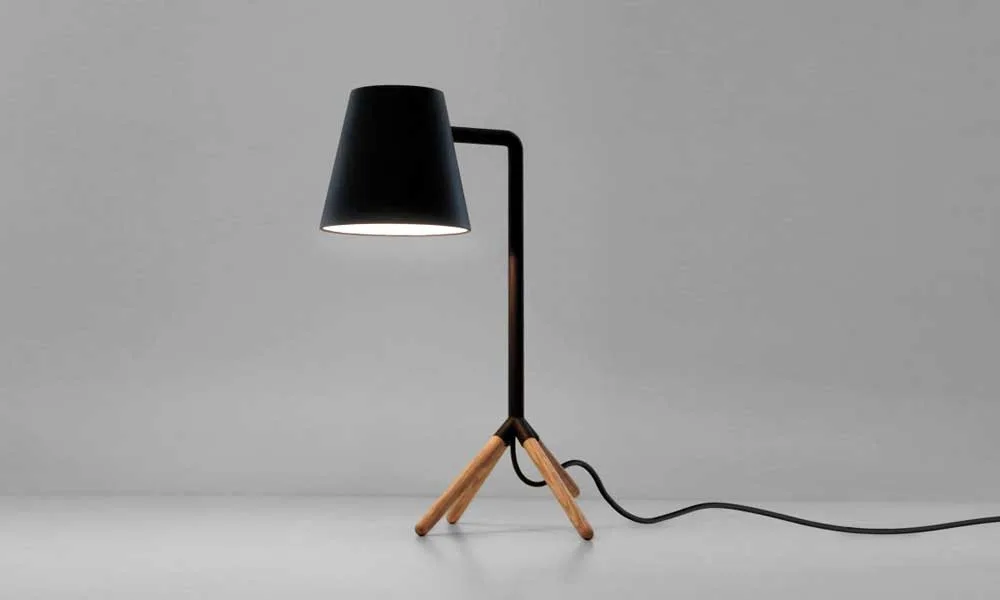 When you're just typing away at your computer, say as a freelance writer, you can go ahead and work from your laptop on the couch, not bothering yourself too much about the lighting in the room if you have a good display. 
However, the lighting in a graphic designer's home office can make all the difference, and significantly impact the quality of your work as well as your productivity levels throughout the day. 
That's why optimising the lighting should be one of your top priorities.
You can start by optimising the natural lighting in the room. 
Ideally, you would want as much light to permeate the setting as possible for the sake of your mood and productivity. 
However, it shouldn't be so bright that it bounces off your screen. 
You can use curtains to control the flow of light and keep it off your monitor.
Next, turn your attention to the artificial lighting. 
While it's always a good idea to have a desk lamp when you're working until the wee hours in the night, keep in mind that the reflection on one side of the screen can affect the picture and the quality of your work, so for your needs, it's better to choose a soft overhead light. 
Make it programmable so that you can scale the lighting quickly.
Recommended Office Lights
Bestseller No. 1
EppieBasic LED Desk Lamp,Architect Clamp Desk Lamps for Home Office,24W Brightest Led Workbench Office Lighting-6 Color Modes and Stepless Dimming Modern Desk Lamp for Monitor Studio Reading
✅【Super Wide, Large and Bright】With a ultra wide 31.5 inch 24W LED light bar, this tall desk lamp illuminates entire desk, ideal for a multi-monitor workstation, large table for the home office, drawing, sewing, crafting, painting, reading. Maximum working height up to 27.5 inches. The best led desk lamp for working from home.
✅【No Screen Glare & 100% Flicker-Free】Equipped with 45° angled away LEDs and side lighting design, it illuminates only your desk and keyboard, no reflected glare on the screen or in eyes which can help you better see what you're working on, reducing eye fatigue, NO flickering, NO ghost-freeze.
✅【Auto-Dimming & Multi Lighting Modes】The 1100LM bright desk lamp Built-in intelligent light sensor it will detect surrounding light intensity and auto adjust to the best brightness level for your work environment. It includes 6 dimmable levels and adjustable color temperatures modes (3,000K- 6,000K, RA>85). The memory function memorizes your last setting.
✅【Minimalistic Style & Saving Space】The modern desk light with sensitive touch buttons that easy to control, the durable and flexible silicone neck allows you to turn the desk mount lamp to any angle possible according to your needs. The scratch-resistant metal clamp supports the maximum thickness of desk edge up to 3.34-inches.
✅【Quality Enhanced & Warranty】Eppiebasic LED Desk Lamp has been updated with all-involved effort and complete improvement, and NO MORE issue that cannot turn off. 1 Year of Warranty for any quality issues with 24/7 Customer Service. 【What's in the Box】 1*24 Watts Desk Lamp with Clamp, 1 * UL Power Adapter,1 * User Manual.
Bestseller No. 2
Floor Lamp,30W/2400LM Sky LED Modern Torchiere 3 Color Temperatures Super Bright Floor Lamps-Tall Standing Pole Light with Remote & Touch Control for Living Room,Bed Room,Office(Black)
Multiple Control Ways:With the remote control, you can easily control the floor lamp without leaving the sofa and warm bed (with a 32.8ft/10m range).Add-on touch control, stepless brightness adjustment(brightness from 5% to 100%) by long touch.
Using-Life Longer 20% than Others:With high brightness and low heat LED advanced technology, it has the brightness of a 200W incandescent lamp.Long-term use will not heat up as it's made up of the acrylic materials.the light has a lifetime of up to 100,000 hours at the right current and voltage, which means lower maintenance and replacement costs, totally save money and energy.
3 Color Temperatures and Stepless Dimming:The Joofo floor lamp has stepless brightness adjustment as well as three adjustable color-temperature settings from 3000K to 5000K, for warm white, natural white, and cool white light. It remembers your settings between uses and when power is interrupted.
Save Space and Safe Base:The base is very heavy.Safe for your baby and pets.The base to provide a good stability from falling that can make sure safety and stable.And save space design,you can put it under your sofa or narrow corners.350 rotation you can adjust any angle you need it to make the light fit you.
Directional and Glare-Free Light:The lighted surface can be rotated through 350 degrees and tilted to any angle between straight up and almost parallel to the floor. The 69inch/175cm height and tiltable top make it easy to avoid glare from the lighted surface. Pointed into a corner, the lamp provides great diffuse lighting when you're on camera for remote meetings.
Bestseller No. 3
Desk Lamp, EASTAR LED Desk Lamp with Wireless Charger, USB Charging Port, Modern Eye-Caring Desk Lamps for Home Office, Table Lamp with 5 Lighting Modes, Bright Desk Light with Touch Control, Timer
💡【Eye Protection and Dimmable】: Our desk lamp adopts 52 pcs energy-saving, no blue light LED beads. Compared with traditional desk lamp, the light of the led desk lamp source is softer and more uniform, no flicker. It will reduce eye strain When you work, read and study. Designed to last for more than 50000 hours, you won't replace the LED in the next 25 years. It has 5 color temperatures (3000K-6000K) and 10 level brightness(Up to 650LM). Which allows you to customize the light to your needs
💡【Wireless Charger and USB Charging Port】: EASTAR desk lamp is superior to the ordinary lamp because it adds fast wireless charging as well as a USB charging port. 5W wireless charger is compatible with most Qi wireless enabled devices, such as iPhone 13/12/11/11 Pro/XS/XR/X/8, Samsung S8/S9/S9 Plus/Note 8/Note 9/Note 9 Plus, etc.Note: wireless charging function requests 5V/3A adapter (included). You can also charge non-wireless phone and devices via USB output charging port at the same time.
💡【Adjustable and Slim Design】: The vertical rotation of the lamp arm is 90°, the horizontal rotation is 160°, and the vertical rotation angle of the lamp head is 225°, you can adjust great height and angle for optimal illumination and fold it flat for easy storage when not using. The base size is 7.4x4.3in, so the desk lamps for home office don't take up a ton of room on your desk but light up a large area.The slim and modern shape of the desk light should fit in most office decor and bedroom
💡【Auto-off Timer and Memory Function】: 30mins/1hour auto off timer features energy saving even if you are asleep when reading at night. With the memory function of the led lamp, you can turns the lamp on at the last-used brightness and color settings instead of reverting to defaults.
💚【Safer Adapter and 24-Month Quality Assurance】: We offer a 5V/3A adapter and power cable. It is safer and faster than other 5V/2A adapter to charge. You can use the light and charge your phone at the same time with our 5V/3A adapter. We provide 24-month quality assurance and 90-day fully money back or replacement. If you have any questions, please tell us via amazon at first time. We will provide professional service to solve it in 24 hours. There is a totally risk-free purchase.
Be as comfortable as possible
Before we get stuck in the software you should use to deliver better results and communicate with your clients efficiently, we have to address another important question regarding the comfort of your home office. 
As a graphic designer, you have to stay mobile and flexible throughout your day, and a good laptop will help you do that to a great extent because the creative process makes us want to move around and change positions often. 
The last thing you want is to slouch on your chair or over your desk because that will negatively impact your productivity and mindset.
Instead, it would be a wise idea to invest in an ergonomic chair and a modular desk. 
The chair will promote good posture, while the adjustable desk will allow you to switch to a standing position on a moment's notice without having to take a break for a second. 
It's a simple rule but always look to make yourself as comfortable as possible without risking dozing off. 
There is such a thing as an overly comfortable home office, you know.
RESPAWN Omega-Xi Fortnite Gaming Reclining Ergonomic Chair with Footrest (OMEGA-02)
FORTNITE OMEGA GAMING CHAIR - Ready to play like a gaming legend in the Fortnite edition Omega gaming chair? A racecar-style gaming chair that provides luxury and comfort, whether it's used for intense gaming sessions and climbing to the top of the leaderboards, or long workdays
ARMED WITH COMFORT - This video game chair features a high back with segmented padding and an integrated headrest because you don't need to feel like you've been gaming all day This ergonomic chair is also equipped with an extendable footrest, so you can kick back and game on Padded armrests round out your comfort arsenal
Fortnite OMEGA THEME - This Fortnite Omega-inspired gaming chair features accents that allow you to rep your favorite outfit Stain-resistant materials cover the gaming chair for long-wearing, extended use
BASE SUPPORT - Find your optimal position by reclining between 90 - 155 degrees with infinite locking positions Soft, padded armrests pivot with the chair as it reclines Full 360 degrees of swivel rotation enable dynamic movement These gaming chairs measure 24 41 – 47 45" D x 26 75" W x 48 04"-51 19" H
WE'VE GOT YOUR BACK - With 25 years of ergonomic workplace furniture experience, RESPAWN, an award-nominated brand, builds gaming furniture that is both durable and comfortable The limited lifetime warranty covers the gaming chair for users up to 275 lb and has your back so that you can bring your 'A' game to every match
Get the right creative software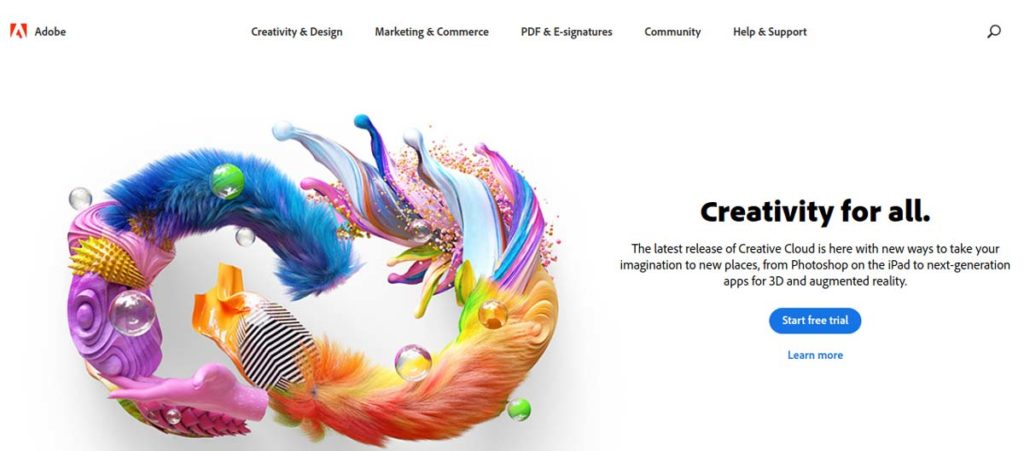 Okay, on to the good stuff. 
As a graphic designer hell-bent on making an impact on the industry, you need to equip yourself with the right software, apps, and tools that will allow you to fulfil all your clients' wishes and deliver stellar results. 
Generally, the clients won't care what software you use so long as you deliver quality work, but you should look to find the apps that work best for your creative process and needs. 
Always remember that there are many tools out there that you can try until you find the perfect fit, and some of them are free to use while others might require a hefty yearly renewal fee.
Typically, the software you need to pay for will work better, such as Adobe's Photoshop or Illustrator, and for many reasons. 
It's important to remember that paid software is continuously updated and has non-stop service support, which means that you can enjoy the latest features and security measures on the market. 
You can also choose Inkscape if you're working on vector graphics or GIMP (this one's free) for editing raster images and free-form drawing.
The choices are endless nowadays, so it's a good idea to download different tools, try them out, and see which ones work best for you. 
It's a process, but an essential one for finding your unique style and boosting your productivity and output.
Communicate with your clients efficiently
Collaboration and communication are just as crucial for a successful graphic designer as the tools and software you use to make fantastic marketing materials, campaigns, and visual designs. 
After all, you have to be able to communicate with your clients daily to stay productive and nurture your relationships, which is why you need to be available via phone, messaging, email, and more. 
You can combine all of these communication platforms through a single VoIP system to cut costs and organise your communication and collaboration all in one place.
VoIP is a cloud-based solution and probably the best-rated phone system for companies and individuals, as it brings a ton of handy digital features to the table that allows seamless communication and collaboration. 
However, the most significant benefit of VoIP is that it allows for low-cost phone calls for national and international calls, which will enable you to communicate with clients all over the world without breaking the proverbial bank.
magicJack, New 2021 VOIP Phone Adapter, Portable Home and On-The-Go Digital Service. Unlimited Calls to US and Canada. NO Monthly Bill | Featuring magicIN & magicOUT Service
The NEW 2021 magicJack DIGITAL TELEPHONE SERVICE: Unlimited Local & Long Distance Calling to the U.S., Canada, Puerto Rico and Virgin Islands with a 1 YEAR WARRANTY. Also, Free magicJack to magicJack calling worldwide and low international outbound rates and keep your number.
WORKING FROM HOME: NEW & IMPROVED FEATURES: Improved voice quality. Lab-tested features greatly enhance overall voice quality under congested network conditions. Make higher quality calls with the newly improved chip. Has more memory and the new device uses CPU that is 4 times faster.
NO MONTHLY BILLS: 12 months of service and Caller ID, Voicemail, Call Waiting, Call Forwarding, 411 and Conference Calling -- ALL INCLUDE GRATIS FOR A YEAR WITH NO HIDDEN FEES. It's the smart choice. (porting an existing phone number has a one time charge of $19.95)
FREE COMPANION APP: Download the FREE magicJack Mobile App and Make Unlimited local & long distance calls to the U.S. and Canada from your smartphone. Have your home phone & cell ring simultaneously! It works just like using your magicJack service at home. PLUS get unlimited text messages to any U.S. mobile number. (calls to your magicJackHOME simultaneously ring on your mobile)
EASY TO SET UP: You can connect your magicJack to your existing high speed internet and any cordless or landline house phone or you can connect with your computer. Includes step-by-step instructions, ethernet cord, USB extension cord and power adapter. BUY WITH CONFIDENCE: If a magicJack product has been previously activated & returned, magicJack cannot guarantee that it will be in working condition. Please buy with confidence from magicJack to receive a NEW working unit. Do NOT BUY USED.
Don't draw without a good graphics tablet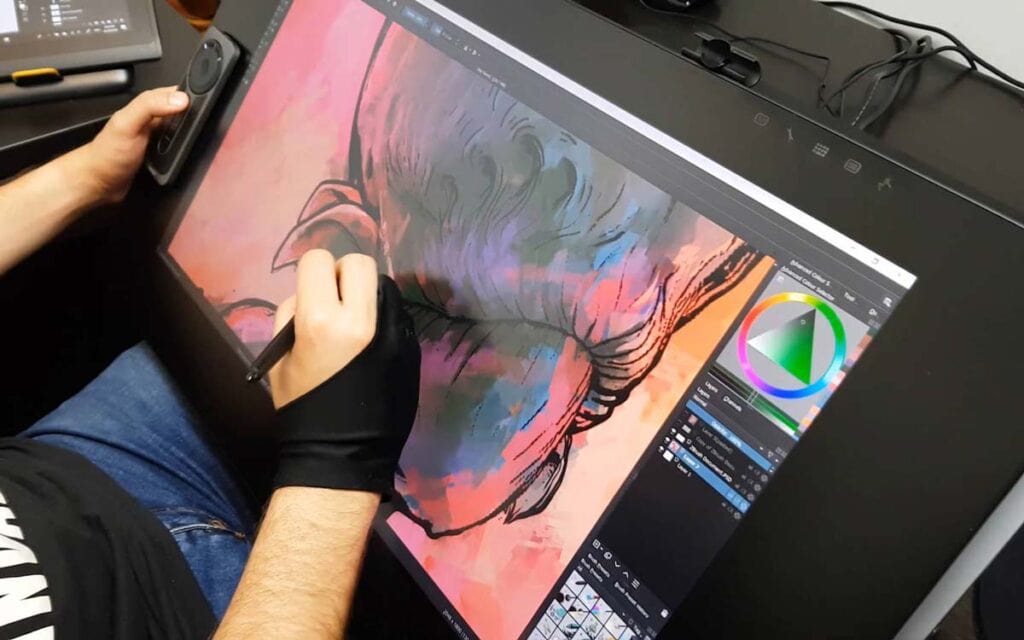 Amateurs draw using a mouse and keyboard. 
Professionals use a graphics tablet to bring their designs to life. 
If you're serious about making it big in the world of graphic design, you need to invest in a good drawing tablet. 
Fortunately, these have become incredibly affordable in recent years, and there is no need to spring for the most expensive one on the market. 
When you're shopping around pay special attention to the quality of the screen and its sensitivity, and how well it reacts to the subtlest of motions.
Recommended Drawing Tablets
Sale
Bestseller No. 1
GAOMON PD1161 11.6 Inches Tilt Support Drawing Pen Display with 8192 Levels Pressure Sensitive Battery Free Pen AP50 and 8 Shortcut Keys
[11.6-Inches 1080P HD IPS Monitor]--GAOMON PD1161 drawing monitor comes with 1920x1080 HD IPS monitor paired with 72% NTSC(100%SRGB) Color Gamut, work area is 256.32×144.18mm (10*5.7 inch). High-end monitor ensure a more vivid display. Signal Output: Mini HDMI &Type-C; Viewing angle: 178°。
[±60 Degree Tilt Function]--GAOMON PD1161 graphic pen display support ±60 degree Tilt function. We can freely draw from various angles according to the subtle pressure differences, and every detailed modification will be recognized immediately.
[8192 Levels Battery-free Pen AP50 ]-- Say good bye to battery.No need to charge pen anymore, which is an humanized and environment-friendly design. The tablet equip with 8192 levels pen pressure, the thickness of the lines will change with the pressure you put on the pen, making the lines more natural and smooth. Two programmable hot-keys on pen body, and the default setting is erase and mouse right click.【8 Replacement nibs】--The replacement nibs inside of the pen holder.
[Warm Reminder]-- GAOMON PD1161 drawing pen display is not a standalone product, it must be used with a computer which running windows or mac OS. It not compatible with Chrombook (chrome OS) . [8 ProgrammableShortcut Keys]-- You can set shortcut keys on tablet driver based on your preferences, such as erase, zoom in/out, scroll up and down, and so on.
[OS Support& Art Program Compatibility]-- GAOMON PD1161 art tablet support Windows 7/8/8.1/10 or later, Mac OS 10.12 or later; Compatible with gimp,firealpaca,krita,medibang,zbrush,blender,Inkscape,Photoshop, Adobe illustrator, adode premiere, adobe after effect, sai version 2, clip studio paint, Corel Paintshop Pro,Autodesk Mudbox, Lightroom, Sketchbook Pro,etc. [WIDELY APPLICATION]-- Drawing, photography, animation,sketching, image editing, 3D sculpture, architectural designers ect.
Sale
Bestseller No. 2
Wacom Intuos Graphics Drawing Tablet for Mac, PC, Chromebook & Android (small) with Software Included - Black (CTL4100)
Graphic drawing tablet with 4096 Levels of pressure sensitivity – gives you control and precision when drawing, painting and photo-editing in nearly any software program
Compatibility: Mac (OS X 10.10 and above), PC (Windows 7 and above), Chromebook (devices running the latest Chrome OS), and Android smartphones/ tablets (OS version 6.0 or later); Easy plug-in via USB-A: some devices require USB-C or OTG adapters
Small Compact size (7.8" x 6.3") with large active area (6.0" x 3.7"), is perfect for limited desktop areas and can be setup for both left and right-handed use
Four customizable ExpressKeys that put your favorite shortcuts like undo or copy/paste at your fingertips when used with your Mac/PC
Creative Software: Register your Intuos on your Mac/PC to receive Clip Studio Paint Pro (2-years) and try out Corel Painter Essentials 8 & Corel AfterShot Pro 3 for 90 days; Register with your Chromebook and receive Clip Studio Paint Pro (3-months)
Sale
Bestseller No. 3
GAOMON M10K2018 10 x 6.25 inches Graphic Drawing Tablet 8192 Levels of Pressure Digital Pen Tablet with Battery-Free Stylus and 10 Customizable Hot-Keys
[Battery -free Stylus]---The pen adopts the most advanced passive technology at present, no need to charge or replace the battery, so it's always ready whenever you want to create art,avoiding trouble of battery leakage and low power.
[8192 Levels Pen Pressure]---The pen features 8192 levels of pressure sensitivity, helps you to draw thicker or thinner lines depending on how hard you push on the pen. It makes lines smoother and more natural, allowing you to capture ideas faster and easier.
[High Performance]--Working Area:10 x 6.25 inches (255*159mm);Pressure Sensitivity: 8192 levels; Pen Touch Resolution:5080 LPI; Report Rate:233PPS; Sensing Height:10mm
[1 Touch Ring+1 Round Key+10 Hot-keys]---The touch ring could be programmed for canvas zooming, brush adjusting and page scrolling ( zoom in/out and roll ). The round key designed to shift function among zooming canvas, adjusting brush, and scrolling page. 10 customizable shortcut keys allow more quick access to most commonly used functions.
[Compatibility]---Windows 7/8/10, Mac 10.12 or later version. And it's compatible with most drawing program,such as: Photoshop, Krita, Illustrator, SAI2, SketchBookPro, FireAlpaca, OpenCanvas, Manga Studio and so on.
Use a quality sketch pen
Of course, you can't use a proper graphics tablet without a sketch pen, and these tend to run a higher cost because of the complexity of their design and the fact that you need a model that can easily translate your hand's movements into quality drawings on the screen. 
So, if there's a piece of hardware you need to splurge on, it's a quality sketch pen. 
You can check the numerous brands out there to find the one that's just right for you, and be sure to visit your local tech store to try them out before making a purchase.
Logitech Crayon Digital Pencil for iPad Pro 12.9-Inch (3rd Gen), iPad Pro 11-Inch, iPad (6th, 7th, 8th and 9th Gen), iPad Air (3rd and 4th Gen), iPad Mini 5, iOS 12.2 and Above - Orange
No limits to what you can do. Works seamlessly with iPad Pro 12.9 Inch (3rd Gen), iPad Pro 11 inch, iPad (6th, 7th, 8th and 9th Gen), iPad Air (3rd and 4th Gen), iPad Mini 5, iOS 12.2 and above, delivering precise and fast Pencil input across hundreds of Apple Pencil supported apps.
Write and draw naturally without fear of missing a single line or detail.
Go right ahead and rest your palm on the screen while you write. Palm Rejection Technology lets you enjoy natural hand placement while using Logitech Crayon.
Need a thicker or thinner line? Just tilt — the smart tip adjusts line weight automatically.
Logitech Crayon connects to iPad instantly — just turn on and draw. No complex device pairing or other delays required.
Get a better computer
It should go without saying that graphic designers tend to run performance-driven and resource-intensive programs, so you need to have a powerful computer rig at your disposal. 
Whether you get a PC or a powerful Mac, or even a laptop is up to you, but you mustn't skimp on the hardware inside. 
Be sure to invest in at least 8GB of RAM and a powerful processor so that you can run various demanding apps and render videos, images, and other visuals in less time while ensuring stability. 
The apps that graphic designers use tend to crash more frequently on lower-end machines, so don't risk it, get a powerful setup.
Have a printer on hand
You might be sending your work to your clients, but that doesn't mean that sometimes you won't have to print out something at your office, so why not get a small but reliable printer just in case. 
You might be required to print out a copy of your work when you're making posters and flyers to check the quality, so it's a good thing to have a good printer on standby.
Recommended Printers for Designers
Bestseller No. 1
HP Color LaserJet Professional CP5225n (CE711A)
FAST VERSATILITY – Gain control of your printed documents and make an impact with the HP color LaserJet Professional CP5225n, A color laser printer designed to cover all your printing needs
AFFORDABLE BUSINESS PRINTING – Print everyday business documents and marketing materials as well as wide-format projects at an affordable price—often less than printing at a copy shop
HIGH-QUALITY OUTPUT AND SPEED – Enjoy superior print quality at speeds of up to 20 pages per minute, and easily print on different types of paper with adjustable paper trays
SPEED THROUGH JOBS – Manage print tasks more quickly with an intuitive control panel with a 2-line, 16- character backlit LCD display
BUILT-IN TECHNOLOGY – The HP Print Cost Estimator compares the cost of printing internally versus at a copy shop, and Instant-on Technology provides a warm-up time from low-power mode that's up to 50% faster compared to competitive models
Bestseller No. 2
DTF Transfer Printer A3 L1800 T Shirt Printer for Fabrics, Leather, Toys, Swimwear, Handicrafts, T Shirt, Pillow, Other Textile.(DTF Printer + Oven+6X 500ml Ink)
👉New Technology DTF PET Film Transfer Printer:You do not need to pre-process the clothing. After printing on the PET film with a DTF printer, it can be directly transferred to the T-shirt by a heat press, which is faster and has better results than a DTG printer.
👉 No need adjust the physical position of printhead:No need to adjust the physical position of printhead, can directly print when add the ink, which improves production efficency and saves lobor costs.
👉Advanced white ink circulation system :White ink circulatory system, prevents sediment causing the nozzle to be blocked. Automatic waming when lack of ink, reduce losses for empty printing
👉Suitable for all kinds of Fabrics, Leather, Bags, Shoes, Hats, Socks, Gloves, Umbrellas, Plush toys, Knitted Underwear, Swimwear, Handicrafts, Tshirt, Hoodies, Cushion, Pillow, Bags, Denim/Jeans and Many other industries.
👉Package Includes: 1* A3 modified printer ,1* Printer oven with software,Six bottles 500ml inks ,100 sheets PET film
Bestseller No. 3
Kyocera 1102P42US0 Model ECOSYS M8124cidn Color A3 MFP Multi-Function Laser Printer (Print/Scan/Copy/Fax), 24 ppm Color, Resolution 600 x 600 dpi Up To Fine 1200 x 1200 dpi, Duplex, HyPAS Capable
Up to 24 Pages Per Minute in Color. Easy-to-Use 4.3" Color Touch Screen Interface. HyPAS Capable to Run Kyocera Business Applications
Exceptional Print Quality up to 1200 x 1200 dpi Paper Capacity up to 1,600 Sheets. Standard USB Host Interface for On-the-Go Printing and Scanning
Apple AirPrint, Google Cloud Print, Mopria and KYOCERA Mobile Print Compatible for Anytime, Anywhere Connectivity. KYOCERA Fleet Services, a Secure Cloud-Based Monitoring System, Optimizes Device Uptime and Reduces Costs
This machine requires professional setup/installation
Add plenty of storage to your workstation
Last but not least, you have to think about storage. 
Firstly, be sure to install all demanding apps and programs, including your operating system, on the SSD drive in the computer to boost performance. 
If you don't want to get a second SSD for file storage, you can get a good HDD drive but keep in mind that it will be a lot slower than your system drive. 
Of course, you have to back up your work regularly, so make sure to have a cloud storage account and get a sizable external hard drive just in case. 
Don't be lazy, back up your work at least once a week.
Recommended Hard Drives
Sale
Bestseller No. 1
Sale
Bestseller No. 2
Bestseller No. 3
Toshiba Canvio Basics 2TB Portable External Hard Drive USB 3.0, Black - HDTB420XK3AA
Sleek profile design with a matte, smudge resistance finish
Plug and play; Easy to use with no software to install. Requires reformatting for Mac OS v10.12 /OS X v10.11 / v10.1
Quickly add more storage capacity to your PC and other compatible devices
USB 3.0 and USB 2.0 compatible with no external AC power cord needed
Compatible devices: Desktop
What do you have in a graphic designer's home office?
The world of graphic design is a lucrative one, but it's also highly competitive, which means that you need to invest in the right setup to build your competitive advantage. 
Combine these tips with our office design guidelines, and you will have no problem building a fantastic work environment that will take your career forward.
Last update on 2022-01-18 / Affiliate links / Images from Amazon Product Advertising API