9 Graphic Design Tips for Property Websites
If you've been asked to build a business site for an estate agency or real estate portal like Ready Steady Sell, the concept may seem pretty straightforward.
However, due to the highly specific nature of the industry, the particular requirements of the site's visitors and the significant level of competition from large companies with established sites, there are certain elements that you must take into consideration before you begin.
In this article, the home buying specialists at Property Solvers offer a few tips on web design for property websites to help you get started. 
By following our advice, you'll create something that is both attractive and easy to use.
1 – Understand your target audience
This is, of course, one of the chief rules for graphic and web design of any kind. 
However, it's difficult to stress just how vital this element is when it comes to property companies.
Does the business specialise in a particular type of property? Do they mostly deal in rentals, luxury apartments, rural properties, commercial premises, overseas holiday homes or fixer-uppers?
Check-in with your clients to find out who their customers might be. 
For example, you may find that their typical user demographics skew much older or much younger than average.
If this is the case, you need to consider adopting elements such as ease of use and accessibility to suit.
2 – Select images carefully
Stripped-back simplicity and minimalism have long been a graphic designer's bread and butter, so many of us are used to cutting back on the text and letting the visuals do the talking.
This goes doubly for property websites design. 
One of the main aspects that attract an individual to a property is its "kerb appeal" – how it looks at first glance from the road – so your target audience will usually be highly motivated by attractive imagery.
The homepage should contain very little text – a brief introduction to the company, a call to action, a clear navigation menu or sidebar and a link to a search tool will be enough to orientate visitors. 
You can include more information in the site's child pages.
Let the pictures do the talking. 
Don't be tempted by extreme closeups or abstract imagery – the best approach is to use clear, full images of attractive properties that are currently on the company's books. 
It's best not to tempt customers with a product that isn't actually available!
Alternatively, use images that reflect the type of property regularly sold by the company. 
Try to make sure they show different elements of houses or flats – facades, gardens, kitchens with exciting features and anything else besides.
Typically, we'd recommend using a simple, muted colour scheme as the images should be the focal point and bright or bold hues and elaborate fonts will distract from them.
3 – Be clear
Your design should always draw attention to the company's most essential information first. 
Is the site for a local company or a national chain? 
If the former is the case, it's a good idea to make the address prominent on the homepage to ensure you only attract related business. 
If it's the latter, why not link to a map revealing the location of each branch?
As mentioned above, the imagery used should reveal the types of property managed by the company and navigation buttons should be prominent, clear and legible.
4 – Use dynamic design
While simplicity and clarity are always the best approaches, you could also consider including an uncomplicated dynamic element to the page for a little extra interest and to enable you to include more visuals without taking up too much space.
Sliders are perfect for this and will allow a property company to display several homes or premises that are currently available without crowding the homepage. 
Make sure that each image on the slider is linked to information about the relevant property.
If you decide to follow this route, be careful to check the load time for the site – as slow speeds will cause you to lose visitors.
5 – Focus on accessibility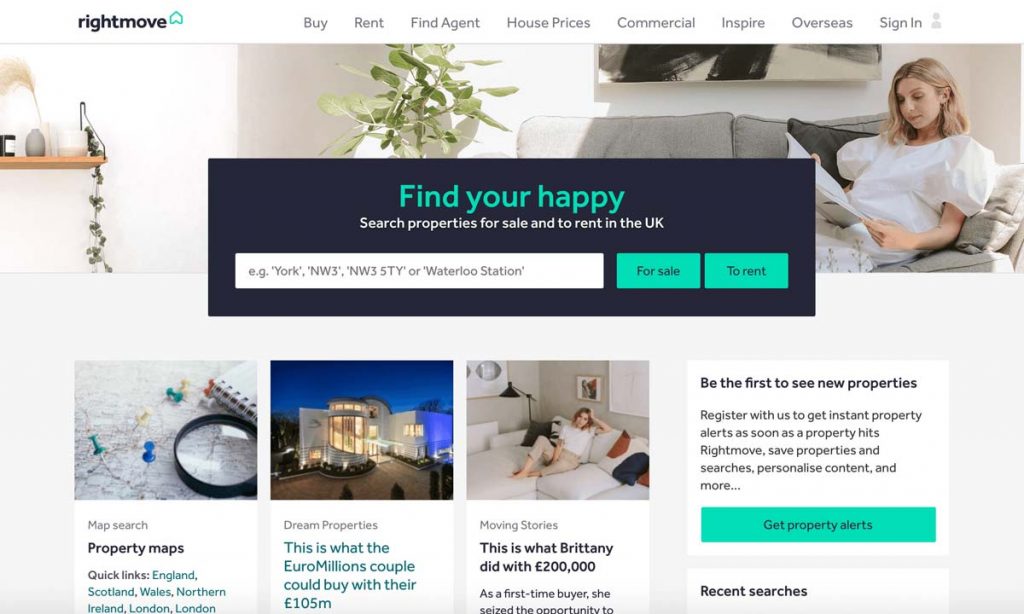 Remember, the property industry tends to attract audiences of all ages and backgrounds. 
Some visitors to your site may be tech-savvy and ready to correspond chiefly via email and IM. 
Others, however, may require clarity, simplicity and assistance from a "real person".
You need to make both things easy to achieve. 
You also need to think about how the typical individual will access the site. 
Many house hunters will sit at home or work and utilise a laptop or desktop computer to search for properties. 
However, others will wish to use a mobile or tablet device.
After all, many estate agencies display "for sale" or "to let" signs outside their properties. 
These signs will feature the agency's logo and contact information – including their website – so it's best if interested parties can access that site easily as soon as they see one.
For this reason, your website must be optimised for desktop, tablet and mobile to tap into every corner of its audience.
6 – Employ clear CTAs
As is the case with all business websites, you must make the necessary next steps clear to the user. 
Think again about the many different types of people who may be looking to buy or sell a property. 
Each demographic will be comfortable with a slightly different call to action.
For this reason, you should prominently include as many means of contacting the business as you can. 
Some potential customers will prefer to call an estate agency directly about a particular property – so the company's phone number must be clearly shown on each page.
Some audience members will prefer to email or IM, as it takes less time out of their day and means they have a "paper trail" for each interaction. 
For this reason, a bright, well-placed button with a "mailto:" link should be included on each page too.
On the profile of each property, there should also be a clear link inviting visitors to enquire about this particular house or flat. 
Ideally, messages sent in this way should be automatically populated with details of the property to which they relate.
7 – Think about updates
It's imperative to consider how easily your clients will be able to arrange updates for their site. 
They will be acquiring new properties regularly, and homes that have sold will need to be removed promptly.
You'll also need to consider updates such as marking a property as "under offer". 
These processes will be much more natural if your clients can make these changes themselves instead of always relying on you.
8 – Compartmentalise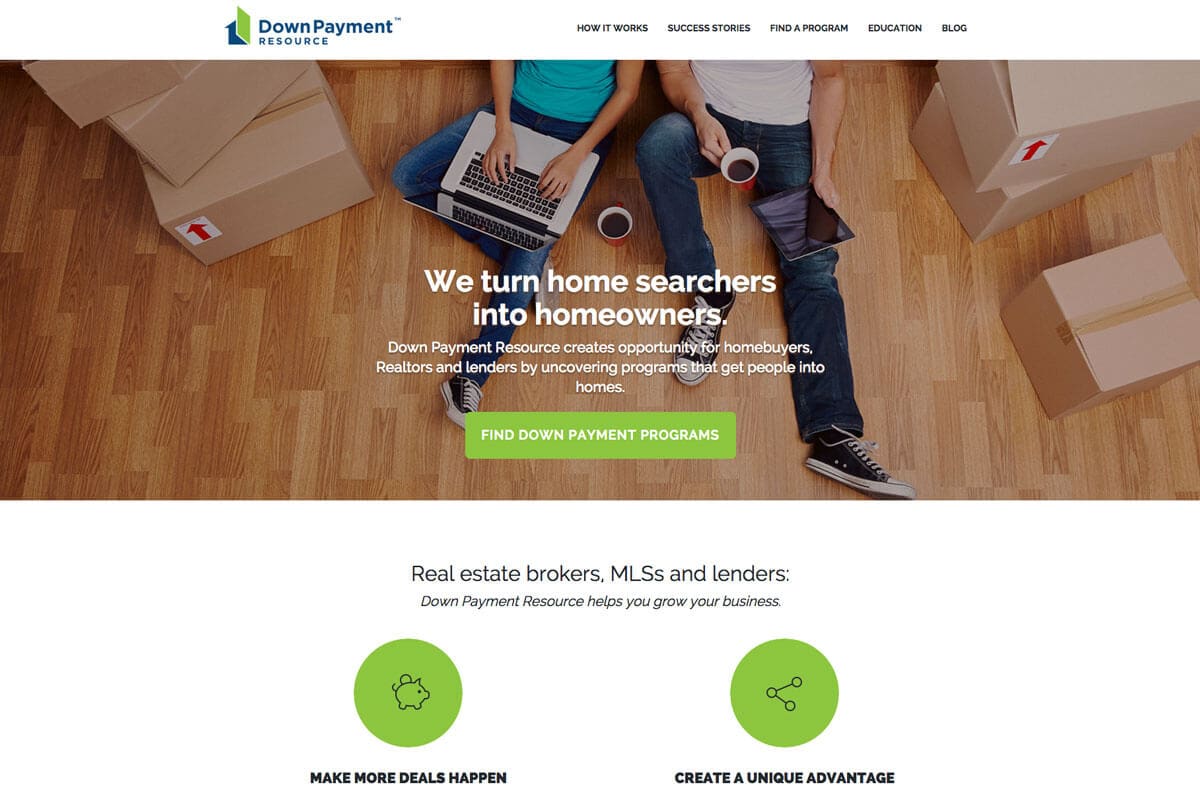 Business websites work best when they are simple, straightforward and only include the information required. 
However, if your client has multiple "sides" to their business, you'll need to create an easily navigable site that displays each of them separately.
Perhaps your client offers both domestic and commercial properties. 
To go even further, perhaps they offer properties for sale or rent, and those properties could be either domestic or commercial.
Our advice is this. If the set-up is similar to the one described above, the main navigation menu or bar should provide links or drop-downs to "for sale" or "to let" properties. 
Once the visitor has selected their preference, there should be clear links to "domestic" or "commercial" properties and any other category of this kind.
Many property websites will be more complicated than this. 
Before you start to come up with creative ideas, it may be best to create a flow diagram to help you direct visitors to the correct pages in the simplest way possible.
9 – Include easy search tools
Many people will visit property websites with a clear idea of what they are looking for. 
Therefore, it's best to provide the option to search a company's roster of properties for homes or premises that suit specific requirements.
Most successful sites of this kind feature a "search" feature, and we recommend providing two separate options first of all – a keyword search and a map-based search. 
This allows users to prioritise the location of a home or its unique features – or to cross-examine both.
Sliding scales are beneficial too. It is possible to use one to determine the distance of a property from a particular location, for example. 
They are also handy for customers with specific budgets, as a cost-based sliding scale will help them to search based on price.
By following the guidance above, your client's property websites will not only look great but will be easy to navigate. 
As with all graphic design, your primary focus must be on the most basic information the site needs to impart, as well as the chief goals of the company.
Simplicity and ease of use should be the overall aim when designing for this industry. 
Be sure to maintain a line of communication with your client throughout the design process to ensure you have covered every base – and be ready to explain your choices!
For more advice on the process of property sales or tips on how to improve your design, feel free to get in touch.  
A simple Google search for 'Property Solvers' will put you in the right direction. Good luck!