How Effective Web Design Increases your Conversions
If you're in the e-commerce business, you already know that there are a tonne of easy tips and tricks to increase conversions.
From a design perspective, it may seem like your duties are just for visual appeal.
What you probably didn't know is that good web design actually increases online store conversions. Here's how.
1. Scientific Fact: People Would Rather Spend 15 Minutes on a Well-Designed Site
According to a study conducted by Adobe, if given 15 minutes to spend online, 66% of consumers would rather spend their time on a site with aesthetic appeal.
Additionally, it seems that Millennials give more value to entertainment than accuracy.
So, if you can use your professional web design to engage, you're more likely to keep shoppers on your site, generate more content shares, and increase your e-commerce revenue.
A majority of the traffic that lands on your site will appreciate your design efforts.
2. Attention to Web Design Details Gives Your Site Credibility
Effective web design isn't just about coding, imagery, and navigation.
A fantastic designer gives attention to critical details like micro-copy and contact information.
This works out in everyone's favour – KoMarketing found that 51% of online consumers think that, aside from products and services, complete contact information is the most critical piece of a company website and 44% will leave if that info isn't conspicuously posted.
 By giving attention to contact information and other details, you're keeping almost half of referral traffic online long enough to order products.
The other half is still likely to move away for another reason, so broaden your attention to cover everything.
3. Load Speeds Increase Return Visits
Web page speed and image compression are an essential aspect of excellent web design.
An Akami study showed that 40% of users would move away from a web page that takes more than three seconds to load.
By optimising your website design for desktop, smartphone, and tablet visitors, you're keeping people on your pages longer, increasing the odds that they will return.
Compress your images and keep the site running fast if you want people to stay.
What Makes an E-commerce Site Effective?
It doesn't matter whether you're building everything from scratch using your own code or building websites from pre-built e-commerce templates; the necessary elements for a fantastic e-commerce site are the same.
Don't forget the necessary elements, aside from excellent products, that will make your online store successful.
Here's what every e-commerce site needs to optimise conversions.
Responsive design
Web design that looks and functions well on desktop and mobile browsers is critical.
According to ComScore, mobile devices now account for two out of every three minutes spent online.
Mobile and omnichannel (mobile and desktop) shoppers need to be taken into consideration when designing an online store.
Just assume that everyone will be shopping on mobile and checking out on their desktop.
Take any step you can to make this process as simple as possible.
Load Speeds of Less Than Three Seconds
To make your pages load faster, use a tool like Google's PageSpeed Insights to test your pages and follow their guidance for optimisation.
This tool will describe precisely what you need to fix and how to fix it for both mobile and desktop site versions.
For example, if you need to optimise images, the PageSpeed tool will list the photos that need to be updated and exactly how much smaller they need to be.
Contact Information
Posting your contact information on the homepage, in the footer or sidebar of your website, is a simple way to ensure that it's conspicuous.
For effective website design, including a phone number, email address, and a contact form, so that site visitors have options, should they actually need to get in touch.
Don't let your online store navigation confuse shoppers.
KoMarketing says that half of the referral traffic is going to use the navigation menu to orient themselves.
The other half will be using your search bar and clicking through your calls to action.
For the 50% of shoppers who are using your navigation menu, break items down into product categories and subcategories to keep traffic flowing in the right direction.
Don't include so many categories in your main navigation that site visitors have to read through all of them to find what they're looking for.
They should be able to decide where they want to go at a glance.
If you're using a custom theme, check your website builder add-ons and plugins for tools to help you optimise the navigation process.
Mega Menu from Buddha Apps is an add-on for Shopify that allows you to create fabulous menus with submenus in a matter of minutes.
Increase your sales by designing navigation that allows shoppers to find what they're looking for effortlessly.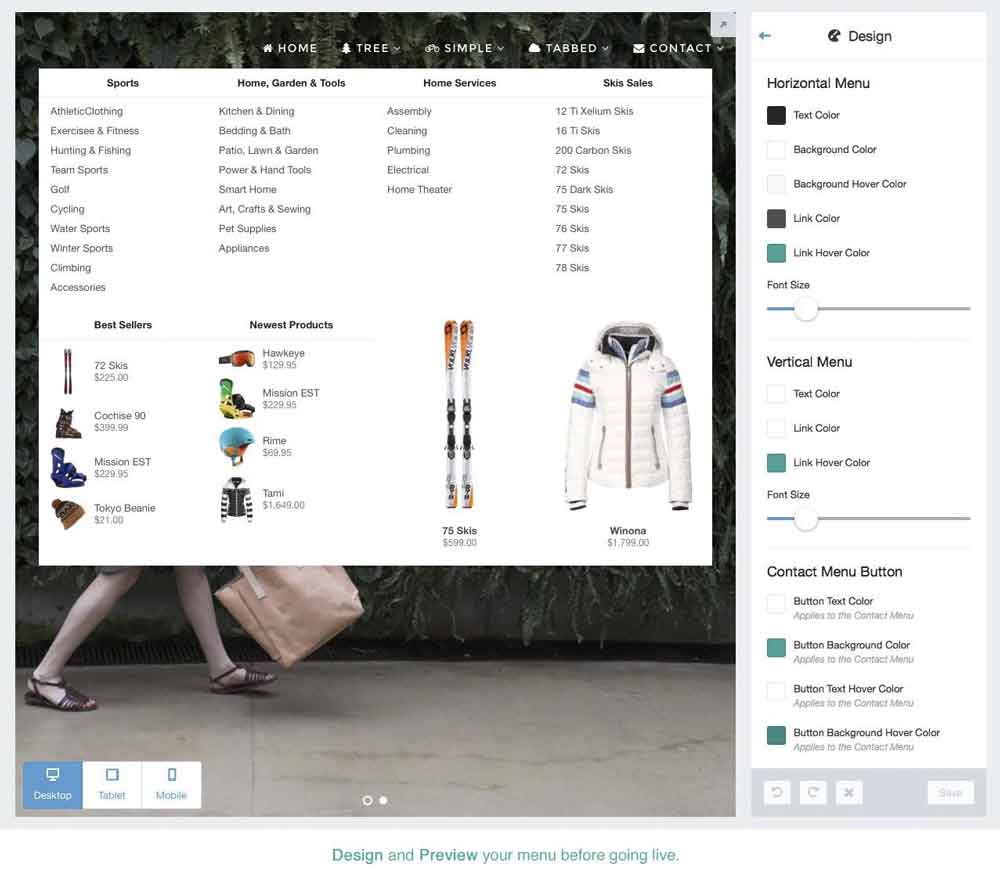 Uncomplicated Shopping Cart Flow
Shopping cart flow is critical to e-commerce success.
According to the Baymard Institute, 27% of shoppers abandon their carts because of a complicated checkout process.
Your checkout process should encourage complete transactions, not hinder them.
Like the rest of your pages, your shopping cart needs to be responsive to omnichannel shoppers.
When you can, cut the checkout process into four pages:
Login/ registration
Delivery and payment information
Order details verification
Order placement
Remember, check out sometimes includes new site registration, and since shoppers aren't a fan of more than one step, use a tool like Gigya's Social Login Plugin to make registration and login effortless.
The fewer steps shoppers have to take, the more likely they are to convert.
Buyer's Guides and How-Tos
E-commerce digital sales materials are more than just products.
You need to guide shoppers along the path to conversion.
Buyer's guides and how-tos help customers make decisions about which sizes, colours, and dimensions to order.
Amazon includes links to pop-up buyer's guides directly on product pages with hyperlinks to size charts and other product options.
If your product has potential questions, answer them thoroughly with direction, in the form of buyer's guides and how-tos.
Two About Pages
Of course, shoppers want to know about your products and services.
They also want to know about your company.
Who are the faces behind the logo design? What's your story?
Include a page on your online store that explains your products and another page that explains who the company is and what they're about.
Privacy Policy
It is a site owner's job to generate a privacy policy for an e-commerce site.
It is your job to link to it in the footer of the site, and in a visible area during checkout.
People who don't feel secure, won't make a purchase. 
For those who want to know, make sure they can find out that their personal information is safe.
Customer Service Pages
Frequently asked questions (FAQs), support pages, and contact forms fall under the category of customer service pages.
Every effective website design store needs them.
According to Statista, 83% of e-commerce sites include a list of FAQs.
By leveraging pages like this, retailers can give out crucial information about their products without having to invest in excessive customer service inquiries by phone and email.
Customers should also be able to access a contact form easily.
If you have more than one contact form for emails, make sure you link to the appropriate ones from relevant pages. 
In essence, you don't want shoppers being directed to the press and media team or journalists connected to your customer service team.
Media Kit
E-commerce sites are likely to have more traffic if they are linked to by external blogs and articles.
Make it easy for journalists and bloggers to generate hype by including a media kit on your site.
Media kits contain whatever the company wants people to share.
It can include a company logo design, images of the website owner, public relations links, and press releases.
They must include relevant contact information.
Etsy's press page is simple, with a summary of the company and email addresses of relevant contacts worldwide.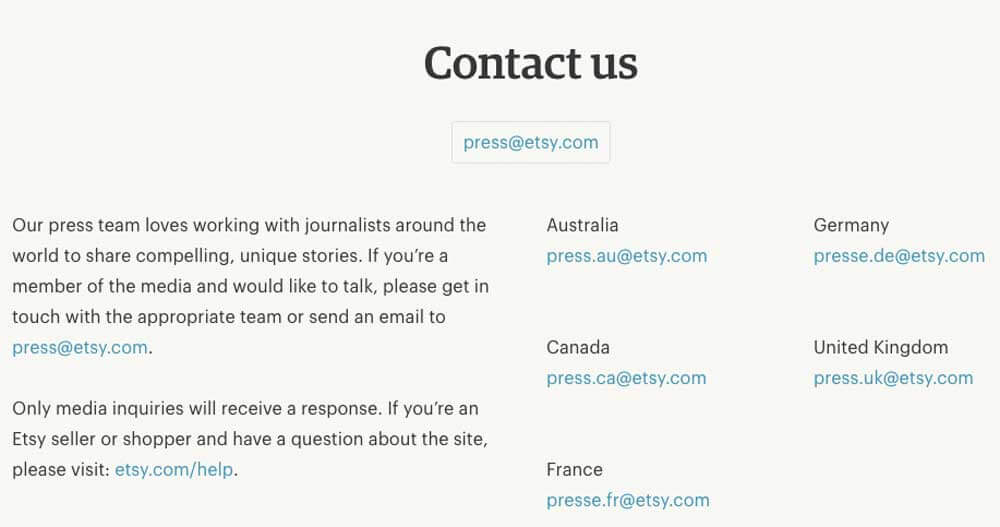 Make sure that anyone interested in publicising the online store has access to the information they will need to do so.
Going the Extra Mile With these 2 Secrets of Effective Web Design
It comes as no surprise to people who work in the web design industry that expectations are unbelievably high these days.
People today are turning their hands to website design, and that makes the competitors for creating an impressive design as challenging today as it has ever been.
So how can you make your website stand out in a bustling market?
Digest the secrets below and try to apply them on your websites.
1 – Consistently Browse Through Modern Web Design Techniques and Development Nuggets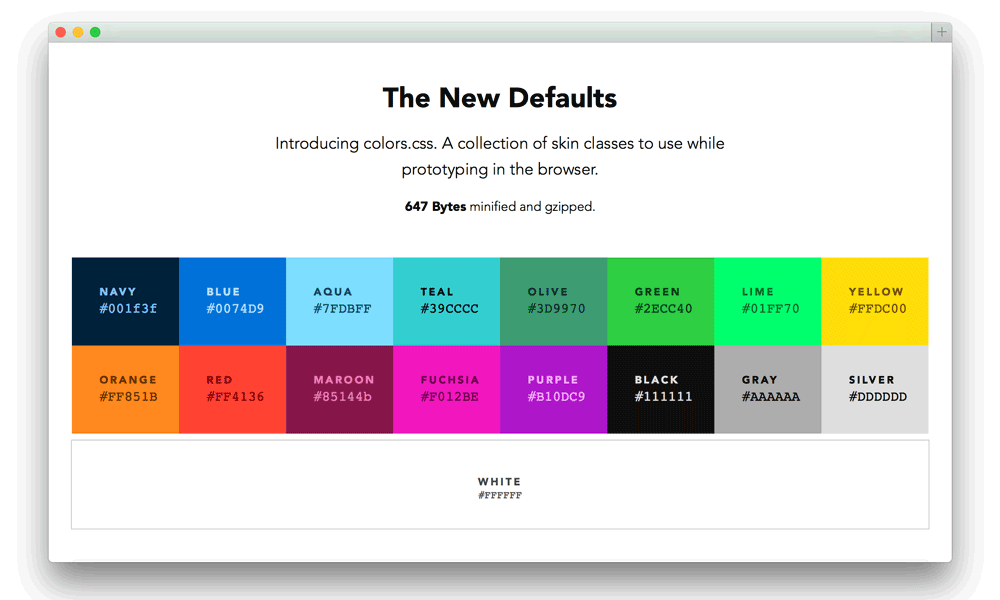 Try to brush up on modern web design techniques.
In any business, the important thing in staying ahead of the competition is to know what your competitors are up to.
As menacing and sinister as that sounds, the technique of finding what others are doing in the industry is pretty civilised, and in fact, recommended.
Developers and designers love discussing the work they do with their fellow mates, revealing things they have thought up and created.
It is a practice of persistently checking out today's design approaches and development nuggets that help keep any web guy up to scratch.
The best website that showcases the ultra-modern look is 7Elements.
Creating a sensation of rivalry is something we all web fanatics love, and the sites created by this company are of the highest quality, both regarding design and style.
On the other side, you must read articles about web designing trends for 2020 and 2021.
Some trends are for the past couple of years and continue to grow in 2020 and 2021, e.g. flat design and responsiveness.
Every year new trends emerge from the web world, some of which will end up the default in no time, for example, personalised infinite scrolling and user experiences (UX).
Comparing and contrasting your site with others can certainly be a challenging step, particularly to those who don't want to accept criticism.
On the other hand, the clear picture of acquiring a high functionality is more important.
If your site is barely acceptable and your competitors are exceptional, then chances are you won't get the targeted traffic you want.
This same concept does apply to popular clothing stores.
For example, when a shopper enters the store to buy something, they get scattered by tons of messy product images.
The products must be displayed in a transparent manner that can quickly catch the attention of a buyer and won't let them leave without buying anything.
2 – Build Your Website Like You Build Your Home (Going the Extra Mile)
You know that Rome was not built in a day. The same thing goes with the web industry.
Facebook and Google did not just come out of the snow either.
Developing a quality site is like building your own house, you don't want to cut corners, and you don't want to rush into it if you want it to stand by itself.
What is the real difference between boring, dull, shiny, exciting, bright all "meh" sites?
The answer is that all boil down to an essential factor – the details and information.
Information can change any vanilla, bland website into something ingenious, intriguing, notable, and one to remember.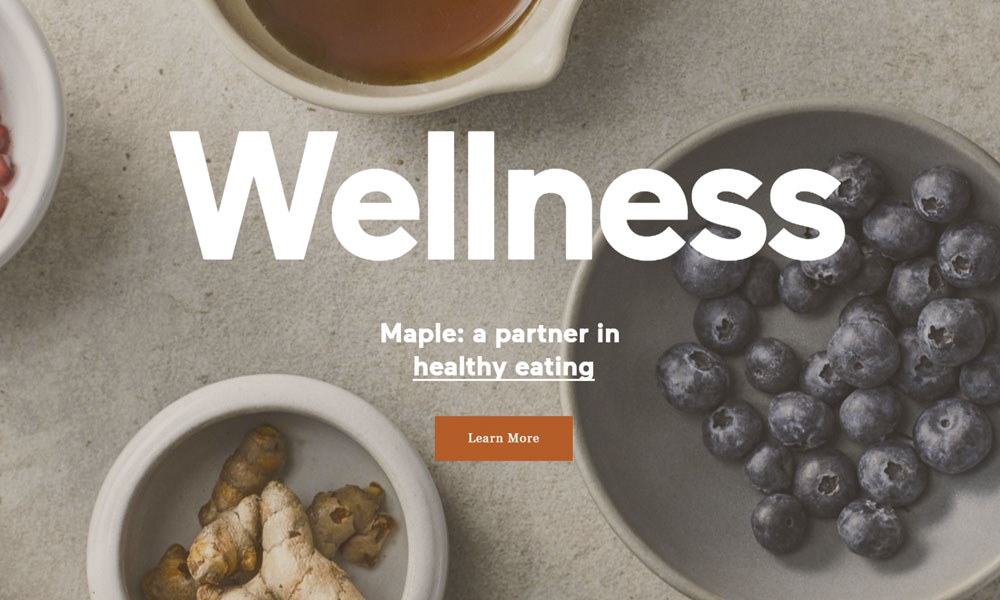 On the other hand, it is well known to those who have already been working in this particular industry for more than a couple of years, and they know that the world is not perfect.
Your cup of joe won't always be hot, your laptop will lock up at the worst time, and you won't get to roll out the website you planned for, frequently due to time restraints.
It's probably the one aspect of the web industry everyone is related to, and everyone can agree on.
It's still something we hardly ever can manage and usually want to do the best work with precisely what we have.
That's not to say though that short period gives creative designers and coders a free pass to the coastline until the site is ready.
It's our responsibility to make the best we can with the things we have, and even probably the most rushed websites can quickly get a well-designed feel and look as well as a smooth UX (user experience).
The Advantages of Good Website Design
Amazing web design will increase e-commerce conversions.
You must make sure your online store is optimised for sales.
Make sure your site is responsive for mobile and desktop viewing, and that your pages load within three seconds on all devices.
Post contact information conspicuously on the website and provide simple navigation for shoppers.
This ensures a positive perception and helps people get to the pages they want to be on.
Include a simple shopping cart flow and make sure product pages link to relevant buyer's guides and how-tos to optimise conversions.
Customers shouldn't have questions after reading everything there is to see on a product page.
Include information about the products and services offered and about the real people within the company.
Provide shoppers with customer service pages and journalists with press/ media information so that everyone can easily have their questions answered.
What effective web design tricks helped you increase e-commerce conversions?
Share them with us in the comments below.
Author Bio: Jared Carrizales is the fearless leader of Heroic Search, a digital marketing company in both Tulsa and Dallas. Jared and his team offer social media services, digital PR, and content marketing for businesses all over the world. Jared, himself, has been in the digital marketing realm for the last nine years and carries the bruises to prove it.