How to Create A Digital Marketing Funnel to Get More Leads
Too often, marketers leave money on the table without realising it. It's either they're going about their marketing campaigns the wrong way, or they're focused on the "next big thing" that they forgo the basic tactics that could make all the difference.
A digital marketing funnel is a marketing concept that fewer people pay attention to, even when it dramatically influences sales. Businesses that implement it generate better results.
This article will discuss creating a simple digital marketing funnel that can help you get more customer leads and grow your business. Let's dive in.
Importance of a Digital Marketing Funnel
The digital marketing funnel is a marketing framework that businesses use to generate traffic, convert that traffic into customers, and nurture customers to become loyal customers and then brand advocates.
To achieve that, marketers employ strategies to engage users at every stage of their buying journey. See how that works? The digital marketing funnel optimises your campaign on what to offer users at every stage, so they don't lose interest.
By optimising the different types of digital marketing strategies for your marketing mix, the content becomes relevant to the buyer journey, increasing your chances of conversion. That said, with a digital marketing funnel, you can do the following:
Understand your target audience
Create personalised content that works
Increase your return on investment by getting the most value out of your traffic
As a result, you don't waste much time and resources on marketing actions that aren't effective.
Stages of the Digital Marketing Funnel
Before you can create your digital marketing funnel, you need to know its different stages. Most digital marketing funnels are five stages: awareness, interest, desire, action, and advocacy.
Let's discuss each stage in detail in this section.
Awareness
The Awareness stage (also known as Attention) is at the top of the funnel (TOFU).
Here, a prospective customer comes across your business for the first time through awareness campaigns.
Customers can get to this stage of the digital marketing funnel through something as simple as a tweet, a blog post, or a Facebook post. Other times, they can come through sponsored ads.
At this stage, your aim is not to create brand messages. You aim to create content that people are searching for online.
If you go the blog post route, you should familiarise yourself with SEO ranking factors to get your content at the top of search engine results.
The better your Google ranking, the more likely people will click on your link and go to your site.
Interest
The Interest stage is in the middle-of-the-funnel (MOFU). It signifies that your target audience is now showing interest in what you have to offer.
At this stage, people are focused on knowing more about you. So, they might visit your blog or click on your social media ad that takes them to your website.
At this stage, then, you must give enough value with premium content that caters to their needs but not necessarily sells to them.
For instance, if email marketing campaigns are part of your digital strategy, you could get them to sign up for your newsletter.
Desire
The Desire stage is the third level in the funnel. Digital marketers regard this point as the bottom-of-the-funnel (BOFU) before users take action.
Your role here is to make the best offer. Leads that make it to this stage have a 60 per cent chance of a conversion.
However, keep in mind that there's a 40 per cent chance they might go for a better offer, and you don't want that.
So, at this point, you start sending them emails that tell them the benefits of your service or product.
Action
Once they've gotten to the action stage, they're now convinced to take that final action and turn into paying customers.
So, subscribers may sign up for a trial or make a purchase. At this stage, you have to make sure your call to action is clearly understood. Make it easy for prospects to take your desired action in the first place.
Advocacy
But, it's not enough for them to buy once. Your goal here should be to keep them happy and retain them. So after they've made one purchase, you want to express gratitude, offer them support where necessary, and get feedback from them.
When done correctly, these actions put them on the path of becoming lifetime customers and your brand advocates.
Now that you know the theory, let's talk about creating a digital marketing funnel that works.
How To Quickly Create A Digital Marketing Funnel
Don't worry. Creating a digital marketing funnel that works is not as hard as it seems.
Just know your audience and follow these five simple steps to go about it. Complement these tips with a great product or service, and you'll see results.
Step 1: Create content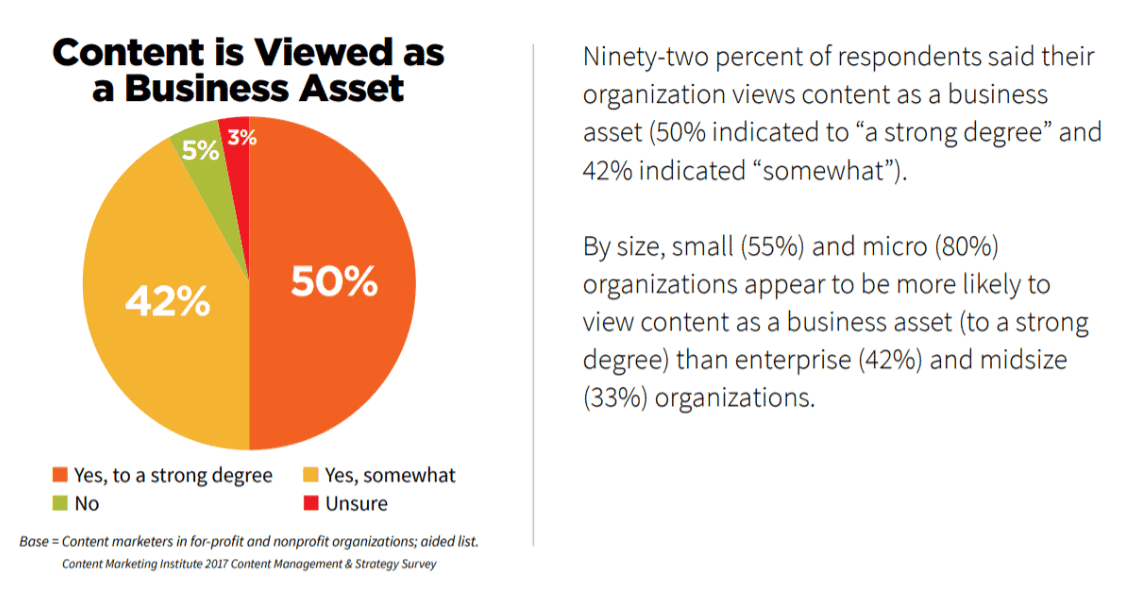 Because awareness is the first stage of a digital marketing funnel, your first action should be to develop content that will give your brand exposure.
Content that is both objective and trustworthy will ideally guide your readers to your website.
You want to create content that people are searching for. In general, that's content that doesn't aim to sell.
However, to be effective, you need to identify your prospect's content preferences and channels first. Do they prefer TikTok or YouTube videos? Or perhaps you find them more listening to podcasts?
If they prefer blog posts, make sure you optimise your content for SEO, as I said, because you want your content to be found.
Ideally, you want to appear on the first page of search engine results pages when people make a common query:
Guest posts are also a great way to generate brand exposure. Just make sure you choose authority sites with an audience that aligns with your target audience. Sponsored ads on social media can work, too.
Step 2: Create a tempting offer
Now that you've captured your audience's attention and they're on your website, the next thing to do is create enticing offers they can't resist in exchange for, say, their email addresses.
The idea is to get them farther down the digital marketing funnel. You want them to continue interacting with your brand even after they leave your website.
We're not telling you to go over the top and offer actual presents in exchange for those email addresses. By tempting offers, here's what we mean:
Free webinars
Instructional videos
Life hacks and cheat sheets
Free mini-courses.
Anything free does the trick. So, if you were into video creation and you wanted to get more people to subscribe to your email list, you could offer the use of editing tools for free in exchange for their email addresses.
You should also align your offer with what you're selling in the first place. So, if you're selling email marketing software, then offer a free email marketing template, for example.
If you offer, say, a backpack, you might end up losing your website visitors who accessed your website to read about email marketing, not travelling.
Here's what Shopify, for instance, offers people who click on its eCommerce marketing blog post in exchange for their email addresses: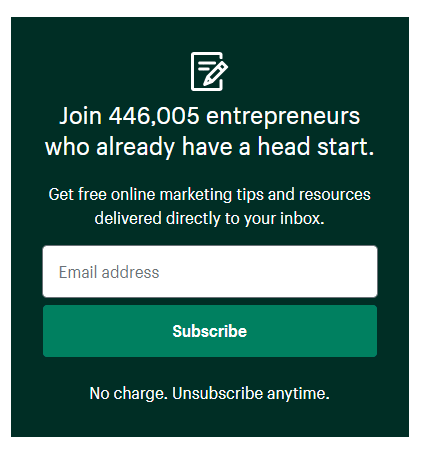 Since the people who clicked on the blog post are interested in marketing, Shopify offers online marketing tips – for free.
Once your website visitors subscribe to your mailing list, start sending them emails that position you as the better option in the market.
Explain your unique selling point, use social proof and video testimonials. Show you understand what your subscribers are going through more than your competitors do.
To get its subscribers to remain in its digital marketing funnel, Shopify sends emails that highlight the brand's core features.
Step 3: Create a landing page for your campaign
The landing page is where your audience arrives after they click on, say, a link in your marketing email. It's where you should direct them when they're ready to take action.
The best landing pages have a compelling copy, social proof and a clear and bold call-to-action (CTA) that is your final instruction to the subscriber.
For example, once a subscriber finally decides to create a store and clicks on that link in Shopify's email, they are directed to something like this:
Notice that the page was meant to drive action. If you scroll down, you'll also find social proof in the form of testimonials from clients.
That can help convince the subscriber to take the final step. For those who aren't ready to create a store yet, Shopify directs them to a free trial landing page.
Don't make the mistake of sending your subscriber to your homepage instead of to a landing page. It would help if you made it easy for your audience to take action.
If you send them to your homepage where they can do so many things – read your blog, learn about your product, contact you, among others – the chances of them taking your desired action (to make a purchase, avail of the free trial) decrease.
Step 4: Make an email sequence to nurture relationships.
So, let's assume your subscriber is now a paying customer. That doesn't mean you no longer have work to do.
You still have to think about how you can keep your new customers loyal to you. That's where email sequences that nurture relationships come in.
A nurturing email sequence is a series of emails sent to leads over three weeks. These are typically three or four emails that provide your new customer with the support they need.
It's best to prepare these messages beforehand, using newsletter templates, and send them automatically to prospects with email automation software.
Your messages should nurture these new customers with helpful content so they'll be satisfied with their purchase and remain your loyal customer.
The goal is to convert them into brand advocates who will share their experience with your brand with other consumers.
Shopify, for instance, continues to send eCommerce tips to its customers to support their online businesses. The brand also asks for their feedback which it can use to improve its product.
Step 5: Track your funnel
Like every marketing technique that exists, there isn't a one-size-fits-all approach. Digital marketing funnels are no different. You'll have to tweak them as your business grows and you learn about your customers.
Monitor each funnel stage and see if your leads reach the next stage and then the final stage. So, ask yourself the following questions:
How many newsletter sign-ups do you have after every ad campaign on social media?
How are customers reacting to your content at the awareness/attention stage?
Do your email subscribers sign up for a free trial of your product?
Do they return after the first purchase?
If you see many of your visitors won't subscribe to your mailing list, for instance, then you might have to make your lead magnet more interesting.
Or maybe no one reads your blog posts or guest posts? Then it might be time to write about topics people search about or change the tone you use so that it resonates with your audience.
Check out your social media ads, too. If you see you don't get as many clicks, then you might have to tweak them—the same with your landing pages.
Do some A/B testing. That can take some time, but the results are rewarding when you keep at that judiciously.
The goal is to develop the perfect combination of marketing strategies and elements that enable most of your leads to reach the bottom of the funnel.
Wrapping Up
Creating and optimising a digital marketing funnel for your business can be challenging, especially when you have zero knowledge about it.
But you need to do that if you want to survive in a competitive marketplace.
You learned how to create your first digital marketing funnel, thanks to this article. Just make sure your digital marketing funnel represents what you want and caters to your audience needs.
Create the appropriate content for each stage of the funnel. Once you get people to take your final action, don't forget to continue nurturing relationships with them.
Finally, track your results and optimise your digital marketing funnel. Just be strategic in your approach, and you'll always be one step ahead of your competitors.
Author Bio: Matt Diggity is a search engine optimisation expert and the founder and CEO of Diggity Marketing, The Search Initiative, Authority Builders, and LeadSpring LLC. He is also the host of the Chiang Mai SEO Conference.