5 Design Tips to Make Your Jewellery Websites Stand Out
If you are a proud jewellery business owner, you have likely made your website one of your primary business tools, just like MoissaniteCo.com. This can be an excellent choice since people can check out your products 24/7 and place orders as needed. However, it's also essential to make sure that your site stands out among the sea of jewellery websites – something you can achieve with the help of these five web design tips! 
It's no secret that creating an attractive website can be the key to a successful business – and so many jewellery business owners have learned through trial and error what works and what doesn't work in this arena. 
1 – Go Mobile Friendly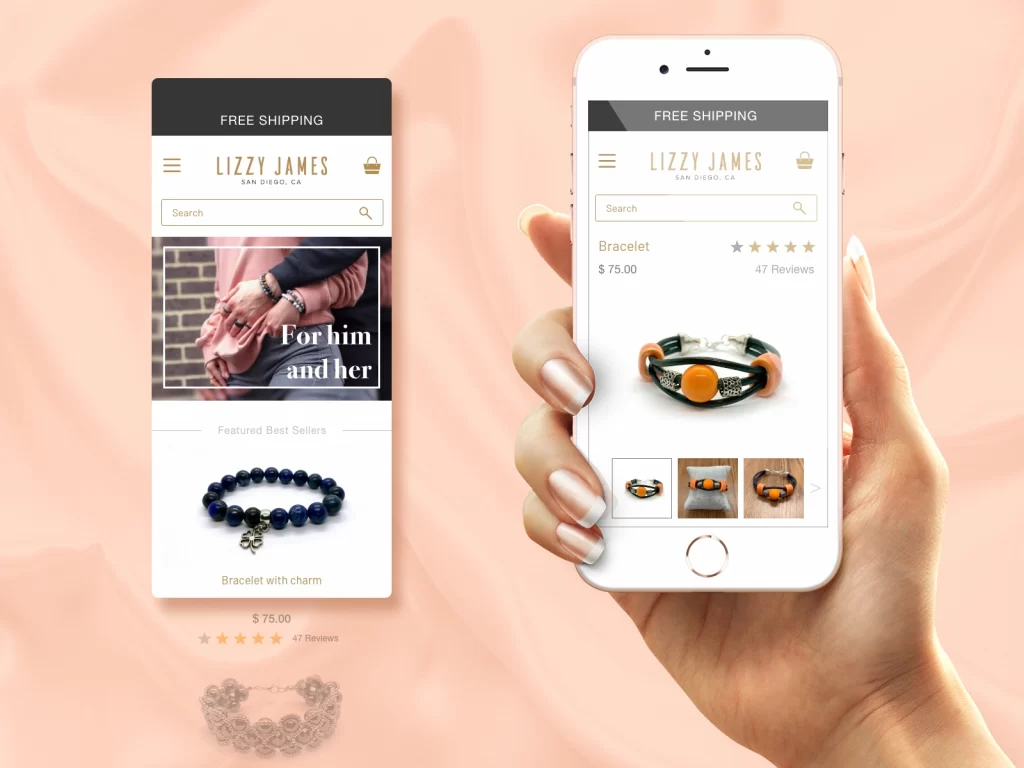 Although many of your customers may not be browsing the web on their phones, it never hurts to take things one step further and design a mobile-friendly site. You don't have to be a developer to do this, either! 
Sites like SquareSpace or Wix offer free templates that are already mobile-friendly. For those with time, you can customise a new theme from scratch using touch interfaces in your browser's inspector window.
Mobile devices are now the primary choice for accessing the web. Over 80% of online traffic comes from smartphones and tablets, and over 90% of mobile internet users access the web via a mobile device.
According to research firm eMarketer, mobile users are two times more likely than desktop users to click on ads or links, so having a mobile-friendly website is essential to any marketing strategy.
Web design is continually evolving, so websites created for PCs are not necessarily suitable for mobile devices. When creating your site, it's essential to ask yourself: "Is this a mobile-friendly site?" Here's how to make sure your website is ready for mobile.
Mobile-Friendly: Best Practices
Your website must be compatible with various devices, including smartphones, tablets, and desktops. In addition, it should be responsive. 
Responsive means that it adjusts to fit the size of the screen, ensuring that text and images are legible across a range of screen sizes.
A mobile-friendly site provides a consistent experience across mobile devices. For example, your navigation bar and the search field will be similar to what you see on a desktop or laptop.
The structure of the site is optimised for the mobile experience. This means that elements such as buttons, images, and navigation links are the same size and spaced equally on desktop and mobile versions of your site.
Responsive images and media, such as pictures or videos, are set to appear in their full size on mobile devices.
When designing a mobile-friendly site, consider the content you want to display. For example, videos are great on mobile devices, so they should be included.
It may be too cumbersome to read if you have large amounts of text on your page. Use bullet points, lists, or short paragraphs to reduce the number of words displayed on a mobile device.
Make sure your website is accessible. To achieve a level of accessibility, follow WCAG 2.0 guidelines. For more information, visit the Web Accessibility Initiative.
2 – Know What People Want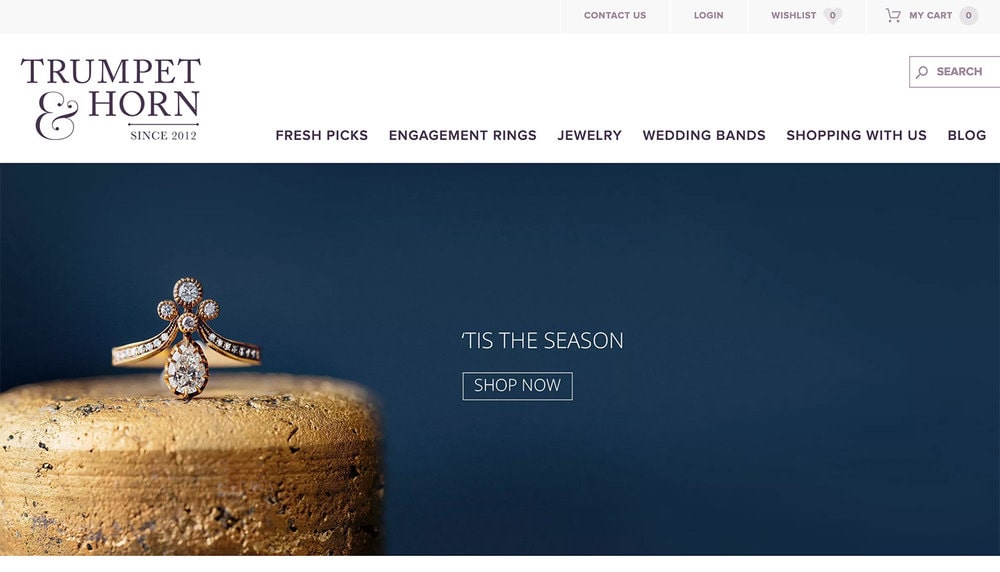 Web design is about anticipation and knowing what your potential customers want from your website. You may have the most beautiful designs in the world, but there's no point if people can't find what they are looking for on your site. 
It would help to consider your content's structure, which will dictate where potential customers go on your site. Think of navigation as a maze – finding the exit without feeling lost or frustrated should be easy.
Knowing precisely what your customers are looking for is essential to succeed as a jewellery business owner. This is true whether you're selling online or in-store. For example, if you're selling wedding bands online for men, you can choose a related domain name, something like MensWeddingBands.io tells your potential customers what your website sells.
Typically, it's best to have a targeted landing page for each set of products that you're selling on your website. Some companies choose a branded domain name, while others choose a keyword-rich domain. Whatever you decide to use, the critical aspect to remember is ensuring your jewellery website is easy to navigate and fully responsive.
Understanding what your customers are searching for can give you insight into the products they buy and where to focus your marketing efforts.
Understanding your customers helps you grow your business, save money, and generate more revenue. This information can help you design jewellery websites that meet their needs, provide the content they want, and convert more visitors into buyers.
When designing jewellery websites, you must consider the customers you're targeting. Are they first-time jewellery buyers, or do they already own pieces of jewellery? Are they purchasing a specific item, such as an engagement ring, or would they browse the latest styles instead?
You can collect data about customer demographics to understand which products and services your customers would be interested in and how much they'd be willing to spend. For example, knowing that many people are interested in diamond rings is a good indicator that people are interested in engagement rings.
Another way to gather data is by using surveys. If you have the time and resources, conducting a survey could provide valuable insights, you'll never get from looking at your website analytics alone.
Here are a few questions you can ask yourself to get started:
Do your customers visit jewellery websites to search for a specific item or to shop for more?
How do they find your website?
What type of jewellery does your customer base purchase?
How often do they shop for jewellery?
Where do your customers search for jewellery?
Which items are your most popular?
Do your customers prefer purchasing jewellery in-store or online?
Would they instead make a purchase or browse?
Which product categories are your customers interested in?
What types of jewellery are your customers interested in?
Who is your audience?
What are the age, gender, and marital status of your customers?
What's their education level?
Are your customers local or non-local?
Do they live in the same city or state as you?
What are your customers' interests and hobbies?
Do your customers wear jewellery?
What are their favourite brands?
What is your best-selling jewellery item?
Which product or service did your customers find most valuable?
What were the reasons why your customers didn't buy?
Is your customer base growing or declining?
3 – Design a Responsive Site
Nowadays, it's tough for any business – especially in the B2C sector – to create a distinctive online presence when faced with competition from giants like Amazon and Facebook. You must have a responsive design to make your jewellery business website stand out. This will enable your company's site to be seen on any device or screen size so you don't miss out on potential customers.
Creating a site that is easy for people to navigate and engage with is essential. When designing jewellery websites, you must ensure your site is responsive. That means it adapts to any user device, so you can ensure your design is optimised for touch, desktop, tablet, and smartphone screen sizes.
People can buy many types of jewellery in various shapes and sizes. When designing jewellery websites, ensuring your site is mobile-responsive is vital.
Here's why:
Mobile-Responsive Design Makes a Difference
When your site is mobile-responsive, you're ensuring that the content is optimised for smartphones and making your site viewable and accessible on various devices. This allows visitors to enjoy your site on any device at any time and helps ensure that your site performs well, even when users browse.
Responsive Web Design Is More Accessible
According to the WebAIM UK Accessibility Report, approximately 33% of UK internet users report difficulty reading text on a website. A website's lack of responsiveness makes the experience more problematic for visitors. Responsive web design ensures that your text is readable and easily scannable, providing an effective way to navigate and interact with your site.
Responsive Web Design Is Easier to Use
If you've ever used a smartphone to check out a store or a website, you know it's not always convenient on a desktop. If your site isn't responsive, you might have to scroll horizontally to see all the information, which can be frustrating and time-consuming.
By ensuring that jewellery websites are responsive, you're ensuring that your customers can find what they're looking for with ease.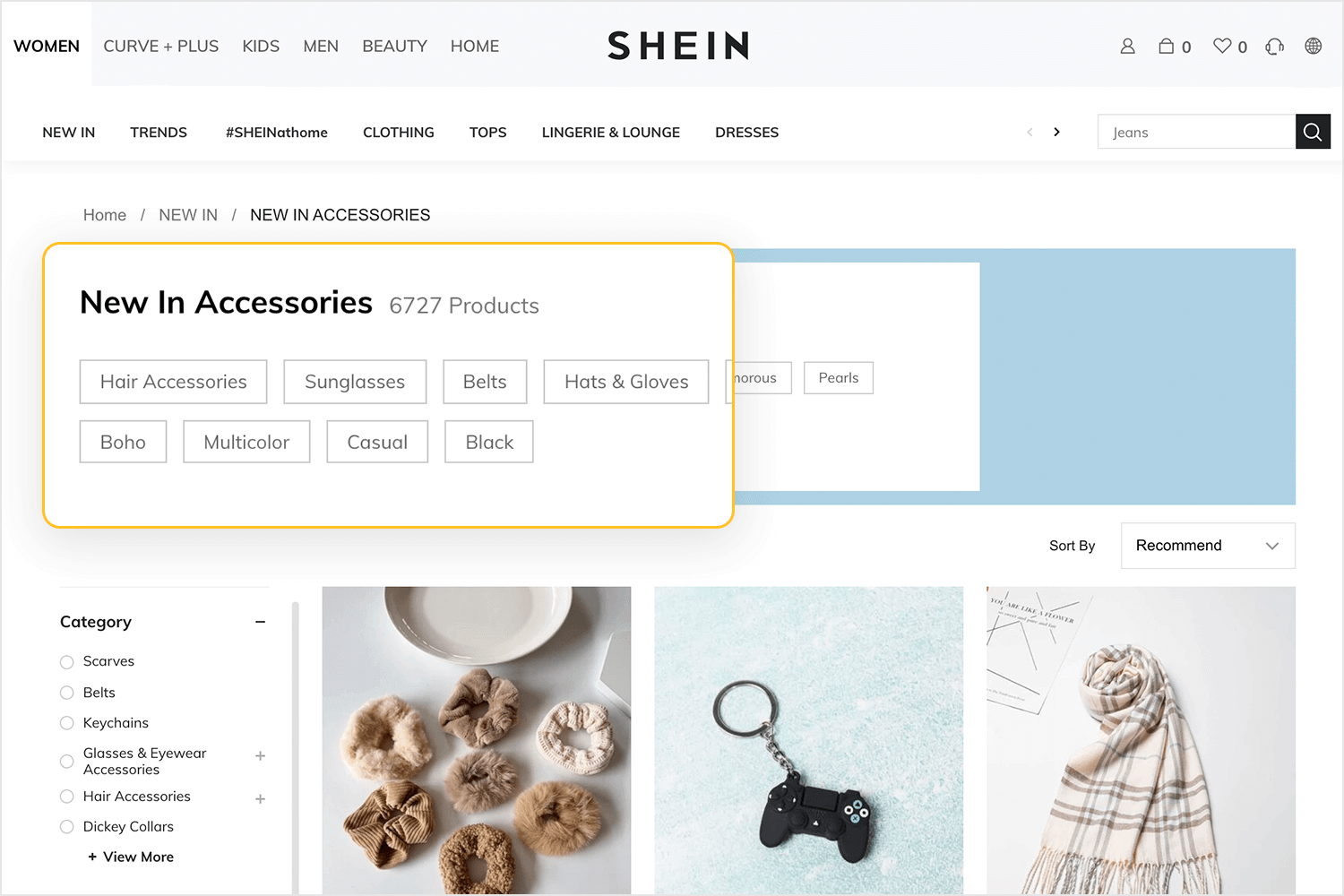 One of the most important things you can do is create a site that is easy for your customers to find what they want. For many people, jewellery websites are their first experience shopping online, and they may not be familiar with the typical features of a website. 
Streamline your navigation to make it as simple as possible, so there is less chance for people to get frustrated and leave your site. Keep in mind that this advice can help you improve your conversion rates!
Designers should simplify a website's layout to make it more user-friendly and attractive to potential customers. This means removing unnecessary elements distracting from the site's content and purpose.
Simplify Navigation
One way to make navigation easier is to focus on only one primary navigation element. The website's users will get lost and confused if too much information is on one page. Focus on one primary navigation element, such as a breadcrumb menu directing users to the appropriate page and category.
For example, the Breadcrumb Navigator is an excellent example of a website navigation design that's easy to use. A three-level navigation system helps visitors find their way around the website.
If you're unfamiliar with how breadcrumbs work, they visually represent the pages leading to a specific page. By using breadcrumbs, visitors to your website can find their way around the site even if they forget where they are.
This style is used in the main navigation of many websites, including Amazon, Google, and more.
Create Simple Visuals
Creating visuals should also be considered when designing a website. Websites are designed for the web, not printed paper. When designing a website, take advantage of the online world's capabilities to create high-quality images that are easy to read.
Limiting your graphics to fewer than six or seven different shapes and colours is a good rule. You don't need to use every colour in your palette or multiple shapes per graphic.
Use Text Over Images
Text is always easier to read than pictures, so it's often a better choice. But not all images need to be text-heavy. Ensure that your images are relevant to your website's content and that your images are correctly sized. You can also use the text within an image to tell your story.
Avoid Graphics with Too Many Text Elements
There's no reason to overuse graphics on a website. If your site is mostly text, try to avoid adding visual effects to the text. Use visual elements, such as arrows or icons, sparingly.
If you need to add a photo to a text description, use it as a decorative element rather than a replacement for the text.
Use a Good Search Engine Optimisation (SEO) Strategy
Your website needs to be accessible to search engines like Google and Bing. If your site doesn't show up in search results, it's not accessible.
To ensure that search engines see your site, make sure that your site is properly optimised for SEO. SEO includes several components, such as making your site accessible and easy to navigate.
Use Keywords in Headings
Headings are important because they define the sections of a website and are visible to users and search engines. Using your keywords in the headings of each section of your website will help search engines understand the content on your site.
Using keywords in headings is another way to keep your website content consistent.
Have a User-Friendly Homepage
The homepage of your website is the first impression you make to a visitor. It's your first chance to make a strong statement and set expectations.
Make sure your website's homepage is straightforward to navigate. Keep the content on the homepage short, focused, and to the point. You can use photos and videos but don't overwhelm your visitors with too much information.
Keep the home page simple. A large amount of content can overwhelm a user. Instead, offer a simple message related to the type of product or service you offer.
Remember, visitors will spend less time on your homepage if it looks unprofessional or cluttered.
5 – Consistency Counts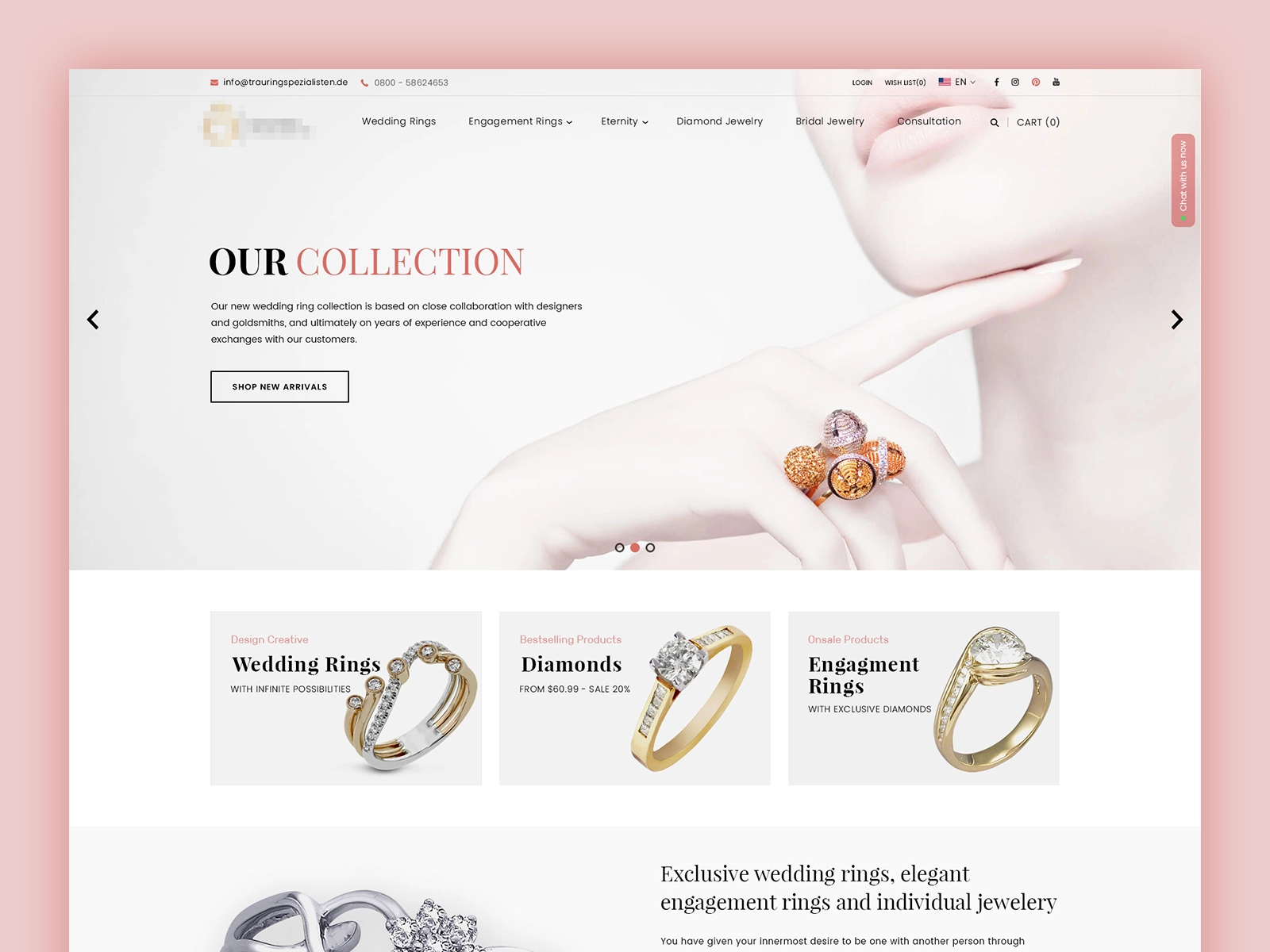 Consistency is vital in web design and online marketing. When developing a website for your jewellery business, try to incorporate aspects of consistency into all your content. 
You can achieve this by using the same colour schemes throughout, including the same fonts and style used in advertising or elsewhere on your site. It will create a cohesive design and help visitors navigate your website smoothly.
Most web designers know that creating consistent design elements is one of the keys to successful websites, yet very few take the time to design their websites consistently. Even when you have great ideas about what your website looks like, it's easy to get distracted by all the other details that need to be worked out before you can launch your website.
How do you create a beautiful, functional, and helpful website in the eyes of your visitors? How do you create a website designed to sell your products and services?
Here are some guidelines that I like to follow:
Make sure your website is organised and easy to navigate. A well-organised site is easier to read and allows visitors to quickly find the information they are looking for. 
When visitors find it difficult to navigate your website, they'll leave. Make sure your navigation is consistent. Don't use different styles and colours for links. Use prominent, bold, and familiar colours that will attract your visitors. Keep the text on your pages short and to the point. You can usually read a page with short paragraphs more quickly and more accessible. 
Avoid using too much text and images. If your visitors need to scroll through long paragraphs, your visitors are probably not interested in what you offer. Avoid using too many photos, especially when selling products and services. When visitors see a photo that is the only thing on the page, they can't tell if your product is relevant to them or if it's something that interests them. Limit the number of photos you use on your site to one or two per page.
I hope that these tips help you in your quest to design jewellery websites that are attractive and functional for your customers.
Conclusion
I am sure you know about jewellery websites by now. They're everywhere, and they're getting bigger every day. But if you're looking for inspiration, these tips should help you create a beautiful website.
To stand out, you need to have a compelling product. Make it easy for people to buy your items by adding reviews and a payment option.
You can also benefit from the increased reach of being featured on other websites. It's an easy way to gain exposure; once you're known, you can use it to generate more sales.
Regarding the design, you can use this checklist to see what's important to potential buyers.
Want to learn more about jewellery websites? Read this article!