Many small business owners are not aware how important a custom logo design is for their company.
Since their marketing is usually operating on a shoestring budget, they settle for an inexpensive and, often, unimpressive small business logo design.
This is a mistake because that little symbol stands for their business and it is the first thing that customers see, and it goes without saying that first impressions are the most important.
A logo is a visual representation of your brand identity, and it has to communicate a compelling value proposition.
Don't forget that your logo will be on all your printed materials, website, social media networks, business cards, and advertisements, and if you want to convince your customers that your products or services provide quality, then your logo has to send the same message with its design.
A logo is not a brand, but…
Believe it or not, but many small-business owners still tend to mix these two concepts up.
It cannot be denied that a logo and a brand are intrinsically connected notions and that neither can stand on its own without the other one.
Your brand is so much more than a logo, that is for sure, but on the other hand, a logo is that enduring symbol that helps people recognise your brand in the blink of an eye.
Statistics say that consumers form the first impression of a brand's logo, but it takes them 5-7 interactions with the brand to be able to recognise the logo.
When we are talking about some of the most successful logos that garner tons of exposure to their brands, we have to mention Starbucks.
Namely, this is one of the most Instagrammed, tweeted, shared, and liked logos on the internet.
According to a company which utilises computer vision and combines it with machine learning, the iconic topless mermaid is hugely popular, as the software tracked that only during one month, people uploaded 250,000 pictures with the Starbucks logo.
Even though there's no name incorporated within its logo, people around the world recognise the famous coffee shop chain.
The same goes for Nike and its swoosh logo.
Oddly enough, the company paid only $35 back in 1971 for one of the most ubiquitous logos of all times, and now its worth is estimated at $643,000.
Of course, no matter how visually appealing a logo design is, it will not work unless the brand delivers on its promise all the time, which is how the companies mentioned above made it.
The importance of the typeface
Many logos contain the name of a company, and this means that you will have to carefully pick a font because it is another element that makes your logo unique and memorable.
There are several important characteristics that the font you use needs to have.
First and foremost, the simplicity is what you should go for.
Too elaborate and complex font patterns can make it difficult for your customers to remember your logo and make a mental association with the brand.
Besides that, you should avoid complicated fonts for purely practical reasons, too.
Namely, it can be difficult to print a logo with an elaborate typeface in different sizes and various materials.
As your logo has to communicate your brand message, it is imperative that your target audience can comprehend and perceive it as it is intended.
Uniqueness is another make-or-break feature of your custom logo design, and that is where the typeface comes in.
A distinguishable font will help your small business logo design stand out from the crowd.
So make sure to opt for a simple, eye-catching option that will be able to convey your brand's unique identity.
For example, the Disney logo features a playful and imaginative typeface called Waltograph, which perfectly captures the family-oriented nature of the company and adds a hint of magic.
Apart from the simplicity and uniqueness, the typeface you opt for has to posses attention-grabbing qualities.
However, legibility should not be sacrificed for the sake of visual appeal, and if we take into consideration that your logo will represent your company across various channels of communication.
As well as that it will be used for multiple marketing purposes, it is clear that you will have to choose a typeface that will look equally on good business cards, social media networks, or merchandise.
Your custom logo design should express your value proposition
Naturally, if you want to attract your target audience, you need to have a clear-cut idea of your business and your brand.
As logical as this may seem, many companies fail to identify the value they deliver to their customers.
Besides understanding your own business and what it offers, you also need to dig deeper and learn as much as possible about your competition.
Only then will you be able to create a logo design that will represent your brand in the best and most profound way.
If you think that we are knee-deep in psychology at the moment, you are right because designing a small business logo is a multilayered process that requires much brainstorming, collecting relevant information about your target audience, discussing your value proposition with your employees and the members of your marketing team.
It is essential to identify what makes your brand unique and what makes your customers come back and share those findings with the designers who work on creating your custom logo design.
The design of your logo also depends on what your company specialises in, which means that logos for brick-and-mortar stores, such as shops, restaurants, or bakeries, should be different from the ones used for online businesses, such as eCommerce stores, web design companies or a phone answering service.
As opposed to "physical" stores, which can be visited and experienced in person, online companies have to try harder to make the right impression and come off as reliable and trustworthy, and that is why they need killer logos that will evoke a sense of accountability and reliability in their customers.
Negative is the new positive
When it comes to small business logo design, making the most of the negative space can make all the difference and turn a regular into an outstanding logo.
Negative space is defined as the space between and around the subject of an image, and it is an inherently visual and artistic element, especially when it forms some other shape, usually even more striking than the main subject, thus creating a compelling composition that just prompts you to give it a second glance.
Many logos have hidden messages conveyed by the use of this artistic tool.
One of the first examples that come to mind when we are discussing the logos that make clever use of negative space is FedEx and its arrow, appropriately incorporated between the E and X, symbolising that the company is a stickler for speed and accuracy.
Sometimes what you do not see immediately can be more powerful, so with a well-thought-of idea of a logo that makes the most of the negative space can be a turning point in your branding efforts.
With flying colours
Even psychology has confirmed that colours can impact purchasing decisions to a great extent, which means that you need to consider the choice of a colour scheme for your custom logo design very carefully.
A recent survey has established that approximately 62-90% of snap judgments about various products have been made based on their colour.
Although this mechanism works on a deeply subconscious level, some patterns can be observed, which makes it somewhat easier for designers to pick a colour that will represent a brand in the desired light, and purposefully evoke certain feelings in consumers.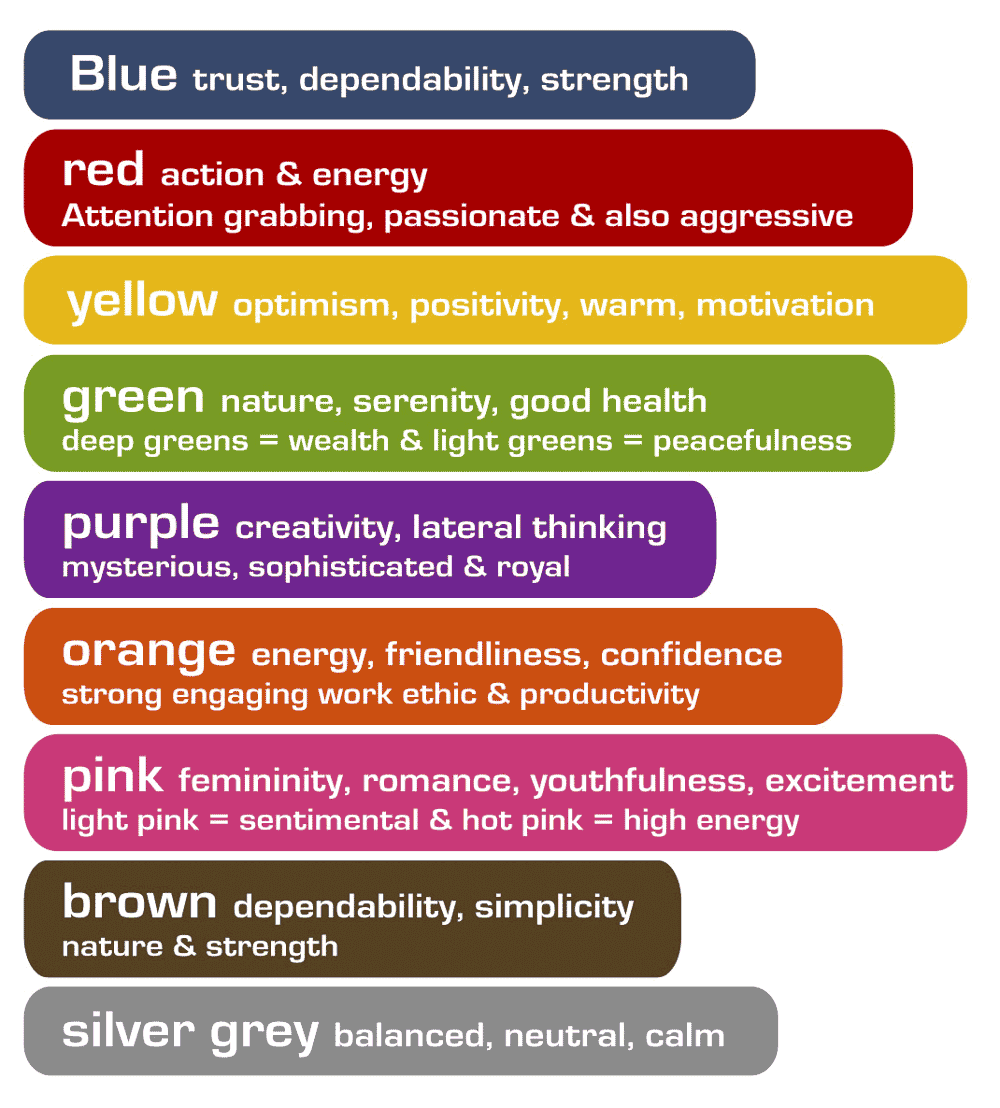 Blue is one of the most frequently used small business logo colours, as it signifies reliability, loyalty, strength, and trust.
Facebook, Twitter, LinkedIn, and lots of tech and B2B companies use a particular shade of blue for their logos.
However, you should be careful when using blue if your idea is to have a happy, radiant logo, as this colour is cold and distant.
Green is usually the colour used by companies that deal with environmental issues, health, natural and organic food and cosmetics, as well as with finance.
This colour is associated with freshness and tranquillity, while its deeper shades signify wealth, money, and affluence.
Vibrant and sunny, yellow is a perfect choice for logos that want to be associated with optimism, joy, and happiness.
It is warm, creative, and energetic, and as such, it is suitable for food brands, such as McDonald's and its Golden Arches, as well as its chief competitor Burger King with its yellow bun.
Red is considered bold, energetic, attention-grabbing, provocative, and aggressive, and just like yellow, it is a perfect match for food companies, but also for the car industry, and movies.
Youtube and Netflix use this colour to highlight the innovation they bring into the world of the moving pictures (and TV shows), and it in a way symbolises their risky and confident business moves that always introduce something new and exciting to their consumers.
White stands for purity, elegance, style, and softness, although it is icy and cold.
Apple's famous logo uses white as its primary colour to emphasise the clean, sleek, and elegant design of its products.
A custom logo design might be just a tiny symbol, but it is compelling, and it can be a crucial factor in boosting your brand exposure and visibility.
---
If you wish to discuss how we can develop your brand or provide graphic design for your product or business, email us at: [email protected]
Inkbot Design is a Creative Branding Agency that is passionate about effective Graphic Design, Brand Identity, Logos and Web Design.
T: @inkbotdesign F: /inkbotdesign
---