How to Create a Logo Portfolio that Sells
In the creative world, a fancy sales pitch only gets you so far.
Ultimately, when you are promoting design services, it's your logo portfolio that does the real talking.
Whether it's a website or a physical book, this portfolio should showcase your ability in the best possible light and make it clear that you are the person for the job.
We live in an era where businesses are always connected to the marketplace, and the talent pool of creative minds is practically endless.
That said, you need to make yourself shine.
Here is how you do it.
Curate your Logo Portfolio!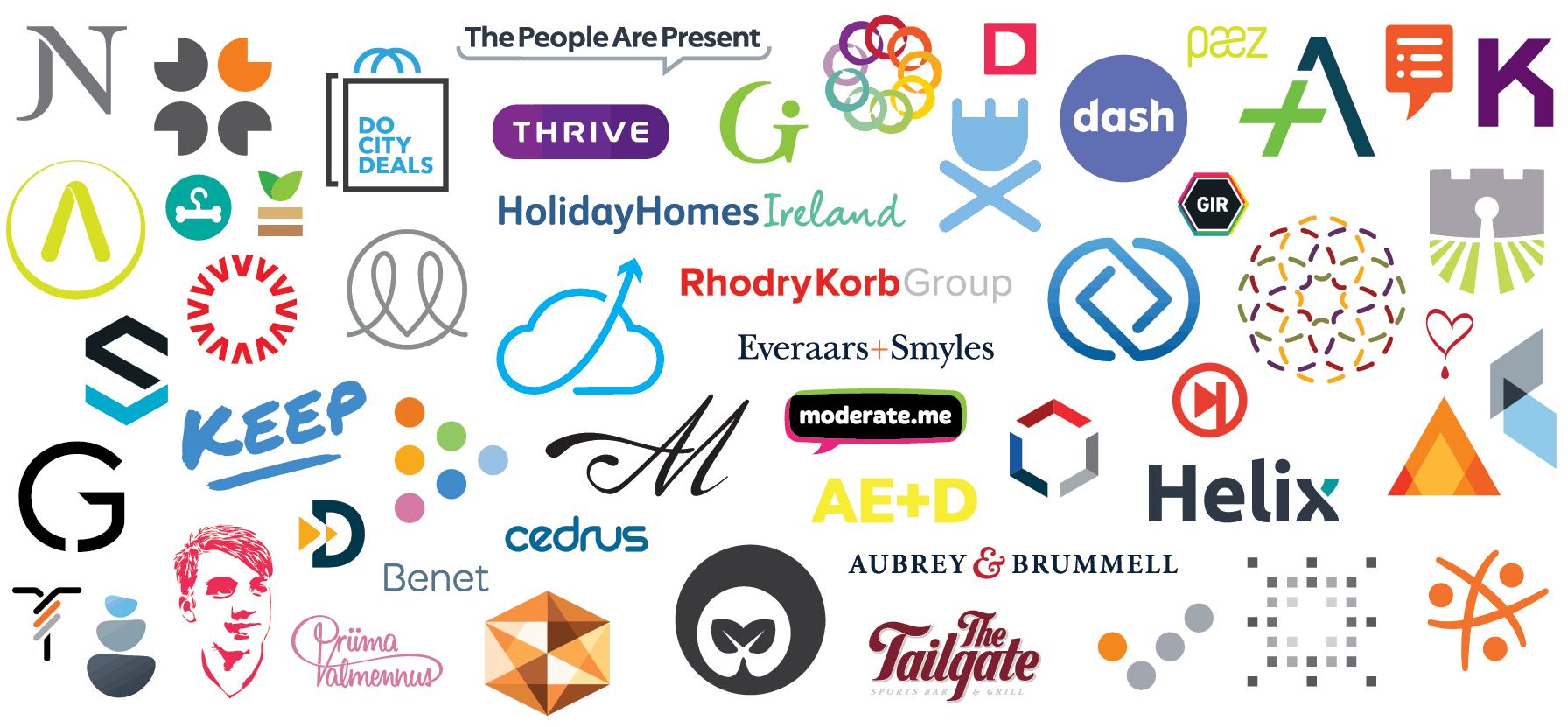 When you are building a logo portfolio, it's tempting to include every logo you've ever created – especially if you are a graphic design beginner and don't have a big catalogue under your belt.
However, it's a safe bet to assume that most prospective clients don't want to spend tons of time looking at ALL of your work; they want to see the best you have to offer.
Keep it simple and only include the work you are proudest of.
In the name of building a user-friendly website or book, it's always better to have a few killer pieces of work on your portfolio, rather than a bunch of mediocre ones.
Moreover, the less-than-stellar work will dilute the value of your "home run" projects.
A great mindset to adopt is that you should display the types of projects you want to do in the future.
Showcase Your Versatility
Now, this tip depends on the type of career you want to have in logo design.
The term "versatility" will have a slightly different definition for every creative mind.
If you prefer to work in one specific industry or have a signature flavour of design you don't want to stray from, that's perfectly fine.
However, there should always be some degree of versatility in the work you promote.
For super niche logo designers, versatility in a portfolio might involve the range of colour usage, font choice, complex designs versus simplistic, different approaches, etc.
On the other hand, if you want to take on projects from all corners of the business world, you should be showcasing logos you've done for a variety of industries to give potential clients a good view of the range you are capable of.
As you accrue more projects and expand your range, you can organise the pages of your logo portfolio by industry.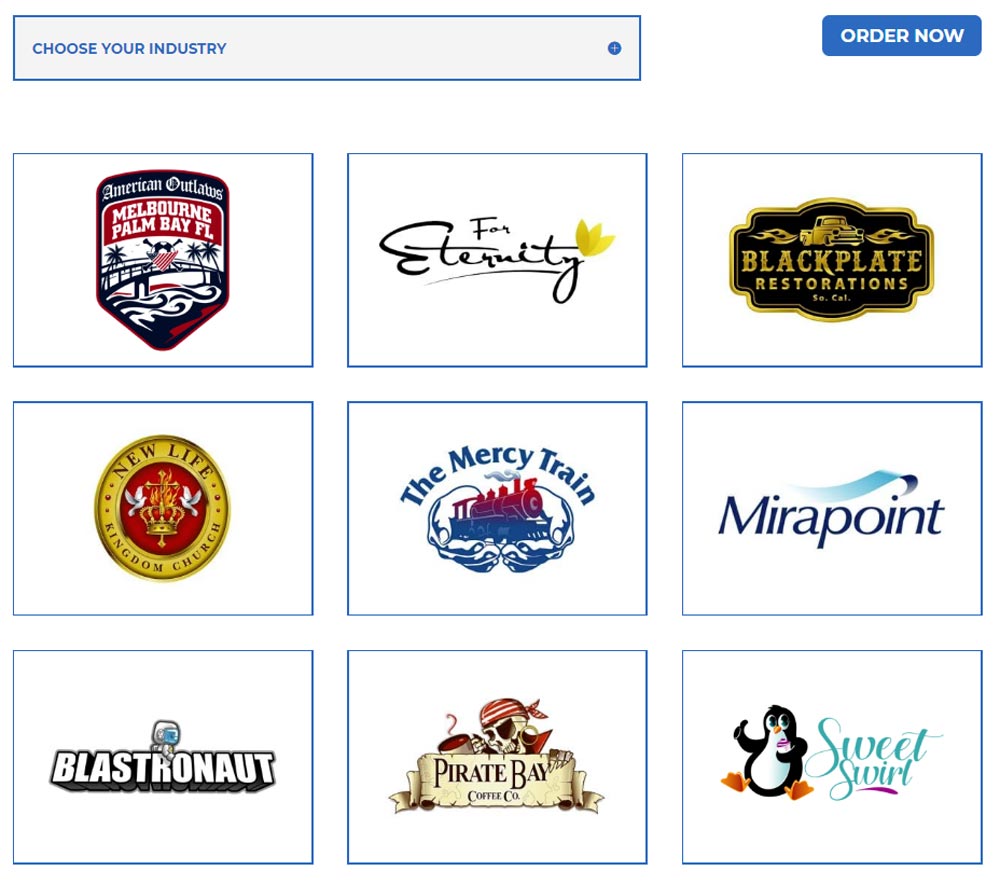 If all the logos on your portfolio look similar with the same techniques, you will come off as a one trick pony, which is no bueno in the creative world.
Complimenting your logo designs with a unique backstory is an excellent way to show prospective clients how you arrived at the final execution.
Additionally, it shows your dedication.
After all, you put your heart and soul into these designs; you should have a story to make this clear.
Every creative mind has a certain way of coming up with ideas, formulating the design, and finding ways to build out thought-provoking solutions.
Keep in mind, to the untrained eye, a simple logo might not have much meaning at first glance.
However, in reality, it probably took hours of research, planning, trial and error, and everything in between.
The backstory needs to explain this and justify how and why you arrived at this design.
Start by talking about the challenges involved in each project, then discuss your approach to solve these problems.
Here is a fantastic example from a designer who helped a small brewpub find their identity:
In this case, the challenge was creating a memorable identity to stand out in the exploding craft beer industry.
The need was to build an instantly recognisable logo while staying true to the roots of the restaurant's vibe.
In many cases, the approach to each project will be one of the most valuable aspects of defining the designer – or anyone in the creative space for that matter.
Adding backstories to your logos is a great way for prospective clients to get a better idea of who you are as a designer, the particular value you bring to the table, and why you are the answer to their conundrum.
Convey Your Process
A creative process is different in every designer, writer, animator, or anyone else doing this type of work.
Think of the creative process like climate – in that it stays relatively the same throughout different projects.
Think of the approach like the weather – which is unique to every project.
Defining your creative process on your logo portfolio shows your time-tested experience in the field, professionalism, and gives prospective clients an idea of what it would be like working with you.
If a new business is looking for a logo and doesn't have much experience working with creative minds, you need to guide them in the process and help them understand what all goes into a memorable logo design.
To reiterate, the final execution of creative work (especially simple logos) tends to be something that looks uncomplicated to those who aren't in the industry.
Take the Audi logo for example: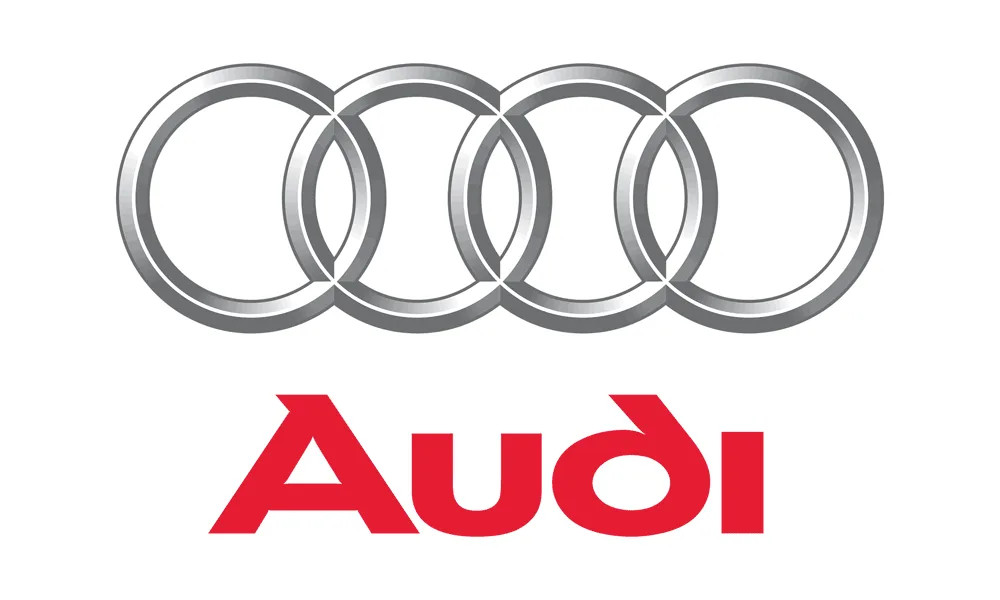 The everyday joe might look at this logo and think, "It's just four rings in a line, I could have done that in five minutes!"
In truth, there is a deep story and a distinct process behind the logo we associate with Audi.
The process you convey on your portfolio should make it clear that an awesome logo does not just appear out of thin air.
Additionally, it should complement the backstories we talked about in the previous section.
Here is an excellent example of how to promote a creative process:
Always remember, the client is in the driver's seat when designing a logo; you are the expert providing the direction and tactics to create an execution everyone can be proud of.
For this reason, clearly defining your process is an absolute must!
Have a Blog Section
A blog section on your portfolio can serve many purposes.
First, writing content periodically can help make your website more visible in Google searches (SEO).
When you choose a topic to write about, take some time and research trending keywords to include naturally within the post.
There are many free tools out there to help you with this.
Ubersuggest is a super easy, browser-based resource to identify relevant keywords.
For example, let's say you are writing a blog post about colour usage in logo design.
Starting with the key phrase "colour in logo design," you can get a list of similar terms being searched for on Google to use throughout your post.
Now, there are entire books written about how to make a website more visible in Google searches.
Having (at the very least) a basic understanding of how to use keywords is going to be hugely beneficial when writing blog posts.
In addition to SEO, a well-written blog on your portfolio shows visitors that you are an expert in the field and know what it takes to create killer logos.
As you choose topics, you need to consider the things potential clients would be reading about.
Moreover, it would help if you tried to touch on the factors they might be looking for when hiring a designer.
Perhaps you could write about topics related to good practice in working with clients or how to develop a bullet-proof creative brief.
Blog sections are great for building a general rapport with potential clients and demonstrating the knowledge you bring to the table.
Include Testimonials
These days, online reviews and testimonials hold an insane amount of weight when it comes to buying decisions.
Generally speaking, the fact that they are unfiltered and come from a neutral third-party with no ulterior motives (ideally) does a lot to verify a product or service.
As a logo designer or any other sort of creative mind, testimonials are about so much more than just the work you produce.
The testimonials you display on your portfolio should give an unbiased view of several key points, including:
What it's like to work with you.
Your communication skills.
How well you respond to criticism.
Your ability to meet deadlines.
Your understanding of the client's needs/expectations.
The way you execute projects from start to finish.
Often, the most challenging part of showcasing testimonials on your portfolio is simply getting clients to write them – especially when you are first starting out.
With each project you knock out of the park, make a conscious effort to ask clients to review the process of working with you.
When you reach out, try to get them to go beyond the work itself.
The goal should be to gauge the points mentioned above related to the experience of having you design their logo.
There are millions of talented graphic designers out there.
At the end of the day, clients want more than a creative mind that can come up with awesome logos.
They want someone they can depend on and is easy to work with; two things that are not always easy to find.
Over to You
Building a logo portfolio that sells doesn't have to be overly tough or complicated.
It just needs to have the right information presented in an appealing way.
In the creative world, a portfolio is like a resume.
The difference is it shows, rather than tells.
Ultimately, it needs to give potential clients a clear idea of your identity in the field, your methodology in executing a project from start to finish, and why you are better suited for the job than every other designer out there.