How Much Does It Cost to Design a Website?
How much does a professional web design cost? Well, the budget price starts from $1000 and reaches $100,000+.
There is no standard answer, as website design cost depends on various factors like designer's rates, the complexity of the features, the number of content pages, whether you're redesigning a website or building a new one, and others. 
Let's discuss how much it costs to make an engaging web design and what factors affect the final price. You'll also learn web design workflow processes.
Note: The estimation is based on a $50/h rate. It's an average software development rate in Eastern Europe.
Main Price Drivers

It would be best to multiply the required working hours by the hourly rate to get the web design price. It's a general rule. 
For instance, if designers need 120 hours to fulfil the project and take $40/h, it's 120h*$40 per hour = $4 800.
But what does the web design price consist of? Commonly, it depends on the following factors:
Website complexity (animations, graphics)
Whether you need to adapt to different devices
Whom you work with — out-of-the-box solutions, freelance designer or agency
Designer's rates by country
Before we move to these factors, there's one thing for you to remember: whether you're going to build a custom UX design or enterprise UX design, it's vital to prepare a list of precise requirements. Then designers will spend less time analysing your project. Thus, reducing the cost.
Now, let's consider factors impacting web design costs.
Complexity
The price is directly related to complexity. It's much faster to build a landing page compared to e-commerce websites like Etsy or Amazon.
Suppose you're going to make a website design based on a ready-made template. In that case, designers will spend less time examining the target audience, analysing main competitors, and designing the website itself.
However, even landing pages may have different levels of complexity. Look at the simple Shopify's pages — no animations, few elements.
In case designers have pre-prepared content and don't need to draw new elements, it takes approximately 6-8 hours to make a simple page. 
If they need to interact with illustrations or design content for mockups, it will take much more hours — from 16 to 20 hours. 
6-8 hours = ~$300-$400
16-20 hours = ~$800-$1,000
Let's look at Apple's Mac Pro landing page's example. It's a complex website with 3D animation and a bunch of elements. 
The designer needs to ~80h-100h to implement all these elements. Therefore, the cost of creating such a website will range from $4,000 to $5,000 (depending on specialist's rates)
If you're planning to create a landing page, it's better to ask web designers to prepare 2-3 visual concepts. So you can choose what you like the most. 
After, to build a full-fledged website, designers need to spend on average 16-20 hours.
Usually, web designers estimate web design costs based on features or page complexity:
It takes 2-4 hours to build a simple website (text, few buttons) with an average price of $50-$200
It takes 4-8 hours on average for a team to make a medium-level website (authorisation, maps). The cost starts from $200 up to $400
Designers need 8-12 hours (per screen) to create a complex website with animation and different elements. The price ranges between $400 and $600.
Responsiveness
Most likely, you want the website to be responsive on mobile devices.
If not, look at the statistics:
In 2021, 72.9% of users will purchase online using a smartphone
Mobile devices for half of the web traffic worldwide
Google prefers responsive websites and ranks them on top
In responsive design, the layout of a website is decreasing or expanding according to the user's screen. 
When people use an iPad or a smartphone, the website automatically adapts to the given resolution and image size. 
As a result, you don't need to build a separate mobile version as web pages will perform well on different devices.
Responsive website design accounts for approximately 40% of the web design time. 
For instance, a web designer needs 168 hours ($8,400) to create a Netflix-like website and 48 hours ($2,400) to make a responsive website design. 
In sum, it'll cost $10,800, on average, to make a responsive Netflix-like website design.
Vendor
As we've mentioned earlier, the cost of website design depends on who will do the job:
Ready-made template
Freelancer
Company
Let's consider these options in detail.
Out-of-the-box template
Template-based design is a good choice if you're on a tight budget and want to build a simple website not connected with business.
For example, WordPress, Wix, or Tilda let you design and manage your website effortlessly. They're free of charge but offer paid additional services (themes, icons, etc.). 
Most likely, many business owners use Tilda or WordPress due to their accessibility. However, they're limited on personalisation, have security problems, and aren't responsive. 
As an option, you build a more sophisticated website on Tilda, using paid business or personal website themes. The price ranges between $1,500 and $5,000.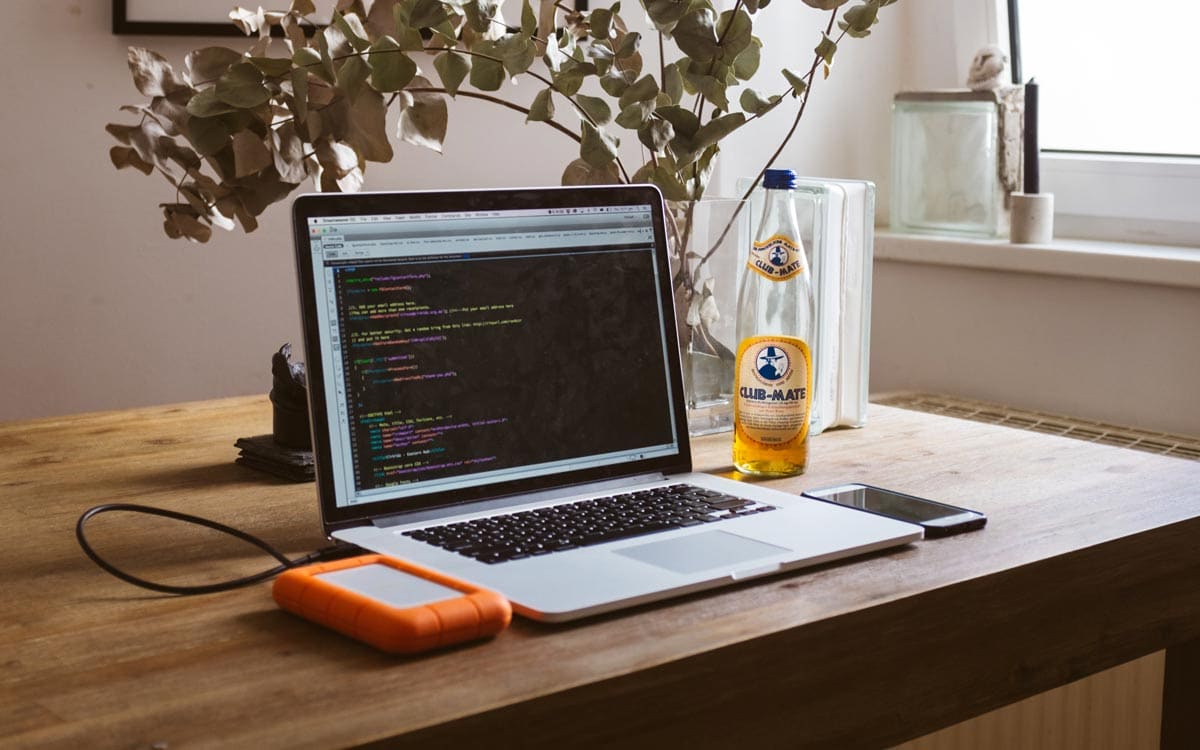 Hire a freelance web designer
You can hire a freelance designer to get a custom design for your website. Remote website designers charge less than agencies, but you need to have precise requirements in this case.
What features your website will have
What is your target audience, and whom they interact with your product
How many pages your website will include
It's your task, not a freelancer, to figure out what you want. Besides, you need to take complete control over the website designing process or find a project manager (if required).
This option applies to simple websites or landing pages. If you need a more sophisticated product, then hiring a freelancer isn't a good choice. 
Moreover, it can be challenging to find a reliable freelance designer. Some of them may deliver a product with bugs, others — quit the project after a couple of weeks for better suggestions.
Work with a web design agency
Web design companies charge more compared to freelance designers, but you get a top-tier service. 
The end price depends on the agency's level and designer experience. 
However, it's expensive to cooperate with a US-based company. You can consider outsourcing UI/UX design services. 
Below you'll find the average web designer's rates based on region.
Main benefits of hiring an agency:
They sign a contract 
They're responsible for the whole process and final results
You get an entire team composition, including BA, PM, and software developers
They have graphic designers involved in the process (if needed)
Labour costs
Designers' costs vary depending on the region. This is due to office rent costs, taxes, software, and demand for competitive salaries. 
It's much cheaper to work with web design companies in Eastern Europe than in the USA or Western Europe. 
US-based designers charge twice as high as in Poland or Ukraine. That's why outsourcing UX/UI design service is a popular option. 
Let's look at average UI/UX designers price in different regions (per hour):
United States: $79 – $163
Latin America: $40 – $50
Eastern Europe: $35 – $56
Asia: $25 – $36
Cost of Website Design Stages
There are different approaches to UI/UX design. Let's discuss how to build websites and sum up every web design stage (approximately).
Step #1. Discovery Phase
Team: UX/UI designer, BA, PM
Duration: 2+ weeks
Deliverables: Technical platforms specification, features, wireframes, detailed estimate
Price: depends on the project's complexity
After your contact with your team, they prepare a feature set and design requirements.
They make a rough estimate, including the number of hours they need to fulfil the project. They estimate each web page and provide you with the min and max cost of the estimated time.
If you agree, they analyse how much time and money the planning stage will take and proceed to the discovery phase.
The discovery phase is all about gathering and structuring project information. Designers put themselves in customer's shoes and ask the following questions: 
What are your business goals and vision?
Who are your main competitors? 
How will business generate revenue?
What are ideal buyer personas?
What are the users' expectations?
Does your website solve users' problems?
What features will your website contain?
The discovery phase is a pre-development product stage. It includes three steps:
Make a project specification (a document that lists tech project and usability requirements)
Designing wireframes (outline the placement of elements on app screens)
Making a website prototype based on the wireframes 
Ready wireframes help the team to understand the website's structure 
and navigation.
Sometimes they create wireframes while the specification is prepared. That's because you may want to add new ideas or reject the previous ones if they look bad in real-time. Thus designers can make improvements at an early stage.
Step #2. Design Concept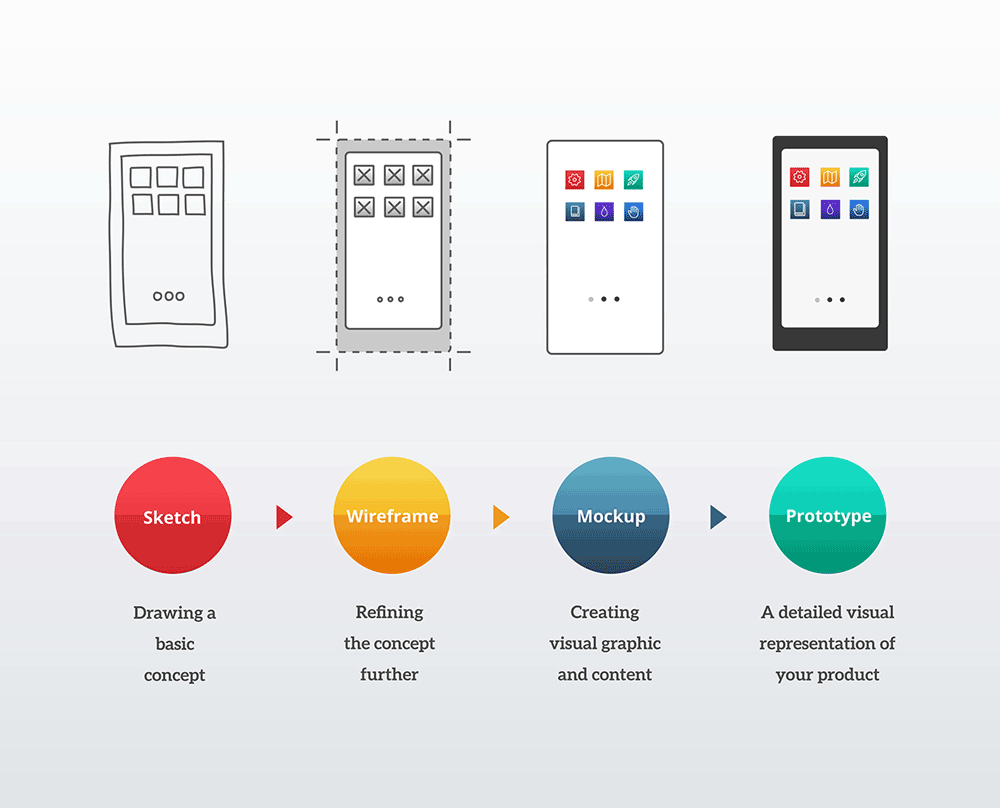 Team: UI/UX designer, Project Manager
Duration: 16-20 hours
Deliverables: Agreed UI concept
Cost: $800-$1,000
Design concept creation is the interim stage between wireframes building and design development. 
Designers makeup to 5 pages in different variations (colour, style) and wait for the client's approval. 
There are two possible ways for a concept development:
With a brand style guide. Designers develop a visual concept based on your brand style guide. They choose a colour palette, font, and illustration according to your guidelines.
Without a brand style guide. Before designing a visual style from scratch, the team researches to analyse user preferences and competitors' products. Based on that data, they develop a new brand style.
A ready-made brand style guide reduces the cost of designing a website. The team don't waste time on research and choosing the elements like:
The colour palette: +3 hours ($150)
Typography typically: +4 hours ($200)
Custom illustrations (if needed)
Step #3. Visual Design
Team: UI/UX designer, PM, web developers
Duration: Based on the number of pages
Deliverables: Design development
After selecting a concept, designers create mockups according to the wireframes. 
This stage requires considerable time as specialists need to draw up each page based on the website's conditions. 
If you want to build a web and mobile application project, you should develop each design separately. 
After, you review the first version of the website design and ask for changes or improvements if required.
At this stage, you can also ask to create a style guide if you don't have one. It takes 10-12h on average to design a style guide.
The guide collects all visual decisions for your website (header, links, colour palette, buttons, etc.). It also offers different elements' shapes and typography. 
With the style guide, designers know exactly how to combine all design components. Usually, they use the basic principles of design to meet users' expectations. 
Finally, the web designers hand over the project to developers (most designers use Zeplin). But still, they provide continuous support.  
Step #4. Additional Services
One thing to note: if you need some additional services such as content writing, adaptive or responsive web design or other language support, it should be discussed on the planning stage and included in the project's specification. 
After, Business Analyst defines how much time designers need to get the project done and present the final website design cost.
Wrapping Up
Hopefully, you got the complete answer to the question "how much does it cost to design a website." 
As you can see, you need to consider many factors that affect the final price.
Mind that the price will depend on your demands and the complexity of the features. 
Often companies get hung up on aesthetics. However, it's vital to focus on usability, user-centricity, simplicity, navigability, and others factors. 
Thus, you increase the chance to build strong brand awareness and transform users into customers.
It's much quicker and cheaper to design a website using ready-made templates than build a custom UI/UX design with 3D animation, dynamic images and others. 
But if you want to achieve something with your online business, you need to develop an exclusive web design. 
Author Bio: Kate Orekhova is a tech writer at Cleveroad, an app development company from Eastern Europe. A writer by day and a reader at night, she's keen on technology and innovations. Her passion is to tell people about the latest tech trends in the world of IT.