5 Most Common Web Design Mistakes and How to Fix Them
Having a good website is a dream come true for many businesses. 
It means that it's ranking well in search engine results and that it's user-friendly. 
Both these elements are directly affected by the quality of the web design.
While design trends are continually changing, the same web design mistakes keep plaguing countless web pages. 
Luckily, all of them are easy to fix – you just need the right tools and an intelligent approach. 
Keep reading to discover the remedy for the most common web design mistakes.
1 – Not learning from customer behaviour
Plenty of companies have a vision of how they want their website to look. 
After setting it up, they believe that's it, but that's actually when it all starts. 
Businesses need to improve their design by analysing visitor behaviour.
By taking a brief look at the behaviour patterns, businesses can quickly see the web design mistakes on their websites.
That's why implementing an interactive heatmap tool is a great idea to learn more about visitors' behaviour.
After analysing the data, businesses can optimise their web design for better conversions.
2 – Adding too many elements to your website
Web design is not a case of "the more, the better". It's the complete opposite — less is more. There shouldn't be too many distracting elements on the website. 
The focus needs to be on simplicity, as it'll ensure intuitive navigation.
Some essentials to consider are:
Website layout — Keep your website elements distinguishable from one another. That way, the visitors will know where they can click. Please keep it simple with only a couple of crucial elements available across your pages.
Colours — Going crazy with colours won't get you anywhere. Keep the design clean by using a couple of colours subtly. Start with logo design and use the same colours throughout your website.
CTA placement — Keep your call to action button prominent. Find a way for it to stand out from the moment the visitor lands on your website.
Aside from these crucial elements, there are a couple of other things to consider. For example, where are you going to place ads on your website?
The best practice is to keep your website ad-free. 
However, if that's one of the more significant revenue sources, it's essential to position them well, so they're not too distracting. 
Your visitor is there for the content of your website, not for all the flashy ads. Keep the ad presence subtle.
3 – No design thinking process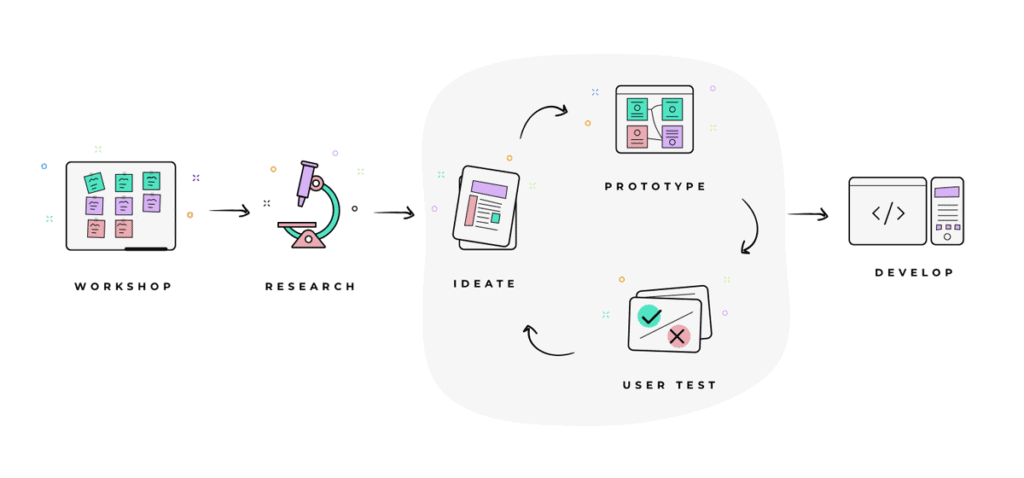 Hurrying up with a site launch can lead to poor web design mistakes that are easy to avoid. Therefore, it's essential to establish a procedure when you're launching a new product.
That's where project management can be helpful. Following healthy project management principles will allow your team to create the optimal design for the following website.
Take your time and put it all down on paper. After drawing what a customer journey should look like, the team can create a design that will navigate the visitors to your landing page.
While amending any design mistakes is easy nowadays, it's much better to create a strategy that'll work optimally when the website goes live.
4 – Forgetting about mobile
Since 2017, mobile has been a dominant website browsing platform, accounting for more than 50% of total traffic. That value is higher when you include tablets. 
When you add that Google prioritises mobile-first indexing, it's no longer a question of whether your website needs to be mobile-friendly.
Deploying a responsive design is a must. You want your website to fly on all the devices your visitors are using. Additionally, it needs to scale down flawlessly as smartphones feature much smaller screens.
Before publishing your site, it's best to test it out on a broad range of devices. Try it out on Android and iOS phones and tablets.
When you're sitting down with your team, you should think mobile-first as most of your visitors will come via their smartphones.
5 – Putting the technical aspect behind
Often, web designers tend to get carried away with breathtaking imagery and forget the technical aspect behind the product. Some of those heavy images might be big resource spenders.
Why's that important? Well, users expect the websites to load instantly. With all those elements using up the resources, it might take some time for your website to load. Loading time affects how visitors behave. 
As they're expecting fast loading times, there's a high chance that they'll leave if they have to wait too long. Page speed is an important ranking factor. 
Therefore, make your page speed optimisation a priority when you're thinking of your design.
Google's PageSpeed Insights tool is a great way to measure the speed of your website. It'll also show how you can speed it up if necessary.
Concluding thoughts
No matter where web design is going, you'll find these repeating mistakes appear with many websites. 
As you can see, fixing these mistakes is easy, and it takes a little bit of time. The most important part is to identify them first. 
Once you're aware of where the problem is, you can act swiftly and fix it up. 
Monitor the effects of your changes, and you'll know whether you're on the right path immediately.
Author Bio: Mohamed Sehwail is a pioneer investment and financial executive who capitalised on strong entrepreneurial and financial skills through working in leading roles over the past decade.