What is The Best Smartwatch for Designers?
Smartwatches assist us in communicating with our friends or family quickly and conveniently.
They are high-tech devices that can make calls, send messages, and receive email updates wherever you are.
Smartwatches can also help us to maintain fitness through dedicated apps and entertain us with our favourite tunes.
However, a designer requires a useful design smartwatch that can help to increase their productivity.
So we have explored the best smartwatches for designers and come up with this informative review for you!
Our Selected Top Smartwatch Reviews
Fossil Gen 5 Carlyle Smartwatch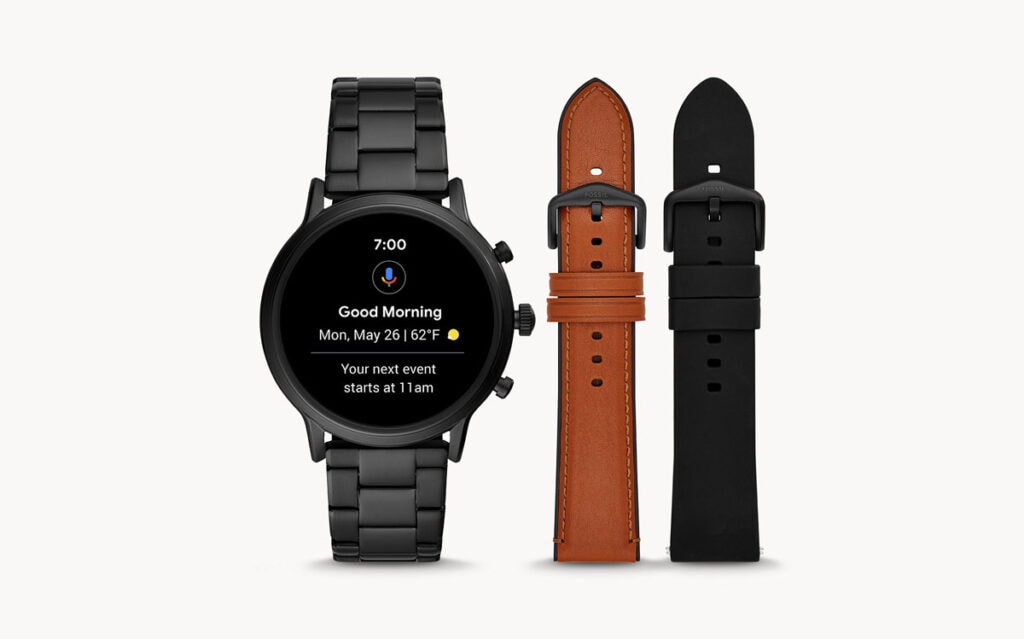 Fossil 44mm Gen 5 Carlyle Stainless and Silicone Touchscreen Smart Watch with Heart Rate, Color: Black (Model: FTW4025)
Smartwatches powered with Wear OS by Google work with iPhone and Android Phones. Case size: 44mm; Band size: 22mm; interchangeable with all Fossil 22mm bands
Battery: 24 Hr plus multi day extended mode Varies based on usage and after updates install. USB cable with magnetic charger snaps to rings on watch caseback and spins 360 degrees for ease of use. Charge up to 80% in under an hour
Health and fitness: Heart Rate and Activity Tracking using Google Fit; Built-in GPS for distance tracking; Swimproof design 3ATM; New wellness enhancements allow you to track sleep history, monitor your restfulness and set sleep goals
Lifestyle: This smart watch has always on display with thousands of watch faces to personalize your look and always see the time. Hundreds of apps from assistant to fitness, payments, music, social, news, games, stop watches, and more. With a swimproof design and charging in less than an hour, it's perfect for all your activities.
Smart watch functions: Stay connected with notifications for calls, texts, apps and automatic time, time zone and calendar syncing. Never miss a call - answer and make calls directly on your watch when your phone is out of reach.
Details and Features
Featuring a stainless-steel case, the Fossil Gen 5 Carlyle Smartwatch is a beautiful and high-tech piece of wearable technology.
It is equipped with a collection of features that improve your daily productivity while providing entertainment at the same time.
The Fossil Gen 5 Carlyle Smartwatch uses Google Wear OS and arrives with Google Fit, Google Assistant, Google Pay and Tiles apps already installed.
This smartwatch has an advanced, battery-efficient heart rate sensor that monitors your pulse throughout the day and night.
The Fossil Gen 5 Carlyle Smartwatch also contains innovative battery modes that preserve its power to prevent frequent charging.
You can select a mode that helps the smartwatch last for several days on a single charge resulting in significant efficiency.
This groundbreaking smartwatch is available in 5 different colours and straps combinations, including ash grey, blue, silver, black, and gold, so you can pick a style that fits your personality.
The Fossil Gen 5 Carlyle Smartwatch is fitted with Bluetooth call capability, a microphone, a loudspeaker, and push notifications. 
You can store music files and app logs in its 8GB ROM while the 1GB RAM ensures smooth operations.
The unit supports GPS geolocation and can transfer files using NFC so that you can enjoy maximum convenience.
Through its capabilities, the Fossil Gen 5 Carlyle Smartwatch proves it is one of the best models in the market!
Pros and Cons
Pros
It is available in multiple colours and materials
This smartwatch contains the Google proprietary app package
This smartwatch has numerous battery modes that enable long life
It supports GPS connectivity
NFC capability makes file transfer easy
Cons
It is not waterproof
It does not have GSM connectivity
Why this is the best smartwatch for you
The Fossil Gen 5 Carlyle Smartwatch is an excellent smartwatch for designers because it packs numerous technologies into a classy, robust package. 
It can link with your smartphone and enable phone conversation through a loudspeaker!
Michael Kors Access Gen 4 Runway Smartwatch
Details and Features
Combining a luxurious look and everyday practicality, the Michael Kors Access Gen 4 Runway Smartwatch is a beautiful gadget.
It runs on powerful Google Wear OS and contains all the associated proprietary applications.
This smartwatch can be linked directly to your smartphone using Bluetooth for push notifications.
It can also transfer files to and from your phone using Near Field Connectivity (NFC) technology.
These features result in seamless communications and convenient file management.
You can express your personality through the Michael Kors Access Gen 4 Runway Smartwatch because it comes in a collection of inviting colours including gold, silver, black, red and white.
You can even customise its interface with desirable wallpapers and themes.
This smartwatch can track your heart rate and measure your jogging routes using the built-in GPS sensor.
By using the built-in Google Assistant, you can control the functions of this smartwatch using your voice.
After a rapid charge, the Michael Kors Access Gen 4 Runway Smartwatch will keep running for up to 24 hours.
It is a wearable luxury accessory filled with high-tech functionality!
Pros and Cons
Pros
It is beautiful
You can get this smartwatch in many colours
You can customise its interface
You can track your fitness with built-in apps
Cons
It has a poor battery life
Why this is the best smartwatch for designers
With the Michael Kors Access Gen 4 Runway Smartwatch, you can exude class in a futuristic way.
This smartwatch combines beauty with connectivity while availing numerous colours too!
Samsung Galaxy Active 2 Smartwatch
SAMSUNG Galaxy Watch Active2 (Silicon Strap + Aluminum Bezel) Bluetooth - International , Heart Rate Monitor, (Aqua Black, R820-44mm)
Heart and Health Monitoring - 1. 4" (34 mm), Circular Super AMOLED (360 x 360) - Full Color Always On Display - Corning Gorilla Glass DX+ - Processor: 1. 15 GHz Dual-Core - Maximum Depth of Water Resistance: 164 feet
Lightweight Design - 5ATM + IP68 / MIL-STD-810G - Accelerometer, Gyro, Barometer, HRM, Ambient Light - Compatible with a 20mm standard strap. Case Material: Aluminium
Advance Auto Fitness Tracker and Coaching - 768MB RAM + 4GB Internal Memory - Battery: 340mAh - Bluetooth 5. 0
Compatibility: Samsung, other Android: Android 5. 0 or higher & RAM 1. 5GB above - iPhone: iPhone 5 and above, iOS 9. 0 or above
With a thin, light design, Galaxy Watch Active2 is fit for any time and for any occasion, from working out to sleeping in
Details and Features
The Samsung Galaxy Active 2 Smartwatch is a lovely sight to behold!
It has a perfect, circular case containing a high-resolution touchscreen display.
This iconic smartwatch is available in numerous colours, including silver, gold, black, and grey, so you can pick the colour that most suits your personality.
This smartwatch is developed to help you track your fitness activity because it has a built-in heart rate sensor.
It also has a step counter, calorie tracker and sleep quality monitor.
By combining information from all these sources, you can gain an accurate picture of your health and well being.
You can keep the Samsung Galaxy Active 2 Smartwatch strapped wherever you go because it is water-resistant.
It means that you can wear it in the gym, pool and at home as well.
This device has a powerful battery that keeps it going for up to 5 days on a single charge! 
It is also compatible with Qi devices for wireless charging.
As a result of its features, the Samsung Galaxy Active 2 Smartwatch is a device that's designed for modern living!
Pros and Cons
Pros
It has a gorgeous design and is available in various colours
It has an excellent, High Definition (HD) round display
This smartwatch tracks fitness accurately
It is water-resistant
You can charge it wirelessly
Its battery life is great
Cons
You can't make calls or send SMS messages with it
Why this is the best smartwatch for you
Wearing the Samsung Galaxy Active 2 Smartwatch empowers you to explore fitness in a classy way.
This smartwatch lasts for a whole week on a full charge, and it will survive a swim, rain or a shower!
Fitbit Versa 2 Smartwatch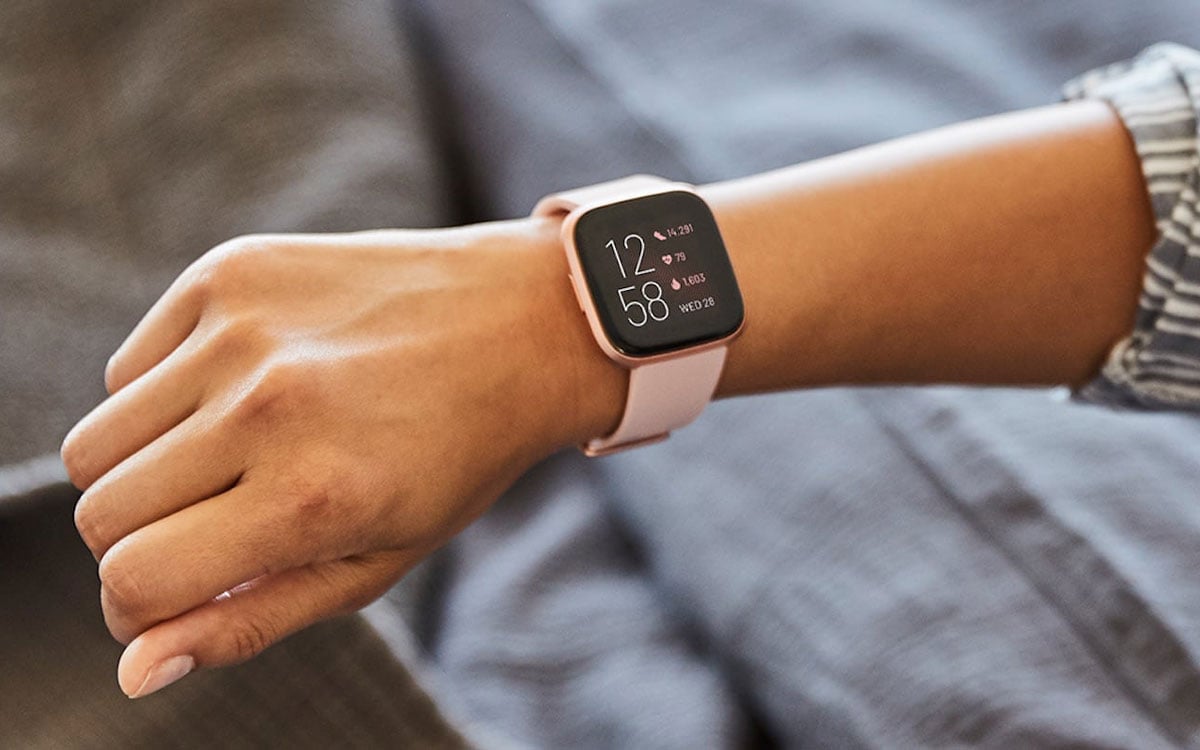 Fitbit Versa 2 Health and Fitness Smartwatch with Heart Rate, Music, Alexa Built-In, Sleep and Swim Tracking, Petal/Copper Rose, One Size (S and L Bands Included)
Use amazon Alexa built in to get quick news and information, check the weather, set timers and alarms, control your smart home devices and more all through the sound of your voice (third party app may be required; amazon Alexa not available in all countries)
Based on your heart rate, time asleep and restlessness, sleep score helps you better understand your sleep quality each night. Also track your time in light, deep and REM sleep stages and get personal insights
Get a 90-day free trial of the Fitbit Premium to help you stay active, sleep well and manage stress. Unlock it all in the Fitbit app. (The valid payment method required. Cancel before free trial ends to avoid subscription fees. Offer valid for new Premium users only)
With a larger display and an always on option, your information?s always a quick glance away (always on display requires more frequent charging)
Play your favorite songs and playlists with Spotify app controls on your wrist. Also make secure purchases with Fitbit Pay and get called, text and smartphone app notifications.
Details and Features
The Fitbit Versa 2 Smartwatch is a fitness-oriented gadget that leaves no stone unturned while delivering health information to you.
It can track your steps, distance covered, heart rate, active minutes, and calories burned to present a clear picture of your wellbeing.
This smartwatch is decorated using a combination of Bordeaux and copper rose colours.
Its bezel is square with rounded edges, and the touchscreen display extends from edge to edge for maximum visibility.
The Fitbit Versa 2 Budget smartwatch can interact with your Fitbit Premium fitness subscription.
In this way, it provides personalised fitness tips, guided programs, workouts and high-tech sleep tracking apps to help you become and stay fit.
You can execute voice control over this smartwatch through the integrated Amazon Alexa Assistant.
Simply speak to the smartwatch to set bedtime reminders, alarms, activate apps, check notifications, receive fitness feedback, and check the weather.
This smartwatch is water-resistant so that you can take it from the gym to the pool and the office too!
Furthermore, it will last for up to 6 days on a single, full charge.
The Fitbit Versa 2 Smartwatch is your ultimate wearable companion for fitness and productivity!
Pros and Cons
Pros
It has a beautiful design
You can use voice control upon it
This smartwatch lasts for up to a week on a single charge
You can stream your Pandora music playlist with it
Cons
It does not connect to Wi-Fi or GSM.
Why it is the best smartwatch for a designer
If you love staying fit, the Fitbit Versa 2 Smartwatch will guide and keep you accountable.
It is equipped with a plethora of fitness apps. Also, it provides direct access to a Premium fitness subscription!
Oppo Smartwatch
Details and Features
The Oppo Smartwatch packs much power into a gorgeous, compact package.
Measuring 46mm across, it provides a huge display area for smooth interaction with the onboard apps.
The device has shrunken bezels and a curved screen that works together to present an elegant appearance.
Furthermore, the Oppo Smartwatch borrows some design cues from the company's smartphones by providing two buttons on the side for controlling its various functions.
This is made more accessible by the onboard ColorOS that is a customised version of Android 8.1.
This smartwatch maintains a white on a black theme that makes it easy to see menu options and any text within the display.
This beautiful smartwatch arrives with some excellent built-in apps that promote health and productivity.
It contains fitness tracking apps, timers, a pedometer, a heart sensor and sleep trackers too!
An interesting onboard application is the five-minute workout app that provides video and audio exercise guidelines right from your wrist!
The Oppo Smartwatch can last for 12 hours on a full charge.
With a variety of straps and bezel colours available, this smartwatch is ideal for an active and professional life.
Pros and Cons
Pros
It has an extensive, High Definition (HD) screen
It uses a custom operating system
It comes bundled with fitness apps ready to go
It has a long battery life
Cons
It is not water-resistant
Why this is the best smartwatch for you
The Oppo Smartwatch is an excellent deal because it is beautiful and provides necessary fitness as well as productivity apps.
It can fit into your professional and active lives seamlessly!
Amazfit GTS
Amazfit GTS Fitness Smartwatch with Heart Rate Monitor, 14-Day Battery Life, Music Control, 1.65" Display, Sleep and Swim Tracking, GPS, Water Resistant, Smart Notifications, Obsidian Black
FITNESS, HEART RATE & SLEEP TRACKER: The Amazfit GTS fitness smartwatch precise optical heart rate monitoring allows you to accurately track real-time steps taken, all-day heart rate monitoring, distance traveled, calories burned, quality of sleep and sleeping patterns
1.65" AMOLED ALWAYS-ON DISPLAY: Amazfit GTS has a customized 1.65-inch AMOLED always-on stylish square screen which offers a larger display area than a round watch face of the same width, so it can carry more information
14-DAYS BATTERY LIFE: Our smartwatch deeply optimizes the power consumption of the components to bring long-lasting endurance of 14 days while keeping a slim watch body, which enables you to avoid frequent charges
BLUETOOTH MUSIC CONTROL: Bluetooth Music Control allows you to directly control music from your GTS smartwatch while workout without having to pull out your phone
5 ATM WATER RESISTANT: Amazfit GTS is water resistant to a depth of 50 meters and supports multiple swimming scenarios. It can automatically recognize your swimming position, and record data like SWOLF, pace or calorie consumption
Details and Features
The Amazfit GTS is a sophisticated wearable gadget that allows you to express yourself through its variety of straps.
You can get it with a white leather strap or a black rubber strap.
This smartwatch has excellent visibility due to the 341 PPI AMOLED touchscreen display.
The apps held within can be customised into widgets according to the frequency of use and benefit to you.
In doing so, the Amazfit GTS allows you to reveal your creativity through its interface.
Feel free to wear the Amazfit GTS in the pool comfortably because it is water-resistant to 5 ATMs. 
Also, you can set 12 sports modes to complement its suitability for exercise.
A great touch within the Amazfit GTS is that you can activate its customisable watch faces.
Thanks to the high pixel density, these faces are very realistic. 
See Superwatches, for a detailed review of Apple Watch faces.
Best of all, it can last for 14 days on a single full charge.
With the Amazfit GTS on your wrist, you've got a wearable assistant for your digital life!
Pros and Cons
Pros
It has a huge screen
The display quality is very high
This smartwatch is water-resistant
The battery life is amazing
Cons
Its colour variety is limited
Why this is the best smartwatch for creatives
Let the Amazfit GTS smartwatch enhance how you work out and organise your life while providing multimedia entertainment.
It has fantastic battery life and even comes with power-saving facilities!
TicWatch S2 Smartwatch
Ticwatch S2 Waterproof Smartwatch with Build-in GPS 24h Heart Rate Monitor Wear OS by Google Compatible with Android and iOS-Midnight
Smartwatch for Outdoor Activities - Certified by US Military Standard 810G, the perfect sidekick as you get in touch with nature's wilder side.
24hr HRM and Build-in GPS - Workout without your phone. Google Fit and TicMotion make it easy to get motivated, stay balanced and track your health right from your wrist.
5 ATM Waterproof - Your swimming companion with up to 50 meter underwater waterproof.
Get Connected at a Glance - Download your favorite apps via Google Store and stay in the moment with smart ways to receive notifications and see who's calling, without pulling out your phone. Google Assistant built-in.
Warranty policy: we and our engineer always stand behind our products. There is 30-day money-back guarantee for any reason, 12-month warranty for quality-related issues.
Details and Features
Are you searching for a smartwatch that will survive harsh terrain and outdoor elements?
If so, let the TicWatch S2 Smartwatch be first on your list. 
This rugged and stylish smartwatch is built to last.
It has an excellent round display that presents Google Watch OS in crystal clarity.
This smartwatch arrives already loaded with fitness tracking applications such as Strava, Google Fit and Runkeeper.
It also has a heart rate sensor, productivity widgets, Bluetooth phone call apps, push notifications, weather alert apps and multimedia access apps as well!
The TicWatch S2 Smartwatch is made of hardened materials that help it to achieve Military Standard 810G where it can survive extreme weather and harsh environments.
Go ahead and dive with this smartwatch because it is fully waterproof up to a depth of 50 metres!
The touch display is reinforced with Corning Glass, and you can easily swap straps to reflect your mood or personality.
With the TicWatch S2 Smartwatch, you are ready to face the world!
Pros and Cons
Pros
It is very durable
This smartwatch is waterproof up to 5 ATM
It delivers Bluetooth connectivity
You can swap out its straps
Cons
It does not have GSM or Wi-Fi connectivity
Why this is the best smartwatch for digital nomads
If you enjoy an outdoor lifestyle, the TicWatch S2 Smartwatch is definitely for you.
This wearable device is waterproof up to 50 meters and is made of hardened PVC on a steel frame.
It is even recognised for its durability by military standards!
Overall
A smartwatch represents advances in technology through high-tech features and wearability.
We love smartwatches because they give us the freedom to take calls or send messages without using our smartphones.
A smartwatch frees your hands to type or draw while making a call or receiving notifications. 
We have reviewed the best smartwatch for designers above, and the best model is Samsung Galaxy Active 2 Smartwatch. 
It is beautiful, robust, and durable enough to handle the rigours of modern life.
Buy a smartwatch today and enjoy a futuristic lifestyle!
Last update on 2023-09-22 / Affiliate links / Images from Amazon Product Advertising API