Best Marketplace Builders to Launch a Business in Multiple Fields
As per the expectations of Insider Intelligence, US eCommerce sales volume was expected to cross $1 trillion by 2024. However, with the unprecedented outbreak of COVID-19 and followed-up lockdowns, the entire eCommerce industry witnessed a surge, and the US economy met its expectations early in 2021. The same is the scenario on a global scale where even SMBs and family-run businesses are rapidly adapting digital and accommodating to the internet era.
Around 93.5% of global internet users have purchased products through the internet. This implies a vast market of online buyers, out of which 57% of buyers also tend to shop from overseas stores. Capitalising on the opportunity, we have hundreds of thousands of entrepreneurs ready to jump on the bandwagon and materialise their online business ideas.
Unfortunately, with so many marketplace builders and eCommerce software, selecting the right one for your business model has become challenging. A marketplace builder that may support a business model cannot be helpful for another. Thus to help you out, today we will focus on the most practical and helpful marketplace builders you can rely on to launch an online business in various fields.
Best Marketplace Builders for Rental, Retail, Hyperlocal and eLearning Businesses
1 – Rental Industry
The global sharing economy is increasing and is expected to reach $335 billion by 2025. The marked fields dominating the industry are heavy equipment, car, truck, RV, furniture, and dress. If your business rents out any of these products, you should consider launching an online rental marketplace with the following marketplace builders.
Yo!Rent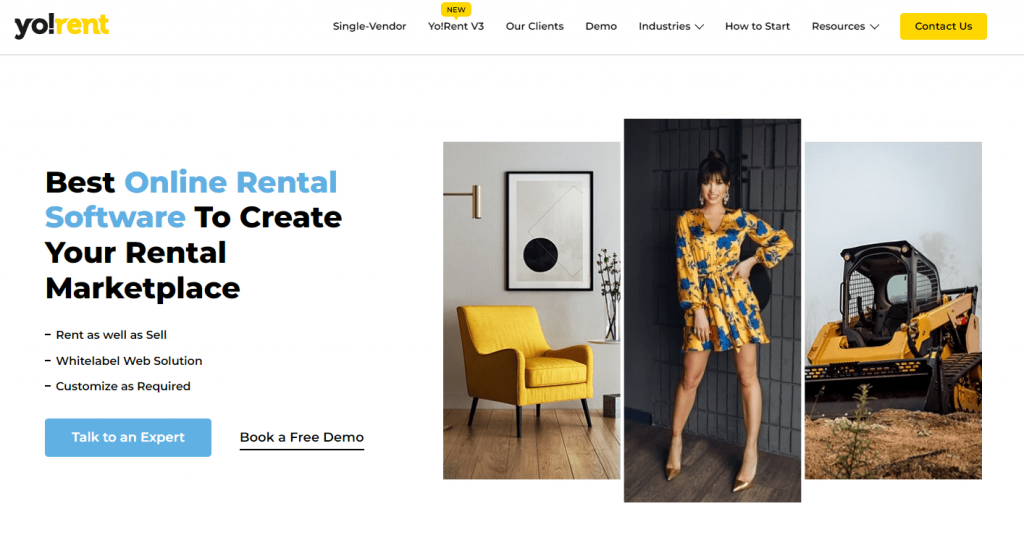 Yo!Rent is dedicated user-friendly rental software that helps you start, market and manage an online business in various rental niches. It also comes with rent-centric features and sales functionality to give you complete control over your business model. Being a fully customisable online rental software, you can use YoRent to fulfil any business requirements. The software is also fully scalable and comes with a lifetime usage license at a one-time cost; it can accommodate your business growth without migrating to another software.
Top Features of YoRent Rental Marketplace Builder
Advanced booking calendar
Rental add-ons services and products
Request for Quote module
Late cancellation and returns
Product inspection
Rental security management
Order and inventory management
Multi-currency and multilingual
Sub-admin accounts with 90 roles and permissions
Price
Available on a quotation basis
Demo and Free Trials
Public demos are available. Do not require to share any details or sign up
Personalised one-on-one demos are also available. Contact the official team for a personalised demo.
Like YoRent, Sharetribe is a rental software suitable for entrepreneurs looking to enter the sharing economy. It is a SaaS solution with Sharetribe Go and Sharetribe Flex packages. While Sharetribe Go is the company's off-the-shelf offering to launch a rental website quickly, Sharetribe Flex is customisable and helpful for medium to large-size businesses. The company claims that Sharetribe Flex already has 90% of all features that business owners need to start any rental business.
Top Features of Sharetribe
User management
Listing management
Commission management
Booking calendar
Multiple sign-up options
Tiered pricing
Multilingual support
Location search
Price
Sharetribe Go: $99 per month with 100 users (upgrades available)
Sharetribe Flex: $369 per month with unlimited users
$99 additional monthly recurring fee for custom landing pages
Demo and Free Trials
30-day free trial available
Booqable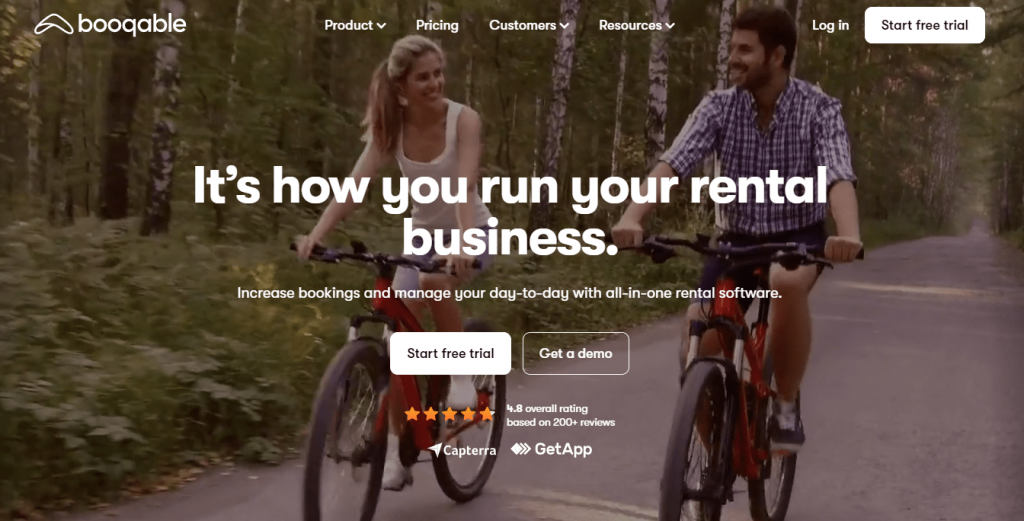 Booqable is a rental marketplace builder for small-sized businesses. It has all the necessary features to rent out a wide range of products. Booqable also comes with an easy-to-use interface and is mobile-friendly. To help business owners in conducting smooth operations, Booqable has a dedicated help centre. Moreover, you can add it to an existing WordPress or Squarespace website.
Top Features of Booqable
Order and inventory management
Booking calendar
Manual order creation
QR code support
Tiered pricing
Custom fields
Invoice management
Credit card pre-authorisation
Price
It starts from $29 per month
Demo and Free Trials
14-day free trial available
One-on-One demo with sales executive also available on pre-scheduling
Cons
2 – Retail eCommerce
A vast majority of small to large-scale businesses deal in retail products. Where there are millions of retail eCommerce stores already available on the internet, the public still demands more because of various reasons. Firstly, consumers want more diversity and options to buy a product at the right price and from a more reliable place. Secondly, they want their favourite brands and stores to be available online, so they can order easily from the comfort of their homes.
YoKart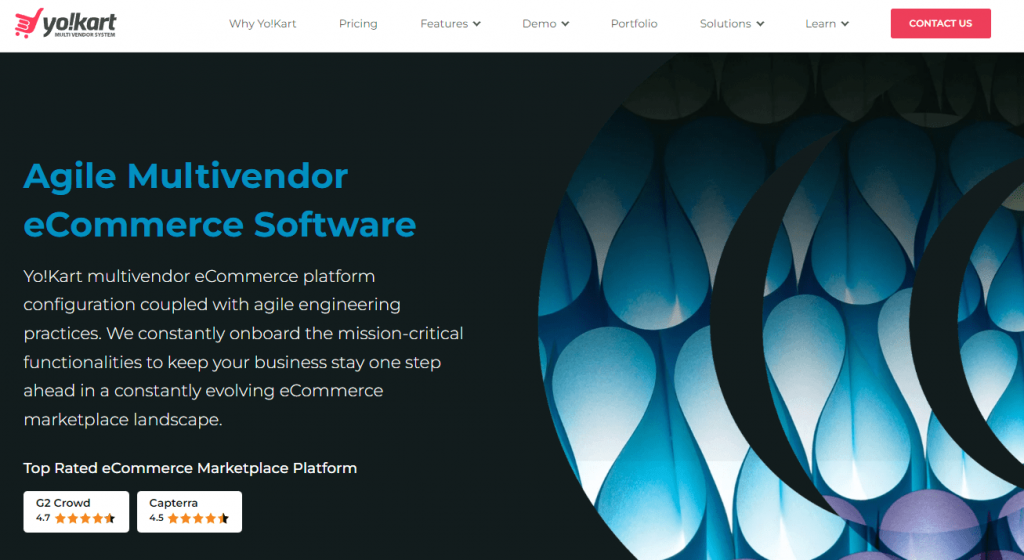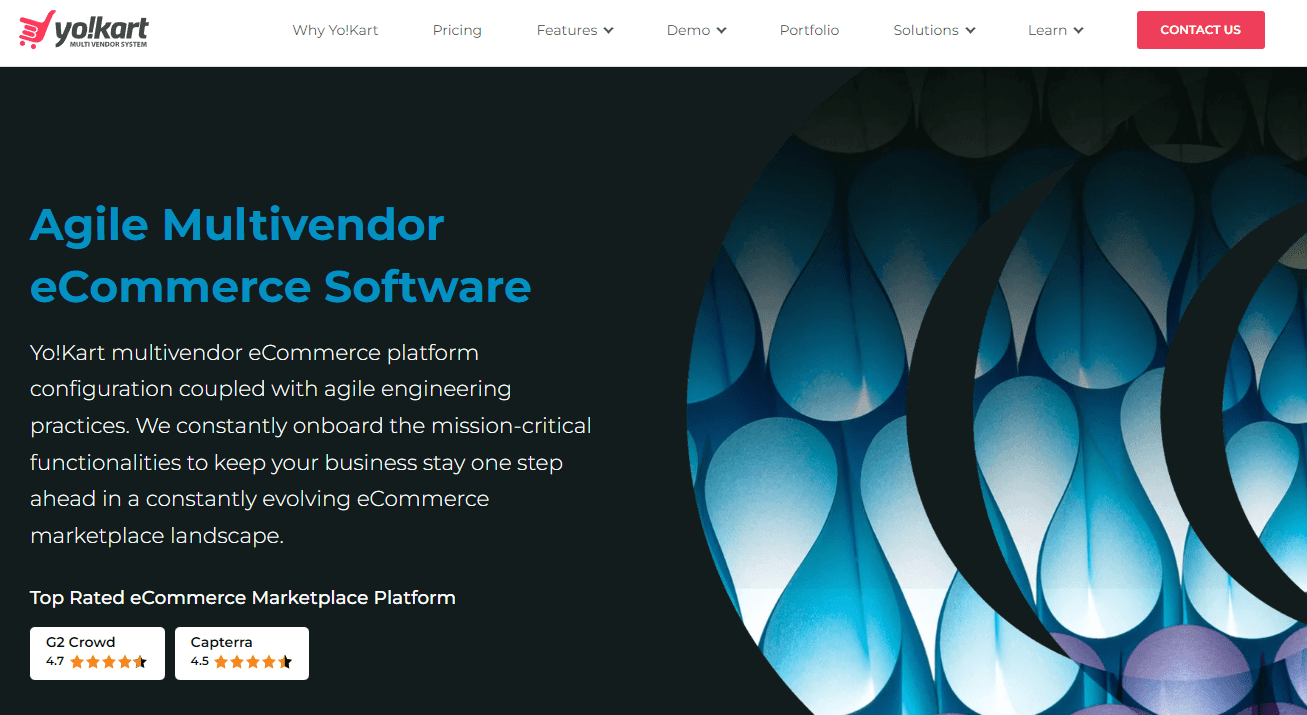 From the same team as YoRent, YoKart is an eCommerce marketplace solution with enhanced functionalities to facilitate and streamline online business operations. For B2B and large-scale orders, Yo!Kart has a dedicated Yo!Kart B2B version is more focused on providing comprehensive but easy-to-use solutions to manufacturers, distributors and wholesalers. Being a white-label solution, Yo!Kart improves the speed to market and can be quickly set up. Furthermore, for full scalability, it supports unlimited listings, transactions, user profiles, and admin accounts.
Top Features of Yo!Kart
Shop management
Order management
Catalogue management
Tax management
Subscription management
Abandoned cart management
Commission management
Discount coupons and gift cards
Minimum order quantity
Request for Quote (RFQ) module
Location-based sorting
Sub-admin accounts with 90 roles and permissions
Price
Yo!Kart: Starts at $999 with a lifetime usage license
Yo!Kart B2B: $1500 for a lifetime usage license
Demo and Free Trials
Public demos are available. Do not require to share any details or sign up
Personalised one-on-one demos are also available. Contact the official team for a personalised demo.
CS-Cart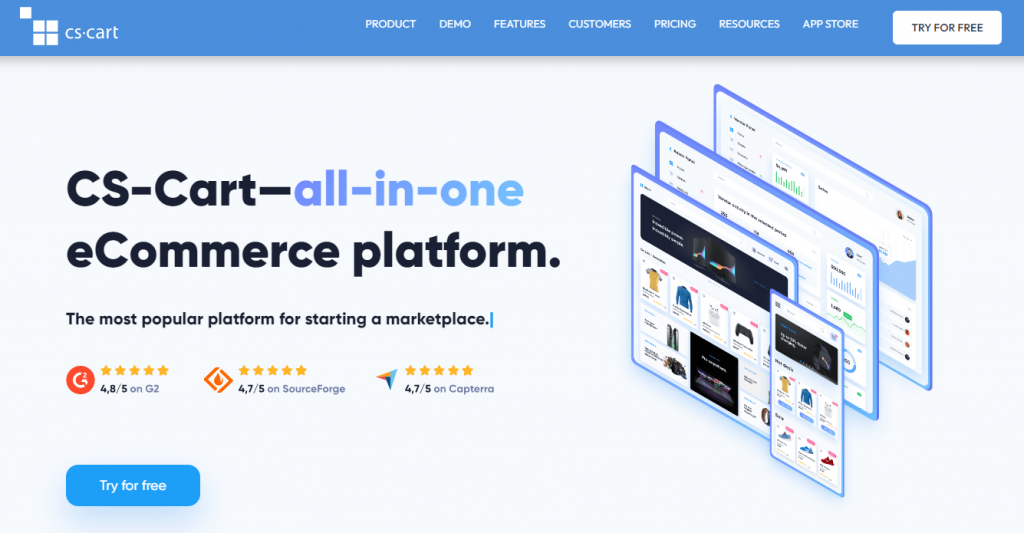 CS-Cart as an eCommerce software comes with three different versions: CS-Cart multi-vendor, CS-Cart shopping cart software and CS-Cart mobile marketplace. To launch a full-fledged online marketplace, business owners only require a CS-Cart multi-vendor, which can also be used as an MVP to test multiple business ideas. To support unique business ideas, CS-Cart has support for diverse third-party integrations. For smooth multi-vendor operations, the solution comes with enhanced vendor management tools.
Top Features of CS-Cart
User groups and admin levels
Multilingual and multi-currency
Order management
Abandoned cart management
Callback request
Barcode support
Gift certificates
Warehouse selection
Price
It starts at $699 for a year
Demo and Free Trials
Personal demo available
14-days free trial
Shopify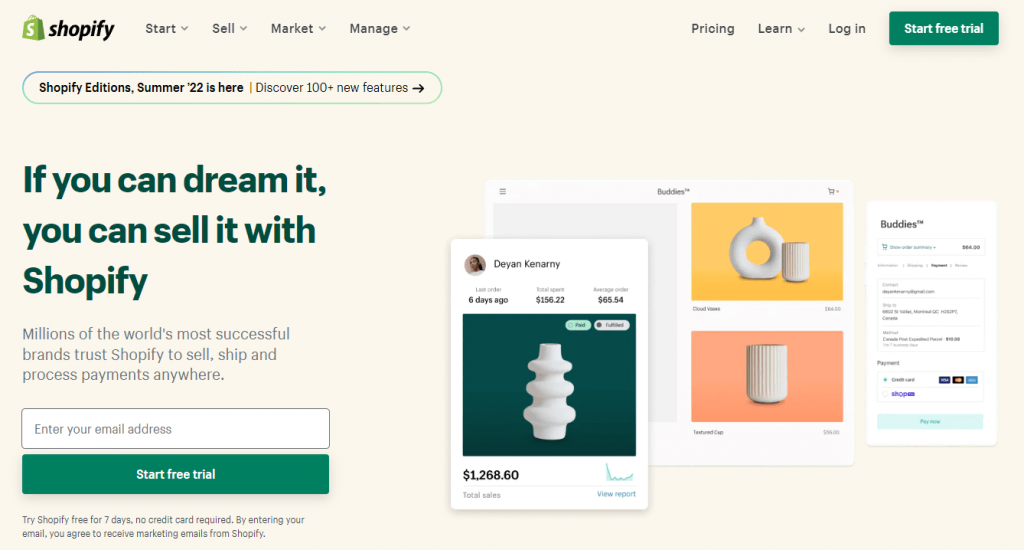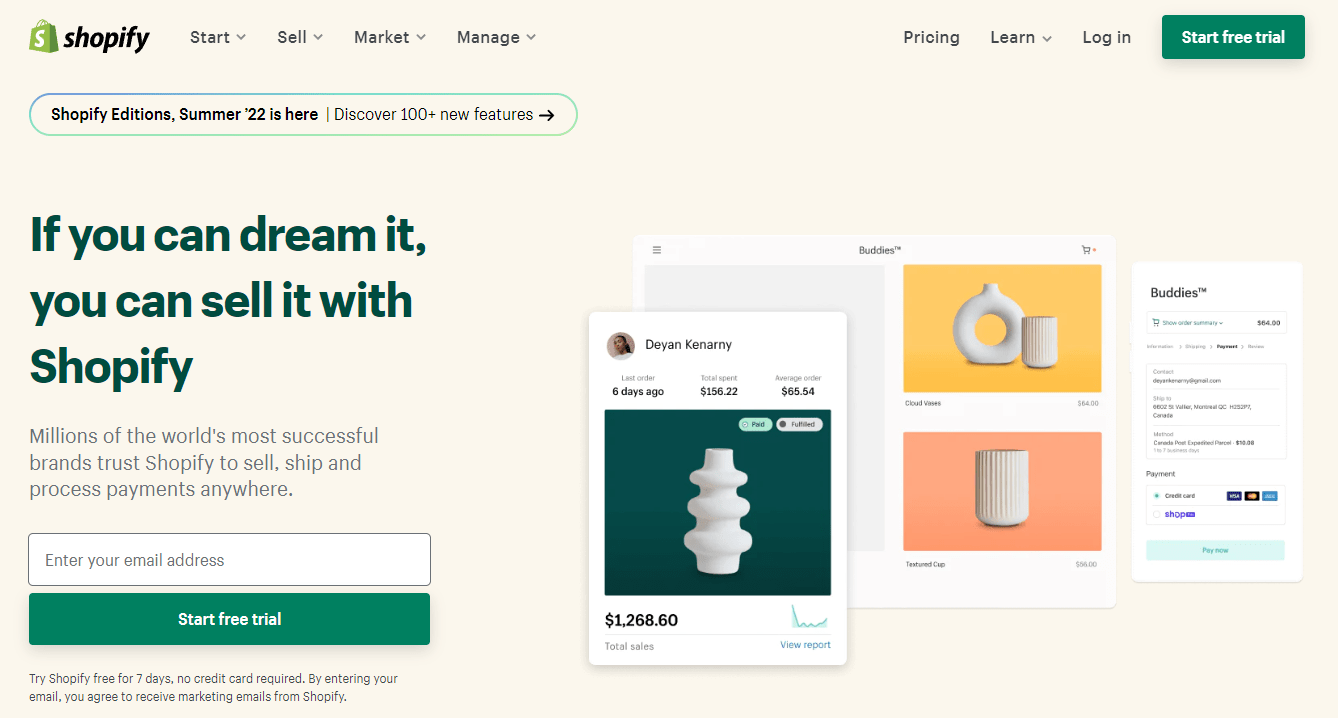 Shopify is one of the eCommerce industry's most renowned platforms. While you cannot use the software to launch multi-vendor marketplace solutions, with the help of an official module, you can convert it into a marketplace builder. Shopify is a SaaS software that focuses on helping solopreneurs and SMBs launch quick and easily manageable online stores. For this purpose, it also comes with all essential eCommerce features. For customisation purposes, Shopify supports various third-party integrations and has partnered with several software development companies that provide custom development.
Top Features of Shopify
Inventory management
Order management
User management
Discount management
Custom shipping packages
Abandoned cart management
Cross-selling and upselling
Multilingual support
Notifications and alerts
Price
It starts at $29 per month with two admin staff accounts
The marketplace converter kit is free of cost
Demo and Free Trials
3 – Hyperlocal Delivery
Hyperlocal delivery stores operate within a minimal geographical area and do same-day deliveries. The most popular types of hyperlocal delivery businesses are grocery delivery, meal prep delivery, liquor delivery, medicine delivery and stationery delivery. As per reports, the hyperlocal delivery market is also expected to grow at an astounding rate of 15.8% from 2022-2030.
Growcer
Growcer is a feature-packed hyperlocal delivery solution. It facilitates business operations in several hyperlocal delivery niches and can also be used as an MVP. As consumers prefer to order groceries and related products via their mobile phones, Growcer comes with dedicated iOS and Android shopping apps. It also has a separate app for delivery partners with features like routing and order history for delivery management. Lastly, as hyperlocal stores often have a massive inventory with prices ranging from very low to high, Growcer supports unlimited product listings to resolve that issue.
Top Features of Growcer
Delivery management
Pickup management
Tax management
Real-time tracking
Single item cancellation
Order cancellation and adjustment
Click and Collect
Subscription management
Multilingual and multi-currency
Guest login
Price
It starts at $999 one-time cost
Demo and Free Trials
Public demos are available. Do not require to share any details or sign up
Personalised one-on-one demos are also available. Contact the official team for a personalised demo.
Hyperlocal Cloud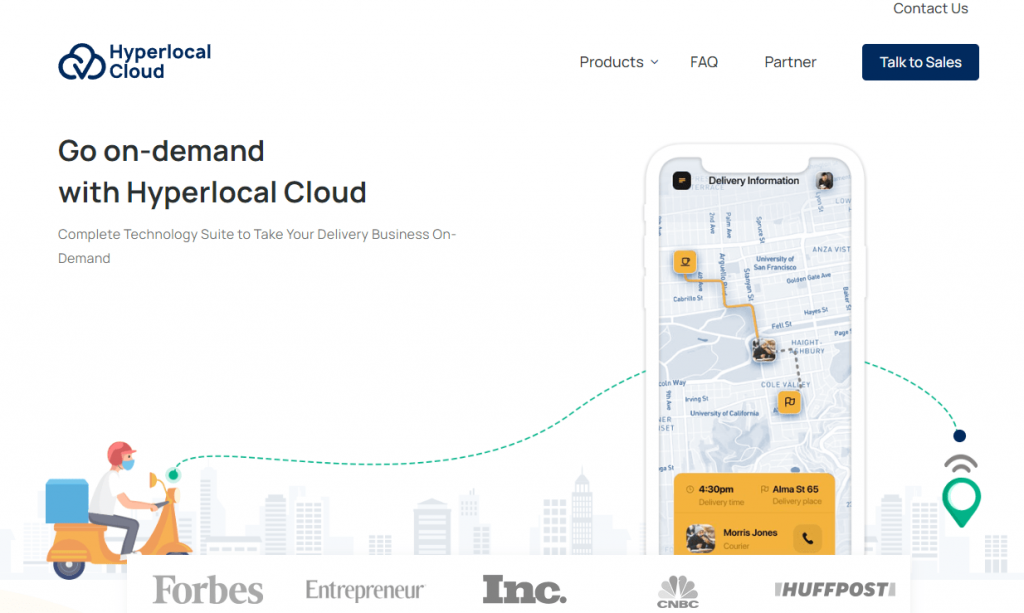 Hyperlocal Cloud is a complete SaaS suite for SMB same-day delivery businesses. It is a unique marketplace builder that provides essential features at a recurring cost. Built especially for small-sized businesses, Hyperlocal Cloud is easy-to-use and set up. Moreover, it also comes with 24/7 support and no hidden costs.
Top Features of Hyperlocal Cloud
Geofencing
Approval-based listings
Order management
Ratings and reviews
Real-time tracking
Vendor management
Commission management
Reports and analytics
Alerts and notifications
Price
Available on a quotation basis
Demo
Grubino
Grubino is a readymade hyperlocal delivery software like Growcer. It is in-built with all the essential features required for hyperlocal delivery management. Along with that, Grubino also has separate delivery and customer apps. For complete management, Grubino has a web admin portal from where the business owner can administer all operations on the marketplace.
Top Features of Grubino
Order management
Delivery management
User management
Pre-order scheduling
Multiple payment options
Automatic delivery assignment
Geofencing settings
Price
Available on a quotation basis
Demo
4 – eLearning
The COVID-19 pandemic assisted the eLearning industry is growing by leaps and bounds. Both business owners and the public understood the importance of digital classroom models. Apart from schools and colleges, private tutoring organisations and individual tutors adapted digital. If the stats are correct, around 75% of US schools plan to operate online in 2021. Regarding CAGR, the eLearning industry's projected growth from 2022 to 2028 is 20%.
YoCoach
YoCoach is an advanced software for creating a live tutoring or consultation platform; being a secure and scalable solution, the platform is built with Yo!Coach can have unlimited live interaction sessions between student and tutor. Yo!Coach supports both private and group learning. The software is pre-integrated with video conferencing API along with multiple payment gateways.
Yo!Coach can cater to various niches with major/minor customisation such as: Language learning, academic learning, music learning, dance learning, legal consultation, culinary coaching and much more.
Top Features of Yo!Coach
Multilingual and multi-currency
Whiteboard
File sharing
Student Portal
Lesson subscription
Gift card management
Group sessions
Scheduling calendar
Commission management
Reviews and ratings
Price
Available on a quotation basis
Demo and Free Trials
Public demos are available. Do not require to share any details or sign up
Personalised one-on-one demos are also available. Contact the official team for a personalised demo.
TutorBird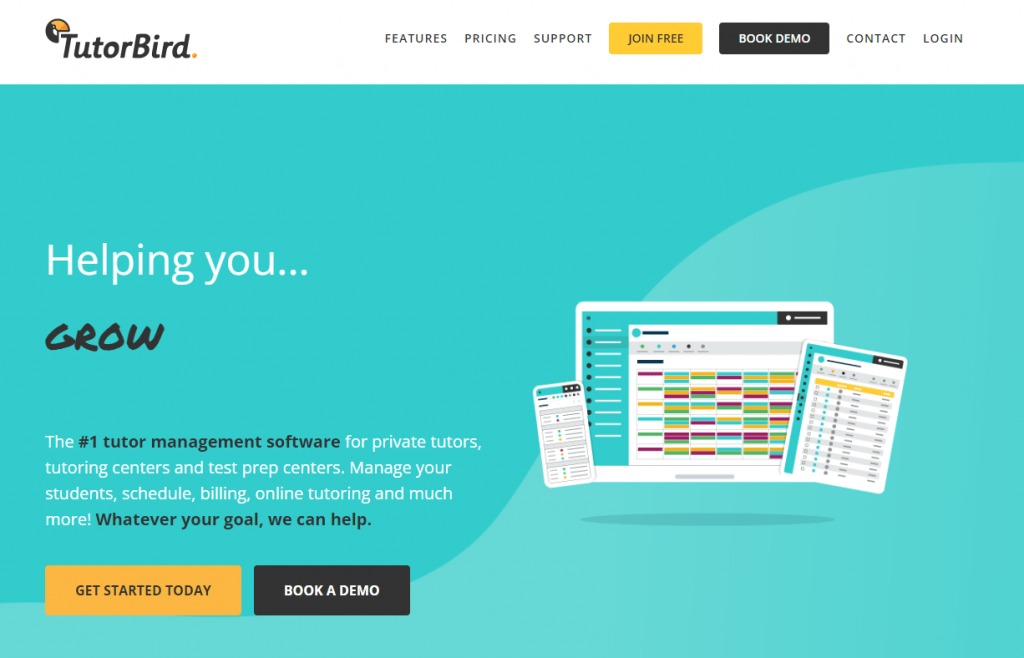 TutorBird is a tutor management software for giving live one-to-one lessons. It is user-friendly and dedicatedly built for private tutors, coaching centres and test prep centres. Like Yo!Coach, TutorBird also supports multiple tutors and has various features for scheduling and managing lessons. Apart from these, it is pre-integrated with various marketing features to help you grow your online tutoring business.
Top Features of TutorBird
Student Portal
Scheduling calendar
Group sessions
Session attendance
Study log
Reviews and ratings
Payroll
Price
It starts at $14.95 per month for a single tutor
Owners can add more tutors at $4.95 per month for every additional tutor
Demo and Free Trials
One-on-One demo available
A 30-day free trial is also available.
LearnCube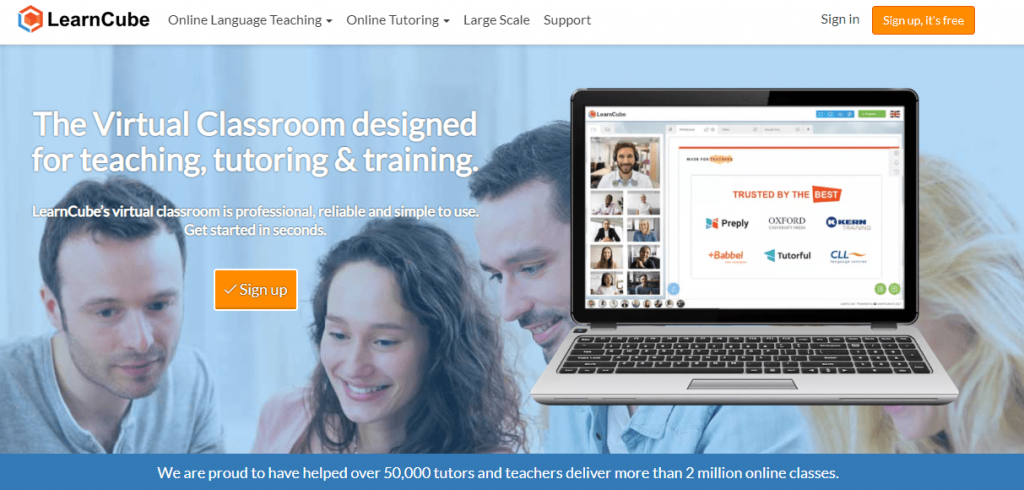 LearnCube is a virtual classroom software with digitisation support for schools and colleges. It was specifically designed for remote education between cross-borders and is very simple. LearnCube is also a cloud software that you can access anywhere. For teachers, LearnCube has some excellent teaching tools, providing a comprehensive dashboard for students.
Top Features of LearnCube
Teaching controls
Group sessions
Whiteboard
File sharing
Conversation mode
Class recording
Scheduling calendar
Price
It starts at $19 per month
Demo and Free Trials
Conclusion
Business owners and entrepreneurs have different aspirations and experiences. Maybe some have already tried one or two of the marketplace mentioned above builders. However, as there's more to the industry and marketplace builder list, they can always try something new and expand their business horizons. The builders above will help them conduct and manage multi-vendor operations and are highly enhanced for their respective niches. To better understand how a marketplace builder will perform for your business, it is best to get a demo from the sales experts.
Author Bio: Saurabh Thakur is an eCommerce analyst and business consultant. He helps businesses or startup firms to establish their online businesses through white-label partnership programs. He has been active in this industry for the past seven years.