The Best Drawing Apps for iPad and iPhone
"Insatiable curiosity coupled with feverishly unrestricted imagination and a thirst to explore the varied incentives, are what turn a mediocre mind into the greatest artist of all time."
The entire context of what creativity revolves around contemplating on perceived perception and revolutionising them for greater understanding.
It's not the job of an artist to come up with something new and unique, that's what inventors do.
Giving a slight touch of creativity to the existing ideas and redefining the norms, is what shapes a great artist.
Pondering over the true meaning, under-the-covers complications and probabilities of life are what gives confidence to the artist to be true to his art and skills.
Creativity is all about knowing that making errors and slip-ups only make you human, not a bad artist.
Creativity and artistry are skills demand untiring perseverance and strict discipline.
A beautiful design, a perfect stroke of a brush, the right combination of colours and shades are not taught, they are learnt through multitudes of mistakes and maturing from the erroneous works of the past.
A vibrant and robust imagination is the building block of innovation that is expressed in both the science, technology, literature and fine arts.
The right tool to express creativity and to pen down your imagination is the demand of every creative and imaginative mind — a notepad for a writer, sketchpad for sketchers and a canvas for painters and artists.
Even though there's no real replacement of the pencil and sketchpad or canvas and a paintbrush but an iPad or iPhone combined with Apple pencil is the digital canvas of many artistic minds out there.
Other than reading the newspaper and watching Netflix, one can quickly turn the iPad and iPhone into a creative tool through Apple's pencil.
The drawing apps and tools are numerous and varied; however, choosing one is a very subjective decision.
Since each application comes with a different set of features and lets, you unleash your inner creativity with a slightly different feel.
With the introduction of Apple's pencil with the iPad and iPhone, this device of communication and interaction turned into one of the most powerful creative tools.
With wide-array different creative apps and numerous versions of each application any graphic designer, illustrator, animator, sketcher, an artist can work effectively with iPad and iPhone and turn their imagination into a creative reality of their own.
The real challenge surfaces when it comes to selecting the right app from the available options.
Whether you are an amateur sketcher or a professional designer or seasoned artist, listed below are some of the best drawings, sketching, illustrating and drawing apps that might help you in making amazing masterpieces:
The crucial element of a creative mind—inspiration: Inspire Pro
https://itunes.apple.com/us/app/inspire-pro/id355460798?mt=8
The name says it all, carefully designed for iPad, offering painstakingly realistic drawing, sketching, and painting experience, Inspire Pro is the perfect drawing partner whenever inspiration strikes you.
Featuring super-fast rendering, brilliant 64-bit colours, and amazingly fast speed, this application can turn your artistic pieces into the works of a sorcerer.
Providing you with canvas playback option, this application lets you record your work while you are creating it without slowing down.
Record each brush stroke, every blend, and combination of colours and can export the 1080p video.
Containing a surprising and the highest quality collection of 150 brushes, Inspire Pro is a must-use application.
Offering you customisation and settings galore, this application lets you work as per your workflow and style.
From fine-tuning the painting to adjusting the size of the canvas, Inspire Pro lets the user enjoy the creative experience in one of the most intuitive ways.
Set the inner artist free with Procreate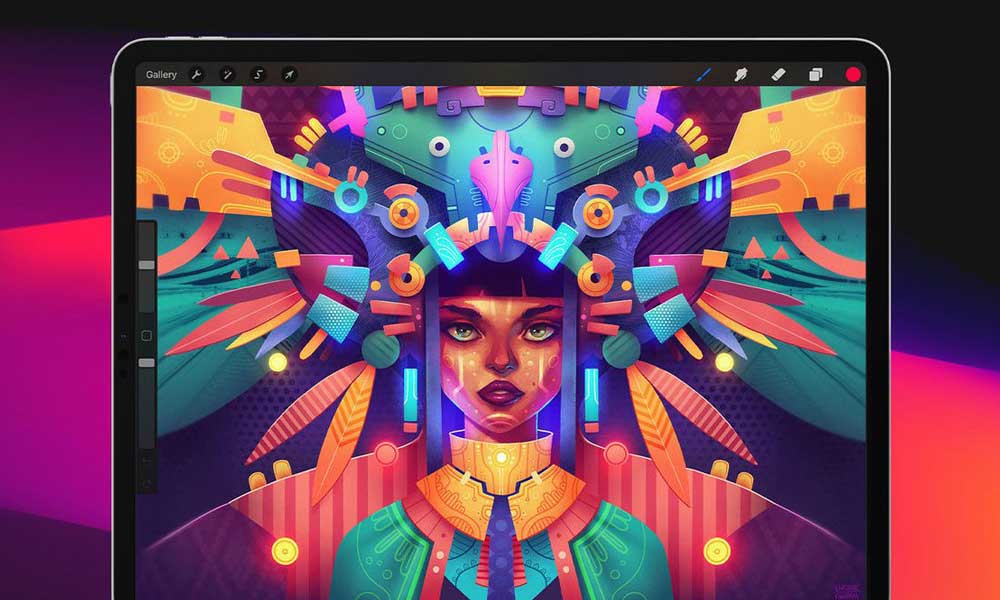 https://itunes.apple.com/us/app/procreate/id425073498?mt=8
One of the award-winning drawing apps and probably one of the best sketching, painting and illustrating apps developed for mobile devices.
Engineered for the professionals and creative minds, Procreate provides you with one of the most comprehensive toolboxes well-suited for artists of all types and categories.
Consisting of user-friendly user interface with easy to use and access sliders, this application lets you adjust the size and denseness of the brush while you work.
Having a wide array of 136 brushes and an incredible canvas resolution, Procreate lets you express your imagination and creativity on a larger canvas.
The built-in perspective tools let you experience the multi-touch features to give cinematic effects to your artworks.
The powerful and instinctive interface coupled with a 64-bit engine and cutting-edge layer system brings your masterpiece in focus.
From dramatic sharpening effects and liquefying features to powerful guide and innovative video features, Procreate now comes with a feature to add text and typography in your artwork.
Empowering you with the highest quality features while fulfilling every creative need, Procreate is what every artist's dreams are made of.
The only sketchbook you might need: Adobe Illustrator Draw
https://itunes.apple.com/us/app/adobe-illustrator-draw/id911156590?mt=8
A digital sketchbook that lets you express and sketch out your creative thoughts in vector format.
Associated with Illustrator CC, this application has a relatively more straightforward user interface which is designed to fast and quick sketching of concepts and ideas.
Consisting of incredible vector drawing and sketching tools, this application is capable of turning an idea and concept into gorgeous artwork and designs.
Including five built-in brushes and customisable toolbar coupled with separate drawing and photo layers, Draw lets you stay focused on your art through perspective grids and graphs.
The best part about this application is its ability to be in sync with Adobe's Creative Cloud.
Creative Cloud includes some of the best and innovative applications for mobile and desktop devices.
Using this feature, you can easily send your artwork and designs to Photoshop and Illustrator and can enhance it to the next level.
To artistic infinity and beyond: Affinity Photo
https://itunes.apple.com/us/app/affinity-photo/id1117941080?mt=8
Engineered on the same concept and back-end as the prized desktop version, Affinity Photo for iPad is designed and optimised for iOS 11 and upcoming Macintosh versions.
Whether you want to improve a Photoshop of your artwork or to export a PSD file, Affinity Photo provides support for a wide range of types and categories of files and images.
Offering a comprehensive collection of more than 120 brushes, this application lets you edits and create professional photos on the go.
Whether it's about introducing intricate touches to the image or completing the work with finishing effects, Affinity Photo includes some of the unmatched editings and drawing features and tools.
From multi-touch gestures and optimisation for Apple's Pencil to ease of use with drag and drop options and smoothest and fastest zoom, Affinity Photo can make an ordinary image into extraordinary masterpieces.
Use the exquisite live effects of Affinity Photo and see the magic happen in real time in one of the most immersive and effortless ways.
Be realistically bold with your creativity with ArtRage
https://itunes.apple.com/us/app/artrage/id391432693?mt=8
One of the most flexible drawing apps and painting application of mobile devices.
Similar to its Macintosh and desktop versions, this mobile and smart device version of ArtRage is brimming with incredible features and multitudes of built-in tools.
ArtRage is the comprehensive toolset and a digital art studio which lets you feed your creativity — having fantastic watercolours, vibrant wax crayons, a complete set of sketch pencils and a large canvas.
In the pursuit of creating realistic artwork, this application lets you paint on the screen directly.
The remarkable brush options let you give striking effects to the created masterpieces.
Once you have acquainted yourself with its UI, you can easily change the brush sizes, select any colour with the colour picker and blend multiple elements.
However, the evident and striking drawback of this application is the lag in scaling and moving of the artwork.
Leverage the power of conceptualisation with Concepts
https://itunes.apple.com/us/app/concepts/id560586497?mt=8
Designed for professionals, available for all, Concepts is a digital art studio where you can think, plan and create masterpieces.
Containing advanced and some of the most innovative features, this application features organic brushes and vector drawing engine, infinite canvas and numerous features and built-in tools tailored to give you a fantastic drawing experience.
Whether you are a seasoned artist, a professional architect or a visual thinker, this powerful application lets you create the fluid vector-based workflow.
From unlimited drawing layers and easy iterations, Concepts features one of the most flexible and adaptable technology along with the juxtaposition of understanding and sensitivity of traditional hand drawing.
Wrapping up the best Drawing apps for iPad and iPhone
Whether you want to give a finishing effect or create a masterpiece from scratch, express your creativity and unleash your imagination through these painting and drawing apps.
Not only these drawing apps help you create exceptional digital artwork, but you can also enhance your artistic skills and be better at sketching, drawing, and painting.
Undoubtedly, nothing can replace a traditional sheet of paper, pencil, brush, and canvas but evolving with technology and adapting to the advanced solution is what the core demand of this highly-digitised human era.
Author Bio: Khalid Durrani is an Inbound Marketing Expert and Content Strategist. He has helped many brands in expanding their business. Currently, He is Global marketing manager of The Apptivity an app development agency.