Top 10 Best Drawing Apps for iPad and iPhone
Whether you want to learn how to draw or get in the mood for something creative, these drawing apps are the perfect way to bring out your inner artist.
With all of the cool stuff you can do on your iPhone and iPad these days, it's not hard to get lost in the apps that come pre-installed on these devices. But, sometimes, you wish there were a few different apps to play with. You may want to add a few of these creative apps to your collection, and you won't regret it.
Are you searching for the best drawing app for iPad or iPhone? Don't look further because I have a list of the top ten best drawing apps for iPad or iPhone that you can download right now. So, check out my top 10 list of best drawing apps and choose your favourite one.
Best drawing apps for beginners
1 – Procreate
I have been using Procreate for a few years, so I am familiar with the program and its capabilities. I have also been using it for almost two years, which means I know how to work within its limitations.
Procreate is a great drawing and painting app that is easy to use, but it does not have the features that would make it a viable alternative to the other drawing apps on the market.
An extremely versatile digital illustration tool that's well suited for the novice to the world of digital drawing and designing. Procreate is available for iPadOS and iOS devices. It costs £10 ($15) to download, and its spacious suite of art tools and innovative features make it well worth the money.
The app is easy to use, whether you are a designer or an experienced digital artist. Whether you are a beginner in the world of digital drawing or a seasoned professional, the app has everything you need to create beautiful artwork.
For a touch of elegance, you can customise the gesture controls on your iPad to immediately populate cut and paste options when you place four fingers on the screen.
If you're looking for a creative app to help you express yourself, you'll want to download Procreate.
With over 150 tools to choose from, there's something for everyone. You can explore airbrushing, calligraphy, charcoal and spray paint from sketching to painting.
Whether you're looking for basic sketching or want to take things to the next level, you can choose from seven different pencils and three different pastel textures. It's great that there are so many brushes in Procreate.
2 – Adobe Photoshop Sketch
Adobe has a strong presence in the world of design. They are a leader in the software development field. Their products for mobile devices are just as good as their desktop counterparts.
So many options are available to you so that you can explore your creative side in many ways. It has rich features and a fun app to share with the kids.
You'll want to start by creating an Adobe account. The process takes only a few minutes, and you'll be up and running to start creating your first masterpiece. When you swipe right to left, you'll be able to browse through the different projects you've created, and on the right side of those projects, you'll find the community sketches.
You'll notice five separate windows when you create a new project. This is great for creating a series of related sketches that you can easily keep grouped.
The five different windows are:
Sketch: A place to draw your original sketch.
Drawing: A place to sketch out your drawings.
Colours: A place to add colours and images.
Text: A place to add text.
Edit: A place to edit your drawing, colour and text.
Once you've started a project and begun your first sketch, you'll find the tools pretty simple.
You have five tools to choose from at the top: a pencil, pen, ink, marker, and eraser. There's also a colour palette next to these tools to change your brush colour. Another great feature is the ability to add a background image from your existing library, which expands the possibilities.
If you're on the go and looking for a way to create and share professional quality images quickly, check out Adobe's new iPhone app. You can choose from four resolutions, including full HD, and adjust brightness and contrast for the best-looking photos.
3 – Adobe Illustrator Draw
While the Adobe community has certainly created fantastic artwork in the past with the Illustrator Draw app, they've currently only got a small selection of pieces available to check out. Still, it's great to see how they're growing their community, and it's certainly worth trying.
And this app can let users create vector graphics that put it over the top. Six brushes are available, each of which can be resized from hairline to paintbrush size. You can adjust opacity and change colour with a wheel and slider (or use the stock colour themes or themes you've created in Adobe Color CC). A "Colour History" also keeps track of your most recently used colours, which can come in handy.
With the Photo Editor, you can draw on top of any photo you have on your device. Whether it be a photo you've taken with your camera or a photo you've downloaded to your device, you can create amazing drawings with your finger.
And if you have a photo you've downloaded from the in-app market, you can also use that. Once you download a photo, you'll see it on the main screen, where you can tap and draw.
If you want a free app that helps you create incredible illustrations, then it's a good choice. Whether a professional illustrator or a budding artist, Adobe Illustrator Draw offers a great selection of tools for creating everything from posters to logos. Unlike many other apps, Illustrator Draw doesn't have annoying in-app ads. Just download it from the App Store.
4 – Adobe Fresco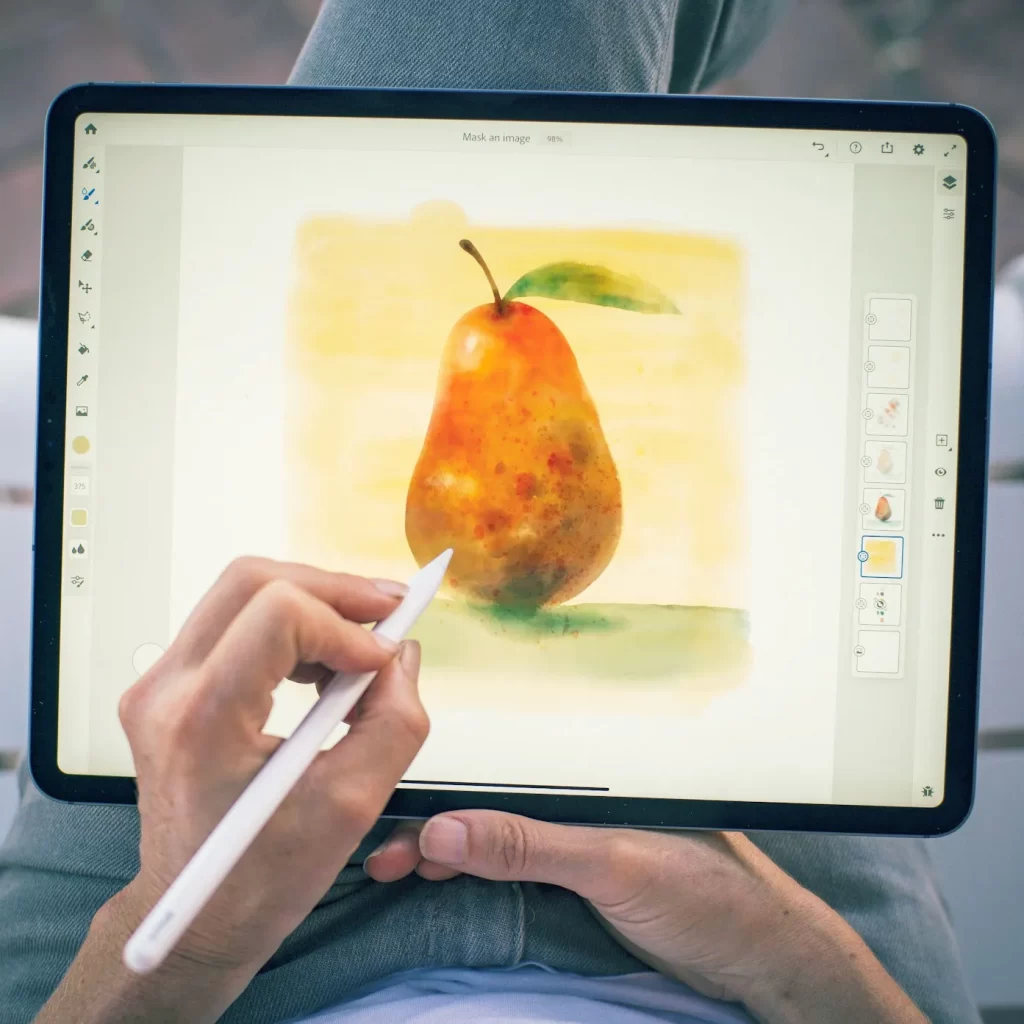 This app is easy to use and offers several features that make it easy to create great-looking drawings. The pen tool can save your image, and there is a lot of variety in brushes.
The subscription fee of $9.99 is a bit high, but the cost is worth the price.
While it's elementary to use, it does lack a range of brushes. It does offer a pack of brushes from the app itself, but you may not find the right ones for your style.
Nonetheless, it's a great way to practice painting and create some fantastic pieces of artwork yourself.
It's no wonder that Fresco is so popular. The app allows users to draw and paint over the screen with digital watercolours. But the app's interface has been criticised for being confusing. Users have complained that the app is missing features found in other apps.
5 – Inspire Pro
Inspire Pro is a great way to get started if you're looking for a truly artistic way to express yourself digitally. It's a powerful app that can imitate the stroke of a natural brush or even create a realistic watercolour effect. Sadly, you have to pay to unlock the brushes, and while there's plenty to choose from, the customisation options are limited.
We strongly recommend that you get a fine tip stylus with this app. You can use a finger, though you don't have as much control. In our experience, a pen-like tool feels more natural.
The interface is clean and intuitive. It also features a variety of tools that allow you to make your work more beautiful and easier to understand.
You can add layers to your drawings to combine multiple images to create the kind of designs you've always wanted. And, if you'd like, you can add text to your images to quickly explain what's going on.
As you use the tools, you'll find that you'll be able to quickly and easily enhance the look of your drawings.
6 – Pixelmator Pro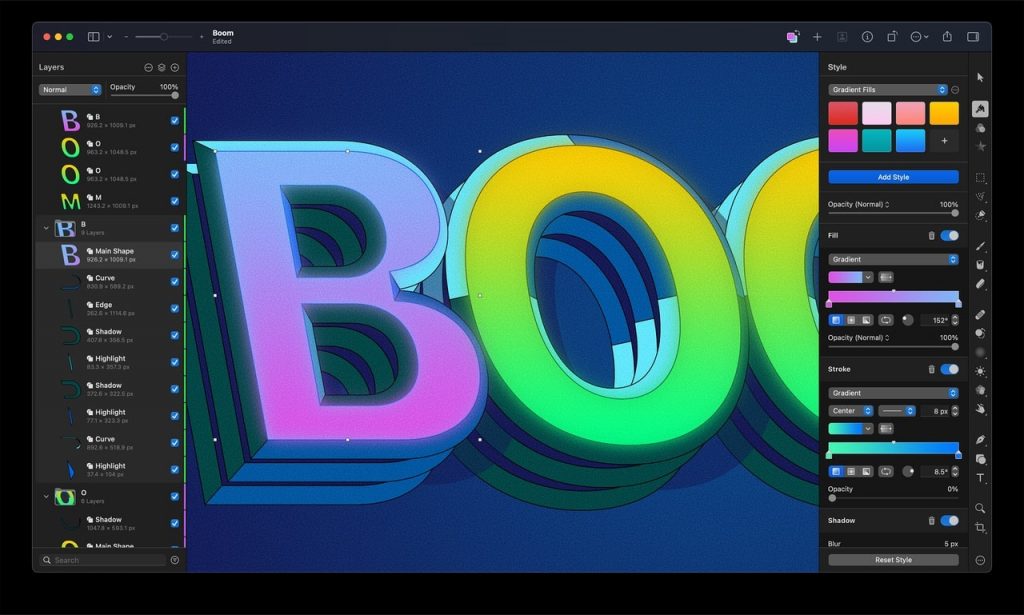 Pixelmator is an excellent digital painting app, especially if you're looking for an alternative to Photoshop for the Mac. It offers a simple-to-use interface and a broad range of tools to help you edit photos and create beautiful works of art. In addition to editing tools, the app offers a library of Photoshop-like filters and a selection of brushes that you can use to create custom art. If you want to create your brushes, you can use the Pixelmator Brush Editor.
For those who only occasionally need to do graphic design, painting, or photo editing, Pixelmator is a great choice. It's designed to help with a single task at a time, and you can't expect to batch edit dozens of images or work with raw files. However, for those looking to use an app for such things, Pixelmator is a solid choice. It's intuitive and well-designed, and the features match those in more expensive apps.
The app is relatively new and has a growing development community. It has a clean user interface, ease of use, and a wide variety of effects. You can customise the application's functionality by installing other apps. The app also works well with other tools and offers a range of features that other similar apps don't. Additionally, the app is bug-free and has many valuable tools that work efficiently.
7 – Assembly
Graphic designers often wonder why they can't make anything of their own. Assembly isn't much more than a toy that turns you into a graphic designer.
Assembly is a fun way for the novice to work up a basic idea quickly. For the jobbing designer, it's a sketch pad for rapidly working up basic ideas that can be exported to SVG and enhanced elsewhere. And for general creative types of any age, it's a new and enjoyable means of making art on an iPhone or an iPad.
Assembly has depth, which is why it's so successful. While it's ostensibly childlike, it often reminds you to return to school. If you're unfamiliar with the concept of Assembly, we suggest you get acquainted with it by clicking on the link. It's an excellent way to kick off a creative day.
8 – ArtRage Vitae
ArtRage Vitae allows users to create digital paintings with a simple yet powerful approach. This is done by letting users paint with a virtual paintbrush that offers a lot of functionality and simplicity. Users can easily create realistic artworks with a simple and intuitive touch.
ArtRage Vitae has been around for quite some time now, and its popularity has grown over time. This is why it is considered one of the most popular tools for painting on iPads. ArtRage Vitae is its latest version.
Its focus remains on ease of use and allowing users to paint quickly and create realistic paintings with a simple yet powerful approach.
ArtRage Vitae is a new app that aims to take the digital painting out of the desktop and onto the tablet. With its sleek design and intuitive interface, ArtRage Vitae is the perfect companion for anyone who loves to paint.
ArtRage Vitae is a decent and easy-to-use paint program that does an excellent job of simulating the look and feel of natural oil and watercolour paints. The user interface may seem basic to some, but it's also effortless. And if you require fun and inexpensive app to add texture to digital art, this is a great choice.
Best drawing apps for professional designers
9 – Autodesk Sketchbook Pro
It's no secret that SketchBook Pro is a painting and sketching app that enables you to get drawing and painting quickly. Don't be fooled by the name – this is not just a pencil/pen and ink tool; it's a full-blown art studio with a wide array of natural-media painting tools.
The first thing you'll notice about the product is its simple, uncomplicated design. After a while, though, you'll get used to it. You'll forget that it's there. You can customise it to your exact workflow to tailor your preferences and needs.
The paint palette features a collection of tools to help you create various effects and images. It has all the standard tools like brushes, erasers, and the ability to edit colours and paint layers.
The colour picker will allow you to select colours from the palette and apply them to any area. You can also use it to select areas of a picture and then add shadows and highlights to specific areas. The shape tool allows you to create a selection easily, and the guides and rulers allow you to create precise lines and measurements.
SketchBook Pro isn't limited to what you can draw. For instance, you can add effects to your drawings or design your own brushes. There's no absolute limit to what you can do with SketchBook Pro. The price of £45 isn't bad for the app.
10 – Affinity Designer
Serif Affinity Designer is a highly intuitive program for all types of graphic design. The interface is simple and easy to use. You can easily customise the program to suit your needs. It's easy to start and has many tools to help you create unique designs.
One of the essential features of the new version of Affinity Designer was performance. You can now render documents at 60 frames per second, which is ten times faster than the previous update. The increased precision and speed of the program allow it to work effectively on large CAD-related documents, like architectural blueprints or floor plans. Its ability to zoom over one million per cent makes it great for rendering large diagrams and maps.
Affinity Designer is a robust and reliable software that allows you to create 2D and 3D designs for websites, print media, presentations and other mediums. Although the program has a steep learning curve, the vast amount of tutorials and easy-to-follow video lessons should make it a breeze to master for beginners.
With Affinity Designer, you get a full suite of tools and the ability to create vector graphics. As a result, you can quickly make designs with minimal fuss. In addition, because all your files are saved as vector graphics, you can share them easily with anyone.
Conclusion
There are quite a few drawing apps available for iPhone and iPad. You may consider looking at these 10, which include both paid and free options. These apps cover many purposes and include features like voice input, undo/redo, and layer tools. Whether you're looking to sketch out ideas or capture details of your surroundings, these apps can provide you with the right tools to do the job.
Download the apps on this list or visit the App Store to browse more!