What is the Best Camera for YouTube? What the Pros Use
If you're in the market for a top-quality camera to start your YouTube channel with, it's always worth taking a pointer from the YouTube professionals. 
Cameras are a vital tool for getting the look and feel you're looking for and the most successful YouTubers pick the gear that's going to give them the best image whilst also being the most practical. 
This list compiles the camera picks of some of the biggest names on YouTube, explaining how it suits them and whether or not you should buy them!
Are you looking for the best camera for YouTube? 
Our friends at GadgetGang published a list showcasing the best YouTube cameras, some of which are being used by the very pros on this article.
Casey Neistat: Canon 90D
The American vlogger Casey Neistat is renowned for his cinematic vlogs, and throughout his decade tenure on YouTube, he's created a unique style that many seek to replace. 
Casey has stood by Canon's line of semi-professional cameras, once calling the Canon 70D the best camera money could buy. 
Since then, he's been an avid user of the Canon 80D, for many years, and most recently upgrading to the new Canon 90D. 
The new 90D brings 4K video recording, a brand new 32.5-megapixel CMOS sensor and improved auto-focus to make this one of the best semi-pro cameras on the market. 
Whilst other vloggers opt for a smaller mirrorless camera like the Panasonic GH5 or the Sony A7SIII, Casey is used to the added bulk of a DLSR. 
Using a 90D for your vlogs is undoubtedly an arms workout, but if you're sticking this on a tripod, you won't need to worry about the reduced portability of Canon's best semi-pro DLSR yet. 
Marques Brownlee: RED Weapon Monstro 8K 
Marques Brownlee, better known as the tech giant MKBHD, is famous for his super high-quality mobile tech reviews. 
His cinematic style and insanely high production values made him the largest tech channel on the platform. 
A big part of his success is the ridiculously expensive RED cinema cameras he uses. 
His current workhorse is the $54,500 (£42,000) RED Weapon Monstro. 
To confirm: this isn't necessarily the best camera for YouTube. 
This camera is designed for high budget productions like films and TV shows, and not YouTube. 
Marques's videos are overkill, and he uses this legendary 8K camera to provide a film-like experience for his viewers. 
Though, if you have a near-unlimited budget and the expert videographers to operate this camera, then go ahead and pick one up: the RED Weapon Monstro 8K is the best cinema camera money can buy. 
Logan Paul: Canon Powershot G7 X Mark III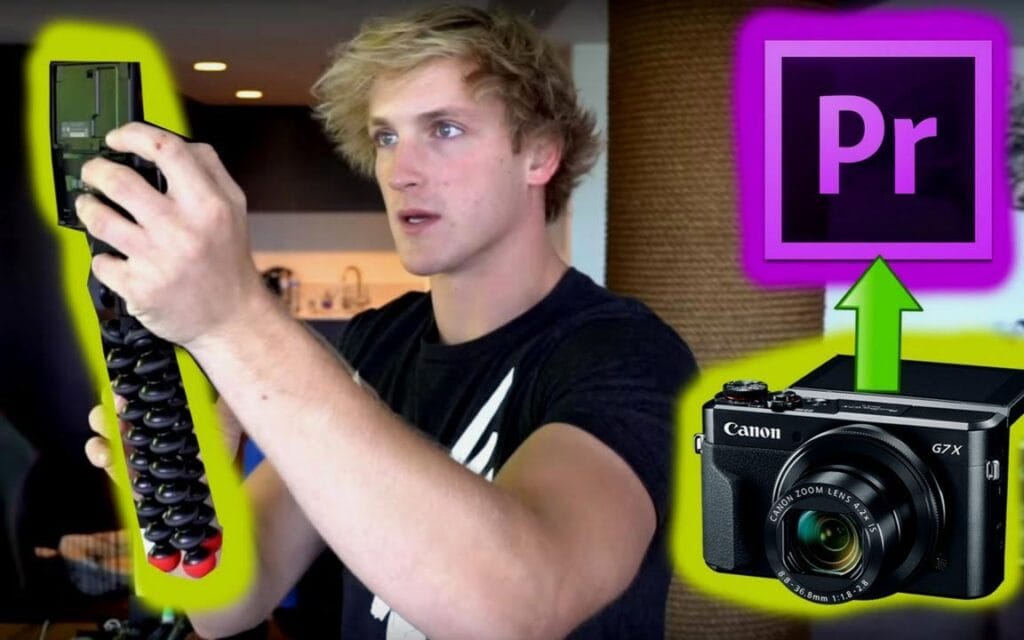 The prolific American vlogger Logan Paul stands by Canon's G7X line of the professional compact camera, the latest being the 4K capable G7 X Mark III. 
This camera is portable and versatile whilst its exceptional image quality, best in class autofocus and colour science make it the staple camera for vlogging – and Logan Paul agrees. 
For his secondary camera held by his cameraman Brendan North, Paul stands by the Sony A7S III for its excellent low light performance and customisability thanks to its full-frame E-Mount sensor. 
If you ever see a video where Logan Paul isn't shooting himself, chances are it's Brendan North's Sony A7S III.
PewDiePie: Canon XA11 Full HD Camcorder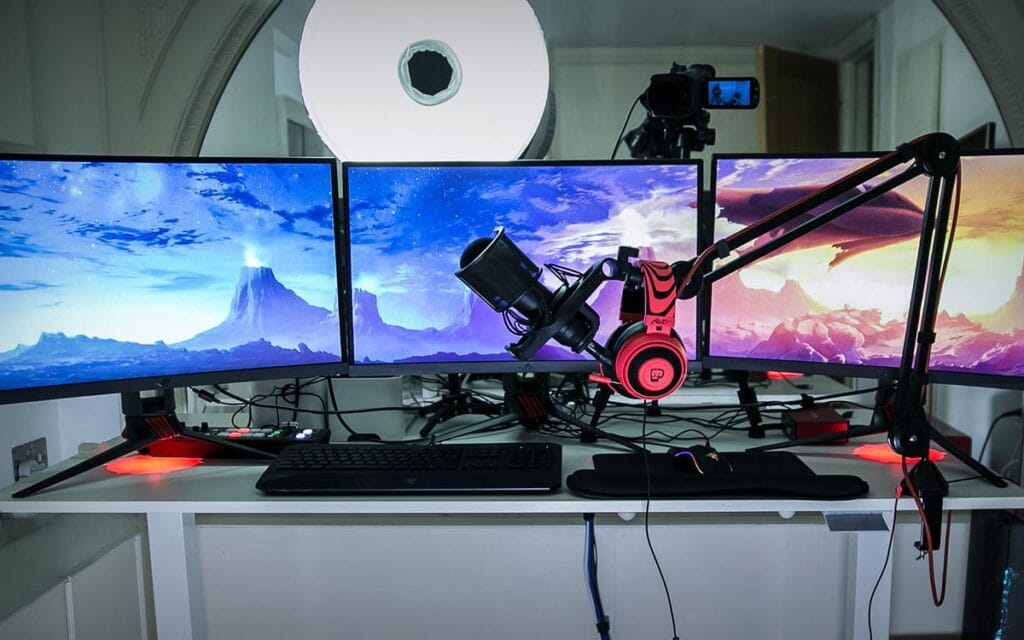 PewDiePie, despite being the second-most subscribed channel on YouTube, is notoriously slow to upgrade his setup. 
He currently uses the Canon XA11 camcorder as his primary indoor camera. However, he has in the past expressed interest into switching to his vlogging camera for portability as the XA11 can be quite bulky. 
For his travel vlogs and general outdoor use, PewDiePie uses the Sony A7S II, the older brother to the A7S III used by Logan Paul's cameraman. 
This camera is compact, supports 4K recording and still features a full-frame sensor and 5-axis stabilisation, making it the best camera for YouTube and on-the-go filmmaking. 
iJustine: Sony a6400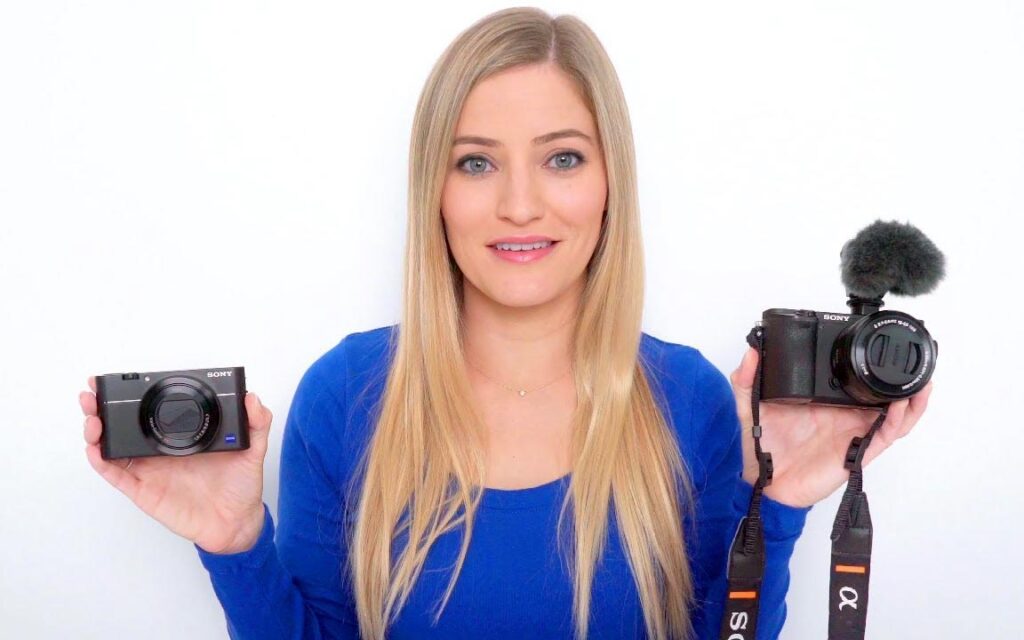 Justine Ezarik, best known as the tech/lifestyle vlogger iJustine, has a vast arsenal of cameras to shoot video with. 
For her studio/indoor videos where she can place a camera on a tripod, Justine stands by the A7S III, but for outdoor daily vlogs, Ezarik recommends the Sony a6400 mirrorless camera. 
This interchangeable lens mirrorless camera packs an excellent 24MP APS-C sensor, some of the best phase-detection AF in this price range, 4K video capture and all in a light and compact body. 
iJustine would choose this over compact point-and-shoots like the Canon G7X as she can switch out the kit lens to a wide-angle lens, increasing the field-of-view of her videos and thus making it a lot easier to vlog. 
MrBeast: Canon EOS R 
Jimmy Donaldson, best known as the generous YouTuber and giveaway king MrBeast, has stood by high-end Canon cameras throughout his rise to become of the largest channels on YouTube. 
For a long time, Donaldson used the full-frame top-of-the-line Canon 1DX Mark III, appreciating its superior image quality compared to other DLSRs on the market.
Recently though, thanks to its 4K video capabilities and increased portability, MrBeast now uses Canon's flagship mirrorless camera the EOS R. 
The EOS R is Canon's answer to Sony's full-frame A7s series, and with its 10-bit colour and 5665 selectable AF points, the EOS R is an extremely capable video camera. 
Some shooters prefer the look and feel of Canon cameras and stand by their fantastic skin tones, and it seems Jimmy Donaldson joins that list of YouTubers who consider Canon the best camera for YouTube.
Canon EOS R Mirrorless Full Frame Camera with RF 24-105mm F/4L IS USM Lens Kit (3075C012)
RF 24 105 millimetre f/4L is USM Lens
30.3 Megapixel full frame CMOS sensor and DIGIC 8 image processor
Dual pixel CMOS AF with 5, 655 manually selectable AF points
4K 30P with Canon log and 10 bit 4: 2: 2 HDMI output
Built in EVF with 3.69 million dots, Vari Angle Touchscreen LCD and dot matrix LCD panel. Magnification:Approx. 0.76 (with 50 millimeter lens at infinity, 1 m 1)
Conclusion
Barring high-end camera enthusiasts using RED cinema cameras like MKBHD, LinusTechTips or Austin Evans, most YouTubers don't use the most expensive and unattainable camera. 
Most of these cameras are relatively affordable, and if you're looking to start out on YouTube, some of the YouTube pro picks might be worth checking out. 
GadgetGang's article on the best camera for YouTube is well worth checking out. 
They've got some great camera picks for all different form-factors, including action cameras like the brand new GoPro HERO9 Black.
Top 10 Best Cameras for Youtube Vlogging (4K)
Sale
Bestseller No. 1
Panasonic LUMIX FZ80 4K Digital Camera, 18.1 Megapixel Video Camera, 60X Zoom DC VARIO 20-1200mm Lens, F2.8-5.9 Aperture, Power O.I.S. Stabilization, Touch Enabled 3-Inch LCD, Wi-Fi, DC-FZ80K (Black)
Point and Shoot Long Zoom Camera: 18.1 megapixel MOS sensor plus 60X zooms DC Vario lens (20 1220 millimeter and Power O.I.S. (Optical Image Stabilizer) captures far off moments
High Resolution View Finder & LCD Display: High resolution 1,170K dot view finder and rear touch enabled 3 inch LCD Display (1040 dots) are clear even in bright sunlight. Lens:14 elements in 12 groups
4K video Capture: 4K QFHD video recording (3840 x 2160) with three unique 4K ultra HD video pause and save 4K photo modes extracts individual high resolution Photos from 4K ultra HD video filmed at 30 frames per second to capture split second moments
Low Light Performance: Low light capture lets you enjoy photography during your nightlife again with impressive results; Note: Refer to user manual PDF attached below in technical specification for trouble shooting steps are on page 54
USB Charging and Wi-Fi Connectivity: Enjoy travel ready technologies like USB charging and Wi Fi connectivity to your mobile device; HDMI D (Micro), Micro USB and USB 2.0 provide additional connectivity to your favorite devices; Max resolution: 4896 x 3672
Bestseller No. 2
Bestseller No. 3
Sale
Bestseller No. 4
Canon VIXIA HF G50 4K30P Camcorder, Black
4K UHD 30p Recording
Genuine Canon 4K-compatible 20x Optical Zoom Lens and Wide 29.3mm Angle of View
Advanced Full HD
Intelligent 5-axis Image Stabilization
Turn your VIXIA camcorder into a high-quality webcam using its clean HDMI output
Bestseller No. 5
Canon EOS M50 Mirrorless Digital Camera with 15-45mm Lens + 32GB Card, Tripod, Case, and More (18pc Bundle)
This Al's Variety Camera Bundle Includes: Transcend 32GB Class 10 SD Memory Card, 49mm UV (Ultra Violet) Filter , 49mm Tulip Threaded Lens Hood , Deluxe Camera Gadget Bag , 50 inch Professional Tripod , Lens Pen , Lens Blower, Lens Cap Keeper + Original Battery, Charger , Eye Cup , Neck Strap , Lens & Body Caps + 1 Year Seller Supplied Warranty :
Canon Eos M50 Camera Body(International Version) - 24.1MP APS-C CMOS Sensor ,DIGIC 8 Image Processor ,2.36m-Dot OLED Electronic Viewfinder ,3.0" 1.04m-Dot Vari-Angle Touchscreen ,UHD 4K and HD 720p120 Video Recording, Built-In Wi-Fi with NFC, Bluetooth, Dual Pixel CMOS AF ,Extended ISO 51200, 10 fps Shooting ,Combination 5-Axis Image Stabilization
Included with the camera body is the versatile standard zoom EF-M 15-45mm f/3.5-6.3 IS STM lens, which provides a 24-72mm equivalent focal length range. Three aspherical elements help to control chromatic aberrations and distortions throughout the zoom range and an optimized lens placement works to reduce flare and ghosting. An Optical Image Stabilizer works to minimize the appearance of camera shake by up to 3.5 stops
Dual Pixel CMOS AF offers smooth and fast focusing performance in a similar manner to how a camcorder acquires focus. This system integrates two separate photodiodes within each pixel to provide a broad and dense network of phase-detection gathering elements across a majority of the image sensor to reduce focus hunting for faster, more direct control of focus placement
Combination IS uses the built-in 5-axis digital image stabilization in conjunction with lens-based image stabilization systems to effectively minimize the appearance of camera shake for sharper handheld shooting. This benefits recording while walking or moving.
Bestseller No. 6
Bestseller No. 7
Bestseller No. 8
Bestseller No. 9
Bestseller No. 10
Last update on 2021-07-27 / Affiliate links / Images from Amazon Product Advertising API