Top 10 Best Books On Branding Design and Identity
When you come across the word "brand" or the similar variant "branding," what comes to your mind?
How do you define or explain them in a few sentences?
If you're not steeped in marketing, you might have a hard time giving a correct definition.
For college students studying business-related courses, the term could be closely connected to topics for custom writing essays on marketing.
Although many of us have heard both words before, many don't know the correct meaning until someone brings it to their attention.
Is a brand simply the name of a company or a product?
Is it the logo of a company?
Let's begin by exploring the meaning of the two concepts.
A brand is the totality of a company's personality and, most importantly, how it is perceived.
Did that definition just confuse you or strike as you being off?
If your answer is yes, that's likely because you previously thought of a brand as being one or more of the following:
An identifiable product from a specific company, e.g., Samsung Galaxy phone, the iMac from Apple, the McFries from McDonald's.
The perception you have of a company based on the things you've seen, heard and read about them.
If the above points reflect your understanding, don't assume that your perception is wrong.
You are just partially correct since they are different parts that contribute to a whole.
The totality of them and other attributes is what defines a brand.
To help you avoid confusion, let's simplify the concept further: if there is one word you can perfectly substitute for "brand," it would be "personality."
This concept becomes crystal clear when you ask yourself, "What is a personality about?"
For instance, when you say someone has a fascinating, approachable, or likeable personality, you reach that conclusion based on what you've learned and experienced about the individual.
There's a lot of psychology to how we perceive people and things.
Aspects of an individual's personality include their name, physical appearance, behaviour, the way of communicating and treating people, the inner value system, occupation, and social circle and standing.
The same set of attributes applies to businesses.
Accordingly, when thinking about enterprises as "brands," we have to consider:
The company's name
Its physical identity design (logo, slogan, and associated colours)
It's set of values (what defining principles the company operates on to set expectations in the minds of its employees, consumers, and the general public)
What it does as a business (its products and services)
The company's partners and consumer base (it's market)
How it communicates (market positioning),
How it treats its consumers/clients (customer relationship/service)
How popular it is (brand awareness).
These all determine what kind of a brand an enterprise is (i.e., how consumers perceive the company).
That said, you can agree that enterprises aren't works of nature.
Humans establish them at some point in time, and they continue to exist for as long as the people behind them keep them running.
Based on the nature of the earlier mentioned attributes, it's pretty clear that a brand is inherently dynamic and has to be continuously managed.
The entire process of doing that from the very beginning, when a name is chosen, and onwards is known as branding.
Put simply; branding is about creating and managing the personality of your enterprise to ensure people see it as you desire.
Branding can be a herculean journey since it is a continuous and long-term activity.
To succeed, you would have to acquire and regularly update your knowledge on the different issues on brand management as markets, and consumers change over time.
As a quick way to save your time searching for good books, we present our list of the top 10 best books on Branding and brand management.
1 – Building Strong Brands (by David Aaker)
Written in a more academic tone, this classic book, originally published in 1995, offers an in-depth look at different branding concepts and how they can be implemented in practice.
By use of real brands like McDonald's, General Electric, and a host of others, David Aaker illustrates how you can develop your brand-building skills.
He explains how to create an out-of-the-box brand by paying attention to the emotional benefits of using a product or service and understanding the role of brand identity and brand positioning in building such a brand.
He also introduces the perspectives of a brand-as-person, brand-as-organisation, and brand-as-symbol.
The book is an excellent read if you're keen on getting a broad and thorough understanding of how to build competitive brands.
2 – Zag: The Number One Strategy of High-Performance Brands (by Marty Neumeier)
If you're a real fan of doing things differently to distinguish your brand, you'll enjoy reading this book.
Written in an easy-to-follow and grasp manner and using the author's whiteboard overview delivery style, the book primarily explores how you can differentiate your brand in a noisy marketplace.
As the author wittily puts it, "When people zig, zag."
The book explains how to name products, companies, and services effectively, how to excel across all three stages of the cycle of competition, how to make sense of customer feedback on new products.
Besides, Marty Neumeier touches on the reasons why run-of-the-mill brands without radical differentiation are guaranteed to lose.
The author also describes the four dangers that brand portfolios face.
Most importantly, he offers 17 steps that can be taken to implement brand differentiation.
3 – How Cool Brands Stay Hot: Branding to Generation Y (by Joeri Van den Bergh and Mattias Behrer)
Generation Y (the millennials born between 1981 and the mid-1990s) is a younger and broader demographic than Generation X or the much older baby boomers.
Many of them were born in the age of personal computers and the web.
Generally, they are digitally savvy as young adults living through the global explosion in mobile device adoption and internet access.
The authors of this book explain the brand strategies marketers can use to target this generation of youthful consumers.
Just in case you are looking for additional motivation to read this book, it might interest you to know that the first edition, published in 2011, won several awards, including the 2012 Berry-AMA Book Prize for best book in marketing and 2011 Marketing Book of the Year awarded by Expert Marketer.
Also, in 2016 the authors published an updated version with a slightly different title that reflects the inclusion of another younger demographic — Generation Z, alternatively known as the post-millennials.
Although the specific bound years vary among classifications, the post-millennials are the people born between the mid-1990s and mid-2000s.
4 – The 22 Immutable Laws of Branding (by Al Ries and Laura Ries)
A classic title that was launched in 1998, this book covers numerous issues around branding and offers examples of real brands and anecdotes from marketing professionals.
Written by a father-and-daughter duo, the latest 2002 edition comes with a bonus book titled The 11 Immutable Laws of Internet Branding.
One feature of the books you may find helpful is the step-by-step explanations on how to achieve mentioned objectives.
5 – Create, Connect, Convince (by Jorg Dietzel)
Originally published in 2010, this book is targeted at people interested in advertising or involved in it directly or indirectly.
It provides interesting and practical insights into how marketers can create advertisements that not only convince target consumers to purchase the advertised product but also make them feel a personal connection to the brand.
In short, if you're a creative professional in a marketing or ad agency looking for inspiration from real-world brands, you may want to grab this book.
6 – Positioning: The Battle for Your Mind (by Al Ries and Jack Trout)
In a world where there is so much noise in the media and fierce competition for consumers' attention and loyalty, it can be a real challenge to cut through and reach your target audience.
In this book, the authors describe an authentic way of establishing a position for your brand in the minds of prospective consumers.
It involves revealing your brand's strengths and weaknesses as well as those of competitors.
The book provides techniques of accomplishing various marketing goals such as capturing market share and becoming a well-known brand, selecting the best name for products, strengthening your brand's existing advantages, and analysing and staying abreast with recent trends that are impacting your brand.
One powerful feature that most readers will find helpful is the authors' use of numerous examples of past successes and failures, drawn from the advertising industry.
Their analyses will help you quickly identify what factors or actions led to success or lack thereof in the cited cases.
7 – Designing Brand Identity: An Essential Guide for the Whole Branding Team (by Alina Wheeler)
As the title suggests, this book (currently on its fourth edition as of March 2019) describes a five-phase process for coming up with a strong brand identity.
The author delivers her ideas by using case studies of tens of diverse brands that have achieved effective brand identity design by using best practices.
This book will come in handy if you're trying to get clear insights and real examples on how to design identity for your firm or clients.
8 – Brand Leadership: Building Assets In an Information Economy (by David A. Aaker and Erich Joachimsthaler)
The authors of this book (first published in 2009) place emphasis on what they describe as a strategic paradigm — Brand leadership — important for businesses to grow their brand equity.
The focus on strategic brand leadership stands in contrast to the tactical approach to brand management pioneered by Procter & Gamble.
The authors use numerous case studies from well-known brands such as Adidas, Virgin Atlantic, McDonald's, and IBM to buttress their explanations.
By reading this book, you should be able to understand how to create and express brand identities or what the established brands stand for.
Learn how to use brand relationship spectrum in creating new brands from existing sub-brands; identify what the authors refer to as the customer's "sweet spot" and critical ideas that will push forward your brand development efforts and help you achieve brand differentiation.
Also, you'll learn how to deal with the four imperatives of managing brands at a global level and using the Internet and sponsorships to grow your brands.
9 – Hello, My Name Is Awesome: How to Create Brand Names That Stick (by Alexandra Watkins)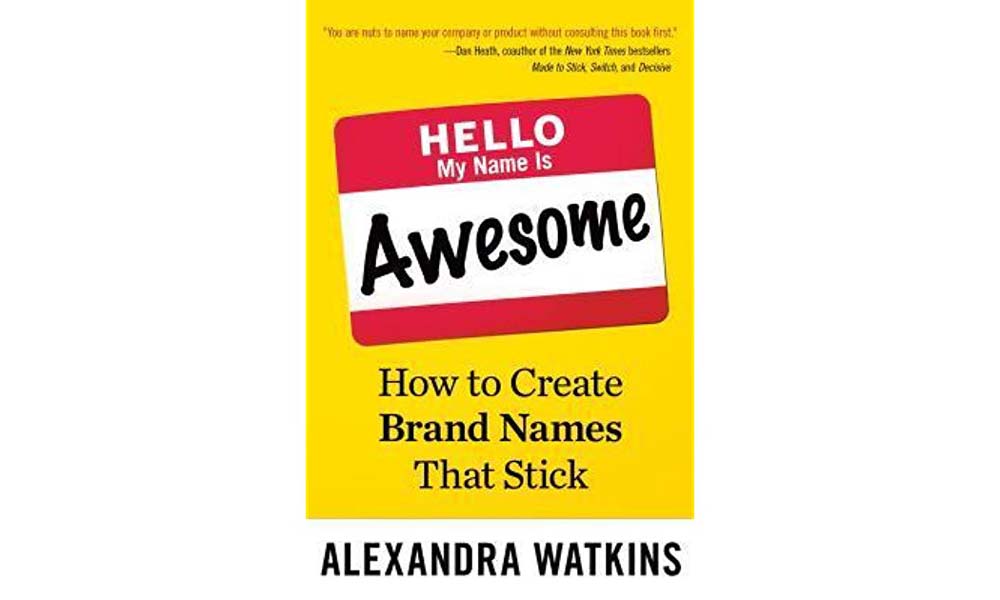 First published in 2014 and written by naming consultant Alexandra Watkins, this book stands out with its creative and fun style in which the author discusses the activity of coming up with a brand name.
She uses what she calls the SMILE and SCRATCH tests to help every person figure out what makes for a good brand name (SMILE) versus a poorly chosen one (SCRATCH).
The acronym SMILE stands for Suggestive, Meaningful, Imagery, Legs, Emotional.
SCRATCH is an abbreviation for Spelling-challenged, Copycat, Restrictive, Annoying, Tame, Curse of Knowledge, Hard-to-pronounce.
This book will make an excellent read for you if you are keen on mastering the art of coming up with powerful brand names that will stick for years.
10 – Emotional Branding: The New Paradigm for Connecting Brands to People (by Marc Gobé)
First written as a guide in 2001 and updated in 2010, the book emphasises shifting brand focus from products to people.
Marc Gobé, a designer and brand consultant, explains not only the need for the shift but also outlays a set of guidelines, the so-called "10 Commandments of Emotional Branding" to help branding and other marketing professionals implement the change in their organisations.
Interestingly, in the 2001 publication, the author predicted the emergence of social media and consumer empowerment.
In the 2010 edition, he points out how social media played a role in the 2008 election of President Barack Obama.
So, there you have them — the top 10 best books on branding we think you might love to read for the depth and breadth of issues they cover as well as style of delivery.
Some people may argue about the order in which the books are ranked or even the omission of a few, but that's not the point of the list.
We created it to help draw your attention to the interesting and widely-read titles you will find helpful in growing your knowledge around the topic of branding.
Now you might want to grab a few of them that have you caught your attention and start creating!
Last update on 2022-10-03 / Affiliate links / Images from Amazon Product Advertising API