App Branding – Don't Make These 10 Mistakes in Your App Design
Every wanna-be entrepreneur wants to start an app startup.
According to the study from Statista, there are 2.8 million apps in the Google Play Store and 2.2 million apps in the Apple App Store.
Mobile apps are projected to bring $188.9 billion U.S. dollars in revenue via different channels including in-app purchases and advertisements.
Now, what is the main reason for mobile app success? The answer is mobile user experience.
Designing an application with a great user experience is a challenging task.
Building applications that do both – supporting to do complex tasks and provide the way how to get work done is the most difficult.
Many UX designers make small but unavoidable mistakes that affect user experience and so your app branding.
Here I have listed here ten common mistakes that should be avoided to make your app branding strong.
Avoid these common mistakes in App Design for Better UX.
1 – Neglecting first time experience
According to a study by Localytics, 21% of users never come back to an app after the first use.
If first time users don't like the onboarding experience, users are likely to abandon the app and never come back.
This means that creating an exceptional onboarding experience is crucial.
One of the most effective strategies for onboarding is contextual onboarding which offers instructions only when users need them.
A language learning app, Duolingo is a great example which has incorporated interactive tour to show users how the app works.
You can implement any other strategy to create an outstanding first-time experience.
Keep in mind that you have to guide users and help them to achieve their goals.
Also, poor feedback can be the reason for awful onboarding experience.
Many apps keep their users guessing.
Implementing strong feedback strategy informs users many things like how their actions have been interpreted and what's happening in the application interface.
2 – Cluttered design
One of the biggest mistakes in many apps is cluttered design.
It looks like the designer is trying to put every single feature of the app on a single screen.
Such overload on the small screen can make users confused, resulting in poor user experience.
Stop doing it!
Consider each "screen" as a single container to show one primary call to action.
When users move to the next screen, new information can be displayed to them.
If your app has engaging content and clean design, users are more likely to explore your app.
3 – Putting touch elements too close or small
Keep in mind those users who have chubby fingers.
Putting clickable elements too close or too small to tap can be deleterious for a great onboarding experience.
Make sure there is adequate space around each element to tap and to eliminate accidental clicks.
There is no right formula for this space, but you can test it.
Ask any of your chubby friends to draw a circle.
Consider that circle area as tappable area, and no element should be placed closer to it.
So even if the user clicks anywhere in the same area, it will lead to the same location. Now, this is a user-friendly design.
Navigation plays a vital role in the onboarding process.
Even if you have created an outstanding first-time experience, it will be no use if users are having difficulty in navigating your app.
When the user starts using your app, the app should have proper navigation to figure out where to go and how.
The navigation should be implemented smoothly into the app structure, to keep users engaged.
Don't put navigation controls from one screen to different screen else your users will be left confused.
Properly designed navigation is a top priority for every mobile app.
5 – Putting too many features
Incorporating too many features in the app can be one of the reasons that users ditch your app and never come back.
This can distract users from the main idea of the app, and they ditch your app.
Moreover, you don't want users to focus on other ideas instead of your core idea of app.
Choose your primary features which are required to launch the app first and focus on engaging users on them.
Keep in mind; additional features can be added in the future.
The Lyft app was launched with its core functionality: getting a ride.
In 2018, the company rolled out a new user experience that allows users to see nearby drivers, waiting time and fares.
To sum it up, build your mobile app simple with core functions that your users would love it.
6 – Use of jargon that users don't understand
Do your users know the different jargon? The answer is "BIG NO".
Using unknown terms and phrases can be the reason for poor user experience.
Use the same language as your users and make the interaction easy by using accessible words.
Try not to use brand-specific words, cultural principal and technical terminology that is difficult to understand.
Roost, Migrate, and Fly are unclear terminologies that users won't get it, and they are likely to discard the app.
Using simple keywords like Buy, Rent and Sell which are familiar for users can create a great user experience for first-time users.
7 – Not testing with real users
It's true that even well-designed apps have some unexpected bugs when launched in the real world.
Even if you have developed an app meeting all the user requirements, there are chances that your actual users may find bugs.
Have you tested your app with real users? Does your app help them to reach a goal without any confusion?
Ask real users to do some specific tasks in the app – if they don't go in the flow, you need to make changes.
User Acceptance Test (UAT) can help you understand what your users are looking for and ensures that your app looks great and works well.
Keep measuring your app performance even after launching the app so that your app UX can scale as you want.
8 – Bad Error Messages
Error messages are important as they are a unique form of feedback, informs users that something happened wrong.
We have some best practices to follow for error messages, and still many applications don't support them leading to bad user experience.
The most common mistake that app designers do is write a common message, without explaining why it happened and how a user can fix it.
These messages leave users confused having no idea of what's going on.
Informative error messages help users to understand the error and fix their problems.
They want to overcome the error, and therefore they will read it carefully.
Incorporating proper error message can also help you to build trust among users as you are trying to solve their issues.
9 – Unlabelled Icons
It's unlikely that every user will understand icons immediately, even symbols that are considered as universal are not familiar to users.
It gets more detrimental if your app has unique icons that will be difficult or impossible to understand for users.
Pair your icons with text labels.
Labelled icons are much likely to be used, helping users to decrease the time to recognise them.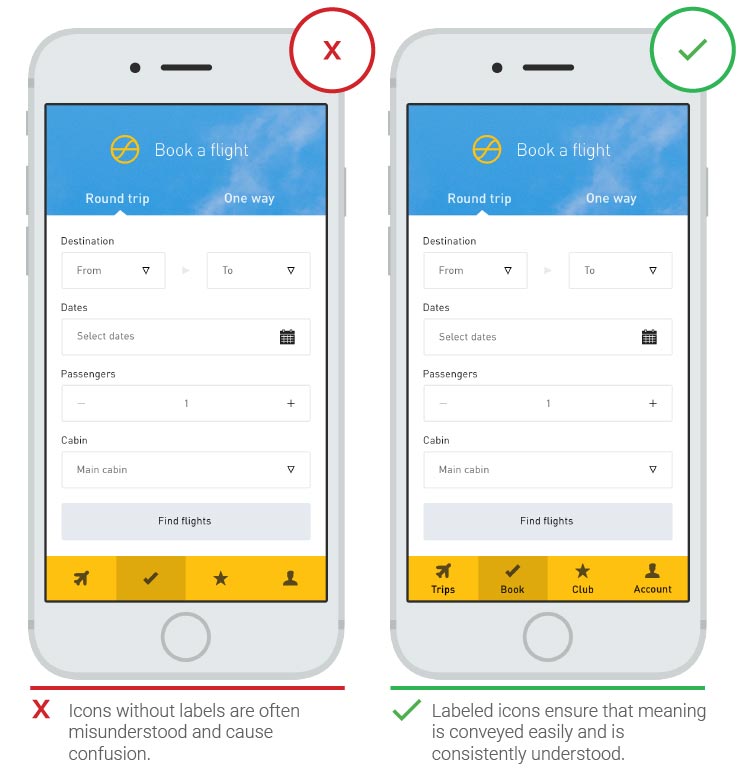 10 – Inconsistency
When users explore your app and navigate deeper into the app interface, they expect what is to come and how.
The difference from those expectations cause confusion, disappointment and can increase cognitive load as they try to solve the puzzle, not having any idea of what is happening at the same time.
Users like to be consistent and expect the same.
A few types of inconsistency are common in complex applications:
Putting controls for the same features in different screens
Various commands or words for the same action
Similar controls can be accessed in different places like in toolbar and menu.
(Note: controls can be similar from the user's point of view. The app should be designed for users, not for designers.)
Inconsistent design for input data
Every single feature within a single app should look and work in the same manner.
Pro Tip:
Before you start an app design, create a user persona and build your target audience list.
This will help you to understand what your users are looking for.
List down your primary features list that you should put in your MVP version.
This can be different for every industry, so don't compare to others and make your own list.
Conclusion
Designing a great UX is the most critical part of the success of any app.
Understand the pain point and include the solution in your app.
In this digital era where the mobile app market is booming, you will have to work hard to make your app branding strong.
Ensure your app meets user expectations and provides a valuable and relevant experience.
Use this article as a checklist while designing an app. Good luck!
Author Bio: Pete McCain is a technology startup enthusiast, associated with AppVelocity – best mobile app developers in Toronto. He has collaborated with more than 50 entrepreneurs – over the last decade – to maximise growth and contribute to technical excellence.