14 Creative Web Design Trends that Dominate 2020
It can take as little as a fraction of a second for a website visitor to form an opinion, so making sure the design elements make a good impression is a top priority for any business or entity operating online.
Unfortunately, for many companies, keeping track of new developments in web design and User Experience (UX) can be a challenge. The industry is evolving at such a rapid pace that a good-looking website designed with solid practices can become outdated in just a few years.
That's why those that want to stay ahead of the curve must keep their finger on the pulse of new developments and why leading web design experts can charge premium fees that few can afford.
But to help you get a better understanding of what web design in 2020 is all about, let's look at some of the most important trends you should consider. The first quarter of the year is over, and we're already seeing the trends for the year 2020.
From typography to colour schemes, shapes and animations, web designers are experimenting on different features for their websites. So which web design trends will rule 2020?
I will include some of the most popular and creative designs in this article to help you improve your website. Take a look at each of the web design trends and decide which one you would use on your site.
Be Loud, Be Bold And Make Your Messages Pop
Because of the incredibly short time that visitors can form an impression about your site, you need to make sure that the split-second gets your main message across clearly.
That means you should be ruthless about what makes the cut on your home and landing pages, as any non-vital elements or text will only detract from what you are trying to achieve and act as a distraction.
In 2020, more and more designers are taking this into account and are choosing to go with a bold approach, adopting large and prominent fonts and visuals that immediately catch the eye.
Many are even opting for substantial elements that almost seem out of place, but end up creating a nice central feature that the entire design can fall back on.
Using this method, you don't have to worry about whether the visitor will understand what your website is about. If you can convey your primary message effectively, you'll be sure that your audience will see it, and they'll know immediately whether it's something they're interested in or not.
Sometimes, you may find that you don't necessarily need to use text alone, and can also use bold images or other visual elements to get your message across more clearly.
Text-only heroes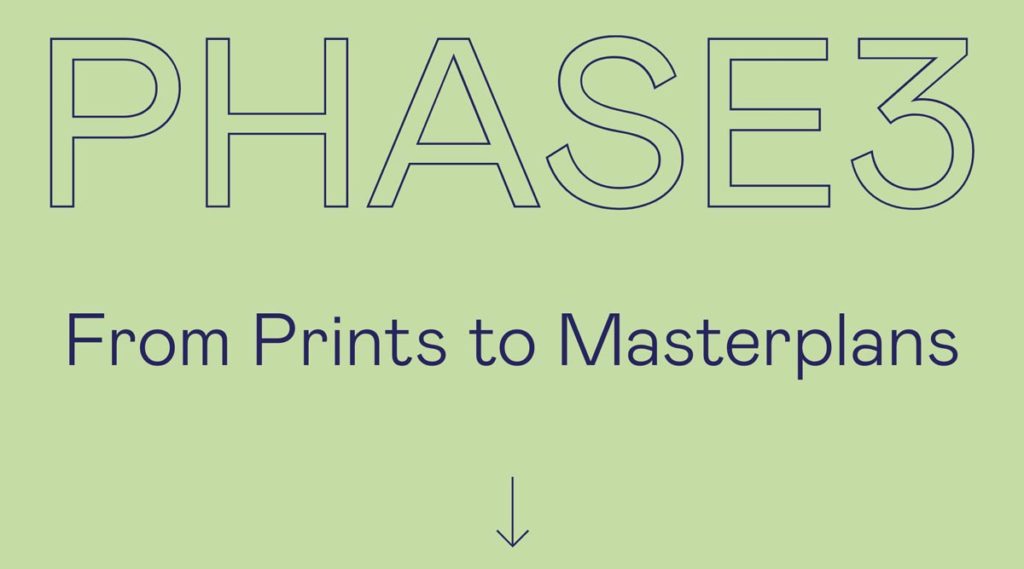 In 2019, there have been experiments with hero areas, also known as the "above the fold" areas. These are parts of the website being shown when you first load the site. Such conducts are likely to become more evident this year. One of those experiments was text-only heroes.
The hero areas usually showcase various elements. However, the "text-only" web design trends let typography do the work by removing the typical background image. 
An excellent example of this is the architectural website, Phase3.uk. Although its hero changes its colour background, it only shows a simple text, which is captivating.
Vintage-inspired colours and typography
Like fashion, old web design trends are having a comeback even in web design. This year, it seems this trend will take a different form. Instead of an all-out retro look, websites are mixing nostalgia with modernity. 
The most common inspiration is the use of vintage colours and fonts to convey a nostalgic feeling. The earthy colour scheme and vintage typography are apparent in Typewolf's website. It brings the old sense, but not dated design.
Massive font sizes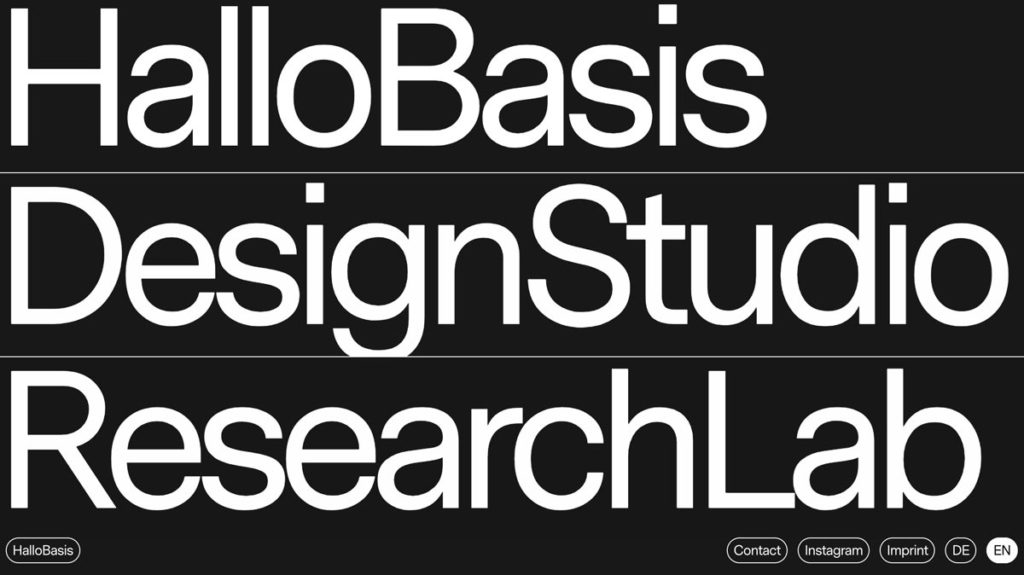 Another typography trend showcases considerable font sizes. This utilises large fonts, which can be read from across the room. 
The font size of Baina takes about half of its website's home page. Meanwhile, HalloBasis takes it to the next level with its name, and the navigation menu fills the homepage.
Outlined typography
More and more web design trends in typography are becoming popular since last year. The outlined typography is one trend that is expected to be huge in 2020 and beyond.
Adobe's Vinh explains that being typographically distinctive has become imperative on the web. This was way different when designers in the recent past only utilise a handful of fonts. He also adds that there are more web fonts now, so we need more daring and diverse web typography too. 
This outlined typography is apparent in Redscout's website. It uses a large outlined font combined with a little animation to pull the "fill" of the letters out. You will then see the outline behind when you scroll down the page.
White Space is Essential
Most people in the web design world already know the importance of using white space to open up their designs and provide a better balance with the visual elements and text that they use.
But in 2020, the use of white space is becoming even more important, in large part because other design elements are becoming larger and more dominating, requiring negative space to balance everything out.
You should find a balance between visual elements that capture attention and white space, as they serve to complement each other and make your messages more straightforward.
If you use white space around your main message, your call-to-action, and the most prominent sections, you will maximise the chances of visitors taking notice and not scrolling through without clicking or taking the action that you wanted them to take.
Some of the most exceptional web design examples today masterfully use white space as a crucial element on its own, structuring the layout in a way that naturally guides the eye and provides a pleasant browsing experience to the user.
Solid White Frames
The use of full-bleed layouts has become one of the most popular web design trends in 2020. Now, designers lean towards using stable structures and playing with different ways to use white space to give their designs more composition. Such clean framing provides the stability of their design.
Full frames of white space give web designs a solid structure that will be apparent in 2020. By allowing a generous amount of space, framing creates the perfect foundation for making visuals shine. Seeing neatly structured frames on websites create a satisfying sense of order and separate all parts of a page.
Don't Be Afraid to Use Interactive Moving Visuals
Even though video has been an integral part of web design for a long time, many brands are still hesitant about making the switch from static imagery towards motion-based design.
The reason for that is fear that users might not respond as well to video content as they do to written text, as well as lack of knowledge about how to insert video into a page without it seeming out of place.
However, people are beginning to demand video from companies, with 54% of consumers wanting more video content from the brands that they interact with.
So, while you may have to get creative, having a video or even a short animation is an excellent way to enhance the experience of your site's visitors and direct their attention where you want it to go.
You can use longer videos that break down your services, short animations that direct the eye, or a mix of both depending on the part of the page that the user scrolls to.
As for the technical details, you can use a variety of tools that make it easy to embed video and insert it almost anywhere on your site. You can configure the size, the user interaction possibilities, and the surrounding design elements to make sure that your video gets the attention it deserves and gets people to perform the action that you want them to take.
Video Heroes
A foundation of functional product design is to show and not merely tell. Images take a crucial role in visual design. They help designers to deliver the main idea quickly.
In the past, web designers used static imagery to convey their primary purpose. However, this has changed tremendously. With the availability of high-speed Internet connections, web designers could quickly turn their home pages from the static images into immersive movie-style experiences. 
These web design trends started in 2019 as more websites use short video clips on their home pages.
Also, the video makes the website experience more lively and dynamic. It engages users, so they are more willing to spend time watching video clips. This is incredibly helpful in increasing website engagements and viewership.
Elium.Studio, a Paris-based global web design studio, features a short film on the background of its website's homepage. This entices the visitors to stay on the site and explore it.
User-triggered animations
Typical animations are independently revealing their features without any action from visitors. However, there are specific actions from the visitor that trigger growing web design trends as the animation. Indeed, adding user interaction with animation is one of the most exciting web design trends in 2020.
The earlier example, XXXI's Intro to Coding, is a perfect example. The outlines of the initials follow wherever the cursor is. This type of interactive animation engages the viewer and makes them enjoy their website experience, not just become a passive consumer.
You may utilise Visual Studio Technology to add sound effects to your animation. This would make your website more engaging.
3D visuals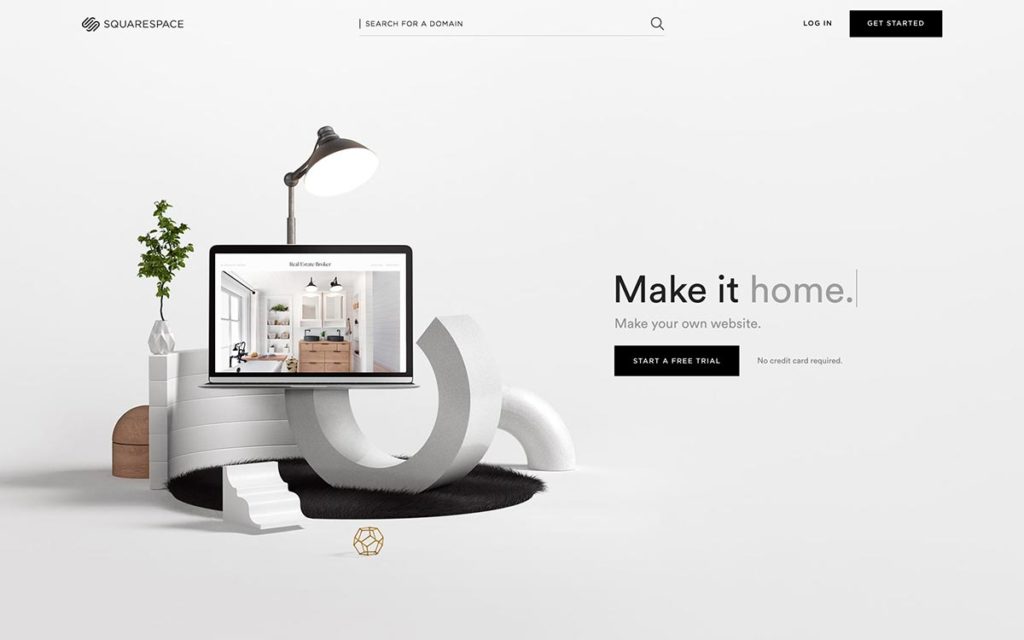 3D visuals have always delighted people. However, this trend is hampered due to a lack of suitable technology and its hefty cost in the past. However, the technology is now available so that you can design in 3D even without the sophisticated equipment. This allows more designers to explore their creativity and join the industry.
Aside from the too expensive virtual reality (VR), hyper-realistic 3D, which takes up the whole screen, is currently the best way to create an immersive online experience. 
Having a distinct advantage, the interactive 3D design encourages users to stay longer and reduces the bounce rate. Throughout the year, you will see more immersive 3D web designs, which break down the boundaries between digital space and reality.
Layering is Becoming More Popular
At first glance, layering might seem counterintuitive to where web design has been going in the past few years. With minimalism and clean designs dominating the online website landscape, stacking multiple visual elements on top of one another can seem messy and cluttered.
And the truth is, adding layered elements to design is a process that requires skill. Otherwise, you might end up with a design that looks overwhelming and detracts from what you are trying to achieve.
However, when executed correctly, it can create a truly unique design that helps a website stand out.
Some innovative websites have used smaller videos on top of larger videos at the top of the page, providing a unique visual experience to the reader and showcasing the brand's unique identity at the same time. 
When using these types of advanced visual elements, make sure to carefully plan out your design to include white space and imagery that will draw the eye where it needs to go.
In addition to using videos, you can also employ images, text overlay, or other visuals, superimposing one on another and creating a unique experience for your site's visitors.
Futuristic Colour Schemes Grab Attention
Even though the primary concern of any web designer should be functionality and the User Experience, the genuinely exceptional designs manage to cover those elements while still finding ways to be unique from an aesthetic perspective.
Many of the more creative 2020 designs feature bold colour choices, employing futuristic colour schemes that emphasise purples, blues, reds, and bright greens to create magical landscapes as the user scrolls through the page.
Some even take it a step further and use luminous or glowing colours that radiate warm tones and make browsing the website an enjoyable experience. 
If you're tired of the sleek but sometimes cold minimalistic designs, mixing it up with dominant colours that immediately take the viewer into another world can be something that would work well without having to sacrifice the usability elements.
Trendy colour schemes make their way to websites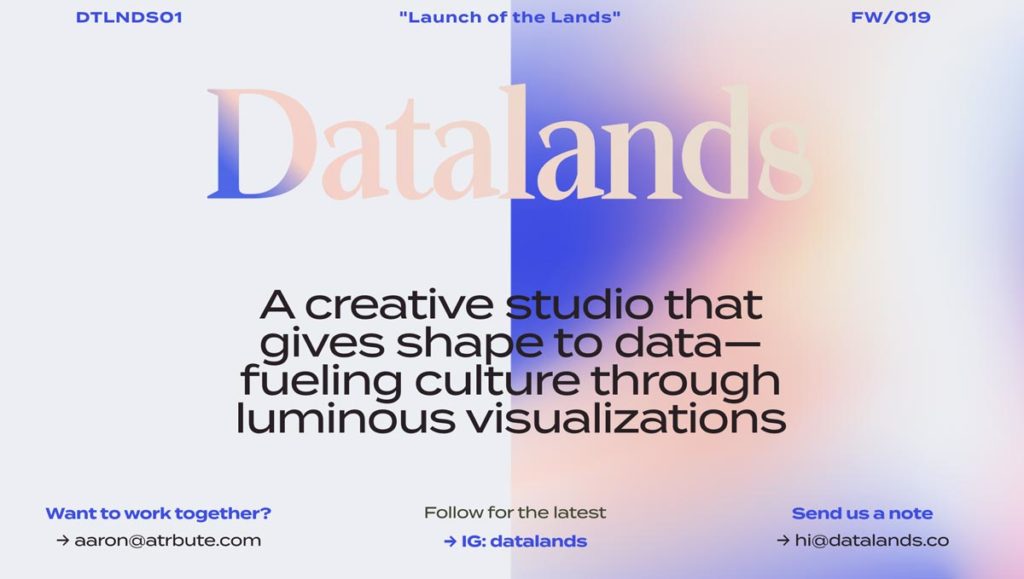 Every year, there are specific colour trends in web design. Fashion gurus provide their forecast for what colour is 'in'. Also, Chinese people believe specific colours are lucky or unlucky for the Chinese New Year, although red has always been apparent in Chinese fashion and lucky designs all year round.
In 2020, some of these colour combinations will make their way into website designs. For instance, the primary blue combined with pale pink/dusty blush scheme has become popular in Pinterest and Instagram. Also, Datalands features this trendy colour scheme in its website design. 
Other stylish colour schemes that are providing web design trends in 2020 are jewel tones that feature greens and purples, earthy tones of tans, browns, greens, and wood textures—different styles of iridescent or pearl colour schemes including pastels that are mixed and give a metallic look.
Dark Mode
Dark mode web designs look ultra-modern and comfortable on the eyes. These make colours and design elements pop.
Dark themes save power and extend screen lifespans, so they are better for OLED screens. 
Moreover, dark backgrounds improve the visibility of other accent colours. This is particularly effective when using glowing neons as well as futuristic yet dark cyberpunk and dystopian styles.
Black and white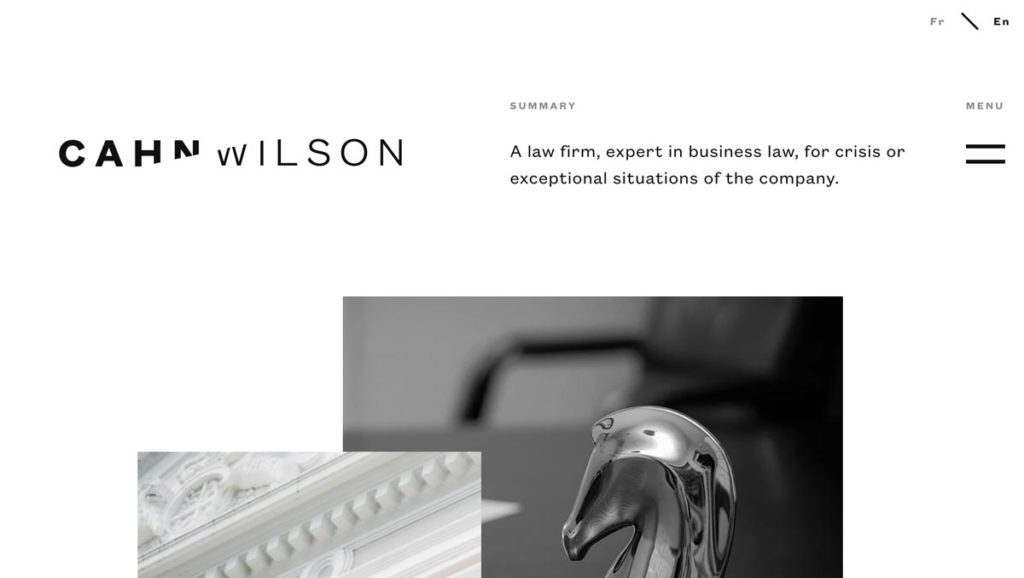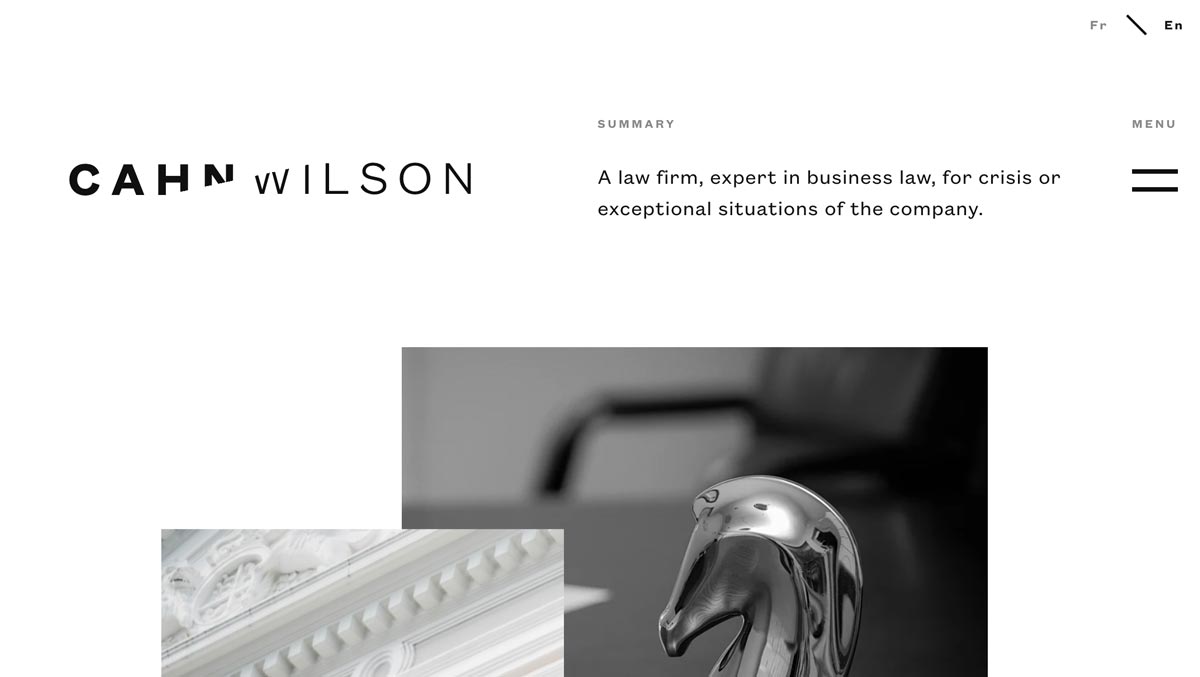 In 2019, monochromatic is huge. This year, more sites are experimenting with removing all colours while using black and white only for text.
This minimalist monochromatic style is apparent in Cahn Wilson's website. Using only black and white, this website is clean and modern with grayscale images. It looks chic and contemporary like other minimalist websites.
One of the most significant vices of designers of the past was their inability to organise navigation on a website logically. Having to go through countless categories or subcategories, or even having to sort through multiple menus on a single page was a hassle that few users were able to push through.
Therefore, the last decade saw the simplification and minimisation of navigation elements, with designers using various slide-out or expandable menu solutions to make it easy to reach any page without the possibilities cluttering up the page that the user is currently viewing. 
This trend has been pushed even further with the rise of mobile technology. First smartphones, then even smartwatches, became tools that users use to browse the web, which meant that brands had to adjust and make sure that the navigation was still convenient.
For brands that can afford it, this means that the navigation should encompass only the absolute bare essentials. You should try to tell your story through powerful imagery and copywriting, using each page to its full potential instead of breaking everything down into compartmentalised sections that need to be clicked through to one by one.
Multimedia elements like video can also help you shrink your navigation needs by providing more information without taking up a lot of space.
Dominating grid design
While most websites utilise an invisible grid system to keep items on the page organised, it seems 2020 is open for using these grids as the primary design aesthetic.
A great example is FramesforFuture.tv, which perfectly executed the grid as a design aesthetic for its hero. It just shows that the grid is more than just a design tool. All of its contents are laid out in rectangles and arranged in a grid format.
Geometric shapes and patterns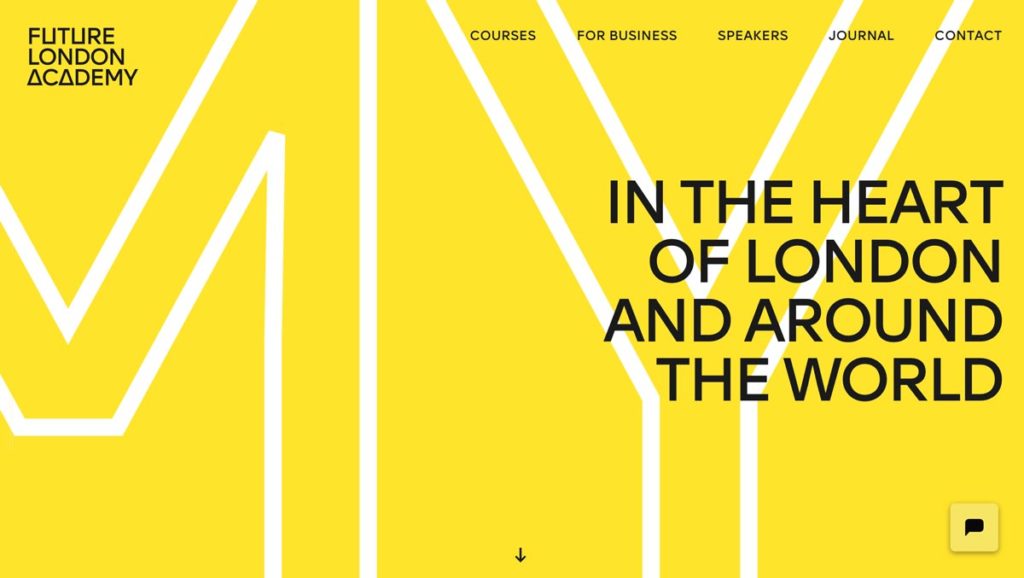 For this year, geometric shapes, lines, and patterns are making a comeback. This is a continuity of 2019's organic forms.
Futurelondonacademy.com features bold and animated geometric shapes in the hero area. While XXXI's homepage uses the grid design, its Intro to Coding page showcases different geometric shapes.
Illustrations and Image Merge Into One
We talked extensively about the importance of video and how you can use layering to produce exciting visual effects. However, images and illustrations remain at the forefront of any design, as these types of visuals can tell your brand's story and seamlessly blend with the rest of the design.
Recently, more and more brands are experimenting with not only mixing images and illustrations but combining them into one, crossing the boundaries between real photos and drawings and creating a unique world that the visitor can enter.
The almost cartoon-like visual elements that use real images with enhanced illustration-based features can have a much more significant impact, instantly capturing the viewer's attention and ensuring that they process the images they see.
When you manipulate and enhance the images on your site, you are not only providing yourself with a lot more creative freedom in terms of colours, shapes, and even brand elements but are also implementing yet another visual aid that helps you direct the eye of the viewer, which is usually the primary goal of any successful design.
Illustrations
For the longest time, illustrations have dominated websites. Nowadays, having a customised, detailed, and well-executed illustration has become a trend. And I bet this would be huge in the coming months.
Big companies have joined the trend. For example, the website of Fixate uses creative illustrations that are ingeniously rendered throughout, not only in the hero section.
Combining illustrations with some animation is eye-catching, which can attract more visitors to the website. Adding a little animated figure to text can better translate the website's aim, particularly when used as a secondary feature.
Which creative web design trends in 2020 strike you the most?
Some of the most striking web design trends in 2020 include various features such as typography, animations, and illustrations. These trends combine old designs with new styles, new types of colour schemes, and interfaces.
Nonetheless, it seems typography emerges as the biggest winner for this year. You can see that in various web design trends mentioned earlier. And this trend will look to extend beyond 2020.
Thus, web designers need to keep up with the trends or even create new trends in web typography. They should not box their creativity with typical sans-serif or classic serif typefaces. Try to be more playful and creative with your designs.
We hope you find this article on the top web design trends in 2020 helpful. Leave a comment below if you have any questions.
Top 10 Books on Web Design in 2020
Sale
Bestseller No. 1
Principles of Web Design
Miller, Brian D. (Author)
English (Publication Language)
280 Pages - 04/12/2022 (Publication Date) - Allworth (Publisher)
Sale
Bestseller No. 2
Bestseller No. 3
Bestseller No. 4
Sale
Bestseller No. 5
Bestseller No. 6
Sale
Bestseller No. 7
Web Design with HTML, CSS, JavaScript and jQuery Set
Brand: Wiley
Set of 2 Volumes
A handy two-book set that uniquely combines related technologies Highly visual format and accessible language makes these books highly effective learning tools Perfect for beginning web designers and front-end developers
Duckett, Jon (Author)
English (Publication Language)
Bestseller No. 8
Sale
Bestseller No. 9
Sale
Bestseller No. 10
Building Websites All-in-One For Dummies
everything needed to create website even if begginer
David Karlins (Author)
English (Publication Language)
816 Pages - 08/14/2012 (Publication Date) - For Dummies (Publisher)
Last update on 2022-09-30 / Affiliate links / Images from Amazon Product Advertising API