How Can Designers Use Instagram to Get Potential Clients
You don't need tens of thousands of followers to get clients on Instagram.
It just begins with a solid Instagram checklist and an idea about your ideal target audience to smash the game.
As one of the biggest social media platforms, Instagram is a great way to attract potential leads and convert followers into customers.
Being a visual-heavy platform, designers can benefit from it because the feed practically becomes a portfolio – an excellent client magnet.
Using the right set of strategies, you can get closer to your potential clients, form a relationship with them and convert them into long-term retainer clients.
In this article, we'll do a run-down on some Instagram essentials that can convert your profile into a lead-generating machine. Let's get down to business!
1 – Create a professional designer account
The first thing you need to create a distinct identity on Instagram is to construct a professional-looking profile.
Everything from the business name to the highlights should be optimised for client attraction and conversion.
Before a potential client can even look at your feed or portfolio, they will create an impression from your account's overall look and feel.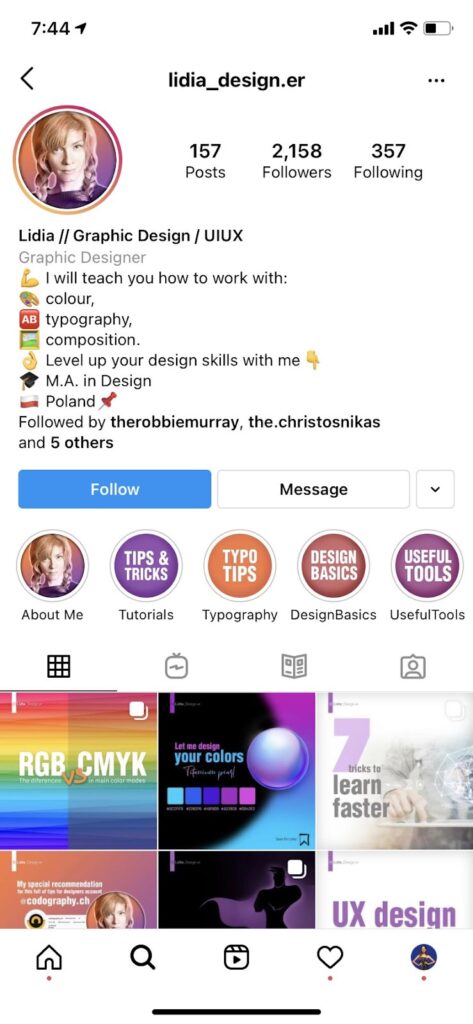 Here are a few pointers to spruce up your profile:
Show yourself in the profile picture, not your logo or a design you created. The more authentic you look, the more likely you will attract clients.
Include a design-related keyword in your business name along with your name. This will enhance searchability and visibility.
Give a sneak peek into what you do through the bio. Tell your audience about the kind of designs you create and what they can expect from your profile.
Include a Call-To-Action (CTA) link in your bio to direct potential clients to a contact form, a link to book the call, or your portfolio.
This above-the-fold aspect of your Instagram profile needs to be compelling, so they scroll forward and look at your feed.
It's a crucial aspect to attract and convert clients, so don't overlook its importance.
2 – Treat your feed as a portfolio
Being a designer, you have an advantage because Instagram is a visual platform where images and videos are placed on a higher pedestal than text content.
Leverage this to your advantage by treating your profile feed as a portfolio.
Use the best of your designs and uniquely display them. Here are some tips for doing the same:
Create an aesthetically pleasing profile- one of the best ways to show you're a designer without saying it.
Don't just post designs and images; also use the captions to tell a story behind the design or how you came up with it.
Use reels and IGTVs to show behind-the-scenes efforts of creating a design and the processes you follow.
Use the time-lapse feature to show a snippet of how you create designs. This will give the client an insider tip into how you work.
While you're doing this, remember not to overdo it.
Don't post your designs all the time; maintain a sweet balance.
You can use an Instagram scheduling app to help with this.
Most of the content you schedule should be helpful content.
You can intersperse these with snippets from your portfolio.
3 – Create thought leadership content
Understandably, you can't just promote your designs and portfolio content on your feed.
It will get spammy, redundant and people might unfollow you.
What you need is raw content that can educate people.
So, you need to create problem-solving content that shows you're an expert in the field.
We're in 2021. Hard selling through promotional tactics is one of the worst ways to market your services.
You need to build trust through value and make them swipe their card.
Once you start creating valuable content in your niche, people will start looking up to you as an authority and a solution to their design needs.
Here are some best practices to create thought leadership content:
Understand your audience, create content that will solve their problems
Show your face and create video content. This will help build trust and humanise your brand.
Use stories to sell your offers, talk about client projects and how you proceed with design processes.
Educate people about your niche through the various Instagram features.
The more selfless value you provide, the more people will trust you. And this will make that much easier to close them as a client.
Hashtags are a critical aspect of the Instagram game and can exponentially increase your reach on the platform.
Using the right set of hashtags can put you in front of your target audience and attract more eyes to your profile.
It's essential to ensure you reach the right kind of people with the right content at the right time.
However, it's not easy given so many people are trying to create a presence on Instagram and create similar content.
Here are some tips for creating a solid hashtag strategy that can amplify your profile reach:
Create at least three sets of 30 hashtags, and use them one after the other to see what works the best.
Try to include hashtags that relate to your niche, content, location, and potential clients. By doing so, you'll cater to niche-specific users who can relate to your content and potential clients who can strike a deal with you.
Don't create hashtag sets before researching. It would help if you did this research by assessing your competitor's hashtags.
Try using apps like Hashtagify or Flick to create hashtag sets. Another app, Ninjalytics, will help you see your competitor's top-performing hashtags to take inspiration while creating your strategy.
5 – Engage with your potential clients
While having a solid content creation and hashtag strategy are great for generating leads, you still need to interact and engage with your potential clients.
If you want to put yourself in front of your audience and ensure that they reach out to you if they have a requirement, you need to be on top of their heads.
Here's how you should engage with your clients:
Use hashtags and keywords to find them on Instagram. Be as specific as possible to acquire the best-fit clients for your services.
Create a list of your potential clients and start engaging with them.
Leave a valuable comment on their post, which displays your expertise and points out an important aspect helpful to them.
Build a conversation in the DM without pitching your services.
Try and communicate the gaps in their business where your services can help them. You can also use amoCRM, a messenger-based platform, to keep track of all your prospects.
Once you've built some trust and faith in your services, present your offer.
It's a complete cycle, a hefty one indeed.
But as you start implementing it, you'll get the hang of it and become an expert at selling through value.
Closing thoughts
Instagram is a large sea of hidden opportunities that are waiting to be explored.
It has an audience of 500 million active users.
If you can even grab a small percentage of it, you can create a successful design business.
More than spammy promotion and engagement pods, focus your efforts on building relationships and selling through value.
Show up consistently because Instagram rewards it, and soon you'll find yourself in a pool of opportunities and leads.
Good luck!