How To Manage a Drip Campaign For Real Estate Brands
Creating a brand identity for your buyers and sellers is crucial in establishing an excellent real estate brand. 
There are a lot of means of successfully crafting a well-appreciated and highly-popular brand identity – one of them is utilising drip campaigns. But what are they?
Drip campaigns entirely involve automated marketing emails that send emails to specific people who have signed up for it. It's said that many Realtors across the country have now adapted using drip campaigns in their processes to quickly identify their businesses with many clients and be at the top of their game.  
Drip campaigns management entails the utilisation of numerous companion tools like customer relationship management (CRM) programs, leads utility tools, and others. 
Some companies have even gone a step ahead in getting the best CRM for real estate to boost their drip campaigns. 
Besides keeping track of clients' needs, different real estate software packages work together to keep track of sales, which is essential in determining where to invest in drip campaigns.  
As an entrepreneur with a real estate brand yourself, drip campaigns can help you communicate essential and up-to-date real estate-related information with your clients. 
Additionally, well-crafted drip campaigns can lead to you developing a good marketing relationship with your clients. 
Are you on the lookout for helpful insight about how to manage your real estate brand's drip campaigns? Continue reading below to learn more. 
1 – Know Your Target 
The first step towards a successful drip campaign is knowing your target audience. You'll need to choose among different real estate market segments, including buyers, sellers, active clients, passive clients, fellow real estate agents, and other industry professionals. 
It's best to remember that each market segment population has a specific need to be addressed differently. 
After segmenting, it'll be much easier to cater to each group's needs. Expert marketers believe that targeted drip campaigns lead to a successful real estate brand.  
2 – Understand Your Drip Campaign 
Once you've cornered down your different segments, it's time to carefully make the content in your emails relevant and valuable to each targeted audience group. 
First-time clients won't be treated as active clients. In most cases, for newbie customers, their emails should have the following: a welcome note, company information to help them get to know your real estate brand better, personal details from the recipient, and real estate offerings available.
Additionally, asking for feedback will help the client feel valued. On the other side of the coin, your customers' opinions will help you know where to relay improvements to add quality to your content and supersede their expectations of you.
Meanwhile, there's a different method of communicating with previous real estate leads, investors, and others.
3 – Personalise And Customise Drip Campaign Content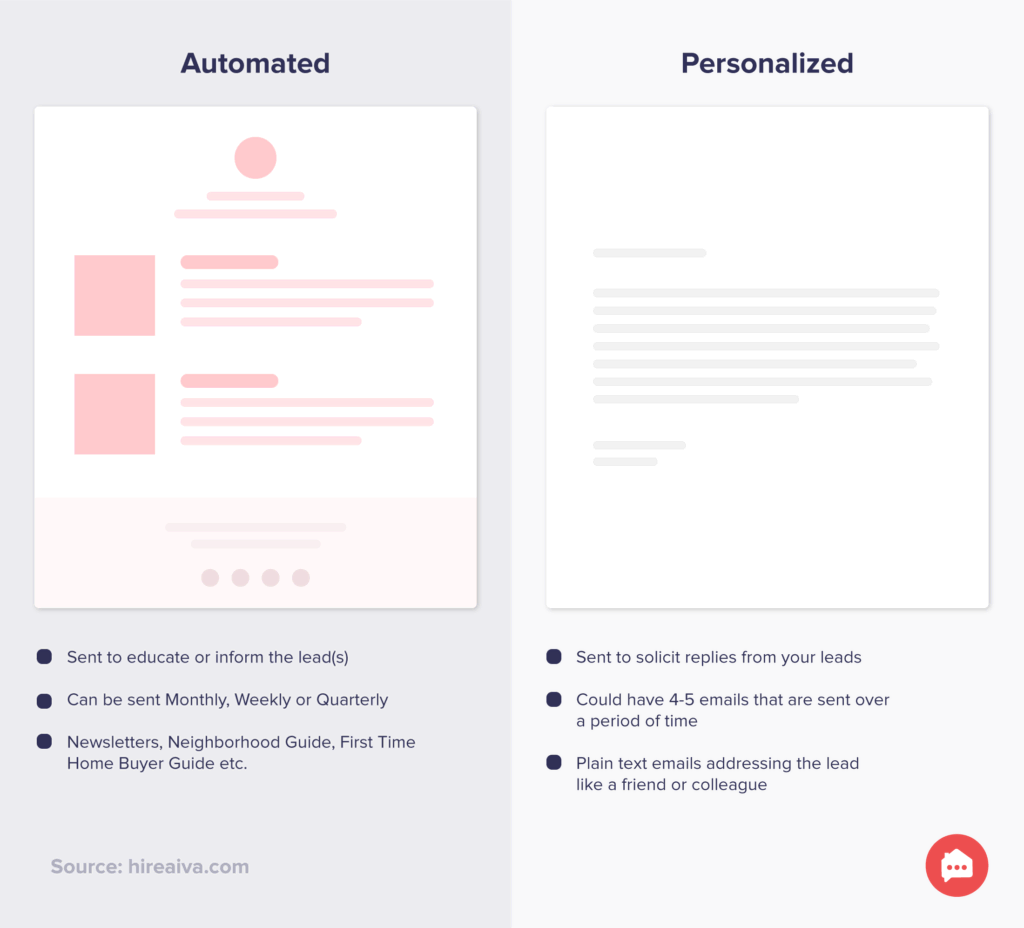 Trust is built by having a tight-knit relationship. How do you develop everlasting trust in the real estate world? You'll need to be approachable and personal to different stakeholders.
For instance, you might list people you address in a given audience segment. While sending a marketing email in your drip campaign, you must identify each recipient by name. 
It's said that this will make the communication line between you and your patrons more personal. Further, this will help them feel at ease with you and identify your real estate brand – the first step in forging a lasting relationship in a fast-changing industry like real estate. 
4 – Deliver Appropriate Content And Attention-grabbing Subject Line
After ensuring content personalisation, it's advised to have an eye-capturing subject line to seal the deal. Avoid confusion and be clear to the reader about your interests in the subject line before they open your email. 
For instance, if you happen to send out a drip campaign email titled 'How To Get To Own A Property In 6 Months,' make sure that its contents and graphics detail how its readers can achieve such a feat. 
The said email subject will tickle your recipients' curiosity, leading to them clicking on the message to read its content. 
Make their effort and time worthwhile by making them feel satisfied after going through a marketing email's contents, for they're able to get what they've expected. 
5 – Include A Conspicuous Call-To-Action Button
Don't forget to put a call-to-action button or section to your emails' content. It's recommended that a call-to-action be incorporated as seamlessly as possible to make the email not sound too-sales-y. 
Try to use a friendly yet persuasive and firm tone in your writing. 
6 – Follow Proper Timing
It's said that the real estate business has a much different market margin compared to other products or services in the overall economy. 
Do you know when is the peak season when people are buying properties? Understanding essential questions like those above will help you identify when to fire up your drip campaign and send emails at the right time to bring about a positive impact on your business. 
Another tip you can follow is to use automated tools that keep track of your leads' activities, interests, and the like. Sending the appropriate email containing valuable pieces of information related to what they're looking for is pivotal. 
7 – Go Above And Beyond With Your Clients.
Responsive customer support helps establish a successful real estate brand. 
Drip campaigns can aid you in your quest to give above and beyond services to your client base. Convince your target market segment that they can expect more from you besides the helpful information you include in your emails. 
Case in point, if you send out a drip campaign email to a potential homebuyer after they've viewed a listing online, invite them for a property viewing schedule. It gives your work more value and creates more authenticity. 
As stated in the email content, your eagerness to lend a hand can astonish your recipient, leading to them forming a favourable opinion of your real estate brand. 
8 – Schedule How Frequently you Should send Out emails
The frequency of emails should be what works best for your real estate business. Plus, it should help keep your customers stay up-to-date with developments in your branding and the real estate world. 
Work with a content calendar or follow a detailed protocol involving dealing with clientele behaviour. 
9 – Explore Different Drip Campaign Management Tools
Lastly, you'll need to comb through different drip campaign solutions providers out there to find out which program or product is best suited to your drip campaign plans. 
Various software offerings provide features and toolkits that aim to make drip campaign management effective and hassle-free. 
Test out each option you'll stumble with to see how your target audience feels about them. Positive customer feedback can indicate that a drip campaign package effectively meets their needs. 
Conclusion 
Drip campaigns are among the most useful marketing tactics for realtors like you that you can tap into to ramp up real estate branding. 
If executed properly, drip campaigns can make clients and other real estate stakeholders feel connected and invested with your brand – forging a foundation of trust between you and them amidst a very volatile and fast-changing industry.