The Best Graphic Design Workspace and Gadgets
In modern realities, more and more people work from home. Therefore, having a home office, even the smallest one, is no longer a luxury but a necessity. 
Graphic designers often chose to work as freelancers. They work in any convenient place or open their own studio. 
Professionals may also work for an advertising agency, a printing company, a publishing house, a fashion house, or a design studio. 
So what do you think is on a graphic designer's desk should be? A desktop is a place where ideas are produced. 
It's a source of inspiration, and this source should always be clean and spacious. And this is not only about your workplace, but also your productivity and, most importantly, your happiness.
Then let's look at five general rules for organising the design workspace.
1 – Work area furniture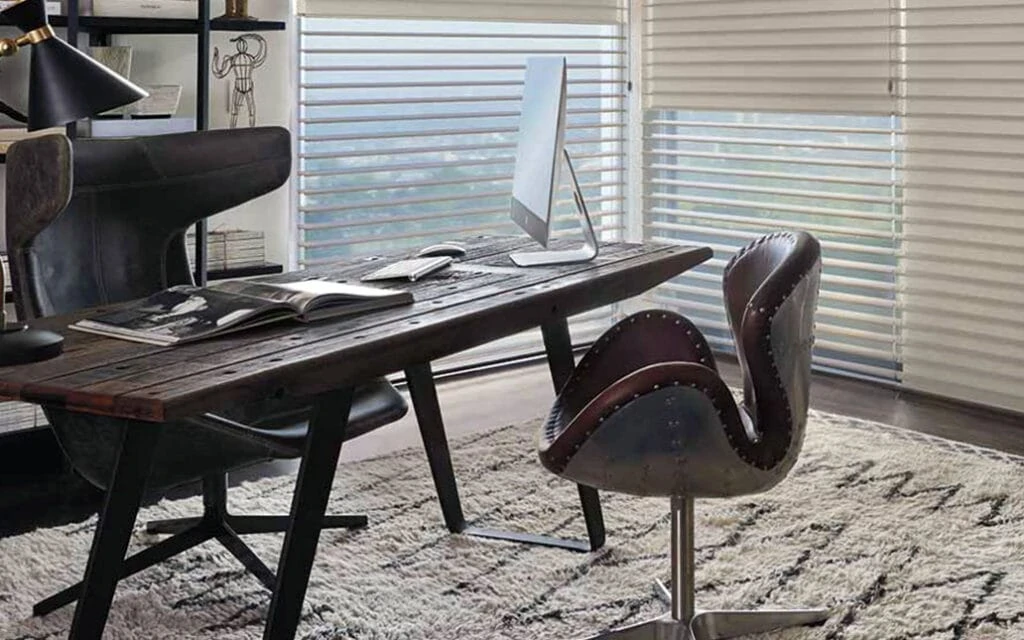 When equipping an office or home office, it is crucial not only to arrange the interior items correctly but also to choose the right furniture. 
Not only your convenience but also your health and efficiency depend on it. So, by choosing the wrong table or chair height, you will feel discomfort, from which you will consume more energy and get tired faster. 
If the table is too low or the chair is too high above the tabletop, you will slouch. And if the tabletop is very high or the chair is too low, you will raise your head and exert your neck muscles. 
Selecting a table is the main task when organising a design workspace. It will be surrounded by the majority of the furniture and decor. 
BON AUGURE L Shaped Computer Desk, Industrial Home Office Desks with Shelves, Reversible Rustic Corner Wood Desk (59 Inch, Vintage Oak)
Functional and Humanization Design: This industrial L shaped desk can be configured on left or right hand side, depending on how your space is arranged. L-Shape design allows for space-saving, designed to maximize any corners of office or home space. This corner desk stands out with its rustic refreshing appearance and lends farmhouse appeal to your home office.
Ample Storage Space: With 59 Inch wide spacious desktop for multiple monitors or laptops, the L desk has a functional storage shelves keep all documents organized and desktop clutter free. 43.34 Inch wide space underneath desktop allows your legs relax during a long time working.
Dimensions & Material: 59.06"L x 55.12"W x 30.12"H. This rustic home office desks is crafted from heavy duty metal tube and high quality MDF with vintage oak wood grain finish. Additional X-shaped tubes strengthen bottom shelves and make it sturdy.
Weight Capacity from Top to Bottom: 1.18 Inch thickness desktop holds at least 275 lbs stuff. Shelf top: 165 lbs. Mid-shelf: 55 lbs. Bottom shelf: 165 lbs.
Easy Assembly: Necessary hardware and instruction provided, this l-shaped office desk with storage takes only 25 minutes to assemble. If you meet any difficulties in assembling, feel free to contact us, we always reply within 24 hours.
The working surface should be large enough to accommodate all tools and gadgets used continuously. 
If you work all the time remotely, take a look at the large multifunctional tables. Place what you are constantly using in the "grip space" – an area of the table that you can easily reach with your hands. 
When adjusting the table's height, be guided by the fact that the tabletop should be located at the solar plexus level, while the forearms lie freely on it and the shoulders are at a natural level and not lift up.
The office chair should be as relaxing as possible. The correct positioning of the legs and arms will prevent health problems and ensure an efficient work process. 
A comfortable chair for the design workspace must meet the following criteria:
Legs should meet the floor and bend at a 90-degree angle in a seated position.
Ergonomic chair back with an adjustable tilt to support the back and correct blood circulation in the body.
Homall Gaming Chair Office Chair High Back Computer Chair PU Leather Desk Chair PC Racing Executive Ergonomic Adjustable Swivel Task Chair with Headrest and Lumbar Support (Dark Black)
Selected Material: High density shaping foam, more comfortable, elasticity resilience and service life. 1.8mm thick steel frame, more sturdy and stable. Pu Leather, skin friendly and wear resisting.
Upgraded Configuration: Class 3 gas lift, durable, reliable and supports up to 300lbs. Rubber casters, rolling quietly and tested by 1000 miles rolling.
Multi Function: 360 degree swivel and multi direction wheels, load capacity: 300-pound maximum weight capacity. Recline function. Between 90 to 180 degree. Rocking function: chair can rock back and forth when you adjust the knob beneath the seat.
Dimension: Size of back: 22.5 inch and 30.5 inch. Size of seat: 14.5 inch and 20.5 inch. Seat adjustable height: 17.3 to 21.5 inch.
Wide Usage: This gaming chair is suitable for you to play computer games, watch show, do the work and have a rest. It will make your space more modern and elegant.
2 – Cleanliness, simplicity, and usefulness
The design workspace must be spotless. Despite the size of your desktop, no need to dirt it with garbage. Nothing should distract you from your work. 
Only those objects on the table with which you mainly work and those that inspire you. It can be some excellent photos, a stuffed toy, or something else as different things inspire all people. 
It can also add a sense of cosiness and ambience. 
So if you want to create a masterpiece in your design field, be sure to keep your workspace clean and surround yourself with inspirational objects.
3 – Create a Desk Layout That Works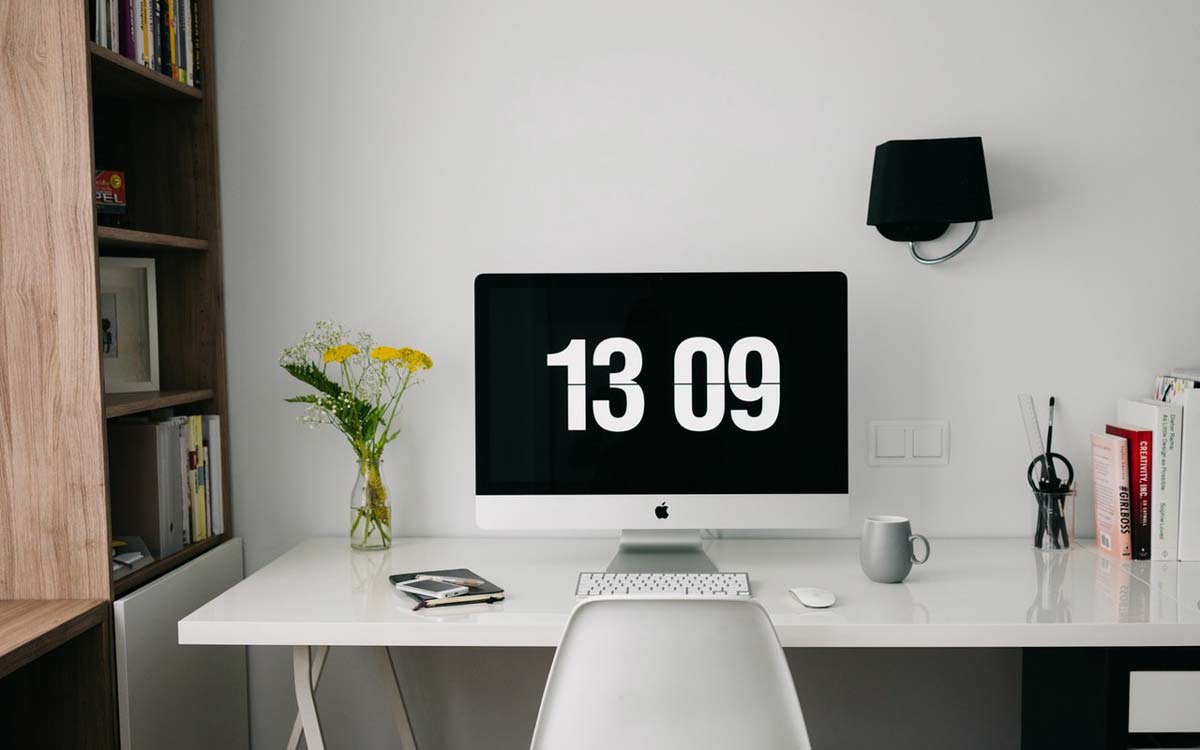 Stacking all of your essential work tools like reference books, tablets, notebooks, and sticky notes in one place can make it challenging to stay organised. 
Think about separate shelves, hanging folders, and dividers on your desktop. For example, one section can be dedicated to inspiration sources, including art books and previous successful projects. 
Another section may contain all of your computer-related things, such as a printer and an external hard drive. 
Simple zones can assist you in completing tasks without being interrupted by irrelevant things.
4 – Natural lighting
In the first place, lighting has a profound effect on human optic nerves, through which we get about 90 per cent of all information about the world around us. 
The lack of light leads to strained vision, resulting in rapid eye muscle fatigue, general drowsiness, headaches, and migraines.
There should be enough light in the workspace. 
It is best to use as much natural light as possible and place the working area close to the window. The obligatory attribute is a table lamp. 
Sale
Kenley Natural Daylight Floor Lamp - Tall Reading Task Craft Light - 27W Full Spectrum White Bright Sunlight Standing Torchiere for Living Room, Bedroom or Office - Adjustable Gooseneck Arm - Gray
LIKE NOON SUNSHINE Get the feel of full daylight even at night or on a dull day. This Kenley floor lamp has a color temperature of 6400K, which is as close to daylight as electric light gets. The energy saving bulb (included) lasts for up to 8,000 hours and uses just 27W of electricity.
SEE TRUE COLORS Whether you are a professional graphic designer, a home sewer piecing a quilt or just someone who loves reading, this lighting will show you the true, clear colors of whatever you are working on or looking at. No need to wait for sunlight to do your work with this Kenley task lamp you can work any time.
REDUCE TIREDNESS There is nothing like natural light for reducing tiredness and helping you cope with dim winter light apart from the Kenley Daylight Lamp, that is! As this lamp imitates noon sunshine, it gives your body a boost of energy which can help you start the day well, work later at night, or handle working shifts.
VERSATILE AND STYLISH LAMP Designed to suit any decor, this modern lamp is ideal for office, living room and hobby use. Lightweight and portable, the lamp is 63in (160cm) tall and has an adjustable swivel neck. A sturdy base prevents tipping and a 69in (175cm) cable lets you place the lamp wherever you need it.
THE PERFECT GIFT You know someone who is straining their eyes trying to work in poor lighting or someone who has macular degeneration. Transform their experience with a brand new lamp, and make their hobby or work pleasant and relaxing. This Kenley lamp is the ideal gift for anyone who loves to read, do jigsaw puzzles, paint, knit, sew or do other work with their hands.
There are several recommendations on the correct location of light sources in the workplace:
When doing any work, the light source should be on the left and in front of you to avoid shadows.
It is better to avoid light spots and light changes on the working surface.
It is better to sit sideways to the window at the table – when the sunlight falls from the front, the load on the eyes increases.
It is necessary to illuminate the entire room, and not just the workplace – abrupt transitions from twilight to illumination greatly tire the optic nerves.
The work surface should be evenly lit, while the head should be in the shade.
It is best to choose a matt-coated desktop – reflected light also prevents concentration.
Indirect lighting can help improve your computer productivity. The luminaires are aimed at a wall or ceiling, not at the workplace. Such a solution would help to increase concentration and reduce pressure on the eyes.
Do not place the computer screen to the window – outside lighting will only increase the load. If there are no other options, it is better to use dense curtains or blinds. 
Research writers at Write Any Papers have been mentioned more than once that a naturally lit workspace gives you a sense of spaciousness and relieves any crowded feelings when you work inside all day.
5 – Variety of screens
Screen space is vital for both graphic designers and digital content creators. Even if you don't think it's essential for what you do, you'll be surprised at how it helps have a secondary display. 
Working with two monitors will boost the overall efficiency by 20 to 50%! You can quickly spread out your on-screen tasks by using dual monitors. 
You won't have to switch between tabs as much, which decreases the likelihood of errors while also speeding up your workflow. 
At any given time, graphic designers generally have numerous active projects, each of which necessitates the use of several applications and programs. 
Multitasking effectively requires enough screen space to keep numerous programs and projects visible at the same time. Something that is simply difficult to do on a single screen.
Productivity may be affected by a cluttered and disorganised workspace. 
While cleaning up your design workspace and removing distractions may not sound appealing, these simple tasks can significantly impact the quality of your work as a graphic designer.
Best Gadgets For Graphic Design
In addition to organising the workplace, good professional gadgets for graphic design are also essential. 
Modern graphic design is not an easy task. The selection of matching colours, the correct composition, and many other little things are all usual processes for a designer. 
This article also contains a selection of the most memorable gadgets that will help you solve your problems and be more productive and effective.
Draw with Wacom One
With the Wacom One tablet, you can create your drawings and edit digital photos with a convenient pen. 
The receptive, ergonomic, pressure-sensitive pen provides a natural way to sketch, draw, colour, or edit photos. 
The pen does not require batteries, so it is lightweight, perfectly balanced, and comfortable to use from the first to the last minute.
Small and Medium sizes are available, and you can choose the size of the drawing area. 
The graphics tablet's working surface does not have any superfluous parts, and there is only one connector on the corps. 
Sale
Wacom One Drawing Tablet with Screen, 13.3 inch Pen Display for Beginners and Digital Mark-up: Mac, PC, Chromebook & Android (DTC133W0A)
See your imagination come to life in full color on a 13.3" display with a natural surface friction that makes for intuitive drawing on screen. It feels like you're drawing or writing on paper.
Feels like a real pen – no need for batteries, the pen feels and looks right. Plus, this one pen uses software to act as multiple pens and brushes in a full range of colors, with superb accuracy.
Digital freedom – sketch or paint directly on screen, draw diagrams, annotate documents, enhance photos and videos, plus you can delete, edit and share your creations with ease.
Includes Creative Software: purchase & register your Wacom One and receive Bamboo Paper Pro, Clip Studio Paint Pro (3-month license), and Magma (3-month Pro license)
Diverse compatibility – link up your Wacom One to your Mac, PC or Chromebook, as well as certain Android tablets and smartphones, and even use digital pens from top brands if you want a different option; some devices require USB-C or OTG adapters
Select colours with Wacom Cintiq Pro 24"
How do you not get confused when choosing the right shade? 
Do not be distracted from the drawing – the tablet from Wacom is equipped with a 24-inch display with an anti-glare surface and resolution of 4K resolution (3840 x 2160 pixels). 
The image quality of the tablet makes it an ideal assistant when drawing or retouching an image. This is the perfect tool for working with the colour palette.
Wacom DTK2420K0 Cintiq Pro 24 Creative Pen Display – 4K Graphic Drawing Monitor with 8192 Pen Pressure and 99%
Adobe
RGB , Black
Wacom's most natural and advanced pen performance with 8,192 levels of pressure sensitivity, eraser and virtually lag free tracking
4K resolution (3840 x 2160 pixels) is packed into a 24 LCD display with superb color accuracy (99 percentage of Adobe RGB)
The Express Key Remote puts 17 programmable buttons within easy reach; The on screen keypad and the radial menus offer further 1 touch shortcuts
The etched glass screen reduces glare and reflections while providing a distinct, tactile experience as you draw, mimicking the feel of a pen on paper
Connect Cintiq Pro 24 to your Mac (OS 10.11 or later) or PC (Windows 7 or later) with the included cables/connectors for USB-C, HDMI or Mini/DisplayPort
Get inspired by photos with the XP-Pen Artist10S Tablet Monitor
When creating their own masterpiece or illustration, the designer uses the source material – inspirational photographs and graphic sets. 
Working with them would be easier with a functional tablet monitor. It is a high-quality monitor with an IPS matrix and 1200×800 resolution, with a stylus that does not require recharging.
It's easy to carry in one hand due to its small size, and the graphics editor's six programmable buttons are simple to set up for specific actions. 
The pen recognises up to 2048 pressure levels, and the proprietary software is compatible with both Windows and Mac OS.
Adobe keyboard
On this keyboard, there is an LED backlight. 
At the top, there are four substantial touch buttons for work with graphics applications, on the left, there is a set of six keys to assign your own shortcuts or frequently performed actions, on the top right, there are two screens: the miniature displays the active program, and the bigger one displays the active tool. 
There is also a circular indicator for choosing a colour in the palette.
Maintain order and proportion with Wacom Standard Nibs ACK-2000 pens
To keep track of proportions, it is necessary to respect the fonts' thickness and elements, place them according to the layout grid and observe the visual hierarchy. 
But what if your pen has already "worn out" and lost its former accuracy?
Digital pens are reliable tools, but even they sometimes require maintenance and replacement. 
With this set, you don't have to worry and can easily replace the part when you need it. 
Nibs are suitable for digital pens on the Wacom Intuos4, Intuos5, Intuos Pro, Intuos, Bamboo and One series tablets.
Use empty space and create everywhere with Wacom Bamboo Sketch for iPhone and iPad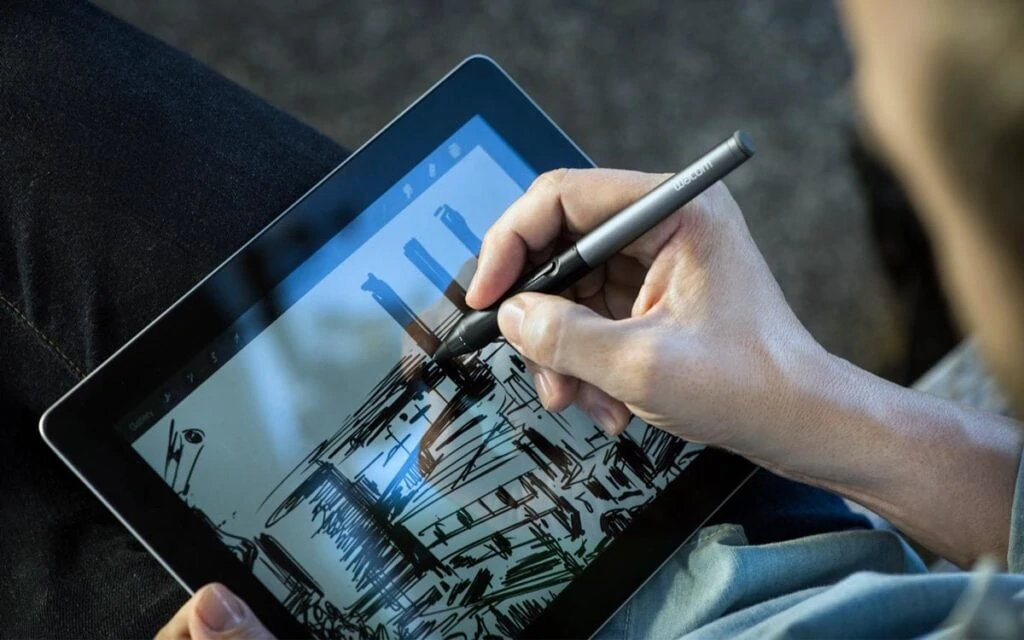 Do not "fill in the empty space" with unnecessary elements. It is very easy to overload the drawing with unnecessary details when dealing with empty spaces. 
Practice with a Bamboo mobile device stylus, which will turn your iPhone or iPad into an actual canvas. 
It works with Bamboo Paper, ArtRage, Autodesk SketchBook, Concepts, and MediaBang Paint programs.
The Wacom Bamboo Sketch is 14.2 cm long and 1 cm in diameter. 
The rubberised carbon-coated nib is 1.9mm thick for sketching on an iPhone or iPad screen. 2048 pressure levels and case included. 
With the Adonit Pro 4 Black stylus, you can keep your drawing simple
Adonit Pro 4 (Black) Luxury Capacitive Stylus Pen, High Sensitivity Fine Point and Precision,Stylus for iPad, Air, Mini, Android, iPhone, Surface, Other Touch Screens, Compatible for All Touchscreens
Fine Point Precision Engineered as a singlular piece for added stability for a precise line everytime.
Soft Touch Precision Disc PET material designed precision disc Scratch resistance on touchscreens.
Streamlined pen clip A sleek grooved hook designed for your pockets, bags, and more.
Premium craftsmanship The Pro 4's body is made of lightweight aluminum with a efficient copper twist cap design for improved the texture and grip to take your experience to the next level.
In any graphic editor, you will find dozens of filters and additional functions. 
Should we use them all at once? Of course not – in the drawing, it is essential to balance the idea and its implementation possibilities. 
Try limiting yourself (but not your imagination) with a capacitive stylus. 
The Adonit Pro 4 stylus is suitable for everyday use. The most important feature of the accessory is that it is compatible with all capacitive touchscreen devices. 
It does not require connection or batteries and is always ready for use. One of the excellent bonuses is a cap with a magnet and an aluminium corpus. 
One More Thing: Apple Pencil stylus for iPad Pro
Apple Pencil (2nd Generation), White
Compatible with iPad mini (6th generation), iPad Air (5th and 4th generation), iPad Pro 12.9-inch (3rd, 4th, and 5th generations), iPad Pro 11-inch (3rd, 2nd, and 1st generations)
Apple Pencil (2nd generation) brings your work to life. With imperceptible lag, pixel-perfect precision, and tilt and pressure sensitivity, it transforms into your favorite creative instrument, your paint brush, your charcoal, or your pencil.
It makes painting, sketching, doodling, and even note-taking better than ever.
It magnetically attaches to iPad mini (6th generation), iPad Pro and iPad Air, charges wirelessly, and lets you change tools with a simple double tap.
If, for some reason, you're using iPad Pro without Apple Pencil, fix it immediately. 
Stylus guarantees a lightning response when pressed, and universal charging will ensure long operating times.
This is one of the easiest ways to get into the creative world if you already own an iPad Pro. This is an accessory that makes working with the iPad Pro display straightforward and comfortable. 
Remember, our environment creates productive work. For best results, try to keep your work area clean and tidy. 
Also, do not forget about such important factors as lighting, small things that inspire you. After all, all these things also reflect on the result of your work.
We hope our tips and gadgets will help you master graphic design and create illustrations that you can be proud of. 
Author Bio: Helen Wilson is a professional content writer. Her main spheres of specialisation are Graphic Design and Business. She studies topics about psychology and health, and also she is good at literature research paper topics.
Last update on 2022-09-29 / Affiliate links / Images from Amazon Product Advertising API