Top 8 Tips to Create Engaging Graphic Design Puns, Jokes and Memes
Social media platforms are a great medium that allows people to interact with each other and stay connected.
They also provide people with the kind of information they look for.
What's more about social media platforms these days is how graphic design puns, jokes, and memes are spreading.
Millennials are the primary users of popular social media platforms, and it has been observed that they prefer light-hearted graphic designs that can make them crack up.
Furthermore, millennials these days engage in sharing memes more than having a conversation over social media platforms.
It's a fact that images significantly influence the Google ranks of pages, and since graphic design memes and jokes are easily digestible, it's no wonder they are a blessing for marketers.
For how popular memes and puns are, they also increase the click-through rates in the SERPs.
There is no doubt about the fact that memes, puns, and jokes gather more attention than plain texts.
People generally come up with graphic design jokes to have them go viral.
It's a radical technique that you can use for your business to gain more audience.
Graphic design is a combination of being insightful and innovative.
If you have what it takes to create graphic designs, you can pretty much do it for yourself.
However, when you plan to design a pun or a joke graphically or make a meme, you have to consider certain factors so that you achieve the kind of outcome that you aspire to.
No matter what the task is, the best way to get something done is to have a systematic approach and a clear understanding of the factors involved.
This brings us to discussing the eight tips that would help you in creating engaging graphic designs that are funny and worth going viral.
1 – Know your Audience
The very first thing to do when creating a funny graphic design visual is to know what your audience wants.
What's funny for a group of people can be offensive to another group of people.
While it's never easy to address the personal taste of every person who follows your website or social media account, you still have to be a little insightful about the kind of graphic design jokes you plan to post.
To make sure you're able to please the vast audience you have, you can also categorise them into the type of media they generally like and follow.
After you have a rough category, try to come up with graphic design puns, memes, or jokes that would be a common interest for all the types.
One important thing to keep in mind is that even if the entire audience does not relate to your humour, (since there are always some people with a different taste) no person should feel offended.
This can hurt your brand's reputation.
Say, for instance, you post a sexist meme – girls can't find their hair ties, but they know what you said seven months ago at 6:30 pm. Don't you think it would trigger many of your female audience?
2 – Do your Research
While looking for a graphic design idea that interests your audience is essential, it's equally important that the visual design puns are related to your business or brand.
Without that, even if the puns or memes are funny, they would soon be forgotten by people, especially if you want it to have an impact on people on behalf of your brand.
This point also emphasises the fact that you should not target other competitor brands and make a direct reference.
While this might not be illegal, it does seem to violate business ethics.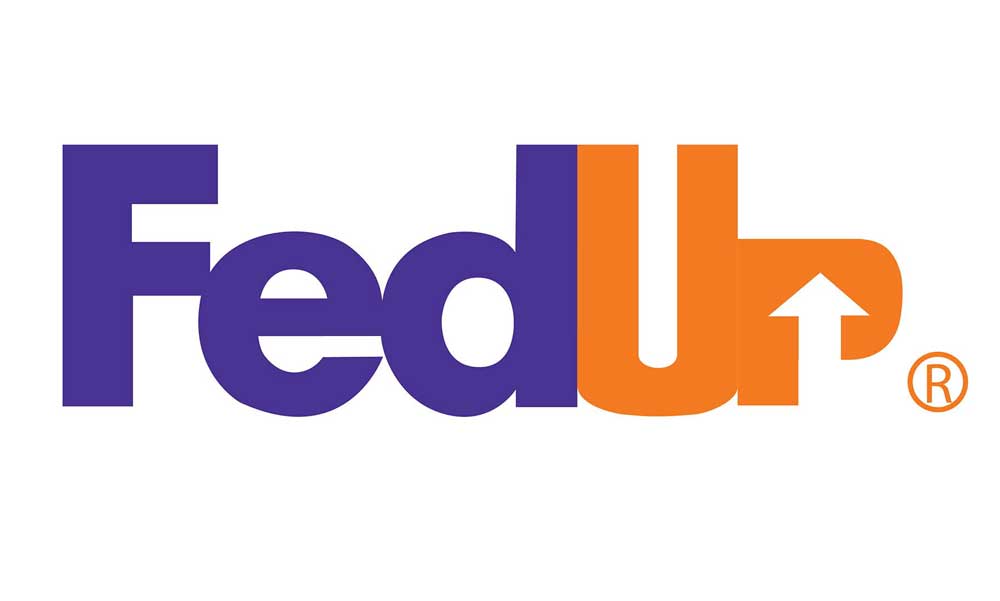 3 – Keep an Eye on the Latest Shows and Movies
Most memes and puns are made on a movie or show characters and scenes.
So, it makes sense to follow what are the new movies and shows with scenes, dialogues, and characters that are worth funny graphic design quotes and visual design memes.
This would also help you to stay ahead in the meme game before people say to each other, "Oh, I've already seen that meme a thousand times."
While making graphic design memes out of latest stuff is a great idea, don't pick a subject that is new but has already been overused by others.
4 – Don't use Obscure References
Memes and puns about a particular subject won't make any sense and won't have any impact on a person if that person doesn't know what the pun or meme is based on.
So, using less popular references would, unfortunately, make you look unfunny since a majority of your audience won't understand.
The very purpose of a meme, joke, or pun is to make people laugh, and if it fails to do so, you end wasting your time and effort.
For instance, if the majority of your audience haven't watched Twilight, they wouldn't understand the puns and memes that directly use references from the movies, so why use it?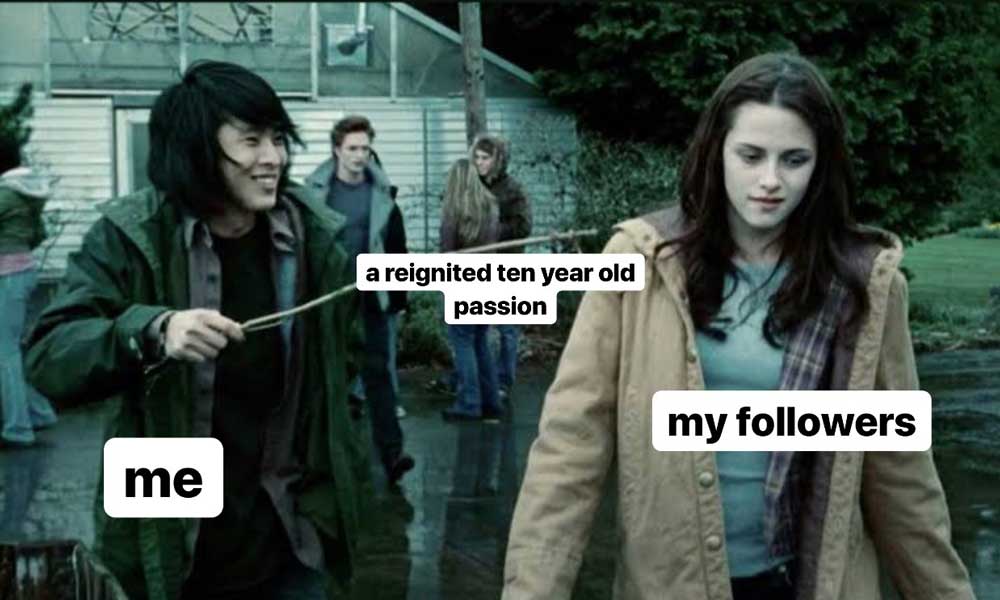 5 – Make it Relatable
When you post graphic design puns or visual design jokes, they are supposed to be relatable.
In fact, the biggest reason why millennials are into memes is that they are highly relatable.
However, if you miss that factor, your design won't appeal to the audience.
Here, two of the factors mentioned above play an essential role- understanding your audience and knowing your brand.
The graphic design memes should seem relatable to both your audience and brand.
Let's say you own a vegan restaurant, and it's Thanksgiving.
Naturally, your business wouldn't promote non-vegetarian food, and neither would your audience relate to the graphic design.
Under such circumstances, take care when posting relatable and relevant graphic designs.
6 – Be Innovated and Up-to-date
If you take a look at popular social media platforms, once a meme goes viral, you find it almost everywhere.
Memes can go out of fashion within a few minutes if they have already garnered enough attention.
To have the right kind of impact on the audience, you have to be a combination of innovation and being updated.
When it comes to memes and puns, while following a particular trend is essential, it is equally significant that you create a chance for yourself to be the trendsetter.
Starting a trend is a big move, and it would help you establish yourself more strongly as a brand.
7 – Hire Professionals
If you have an online business and are looking for ways to have more visibility as a brand, it makes sense to invest in professional graphic designers.
Today, if you focus just on written content and SEO, you can't expect a sudden boom in rankings and more people rushing to your website.
However, graphic design puns, jokes, and memes can help you set your business apart from competitors and come off as more unconventional.
When you hire a professional graphic designer, the designer or the team would be able to assess what your business is like and what kind of puns, memes, and jokes related to your business niche can cater to an audience.
Professionals have a strategic way of going about any given task that you can't expect an amateur to follow.
So, if graphic design puns, memes, and jokes can be a big and significant move for your business, don't shy away from investing in a highly-professional and reputed graphic design service.
Moreover, when hiring, check what kind of niches the graphic designer has worked on and how impressive you find their work.
finding a graphic designer who has had a good amount of experience in your niche would be a better idea since experience brings even more knowledge.
8 – Keep Going
One of the mistakes that people make when they start off with posting graphic design puns and memes is that after a certain amount of time, they give up.
If you check any popular page that posts memes on a social media platform, you would notice consistency.
While you don't have to go overboard, you can at least maintain a definite count so that if you have built an audience, your audience does not wait for your memes and ultimately leave.
If you remember there are umpteen number of pages with memes and jokes, you would know your competition.
Also, with so much competition, you have to stay right there and be consistent.
To make a funny graphic design worth going viral and being liked, all the tips mentioned above play a considerable role.
Whether it's about branding or content marketing, more people are using graphic design puns, jokes, and memes so that the younger crowd are drawn to them.
These days, people connect more through online jokes and memes.
While written content will never go out of fashion, graphic design memes and puns would be an incredible add on and would accessorise the written material.
It would be safe to conclude by saying that people remember pictures with a funny story more evidently than regular plain text.
This can serve as a fantastic branding strategy.
Top 10 Graphic Design Jokes
Everyone needs a laugh now and then. I know you need to be serious with your work and not play around. All work and no play makes Jack a dull boy – and makes him sick too.
Almost all the graphics designers I know find it so hard to unwind and have a proper relaxation from work. 
There's either a world-class design that they need to tidy up, or they are mining for creative ideas for the next design project. It's all work, work, and work.
So for designers, all work and no play makes you a depressed designer – and saps your creativity too. The truth is, most of the world's celebrated graphic design came as a joke.
Thankfully, there are rib-cracking graphic design jokes that have now flooded the internet. One of the benefits of social media is that in places like Pinterest, you see memes that carry jokes and puns that get you laughing out loud. It has become an excellent strategy for social media advertising.
Some of the jokes are embedded in the text, while others find expression from the design itself.
As a professional graphics designer, adding some puns into your designs has the potential to stand you apart when clients are looking for people to work on their projects. 
Most of the people who hire freelancers from writing service review websites like Best Writers Online, or Upwork look for professionals who can bring in the fun factor into multi-million dollar projects.
So, a little joke now and again won't make you any less of a professional designer that you already are. On the contrary, it enhances your creativity and emotional connection to your clients and audience alike.
There are tons of design jokes all over the internet. Some are very funny, some are not-so-funny, while others are so laid-back that you want to leave a bullet in the skull of the designer – I don't mean that literally.
Here are some of the rib-cracking, yet informative design jokes I've seen so far.
1 – I love it! But there are a few more changes I think we should make
This joke is known as the designer's nightmare joke. When you get that from a client, most times, it means you have to redesign the whole project. It's a scary joke, but great fun anyway.
What's funny about the joke?
Every designer will give anything to get their projects approved on the first attempt. No one wants a repeat of the sleepless nights and missed breakfast that goes into getting a project done. It can be very devastating.
So, the moment a client or project owner drops the bomb that there are changes you need to make, that's never good news. It's an expensive joke because it means you have to go through the project all over again. Any designer that has ever been in this situation realises what comes next.
2 – What Type of Attack Can Kill the Most Typographers?
This joke is known as the "Arial Font" joke. In the meme, you'd see the words "Arial" flying down like jet fighters with the first letter inverted. It typifies an aerial attack. Only that this time, it's an "Arial" attack.
What's funny about this design joke?
Whether you're a writer or designer, you're quite familiar with the Arial font. Most design software has it as a default font style. You may have to manually initiate a font change to avoid using the default font.
Hence, the Arial font has been so overused that typographers could die of excessive usage. So, you better watch for the "Arial Font" as a designer. We would appreciate a little more of the font variety.
3. Every Time You Stretch a Font, Somewhere, A Designer Cries
This joke is another nightmare for designers. If you're a professional graphic designer or you work with fonts, you'd be familiar with the dynamics of working with fonts. Working on a font to fit a graphic design can take hours.
What's funny about the joke?
Every designer knows it's bad practice to stretch a font. It messes with the dimensions and produces an ugly output. The designer will almost not recognise their work when the texts are pulled.
Apart from the distortion, it disorganises the whole design, which makes it difficult for a viewer to appreciate the design. This joke is popular amongst pro graphics designers because of the nightmare they have every time a text in their design is stretched.
4 – The Only 'Date' I get is Photoshop Up-Date
This joke is known as the "date with a twist" joke. It's a joke as much as it is a pun. It speaks volumes of how emotionally attached graphic designers are to their design software.
What's funny about this design pun?
If you're a graphics designer or a programmer, one of the things you deal with is the constant update you have to on your design software application. 
Sometimes they become so regular that you wonder if all you ever do with your life is carrying out "up-dates." It can be very tiring.
On the flip side, most graphic designers are so attached to their design software applications that they seldom have any meaningful relationship with people. 
Most of the weirdest romantic relationships involve graphic designers or programmers. It's difficult to spend an evening with a geek without them talking about their techy stuff.
5 – The Font Conversation Joke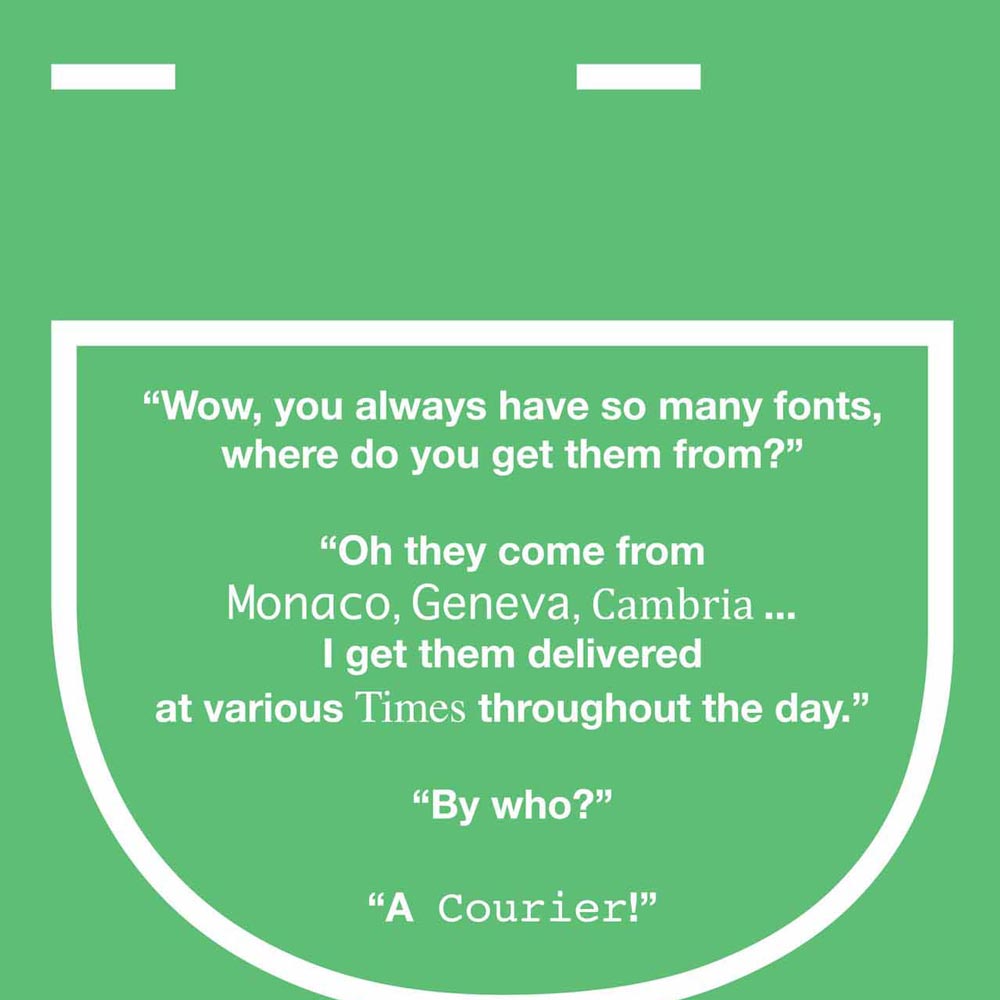 This joke takes the form of a conversation you're having with a designer. Here's how it goes:
You: "Wow, you always have so many fonts, where do you get them from?"
Graphics Designer: "Oh they come from Monaco, Geneva, Cambria… I get them delivered at various Times throughout the day." 
You: "By who?"
Graphics Designer: "A Courier!"
What's funny about this graphic design pun?
This joke is a play on the various fonts a graphics designer uses in their designs. They are so attached to their work that they can have a meaningful conversation without bringing up their design jargon. 
If you've ever lived with a graphics designer, you probably must have had the same experience.
Conversely, it's a subtle way of saying that there's an overuse of fonts in a design. There are simple designs that one or two fonts will suffice. 
In the world of professional graphic designers, it's only amateur designers that have a riot of fonts going on in a simple design.
6 – A User Interface is a Great Joke Only Till You Have to Start Explaining It.
This joke is known as the "jargon" joke. The world of graphic designers or programmers can be so complex that they are best left to stay there alone. The jargon can be so overwhelming.
What's funny about the joke?
If you hear the term "User Interface", you'd probably laugh it off as a joke. Of course, you aren't concerned about all the design terminologies. All you need is for the design layout to be easy for you to use.
As laughable as hearing the term is, when someone begins to explain it, you'll realise that the explanation becomes funnier than the term. You have to deal with more complex terminologies to be able to understand one design jargon.
7 – The Shitty Client Joke
This joke is also a conversational joke that goes this way:
Client: Is your computer screen big enough to design a big sign?
Graphics Designer (to themselves): "Are you shitting me right now?"
What's funny about the joke?
Most clients don't realise that the professional graphic design world has its peculiar realities. They dish out instructions to designers when they have no idea how that can be possible. 
In most cases, they pull the "I know what it takes" button that only comes to a designer as a joke of the millennium.
If you're a graphic designer, you've probably encountered these kinds of "shitty" clients that think they know it all. Meanwhile, they don't know anything about how the graphics design world works.
8 – The "Keep Calm and Force Quit" Joke
I know you have all the high-performance computers that can render your designs in seconds. Some machines can run up to ten heavy software applications at the same time. 
And as a designer, you know all about keeping a lot of program tabs on as you work.
What's funny about the joke?
There are times when your computer will feel like it has had enough of your workaholic lifestyle. It needs some rest to cool off to function better, but you won't let it. 
The only way to get you to take a break is to freeze. That can make you go paranoid.
However, every heavy computer user knows the immediate solution to this problem. You have to keep calm, and force quit. 
Hold the PC by the throat (power button) till it passes out (shuts down).
9 – Another Shitty Clients Joke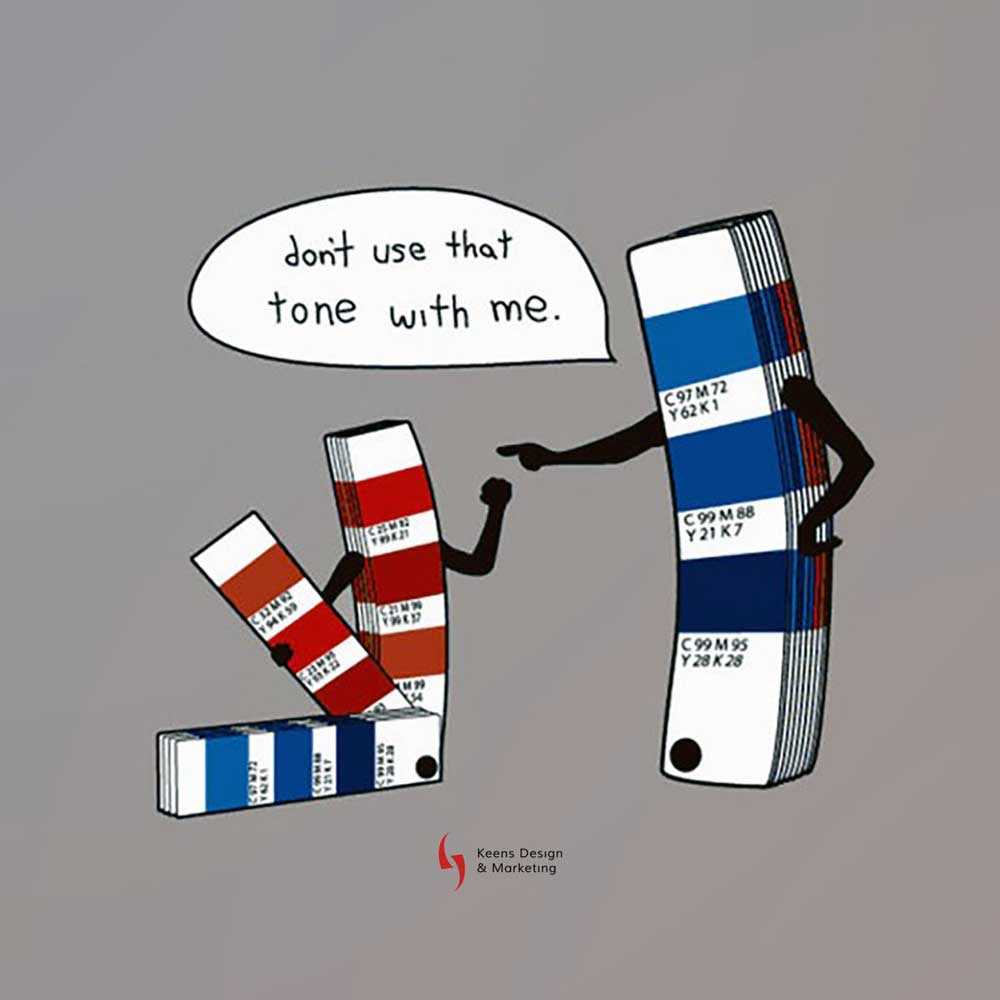 Here another shitty conversation most designers are used to having with clients:
Client: "Don't use that 'tone' with me?"
Graphic designer (in their head): "What?"
What's funny about the joke?
Having a heated argument with a client over a graphic design is a regular experience for designers. 
They are so used to it that they anticipate it from almost every client. Most often than not, voices go up in tone.
When the client makes the "shitty" remark, the designer is left to figure out if it was the tone of their voice or the tone of the design. 
Reducing the "tone" could mean bringing down their voice or simplifying the outlook of their design.
10 – I Am Not Fat, I Am Bold
This joke is known as the "Bold Font" joke. It's a way for geeks to accept the shape they take when they get lost in their work.
What's funny about the joke?
There's a tendency for graphic designers to get fat because they don't take time out to exercise their bodies. They get trapped in their work station and live their lives from there.
Because they work with fonts a lot, they call themselves "bold fonts." They prefer to be called bold than fat.
One Last Graphic Design Joke
Don't take anything I said in this post seriously; I was only joking. A good laugh can do you a world of good. If I didn't make complete sense in some of my points, just laugh over them and pass.
Contributors:
Jafar Sadhik – A passionate digital marketer possessing sound grip in the fields like content writing and SEO management. Previously, worked for a top sports website, and currently works at Stan Ventures. He loves to read books and a great admirer of Agatha Christie's works.
Mary Byrd is a freelance writer with a combination of analytical mind and creativity. Marie is currently working in the company Best Writers Online and does everything to climb the career ladder of the blog. Marie is one of the best specialists in her field, who is always looking for new ways to create interesting content.