How to Promote B2B Business Through Email Marketing
If your business focuses on B2B sales, email is an essential marketing tool to take it to the next level. 
If done right, email can generate a ton of business for you. 
Email marketing is also one of the cheapest yet most effective advertising forms. 
It's a great way to get new prospects and establish beneficial relationships with potential customers.
Email Marketing Tips for B2B Businesses
Here is how you can create an effective marketing strategy.
1 – Focus on lead nurturing – B2B businesses have a long sales cycle because they need to understand how your solutions can benefit their business entirely. Sending informative emails is one way to nurture these leads.
2 – Personalisation – Creating a personalised feel with the emails you send to prospects will make them feel special and entice them to do business with you. You can use reverse email lookup tools to get prospective clients' information and create a personalised touch.
3 – Speak directly to your target customers – Understand your target customers' needs and send them emails that capture their attention and have solutions to their needs and problems.
4 – Use eye-catching email designs – This includes optimising your emails for mobile devices.
5 – Offer exclusive informative content to prospects to get them to opt-in to emails.
6 – Take time to build an email list – Not every email will pay off, but you can see results over time if you are patient. 
B2B VS B2C Email Marketing Tips
Promotion of products and communicating with customers are goals shared by both business-to-business and business-to-consumer email campaigns. 
There are, however, several ways in which these two differ from each other.
1 – Length of Buying Cycle
In B2B, the sales cycle takes longer to convert prospects into customers than in B2C. 
This is because, with B2B, the decision-making process involves more people. 
To make a sale, you have to get approval from all stakeholders.
B2C email marketing campaigns are directed at a broad target audience and aim at consumers' impulsive natures. 
Often they open an email, click a call to action, get to a landing page, and make a purchase. 
The process takes less time than B2B email marketing.
2 – Tone/Voice
B2C emails are usually casual and have a personal, relatable tone. 
They target the emotions of recipients.
The focus is often on connecting with customers personally so they make a purchase.
B2B emails are generally professional and have an objective tone that is results-oriented. 
Prospects make purchases based more on pure logic.
3 – Focus
In B2B email marketing, marketers identify problems and pain points and offer clients solutions.
B2C, on the other hand, requires marketers to understand user behaviours, trends, and emotional triggers that drive a purchase.
4 – Messaging
B2B marketing emails articulate business value, service, quality, and trust. 
In contrast, B2C marketing emails convey cost-effectiveness and emotional satisfaction.
How to Grow Your Open Rate in Email Marketing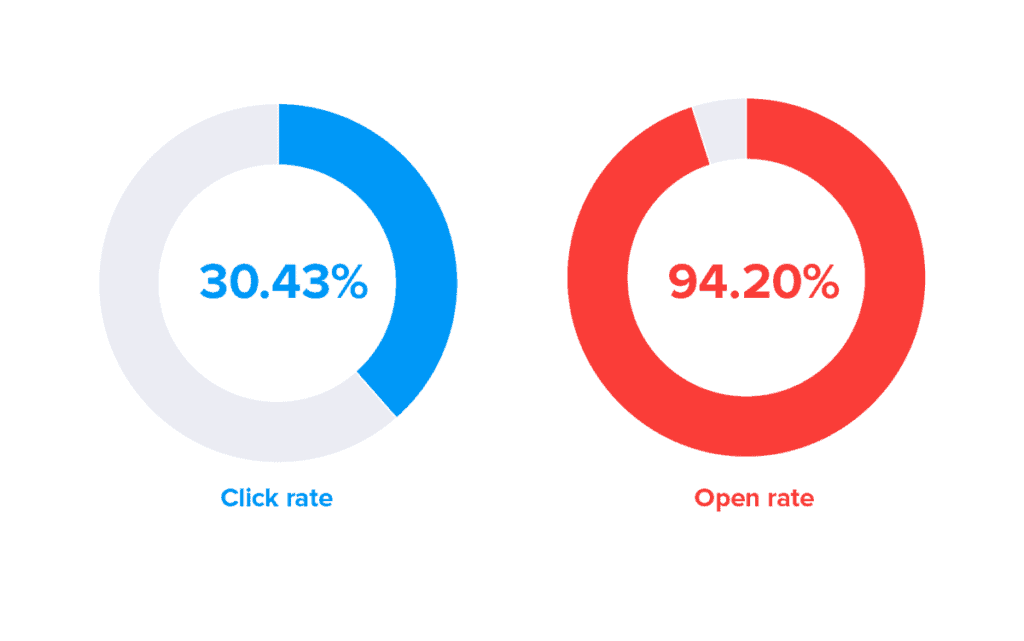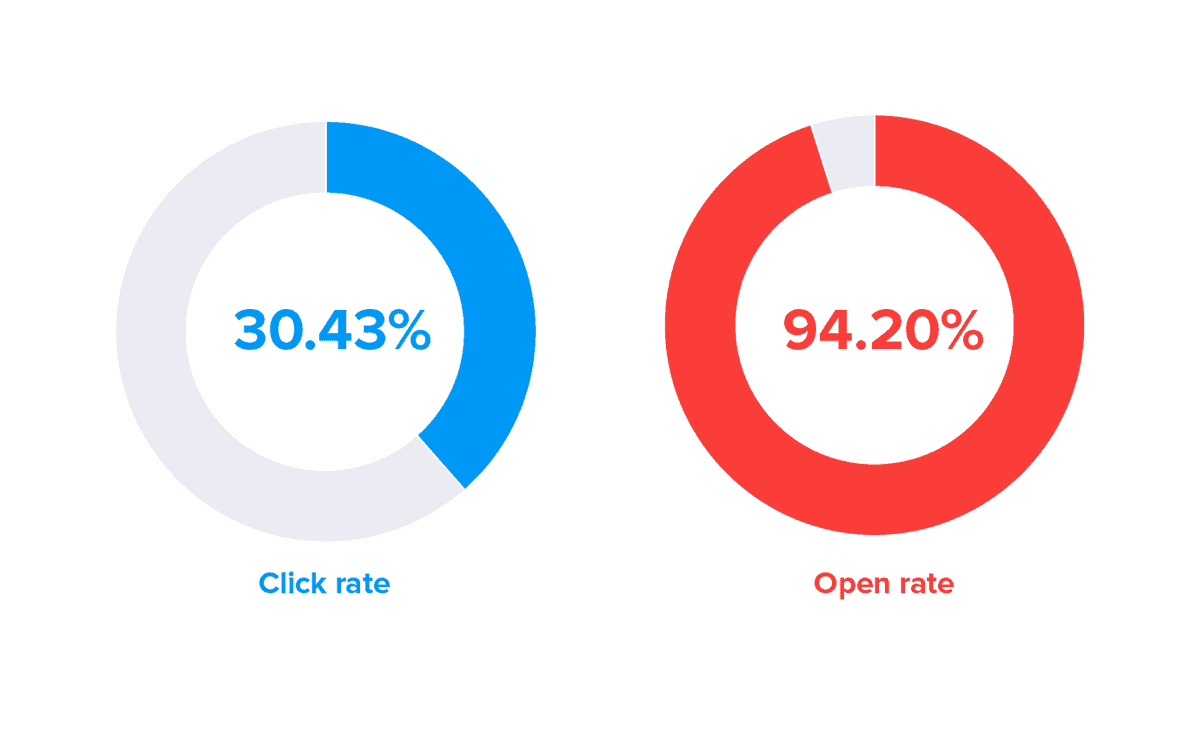 An open rate is an email marketing metric that measures the rate at which emails are opened. 
The data obtained gives you an idea of how many subscribers care about the emails you send.
The average open rate is usually about 20%, so anything between 15-25 % is suitable for your business.
Here is how you can grow your open rate:
1 – Personalisation is Key
Email marketing works best when you create a unique experience for your prospects. 
Therefore, wherever possible, add a personal element to your emails.
You can use email search tools. 
These gather information about someone based on their email address. 
Using these tools, you can leverage your information to make prospective customers feel special.
This will motivate them to read more of your emails and do business with you. 
Personalising your emails is a sure way of growing your open rate.
2 – Geotargeting based email marketing
Geotargeting is essentially converting location data into a marketing strategy. 
By gaining geographic insight into your target audience, you understand how location influences purchasing decisions.
Looking up reverse address reports will help you obtain your prospective customers' information, such as primary street number, street name, city, state, Zip code, and postal address. 
This information will help you craft optimal personalised emails that prospects are likelier to click on.
Emails that are geographically targeted usually have higher open rates than ones without.
3 – Get to the point
Let subscribers know what your offer is right off the bat. 
They are more likely to open your email if you are straight to the point.
4 – Avoid Clickbait
Don't make promises you can't keep. 
This will reduce your emails getting reported as spam. 
Always back up your claims. 
This will build your reputation, and more people will be enticed to open your emails.
Furthermore, ensure that customers can see your logo before opening the email. This way, you will increase your confidence in the source of your email and avoid being marked as spam.
5 – Solve, Don't Sell
Your primary focus should be on solving prospects' problems and pain points. 
Don't be too promotional in your emails. 
Provide helpful information that will entice more and more people to open your emails regularly.
The Impact of Customer's Feelings and Needs on Your Business
In marketing, it's all about the customers. 
Understanding what your consumers need is essential in tailoring a marketing strategy that works. 
You can use these ways to understand your customers' needs and feelings:
1. Interview workers that engage directly with your customers. They would likely usually have an understanding of customer needs and feelings. You can use this information to improve your business.
2. Ask customers to share their opinions on your service. You can assess customer reviews to understand how they feel about your business and what they need from you.
3. Listen to what your customers ask or say in other forums. Keep an eye out on platforms like LinkedIn groups, industry forums, tradeshows, and industry publications. These can be rich sources of customer information for your business.
You can use these approaches to formulate the content of your email marketing. 
Keeping an ear to the ground and thinking outside the square is essential.
Demographics
Information such as age, gender, company position, income level, and others tell a lot about a person's needs and interests. 
Getting this information from your audience gives you options for demographic segmentation.
Segmentation divides a consumer or business market into sub-groups based on shared characteristics. 
Note that segmented emails get more clicks and opens than ones that are not.
Segmenting your emails based on demographic characteristics will allow you to make much more targeted marketing for your products and business, leading to improved sales.
For example, sending emails based on gender and age will ensure you get straight to your target audience if you're a clothing retailer.
Relationship Status
It can be challenging for B2B businesses to establish personal relationships with prospects. 
If you do make this happen for your business, the results can be jaw-dropping.
To get started, you can combine email marketing and public records. 
Public records offer valuable data, and you get background information about potential customers by understanding how to get a hold of this data. 
This will enable you to build a connection and engage with them. 
This information may include age, gender, income levels, family status, etc. 
You can get this information in your local county offices or research online.
You will then be able to create a relationship with prospects by sending them personalised emails. 
This will ensure you create a base of loyal customers with whom you have a great relationship.
Customer Behaviour
Keeping track of a customer's behaviour, such as website behaviour, is a way to get information about their interests. 
You can use this information to send targeted emails based on their activities and behaviours online. 
These can range from:
Pages they visit
Searches they conduct
Pages they don't visit
What videos do they watch, and for how long
Which links do they click on
Behaviorally triggered emails are helpful because they respond to a subscriber's relevant actions leading to high engagement. 
On the other hand, periodic emails can sometimes be more like interruptions and sometimes be viewed as irrelevant.
How to Avoid Your Emails Appearing Like Spam
1 – Use a familiar 'From' or Sender name
Most people base their decision to open emails on who is sending the email. It would help if you used a 'From' name that is recognisable to your target audience so you don't get marked as spam.
2 – Send valuable content
Commitment to sending informative and valuable content should be at the core of all your email campaigns. Don't just send emails for the sake of it.
This will improve engagement with recipients, and they won't view your emails as spam.
3 – Authenticate your email
This verifies that you are who you are and are sending legitimate emails. 
This ensures inbox providers such as Yahoo and Google deliver your mail into your customers' inboxes and shows that you aren't a source of spam.
4 – Email people who give you permission
This ensures your emails don't get spam complaints. Build your email list if you have to so you don't become a spam source to recipients.
5 – Test your emails before sending them
You can use tools such as Mail Tester to test the quality of your emails. These tools evaluate your emails and give you a chance to improve deliverability so they don't appear as spam.
Another excellent tool for validating your emails is usebouncer. It helps you to verify your emails in real-time or use bulk email verification to clean whole batches at once.
Email Marketing Stats and Facts
There are 3.9 billion daily email users. The number is expected to rise to 4.3 billion by 2023. (Statista, 2020)
In 2019, active email accounts exceeded 5.6 billion. (Statista, 2019)
According to Not Another State of Marketing, 35% of marketers send their customers 3-5 emails per week.
78% of marketers have gained an increase in email engagement over the last 12 months (Content Marketing Institute, 2020)
31% of B2B marketers say emails are the best way to nurture leads. (Content Marketing Institute, 2020)
In 2019, the U.S. spent over $350 million on email marketing.
The percentage of business professionals who believe email marketing increases customer retention is 80%.
The percentage of B2B marketers who practice email marketing is 93%.
According to the Content Marketing Institute (2020), 81% of B2B marketers say their most used form of content marketing is email newsletters.
87% of B2B marketers say email engagement is their top metric for measuring content performance. (Content Marketing Institute, 2020)
According to Convince and Convert (2018), 35% of business professionals check their emails on mobile devices.
According to Sale Cycle (2018), 59% of people say marketing emails influence their purchase decisions.
According to cybersecurity stats, three-quarters of B2B marketers view data breaches as genuine threats to email marketing.
Hopefully, this article and the above stats demonstrate how effective email marketing can be for your business. 
If applied correctly, email marketing may be what your B2B business requires to take it to the next level. 
You can take your business to new frontiers with a foolproof email marketing strategy.
7 Email Marketing Tips You May Not (But Should) Know
Email marketing has been around for quite some time. And, even though many claims it is not as efficient as it used to be, it still offers quite a nice ROI.
And since the marketing field is constantly changing, you should continuously learn about the latest trends if you want to stay on top of your game.
Naturally, this applies to email marketing, as well. 
There are always some new tips that you should know and new things to learn about various aspects of email marketing, starting from list building and copywriting to personalisation.
So, look at some email marketing tips you may not have heard before. But that doesn't mean you should miss this chance to check them out.
1 – Double Opens Strategy
The double opens strategy is something that not many marketers have heard of. In short, this strategy aims to make more of your subscribers open your emails. 
When you finish reading this tip, you will wish you knew about this strategy before you decided to create an email newsletter.
The best bit about this strategy is that it is quite simple. You need to resend the same email to the subscribers who did not open your initial email. However, you need to change the subject line.
It may be obvious, but it works. 
It is way harder to attract new subscribers than re-engage the current ones, which is why you should do your best to keep your current subscribers opening those messages.
However, before you start sending out the duplicate emails again, you should take a look at the tips below:
Try your luck with better subject lines to grab the attention of the recipient right away.
Pay attention to the time when you send your emails.
Optimise the pre-header text.
Do not send the second email immediately. Instead, wait from 3 to 5 days before the re-engagement email.
If you still think this strategy seems ridiculous, you will be surprised to learn that it works. After all, the average open rate for emails stands below 20%. So, it might be worth a second try.
2 – Devote some thinking time to your pre-header
Not many people realise that pre-header text matters too. But actually, it's quite simple. 
The more enticing your pre-header text is, the better your open rates will be.
That is why you must write short, meaningful pre-header text to entice and engage your recipients. 
This is your first chance to engage a customer. Make sure you do it right.
Many marketers neglect this space because they believe recipients don't look at it. 
However, that is entirely wrong. Besides the sender's name, that is the first thing they see.
Your pre-header text needs to complement or supplement the subject line; it needs to add info, thus grabbing the reader's attention more easily.
However, don't push it too much. 
Some businesses often write a pre-header that is too good to be true. In other words, it is quite catchy, but the info isn't accurate. It would be best if you never did that. 
In general, misleading subject lines, pre-header, and content can only tarnish your reputation.
3 – Build a long list of subscribers
This one may sound too obvious, but once you start building your subscribers' list, don't stop. 
Even if you already have a long list of emails for clients and potential prospects, do not stop adding more of them.
Many tools can help you along the way. A platform like Mailchimp is excellent if you want to make it easy for people to subscribe to and unsubscribe from your list. 
There are even templates online that you can use when tailoring your messages if you don't feel creative enough.
Therefore, it's best to introduce a subscription form on your website and thus find a way to grow your list regularly. 
And, once you see that more and more people are subscribing, invest efforts in crafting the best and most powerful messages.
And it is worth noting that some of today's most successful email marketing programs use fascinating subscriber referral programs. 
Using these programs, you can encourage your loyal subscribers to invite contacts from their address books, making their lives a lot easier. 
Also, to return the favour, you can offer small gifts like coffee mugs and t-shirts to show that you appreciate their efforts.
4 – Do split tests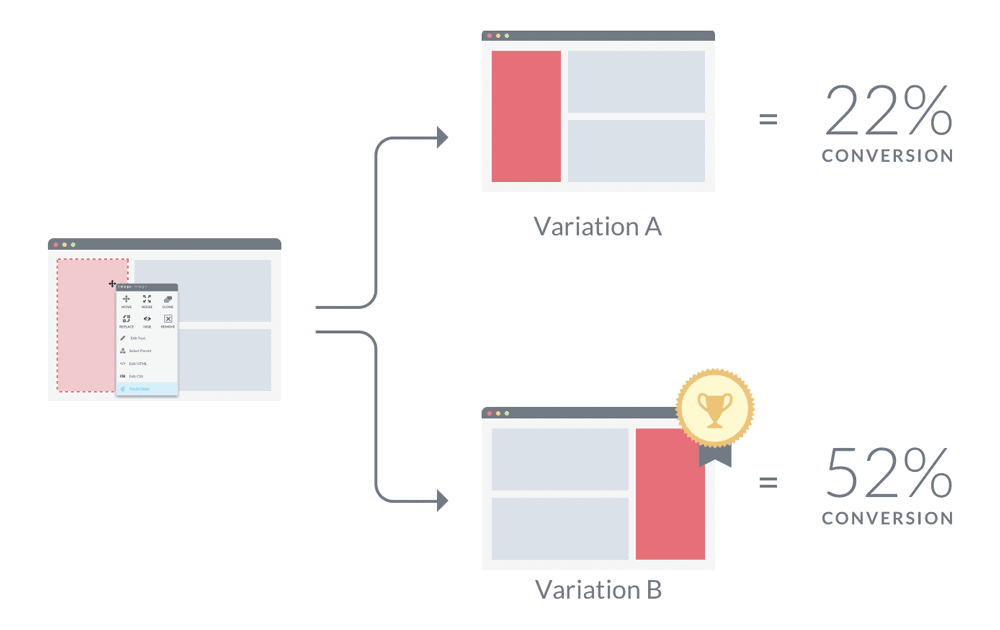 A/B split testing is one of the best email marketing tips. 
It is an excellent method that will help you eliminate the guesswork from your email marketing campaign and give you a roadmap of what changes you need to make.
The name itself may sound complicated, but the concept isn't complex. 
The goal here is to split your email audience into multiple segments or groups and then figure out which version of your email gives the best results in terms of conversions.
The best thing about this strategy is that it works with different types of emails.
So, test out different versions of your emails, and you will be able to perfect your overall campaign eventually and ultimately achieve the best possible results.
With split testing, you get three huge benefits that can help your campaign:
The increase in open rates when you find the right subject line
CTR improvement when you test and change your email copy
a better understanding of what your audience wants
Finally, it would help if you split test anything you can within your email. 
For instance, you should check the opening of your email or the CTA to see what kind of response each version generates.
Also, do not forget to test the subject line, day of the week, and the time of day when you send your emails.
5 – The content of your emails needs to be valuable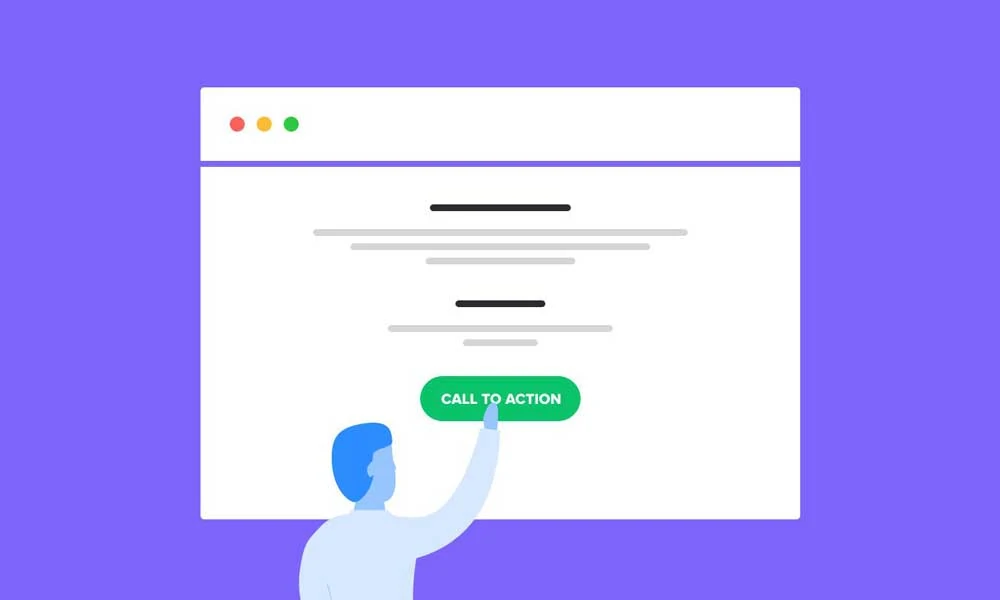 Just like with any other kind of content, your emails need to provide additional value to your subscribers. 
If your emails don't offer value, the chances are that you will get ignored. And naturally, that can negatively affect your open rates.
Be consistent when providing helpful content in your messages since that is the key to getting your emails to read repeatedly.
So, send out emails with valuable content. However, do not expect every subscriber to become your customer. 
Make sure your emails have a healthy mix of quality content, promotions, and offers.
Also, ensure that your prospects who have specifically requested to learn about your new product launches or services receive relevant promotional content. 
Gain a good understanding of what your audience likes and what your audience doesn't like. That is the only way to hit the sweet spot and provide content that will generate sales.
In conclusion, do not compromise on value when sending emails. True, many businesses do that, but it is a practice you should avoid altogether. 
You build trust between your brand and your subscribers when you provide value in your emails. 
Besides, it is common knowledge that trust is a prerequisite for higher conversion rates.
6 – Prioritise engagement
Never forget that your emails need to be engaging. Engagement needs to be prioritised before other goals. 
This is usually a problem when people forget how vital an engaging email is since the vast majority of them only think about revenue. To be precise, the only goal in most cases is to boost sales. 
However, that should be the ultimate result. You cannot forget all the other aspects because of that.
Keep your focus on engaging your customers since that is the only way to successfully build a relationship with them. 
People do not subscribe to your mailing list because they only want to buy something from you. They mainly do that to learn more about you and your business.
So, give them what they want. It's fair to say that they are interested in your products too. But, that is not the only thing they are curious about. 
7 – Pay attention to frequency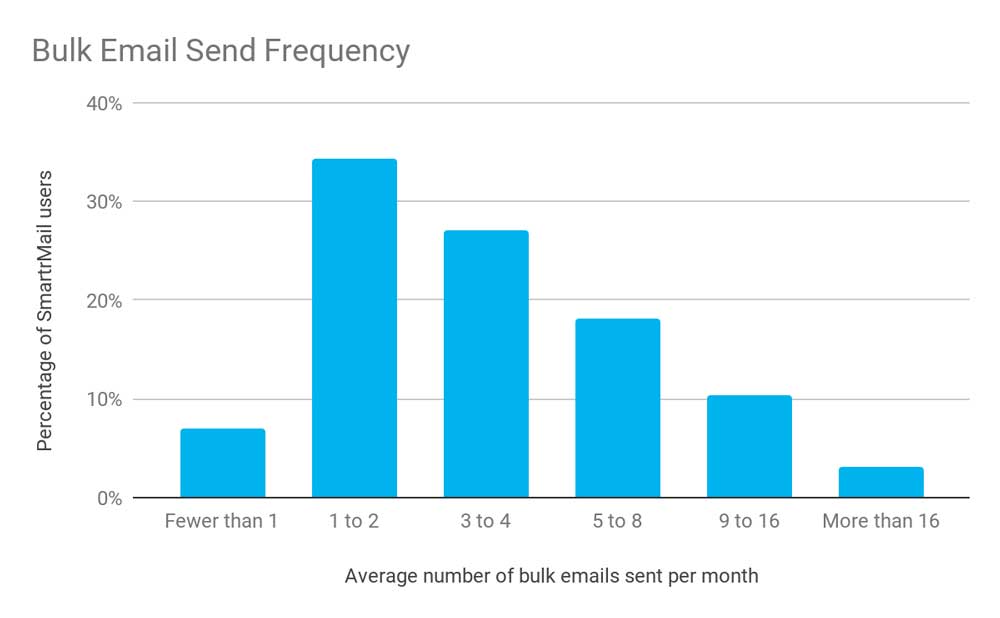 It is safe to say that overdoing some things can only bring bad results. And that is the case with email messaging too. 
If you overdo email marketing, you will end up with frustrated customers. 
For instance, how would you feel if you subscribed to a mailing list and that company started sending you one or two daily emails? It doesn't sound good, right?
Well, that is why you need to avoid this practice. If you clutter your subscribers' inboxes with your messages every day, they will most probably unsubscribe. 
One way to figure out when enough is through frequency capping. With frequency capping, you can limit the number of messages your audience will receive over a specified period. 
You need to set a desired number of messages, and that's it. You have successfully avoided overcrowding your subscribers' inboxes with your promotional messages.
Are there any email marketing tips we missed? Let us know in the comments below.