Best Practices for Email Marketing Design
A wealth of factors dictate an email marketing campaign's success and failure. 
From attention-grabbing subject lines to simple, effective design and enticing copy that secures conversions, crafting the perfect email takes effort.
Still, despite its challenges, it remains the most lucrative digital marketing practice in terms of Return on Investment (ROI).
Thus, let us use this article to delve into some notable best practices for email marketing design, which hopefully help make your task easier.
Composing an email marketing campaign
Initially, you should note that any successful email marketing campaign needs to have all the important elements of one. Namely, to outline ones outside of strict design elements, these are:
Recipients' consent. This is not to say that cold email blasts can't yield results; far from it. However, warm email recipients have consented to typically perform much better – precisely because they've chosen to receive them. Importantly, this translates to higher open rates and click-through rates.
Clear objectives. Next, each campaign should have clear, definable, and measurable objectives. These will inform virtually every aspect of your efforts, from email copy and design to outreach timing and performance monitoring. 
List segmentation. Similarly, each email campaign must adhere to list segmentation. Different audiences and customer segments will require different approaches, including personalisation, outreach frequency, and more. Here, Customer Relationship Management (CRM) software can also inform product recommendations.
Personalisation. On that subject, the truism that emails require deep personalisation undeniably deserves your attention. With over 215 million emails sent each day, the average email user won't find the time or will to engage with generic, bland emails that don't concern them.
Deliverability. That is, of course, assuming your emails make it through their spam filters. In this regard, examine your "spam words" like "free" and "buy now" – regular candidates for CTAs, but unfit for titles. When in doubt, you may consult spam filter tests to ensure deliverability.
Follow-up. Still, most recipients will not immediately convert, assuming deliverability and initial interaction. That's why robust list segmentation and analytics should fuel follow-up emails, from cart abandonment reminders to cross-sale offers. 
Follow-up analysis. Finally, no email campaign should be left unmonitored. Instead, constant analysis of key metrics, from engagement to final revenue, should inform your efforts.
The design aspect
These aside, however, the effectiveness of an email campaign ultimately hinges on outgoing emails themselves. That's why best practices for email marketing design will invariably focus on the following trio of qualities:
Immediate visual appeal. First, the broad category of visual appeal encompasses every visual element. Every choice matters, from sender name, subject line, and preheader to font colour and size, images, and CTA placement. This quality ensures your email grabs your recipient's attention, from inside their inbox to across the email body, right down to the CTA.
Responsiveness. To do so, your emails will need to offer top-notch responsiveness. This holds particular significance for mobile devices, as 85% of users use smartphones to access their emails. Modern, busy audiences won't bother with unresponsive emails, let alone reach the desirable conversion stage. Here, design plays a pivotal role, as responsiveness often hinges on it. 
Impeccable CTAs. Finally, on the subject of conversions, CTAs are arguably the single most crucial design element at this stage. Having secured your recipients' attention, your emails should achieve conversions – be they micro-conversions or transactional, depending on your goals. They do so through CTAs, so Conversion Rate Optimisation (CRO) focuses heavily on them.
Of course, those are only broad qualities. So, let us break them into their components – and, more importantly, actionable design insights.
Be sure to check out Gumbamail – a Chrome extension to send out email marketing campaigns inside Gmail.
It has +850 responsive email templates and a drag-and-drop embedded email builder that you can download here. Create your mailing campaign from scratch and send it directly in Gmail. Tell your subscribers about your novelties, offers, promotions, and exciting content.
Try out the template editor to create designs tailored to your brand identity while ensuring the optimal visualisation of your content across different devices.
Best practices for email marketing design
Having established the above, we may now split design best practices into three main segments for a more straightforward analysis. There are, in order, the inbox, the email body, and the CTA.
#1 The inbox
The first segment involves the inbox for a simple reason; that's where your recipients will get the very first impression. Should it not entice them immediately, your outreach has failed – regardless of its purpose.
So, consider the three main visible elements; sender name, subject line, and preheader. Each of these elements has seen its own dedicated articles because they offer distinct value toward coveted interaction.
Sender name
Starting with the sender name, you may wonder – does this matter? Why, yes, it does. CampaignMonitor found that a stunning 68% of Americans base their decision on whether to open an email or not. 
For many, an unknown, irrelevant, or seemingly unclear sender name suffices to discard an email outright. And, given how many emails the average user gets in a day, that's likely an understandable reaction.
In this regard then, you can consider the following practices:
Add your company name. This can be just your company name or a person's or department's name followed by it. Any combination that makes sense should suffice, but adding your company name is imperative. Through it, you earn trust with recipients – and, more importantly, relevance.
Keep it brief. Next, on the subject of combinations, keep it brief for readability. If you absolutely cannot, have your company name precede all else, so it's immediately visible.
Align it with your subject line and preheader. Finally, your sender name interacts with your other inbox-level visible elements. Thus, you can align the 3; for example, you can send an email from "[company] content team", followed by a "howdy!" subject line, followed by a relevant "here's your content" preheader. In this case, you ensure a logical, coherent flow from one to the next, starting with the sender's name.
Subject line
Then comes the subject line, and this front sees much attention from best practices for email marketing design. Here, you must consider such factors as:
Consistency. Does your subject line align with your sender name and preheader?
Length. What's the perfect subject line length?
Copy. How does your copy entice recipients to engage?
Having covered consistency just above, let us address the other two.
Initially, length-wise, there are a few conflicting findings. Marketo finds that 7 words, or 41 characters, were optimal for "overall engagement". For more overall clicks, even if they did yield lesser open rates than 4-word subject lines.
However, Return Path identified 65 characters as the ideal length for reading rates: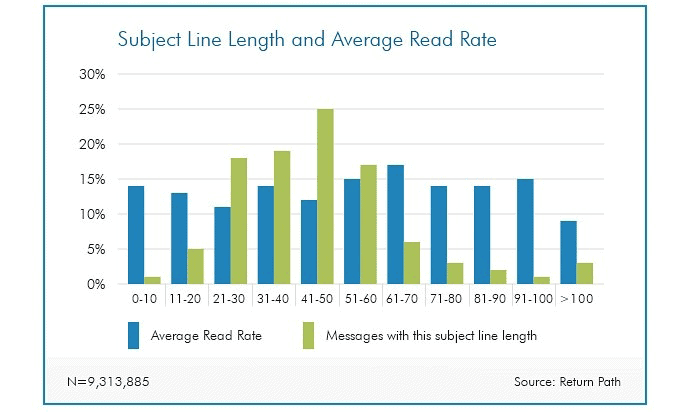 Thus, the safer conclusion would be to A/B test your subject lines for length, using these as your initial reference. In all cases, brevity should be a given, all while ensuring relevance and alluring copy.
On the subject of copy, there is an absolute wealth of subtopics to delve into. Every marketer seemingly attests to a different strategy, so your insights should precede any marketing truisms here. 
However, one practice that warrants your attention is the use of emojis. MarketingDive reports that emails with emojis in their subject lines are opened 66% more than ones without. Thus, unless your brand image prohibits them, you may safely experiment with emoji use.
For your convenience, Unlayer outlines the 15 most-used subject line emojis in the following illustration:
Preheader
Finally comes your preheader, which some refer to as snippet text. This apt description makes sense, as the preheader functions like snippet texts. Still, length and copy are two crucial factors to keep in mind for email marketing design.
As regards length, marketers slightly disagree on this front as well. For example, Omnisend cites email providers' recommendation of 50-100 characters but suggests 30-80.
Others, like CampaignMonitor, suggest 40-70; some even err on caution and recommend no more than 50. Thus, you may also use these numbers as an initial reference and A/B test your way to optimal length.
Then, as regards copy, most agree that preheaders functionally serve as "teasers". This follows our initial suggestion of maintaining consistency within the inbox – so, to reiterate:
Sender Name: Here, you incite trust through your company name.
Subject line: In turn, here, you make your proposition clear.
Preheader: Finally, the preheader adds information to your proposition, enhancing it.
As you do, remember how length and copy overlap. That is, how much of your copy will show up? GetResponse highlights this in the following image:
This, they note, occurs due to such factors as:
The email client
The recipient's device
Your subject line's length
Thus, while keeping it brief, it's also important to relay the essential information earlier to help ensure visibility.
#2 The email body
Having covered the inbox phase, the email body is where best practices for email marketing design come into full effect. There are three main subtopics to cover; the header, the layout, and the signature.
The header
The email header comprises the above-the-fold section – and, much like the same area in landing pages, entices readers to continue. Thus, it is crucial, to begin with its function:
An eye-catching introduction. Visually, a header grabs the recipient's attention, as it's the first thing they see upon opening the email.
A summary of the proposition. Simultaneously, the header summarises the email's proposition. This swiftly communicates the bulk of the message to help ensure retention.
Incitement to continue reading. Finally, while summarising the proposition, it intends to encourage the reader to read. It can achieve this through direct incitement or covert encouragement.
To serve these functions, you may consider using any of the following:
Your brand name and logo design. Much like your company name in the sender name, this tactic helps project your brand image swiftly.
A CTA. Conversely, you may opt for a powerful CTA above the fold to push conversions.
A menu or navigational bar. Lastly, you may employ this common tactic of eCommerce websites to promote new or valuable areas of your website.
Unlayer provides an excellent example of a dental facility's header, which exemplifies a combination:
Of course, should you use images, you should also mind a few different factors like the following:
Alt. Tags. Should your images fail to load, your alt. tags should still ensure your images' intended message goes through.
Length. Many devices will only display the top 300 pixels, so ideally, that's where you should confine your most actionable information.
Format. Different formats serve different purposes; .png, for example, is best reserved for logos for higher quality, while .jpeg should work better for larger images to reduce file size.
The layout
Next comes the email layout itself, and out of all best practices for email marketing design, this one preoccupies most.
Here, there are many logical hierarchies to go for with your layout, with each resonating better with different audiences. The three most notable ones are the following.
1 – The inverted pyramid. This layout's geometry has the recipient take in the header and then focus on the CTA. To achieve this, it typically involves a popping CTA over a white background, like in the following examples of InVision and Adobe that CampaignMonitor provides:
2 – The one column. Similarly, this mobile-first layout seeks to push the reader forward without overwhelming them. Due to its shape, it facilitates easier scaling for desktop devices, as this example of a Code School email from CampaignMonitor showcases:
3 – The zig-zag. Finally, this layout considers viewers' reading patterns to provide a logical information structure. Also known as the "Z pattern", this layout provides ample space for information-rich emails. Sendinblue provides the following example of a Truecaller email:
Of course, these are only examples of what your layout may include. Alternatively, you may consider such visual elements as GIFs and videos. In all cases, however, email marketing design hinges on such crucial factors as:
Email Deliverability. Consider your text-to-image ratio; emails containing images may suffer from deliverability issues, according to GetResponse.
Responsiveness. Similarly, consider your layout's responsiveness. This factor is so crucial that it now spearheads Google's Web Core Vitals update – and the page UX implications are the same as for email UX.
Consistency. Finally, consider consistency across devices. It's no coincidence that best practices for email marketing design typically focus on cross-device consistency; your emails should offer a consistent UX to best frame your branding efforts.
The signature
Finally, your email layout should conclude with your signature. Your signature functions the same way as your sender name does: it incites trust and projects professionalism. 
Thus, it doesn't need to be flashy – although you may experiment with it. It does, however, need to be complete. Consider the following basic information for it:
Your first and last name and your company name
Your job title and role, and contact information
Disclaimers and legal requirements
These should, by all means, suffice, but you can further expand it according to your preferences and analytics. Other information may include:
A photo
Social media handles
Other personal information, such as pronouns
Thankfully, this element is far less demanding design-wise. Moreover, great signature generators, including free ones like Hubspot's, can offer a helping hand.
#3 The CTA
Finally comes your CTA. As your literal call to action, your CTA embodies your campaign's goal and thus deserves the utmost attention.
Conversion types
Initially, let us note that not all conversions are equal. For example, Google Analytics identifies two distinct conversion types:
Micro conversions. These conversions refer to desirable actions such as signups and media engagement.
Macro conversions. These conversions, instead, are transactional and refer to completed purchases.
Moreover, it identifies four distinct conversion groups:
Acquisition.
Inquiry.
Engagement.
Revenue.
The reason why this matters in this context are simple; each conversion type requires a different approach. For example, a micro-conversion CTA may offer a free resource.
In this case, its copy must convince the user of its value and may do so in a casual tone. Conversely, a macro-conversion CTA may employ countdown timers to incite urgency and seal a purchase. 
For example, consider the following CTA by HotJar. It carries eventual transactional intent but offers a free trial. Thus, it highlights the value, and the disclaimer reassures; "no credit card required".
It thus offers ample white space for a welcoming look, along with friendly graphics with soft edges:
CTA qualities
Then, different CTAs will require a different copy, fonts, and placement. However, all successful CTAs share some global qualities, like the one above:
Readability. Your CTAs should be readily readable to communicate your proposition's value effectively.
Clarity. Similarly, your CTAs should be crystal clear about precisely what they offer. Should users find themselves in unexpected situations, they will most likely bounce.
Visibility. Finally, your CTA should be immediately visible to increase the chances of conversion.
To ensure these qualities with your email marketing design, you may examine the following elements of your email CTAs:
Font and text colour. Your font choice will profoundly affect your CTA's readability, as will your text colour and colour scheme. In this regard, consider how your text colour clashes with your CTA colour and the background colour. Ideally, each should firmly stand out and not bleed into one another. Reviewing your CTA in monochrome and across different devices should offer a great starting point.
CTA colour. For that matter, your CTA colour in itself is crucial. Initially, consider colour psychology; does your colour effectively represent your brand? Does it inspire positive connotations in the context of the CTA's purpose? How does it clash with your font and background? Finally, is it an effective CTA colour? Hubspot found that red CTAs visibly outperformed green ones, perhaps due to the psychological implications of each.
Placement. Finally, CTA placement is understandably crucial. Depending on your goals, you may place them in your header or footer. Similarly, you may opt for more than one CTA per email if the risk of decision fatigue does not apply. Still, your CTA must remain visible, which also hinges on placement; do adjacent elements distract from it? If so, you may need to examine your layout.
Conclusion
To summarise, best practices for email marketing design delve into an array of factors.
Initially, they prioritise the inbox stage, as email open rates depend on an alluring presentation that inspires trust.
Then, they focus on the email body, from an enticing header to a logically structured layout to a professional signature.
Finally, they focus on a convincing, well-placed, visible CTA to drive conversions.
Hopefully, this brief analysis of this broad topic offered an overview of the most crucial ones that should help you craft the perfect email for your audiences.
Author Bio: Nathan Finnick is a freelance writer and web designer. He often combines his writing skills with his eye for detail and design, creating helpful articles around the web. In his spare time, Nathan enjoys riding his bicycle and playing tennis.