How to Grow Sales With Ecommerce Analytics
When it comes to DTC and eCommerce, your consumers hold the keys. These consumers are well-equipped with trustworthy product evaluations from their peers, the capacity to swiftly compare costs amongst online retailers, and the power to vote with their money.
They have high standards, and you must meet or exceed them to persuade them to purchase from you. When it comes to getting the job done correctly in the first place, there's just one thing that matters: data. Ecommerce analytics may help with this.
What is eCommerce analytics?
Ecommerce analytics aims to gather and analyse data from all areas influencing your online business, patterns and shifts in customer behaviour. eCommerce Analytics gathers data from all the platforms your potential customers use, allowing you to get insights from them.
With the aid of it, you may learn more about the buying habits of your eCommerce customers to target your marketing efforts better. Analytics for eCommerce gathers data from your potential customers' platforms, allowing you to make conclusions from that data.
Using this tool, you may learn more about your customers and potential customers to make smarter marketing decisions that will lead to more sales. Metrics relating to the whole customer journey from discovery, acquisition, conversion, retention and advocacy are included in eCommerce analytics.
eCommerce Analytics Types
As we've already discussed, you can utilise many different eCommerce analytics to inform your marketing plans better and stay one step ahead of your competitors. Let's take a closer look at a few of the more common varieties.
Audience acquisitions analytics
The only way to start is with data analytics specific to your target market. This will provide you with a wealth of information on your audience's demographics, including their gender, age, income, employment, location, and language.
Using audience data, eCommerce business owners have the flexibility to tailor their shipping choices and advertising strategies to their audience's region.
As a result, you'll be able to rethink the themes you cover and how your marketing material is delivered on mobile devices. Your audience's session data and the technologies they're using will come in helpful here.
Behaviour analytics
Consumer behaviour data is another sort of data to keep an eye on. How do visitors interact with your site after they arrive?
If your website's visitors aren't staying long enough to browse your products or are just clicking away, it's time to check your page load speeds. Is it possible that your website is taking too long to load?
It signifies a poor user experience when visitors leave a page without taking action. You can have a problem with the keywords you are targeting in your marketing efforts since your company type isn't what they were anticipating. Another possibility is that your material is just too chaotic.
Marketing Analytics
Pay-per-click (PPC) marketing is an essential consideration. An accurate return on investment (ROI) for sponsored marketing efforts may be calculated using this method.
How much money did your social media ads bring in?
Are you making more money than you spend on advertising and marketing the ad campaigns?
How much money have you made from your pay-per-click advertising campaigns?
Do you have an email marketing strategy?
By failing to evaluate your current paid marketing strategies for eCommerce tracking, you will be wasting money on activities that will have little impact on your business's profitability.
Why Is It Important to Have Analytics for Your Ecommerce Store?
The next step is to know what eCommerce analytics are and why they're vital. Analytics are essential because they provide the information you need to make the best choices for your online shop. For example, look closely at some of the most critical advantages of eCommerce analytics.
Ecommerce Analytics' Importance and benefits in business
Why do analytics matter now that you've learned about eCommerce analytics? Your e-success stories depend on your ability to make smarter choices based on data. A closer look at some of the primary advantages of eCommerce analytics demonstrates this to our readers.
Analytics for eCommerce has nine significant advantages:
Analyse the results of your advertising and sales efforts
Data analytics may help Google analytics eCommerce organisations measure the performance of their marketing initiatives, improve decision-making, achieve more excellent omnichannel traction, and influence holistic marketing plans.
Make accurate projections by analysing data patterns and trends
Using eCommerce analytics, it is possible to know better how your company is currently operating and how it is expected to perform in the future. In addition to recruiting and sales targets, this forecasting can help you ensure that your customer's expectations are satisfied by providing the correct items at the right time.
Aids in the establishment of a reliable supply chain
Shoppers purchase online for two primary reasons: convenience and lower pricing. It would help if you had a robust supply chain to avoid this. Are there enough of the advertised items in your inventory to meet demand?
Consequently, customer happiness will decline, significantly impacting the customer lifetime value if this is not implemented. If you have too many items on hand, you'll be clogging up your warehouse and driving up your expenses. Analytical forecasting of future sales is critical to achieving this delicate balancing act.
Improve the product's costing
Product pricing in the eCommerce sector depends on factors such as demand, supply, and other companies' pricing of similar items. To optimise profit, it is possible to utilise predictive analytics to examine pricing patterns and identify the best price for a product.
Online retailers like Amazon often use predictive pricing. Analytical tools are increasingly being used in a variety of business contexts.
The eCommerce dashboard provides information on business goals to senior management, while the product management dashboard provides information on product sales and if those sales generate the maximum profit. Ecommerce analytics are widespread across the firm.
Reduced Rate of Bounce
You can use Google Analytics to identify the landing pages with the highest bounce rates (landing pages that drive visitors away rather than encourage them to explore other pages on your website) and then work to improve the user experience on these pages to avoid losing a significant portion of traffic without completing any conversions.
Detect fraud by analysing data
The identification of fraud is made possible mainly by the use of analytics. An anomalous transaction will be flagged by analytics because of its ability to identify trends in client behaviour.
As an eCommerce company, you can send the consumer notice and wait for their explicit consent before completing the transaction to verify that they are the ones seeking to perform the transaction.
Price, up-sell, and inventory performance may all be improved
With enhanced eCommerce Google Analytics, you'll get a clear view of what influences the price for each customer group—understanding the appropriate pricing points at the product level rather than the category level will help you maximise your profit margins.
Make individual experiences more personalised by analysing and using client data
Understanding how consumers connect with your company is critical to determining what appeals to and resonates with your target demographics. It will enhance your consumers' shopping experience thanks to eCommerce analytics tools.
Incorporate data-driven insights into your overall plan
Using data analytics to guide your eCommerce strategy is another advantage of eCommerce analytics. This will provide a clear picture of what's happening in your firm and the industry, allowing you to identify significant market trends and potential threats.
Differences between Metrics, KPIs, Analytics, and Reporting
There is much confusion about the meaning of these phrases since they are all used in various contexts. We must harmonise four elements for a successful Google Analytics eCommerce tracking company.
To do this, you must first comprehend each of these terms.
Standards of measures are known as metrics. Bounce rate, for example, may be considered a measure.
In a report, statistics from the past and the present are summarised. It focuses on the events that occurred.
Performance indicators are known as KPIs or key performance indicators. KPIs are used to measure success by comparing actual data to predicted data. This is the reason why this occurred.
Predicting future performance is a typical application of analytics.
How do you take data-driven actions?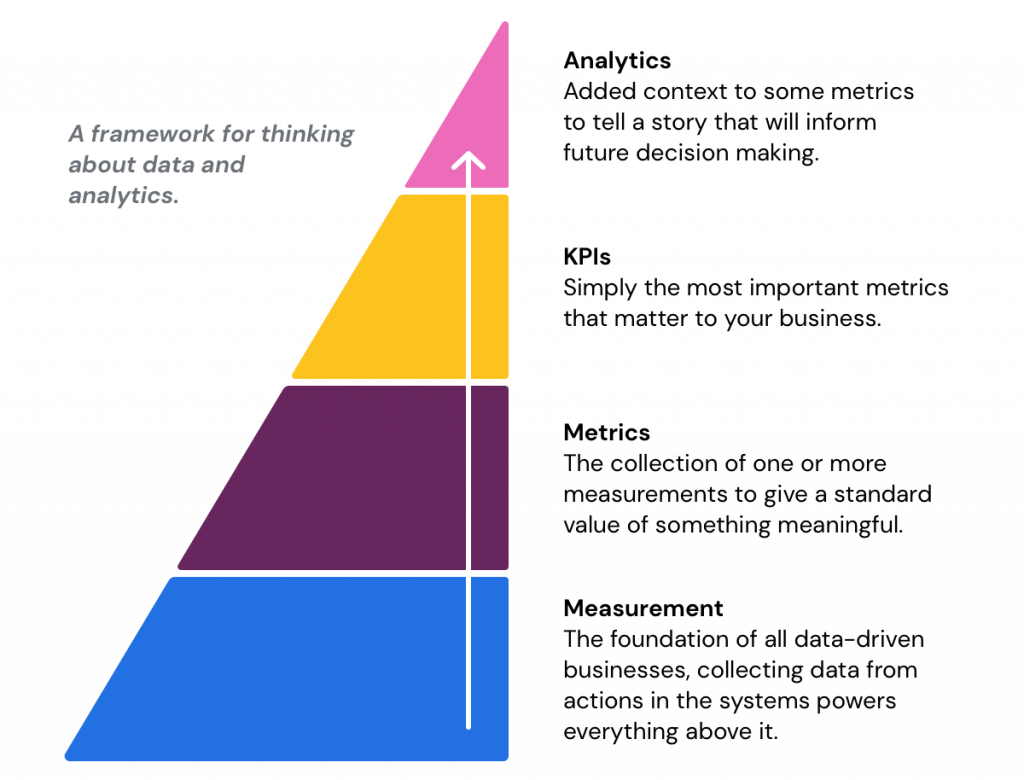 Maximise the expansion of your online store by keeping tabs on the correct KPIs. Let us delve into the various sections of the roadmap:
Acquisition
Most companies see traffic coming from search engines like Google or Bing, social networks and paid advertising (through Google AdWords, etc.). Regardless of your user acquisition approach, it's crucial to identify where they're coming from and double down on the sources that provide your website continuous traffic.
A typical shop must track which of its many marketing channels produces the most significant results. Is social media generating greater sales, or are consumers arriving via the search engine?
Are your email efforts working better than your retargeting ads? With the help of eCommerce analytics, you can learn anything.
Activation
This happens when a user subscribes to your newsletter or requests a free product trial. Things are getting rolling, and they are taking the first steps toward purchasing from you.
A shopper has joined your mailing list. But wait, it doesn't guarantee a sale. Even if a customer is interested in buying from you, they may need a little encouragement to take the next step and make a purchase.
Doing so might include a series of email campaigns or ad retargeting. You can find the best subscriber-converting channel with the use of eCommerce statistics.
Retention
At least ten different brands are available for a consumer to choose from. There is no assurance that they will return to make more purchases from you. This is when the importance of retention becomes clear.
The behaviour of customers that visit your online business is analysed using eCommerce analytics. It considers how people shop online, the items they are most interested in, and the ones they buy.
Putting together this information over time enables you to divide your clientele into several groups. This helps you to design customised client journeys and promotions to keep these consumers engaged. If they frequent your shop, they will likely buy something else.
Referral
Now that you can count on a steady stream of consumers, the question becomes how to expand. By word of mouth! Nothing beats a personal recommendation from someone you know and trust, and the chances are high that your customers have friends and family who would be interested in what you have to offer.
Ecommerce referral programs aid in expanding the customer base organically. Why not expand your consumer base while working to keep your current one happy?
A referral marketing program may be established, in which customers are rewarded for referring their friends to your store. However, with the help of eCommerce analytics, you can figure out which of these discounts and freebies prompted the customer to buy anything and tell their friends about the company.
Revenue
Ultimately, the success of your shop depends on its sales and revenue. That's how business is supposed to go. An eCommerce analytics platform aggregates data from several sources into a centralised dashboard, making it possible to spot and capitalise on market openings.
Can we identify a subset of consumers more inclined to purchase products in bulk? Does there exist a market for a premium product? You may increase sales by analysing data and using that knowledge to fine-tune your product prices and marketing efforts.
It isn't enough to have a working knowledge of eCommerce data analytics; you also need to put into action the appropriate plan at the appropriate moment to maintain a healthy sales funnel and a healthy company.
Best practices to grow sales with eCommerce analytics: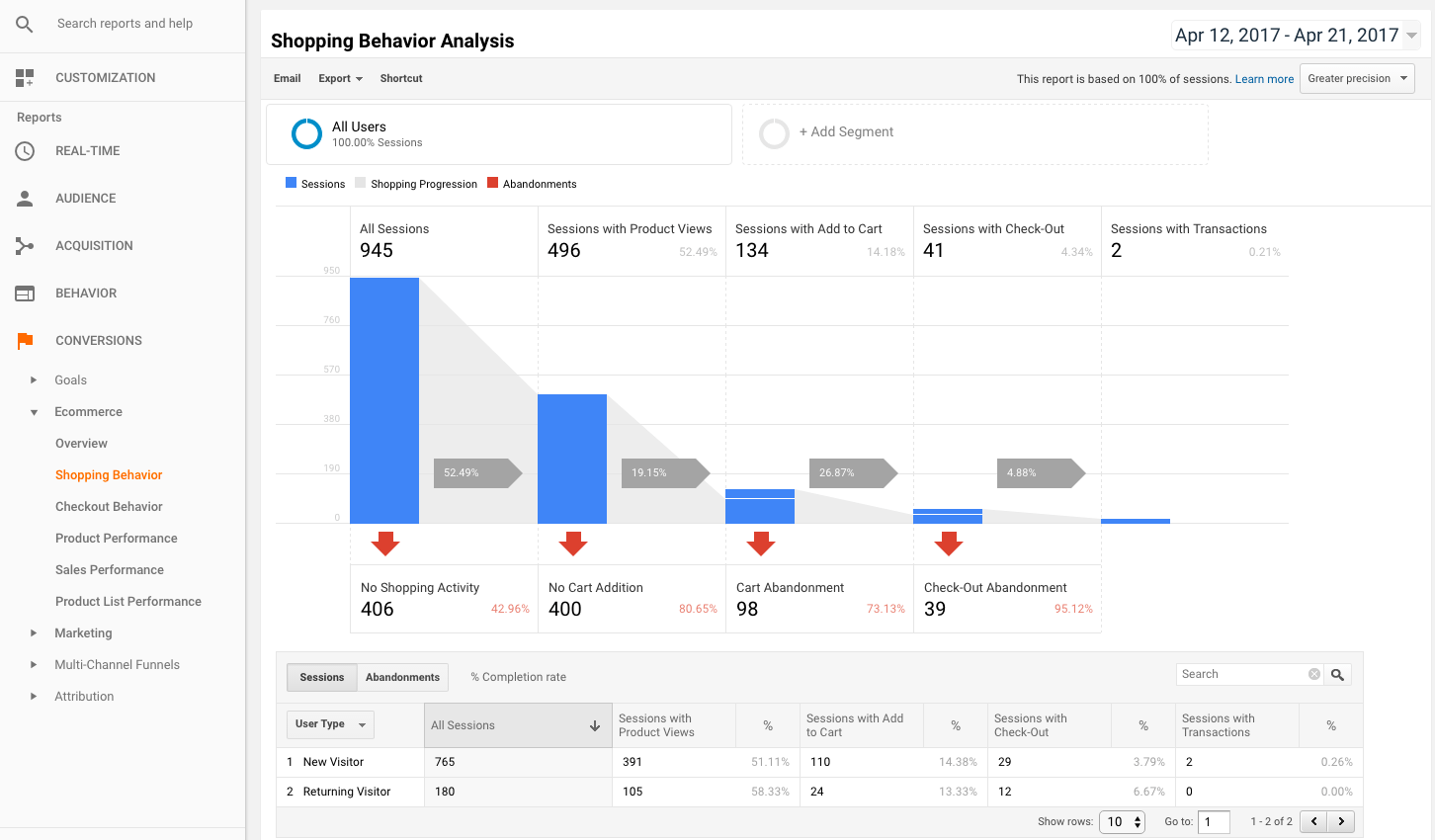 Ecommerce analytics can be pretty valuable to your business. Thus you must apply this correctly to see success in your organisation. This has to be done in some way.
Get your marketing data from all platforms and channels together
Getting started might be challenging since most companies' data is dispersed across several platforms. However, to arrange your data, you must first gather all your information.
Overwhelming feelings are shared. Nothing to worry about. Write down all of the locations where you think your data is stored.
Make connections between your consumers and the statistics that appear in your data
Beware of compulsively collecting data just for the sake of it. There must be a reason for everything. You won't learn anything by staring at a page of numbers. This is where the magic occurs when you connect these data with your clients.
Cross-channel reporting isn't possible with marketing solutions since they don't have enough data. To get the entire picture, you need to look at the data. This is the time when mistakes and bad judgment are made.
For seasonality and other tendencies, make adjustments to the data
You could think this is obvious, but many online shops don't consider key industry events or trends, seasonality, or other changes in the competition. It's important to remember that this strategy isn't only about what's going on right now in SEO.
SEO is a long-term game, so it takes time to see results. As a result, if you look at little slivers of data, you'll miss much of the broader picture.
Keep a tight eye on your site's customers' buying habits
A session with transactions, checkout and add-to-cart, are just a few of the most important places you may keep an eye on in this respect.
Your checkout procedure and website performance may be slowing down, which would explain the significant decrease in traffic. Because of this, investigation and monitoring of this movement are essential.
Product categories and goods may be tracked over time
Your marketing and sales monitoring initiatives benefit from a close examination of product data at the granular level. As your product category and individual product perform over time, you'll be able to determine the most profitable ones for your business.
This is an excellent place to start if you want to find out which goods are doing well and which ones aren't.
A deeper dig is made possible by looking at your items' sales performance inside a specific category.
Look for the things with the most sales, income, and unique purchases to determine what your clients are genuinely interested in and which products need a little more love.
Product page optimisation
The product page is where all the action occurs. It's a place where potential buyers may examine your product, learn more about it, and read feedback left by existing buyers. If you take the time to design a product page correctly, you will watch your revenue soar. When done improperly, sales efforts will falter. However, if your product pages aren't converting as effectively as they should, how can you determine why this is happening and what to do about it?
Optimisation of the product page will include gathering and analysing information about client activities to get more understanding. By analysing sales information, you may pinpoint what stops potential customers from making a purchase.
Perhaps the website doesn't flow effectively with a layout that poorly brings the user to where they want to go. Or maybe the call-to-action buttons aren't displayed or do a lousy job expressing what will happen when the buyer clicks on them. These are merely several elements that might impact conversion rates.
Finding the Perfect Match
Since clients' behaviours might vary widely, settling on a single strategy is not always viable. That's where applying best match algorithms may be convenient.
This sort of algorithm compares the performance of two variants of a given element (landing page, CTA button, etc.) to determine which one is more likely to elicit the desired response from customers.
Based on this information, you may obtain a clearer understanding of what will lead to more conversions. Depending on the time of year, several analytical features may swap out the options to provide you with a more nuanced view of client behaviour.
Do predictive analysis
Predictive Independent analytics may help you better connect with your consumers and meet their demands. Analysis of the data you acquire may help you discover what clients anticipate.
Consider the use of a recommendation engine. What a consumer has looked at and bought in the past might provide insight into what that customer could buy in the future.
Similar to a highly customised advertising campaign. Using predictive analytics, you may increase the success rate of your recommendations to clients.
Predictive analytics can better gauge the appropriate pricing for your goods and services. No longer can one choose a position on the supply and demand curves and call it good.
In today's eCommerce environment, a customer's desire to spend a given sum might fluctuate based on the time of day, week, month, or year along with any other circumstances.
The optimal pricing to charge clients that will result in the most conversions may be determined with price optimisation. This analytics may also help organisations determine how and when to interact with their consumers for maximum success.
Conclusion
Ecommerce marketing analytics are critical to your company's success, and we've covered all you need to know about them. With the aid of data, you can make better-informed choices that will benefit your business in the long run.
It's the only way you'll know which parts of your company are doing effectively and which parts need to be tweaked or improved. You can't enhance anything if you don't see how it's doing.