How are Branding and Positioning related?
Graphic designers, business owners, marketing experts – everyone is aware of the importance of branding for the success of each startup, regardless of their field of specialisation.
Having a good brand name has a huge impact on the quality and number of customers one receives at any given time. A reputable company attracts new clients and can easily meet its sales targets every month.
With all that focus on branding, it seems we are forgetting about something: brand positioning.
These two go hand in hand in any marketing strategy and focusing on both results to positive results.
Unfortunately, many of us confuse positioning as an aspect of branding, but it is an entirely different concept that requires a unique approach.
Let's clarify things once and for all.
What's the difference between branding and positioning?
How do these two concepts work together?
Do you need both or can you get good results by focusing on one of them?
Here is the most straightforward explanation that helps you make a distinction between the two concepts:
Branding is all about creating positive user expectations.
When you engage in branding, you focus on the users.
Positioning is about making your brand the preferred option among all competitors.
When you engage in positioning, you focus on the way your offer competes with all other players in the industry.
What is Branding Exactly?
To better understand branding, it's imperative that you know the meaning of the term "brand."
It basically refers to a name, design, or feature that makes one company's products distinct from its competitors.
For instance, there are many smartphone manufacturers but you can easily tell the difference between an iPhone and a Samsung device because of the unique feature and branding integrated into each of them.
That said, branding can be defined as a design process of establishing the personality of a product, service, or company.
When you start a company, or you launch a new product/service, you know how you want the audience to perceive it.
Then, you take various steps to influence the opinions of your target customers regarding this brand.
Your brand conveys what your company is, what you want it to be, and what people perceive it to be.
Effective branding helps you set a price your customers are willing to pay.
It convinces them that you are offering great value for their money.
To become successful in the modern digital world, it's imperative that you adjust to the current trends. More businesses are turning to digital asset management (DAM) systems to help them succeed in their branding strategies.
It goes without saying, that for you to enjoy any form of success in this department, you'll need to find the most up-to-date assets. This will ensure that your branding campaign resonates with today's consumer demands, making it easier for them to understand whatever you're presenting.
The brand is distinguished by a few elements:
The Website
Promotional materials
The packaging
The vibe
When you combine all these elements, and you come up with methods that help you promote the brand, you get your brand strategy.
Through this strategy, you will plan a specific branding campaign via various distribution channels.
Several steps lead you to a successful branding strategy:
Setting a purpose and making a promise that corresponds to that goal.
Establishing a promotion that's consistent with the brand's message.
Triggering strong emotions with the target customer.
Involving all employees in the brand's promotion.
Altering the campaign concerning latest trends.
Staying aware of the competition.
Competition awareness, which is an integral part of branding, is precisely what brings this concept close to the positioning.
Why Is Branding Important?
A consistent branding strategy will get your target audience to develop positive impressions about your product/service and company.
This will add value to whatever you are selling, so you will be able to charge more.
A strong brand will justify the price, just like Estée Lauder can easily sell facial creams at a higher rate than the one random company sets, even if this unpopular company uses similar ingredients.
Estée's consistent and robust strategy built powerful brand equity.
The customers are willing to pay the higher price.
Most of them do not even bother experimenting with other brands since they know they will get what they expect from this one.
The added value comes not only from perceived quality but through emotional attachment as well.
This luxury cosmetics brand, for example, associates its products with Hollywood stars and beautiful people.
It is not just the cream that sells the cream.
It is also its status.
If a branding strategy helps you get a higher status for your brand, it is clear why it is so essential for the development of your brand.
It would be crazy not to invest in it.
What Is Brand Positioning?
For the process of positioning to start, you need a product or service that you are going to place.
Through these efforts, you are going to manage the way your users perceive your brand.
You will imply that they cannot get that experience from competitive offers.
In some cases, the company can decide to start a new positioning campaign for an already existing brand.
In most cases, however, the positioning process comes before branding.
Reebok, for example, was already an established name when it started shifting its brand positioning strategy.
This company had a hard time convincing its target audience that it is a better choice than Nike and Adidas.
After the exclusive deal with CrossFit, Reebok's positioning strategy was reinvented.
It started developing its niche market, with customers who would pick this brand before any other option on the market.
Effective positioning is about creating a unique emotional benefit that makes your brand different from the competition.
It involves several stages:
Creating a brand positioning statement.
Comparing the brand to the competition to identify its uniqueness.
Analyzing the competition.
Determining the current position.
Analyzing the position of competitors.
Developing a unique positioning strategy.
Implementing the plan and testing its effectiveness.
As you can see, this is a different process from the one you undertake for branding.
Instead of being focused solely on your users and their experience with the product, you are focused on the competition and finding ways to rank higher.
Why Is Positioning Important?
In its essence, positioning is much more than identifying and improving your position in the market.
It is also about seeing how your product or service is significant and encouraging to the niche market.
It is also about making your offer sustainable, so you can continuously deliver it and beat the competition across all points of contact with the customer.
With that, your offer will occupy a distinctive place and value in the mind of your target customer.
Let's take Estée Lauder as an example again.
It is not just a brand.
It is a brand that its target audience prefers among all competitive offers.
It is evident that the creators of the positioning strategy have identified and determined points of comparison and contrast with other brands.
Then, they developed a compelling brand promise, and they gave us reasons to believe it.
That is why the target audience chooses this brand over competitive offers.
I recently came across a compelling new brand: Fedor.
It is a small family business focused on producing all-natural shaving products and soaps.
You will see an excellent positioning strategy all over its website and social media profiles.
We can see how these products compare to the competition and we know believable reasons why we should choose them.
Without such a strategy, this would be yet another small business from a country most of us have never heard of.
Thanks to the smart positioning, however, the brand is an international success.
Brand Positioning is not only important.
It is an absolute necessity!
When you start offering a product or a service, you have to claim your spot in the industry.
Otherwise, you will just get lost in the crowd.
How Are Branding and Positioning Related?
To make the difference easier to understand:
Branding focuses on a user's reaction to using the product, and Positioning focuses on a specific benefit that sets the brand above the competition.
With this logic, you need an establish a strong brand before you start the positioning.
In reality, however, these processes are closely intertwined.
Great positioning will help you establish a stronger brand, and great branding will help you set up a position.
If you start with the positioning strategy, you will lure your market to the brand.
The question is: do you need both?
Yes.
With effective branding, your company will stay profitable because its users will be willing to pay the price you ask for.
Through the positioning process, you are implying that the user cannot get your brand's experience from competitive offerings.
Let's examine Reebok's campaign again.
First of all, it repositioned itself.
Instead of competing with Nike, Adidas, and other brands in the way it did before, it found a unique market to position itself on – CrossFit.
Then, Reebok came out with a new logo, which reflects this change.
That is branding.
Reebok also started a new marketing campaign, based on consumer-focused events and influencer marketing.
That is positioning and branding combined.
Here's an interesting fact for you: the positioning will occur whether or not you develop a proactive positioning campaign.
Every brand has its position in the market.
However, this position will not be impressive if you are not working on it.
If you take an intelligent and proactive approach, you can influence the way your target customers rank your brand among all that competition.
Further reading: Check out this fantastic list of the top branding agencies in San Francisco.
Now You Know the Difference. It is Time for Action!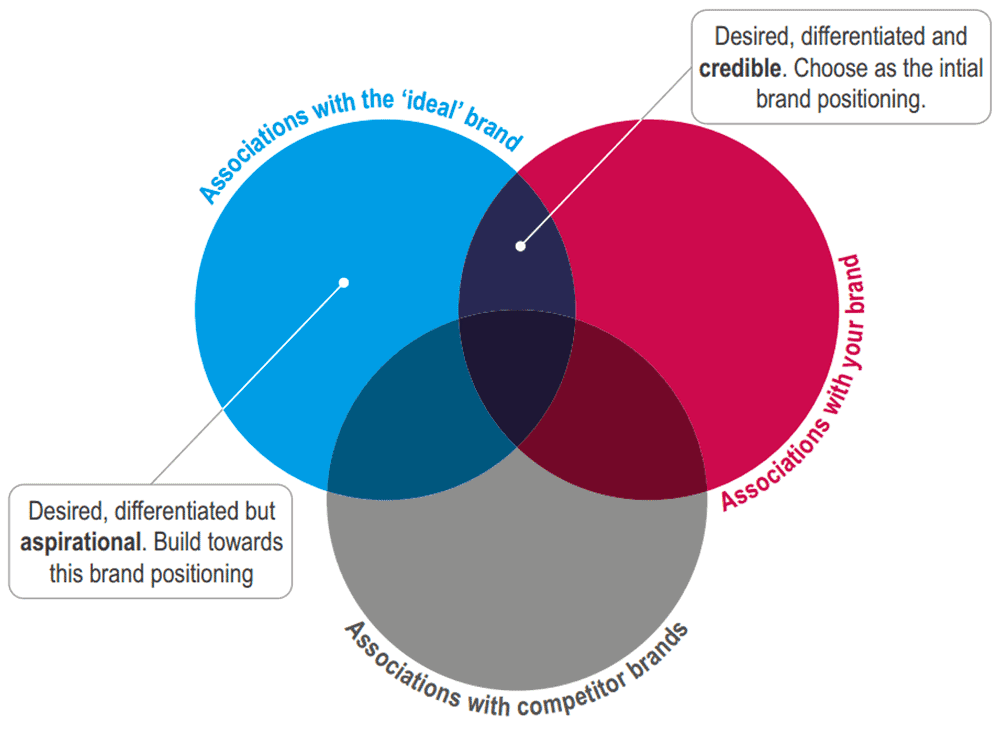 Branding and positioning have a few elements in common.
When creating a logo design, for example, the graphic designer has to convey both the position and the emotional appeal of the brand.
When creating a marketing campaign, you will get content that combines both these concepts.
An owner of a new business has to identify the brand image they want, as well as the position they want to hold in the marketplace.
If you first identify the factors that make your business different from the competition (in other words – you position it), it will be easier to build a strong brand on that foundation.
Top 10 Books on Branding and Positioning
Bestseller No. 1
Sale
Bestseller No. 2
Bestseller No. 3
Bestseller No. 4
Brand Positioning in Pharma
Amazon Kindle Edition
Subba Rao Chaganti (Author)
English (Publication Language)
347 Pages - 12/23/2022 (Publication Date) - PHARMAMED PRESS (Publisher)
Sale
Bestseller No. 5
Bestseller No. 6
Bestseller No. 7
Bestseller No. 8
Positioning Bed Pad with Handles 48" X 40" Incontinence Mattress Bedding Protector Liner Underpad Straps for Easy Lift & Transfer Reusable Washable Waterproof Hospital Quality
【EASY TO USE】Help your loved ones sit up and move with confidence with the multipurpose patient positioning bed pad. This glide sheet for patient transfer will help you take care of your patients or loved ones who are hospitalized without the slightest discomfort. The handles are well attached and placed in such a way that it is easy to grasp from almost any angle.
【TURNING,SITTING UPREPOSITIONING AND LIFTING MADE EASIER】Our double-sided oxford cloth patient sheet is equipped with 8 heavy-duty, reinforced handles that can become easier to help you transfer, reposit, turn and lift the patient.When there is a very heavy patient, eight handles can be lifted by four people.
【DISCOVER THE CONVENIENT AND DURABLE PATIENT SHEET】Free the hands of the caregiver. Maintaining the 48" x 40" bed sheet for patients is a breeze, since It can be washed by hand or machine. All you have to do is slip it in your washing machine, natural air drying and reuse!
【SUITABLE USER AND OCCASION】 Designed to offer best bedridden patients supplies solution for lifting, transfers, turning, repositioning in bed. Perfect forhome care, hemiplegic patient, hospitals, moving elderly, disabled patients, bedridden person, bed ridden, stroke patients, elderly, parkinsons, seniors, hemiplegic patient,nursing staff, single caregiver.
【 NURSE-APPROVED UNDERPAD LINER】 Easy to use thanks to the bed pad straps, patient underpads by Patient Aid have earned a reputation among RN nurses, home care professionals, the disabled & the elderly.
Bestseller No. 9
NEPPT Wedge Pillow Body Position Wedges Back Positioning Elevation Pillow Case Pregnancy Bedroom Eevated Body Alignment Ankle Support Pillow Leg Bolster (Blue)
【Bed Wedge Pillow:】 This wedge bed pillow is designed with the R shape suitable for our human being's somatotype theory. Comfortable, gradual slope provides BACK and LEG support to help improve blood circulation to the heart, respiratory problems, reducing pressure on the spinal cord, and back pain.
【Triangular Therapeutic Pillow:】 This is a home care assistance treatment pillow. (1) It can help patients turn over, change their posture, assist leg passive lifting, improve leg blood circulation; (2) At the same time is conducive to supporting pregnant women's belly to create a good environment for pregnant women to sleep. (3) Right angle helps relax your neck, being good for acid reflux, poor circulation, allergies or any other condition which breathing may be impaired in supine position.
【Foam Incline Pillows:】 Body Aligner Wedge Cushion provides enough load-bearing pressure that will not separate or deform during prolonged use, making it a perfect candidate for post-injury or post-surgical recovery, as well as for side sleepers.
【Wedge Pillow Cover:】 It is made of high quality pure cotton, that is removable and washable for easy care.
【User:】 The elderly, bedridden patients, handicap, lower limb fracture patients, due to surgery those who could not move but stay in bed for rest, pregnant women, use in seating for lumbar,back,legs ,belly support.
Bestseller No. 10
Author Bio: Over the years, William has worked for a variety of marketing companies. He specialises mostly in visual marketing and is often tasked with teaching new staff how to market visually in an online world that is dominated by social media and fake news on Facebook and CNN. William also gives lectures on visual marketing in an online world too.
Last update on 2023-02-04 / Affiliate links / Images from Amazon Product Advertising API