Best Graphics Tablet For Artists in 2021
A graphics tablet is a peripheral device that will allow the artistic soul to find a common language with the computer. 
It can have several applications, both in computer graphics and in photography or design. 
Read on, and you will find out what it will be useful for you and which is the best graphics tablet to choose.
What is a graphics tablet, and what is it for?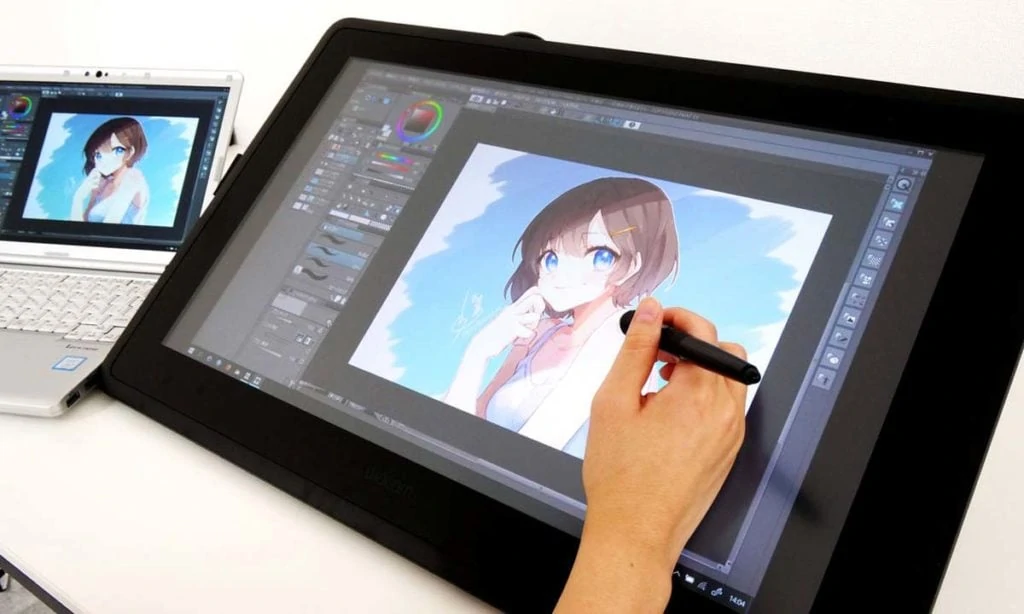 A graphics tablet is a very versatile device. 
It works well both for drawing, design and post-production in photography. 
All you need to do is connect it to your computer (wired via USB cable or wirelessly), install the appropriate software, if necessary, and you can start creating whatever plays in your soul. 
The graphics tablet allows you to create images, utility maps, spatial diagrams, CAD designs, and even handwritten notes, for example, in Word.
Some graphics tablet models look similar to standard multimedia tablets – they have a colour display. 
The difference, however, is that after that in the graphics tablet you can draw. 
On the other hand, other tablets have a work surface on which you work, and you can see the effects of your actions only on the computer screen. 
In both cases, you use a pen with replaceable inserts, somewhat similar to a very simple pencil or pen.
Who will need a graphics tablet?
A graphics tablet is an excellent solution for those who find drawing with a mouse not very intuitive, and for all those who want to develop their skills in creating and editing broadly understood digital images. 
A graphics tablet, combined with appropriate software, successfully replaces the equipment of an art studio – paper, crayons, paints, markers and even erasers.
The creative process using this type of tablet is also only much more comfortable and natural. 
In the case of drawing and painting, you do not have to worry about mixing colours – here you can successfully paint lighter elements and reflections even at the end, without affecting the previous colour layers of the graphics. 
Also, it is easier to perform detailed editing as it is much easier to handle fine details.
Types of graphics tablets
Traditional graphic tablet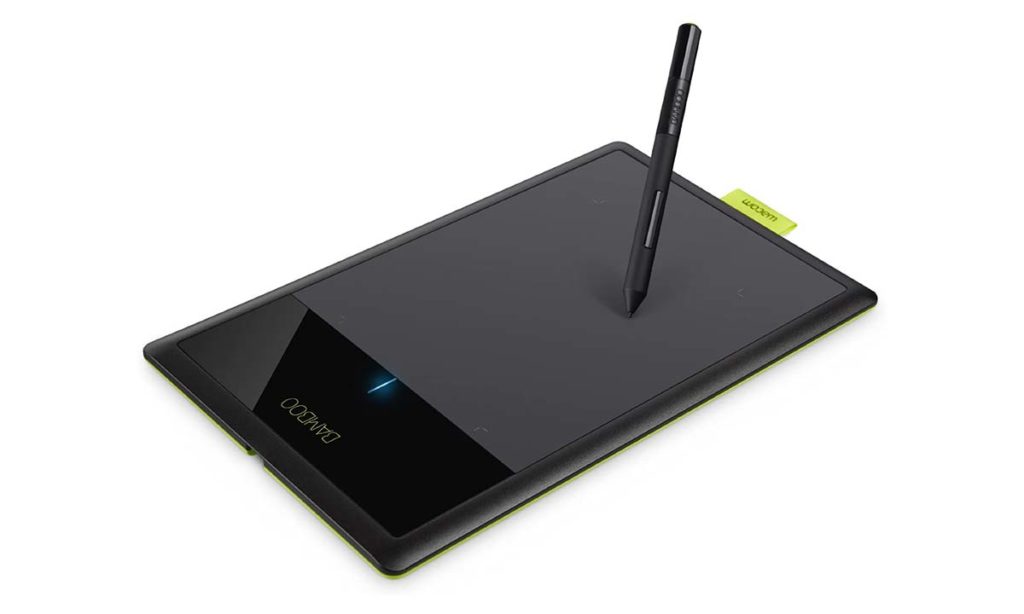 It is a type of graphics tablet called pointing. 
It consists of a pad-like work panel and a stylus similar in structure to a pen or pencil. 
In the way it works, it is supposed to replace a traditional computer mouse or touchpad. 
However, it is handled in a completely different way, because it is not absolute but relative motion, which means that if you want to act in the corner of the screen, you have to touch the corresponding corner of the tablet surface. 
Therefore, it is good to choose a tablet with a size that proportionately reflects the size of the monitor. 
Besides, these models are available in a version that can only be operated with a pen and with an additional touch function.
LCD graphics tablet
This model is equipped with a screen that you can draw on with the stylus. 
Working on the LCD model, even more, reflects drawing on a sheet of paper. 
The main difference, however, is that the tablet gives you almost countless options for correcting and editing your artwork. 
More advanced graphics tablets are equipped with their system and embedded software. 
These are more independent and mobile devices that do not require connection to a computer.
Stylus for a graphics tablet
The stylus in a graphics tablet is an essential tool. 
After all, it is with it that you draw lines or lines that ultimately determine the appearance of your work. 
Therefore, its parameters are critical. 
Among other things, the pressure sensitivity, the reaction to the pressure force, the recognition of tilt angles and the pen reading height are essential. 
It works like a real pencil or pen, so it must behave similarly. 
For example, vary the thickness of the lines depending on how you guide the pen over your digital piece of paper, i.e. the tablet's working surface.
There are battery and battery-free styluses on the market. 
For example, Wacom graphics tablets use pens that do not require batteries, thanks to the patented magnetic resonance technology. 
Some stylus models have a tip similar to a pencil tip on one side and a programmable button on the other. 
You can assign various functions to it, but the most frequently chosen one is the eraser function. 
Usually, the pen comes with a set of replaceable cartridges.
Graphics tablet software and its capabilities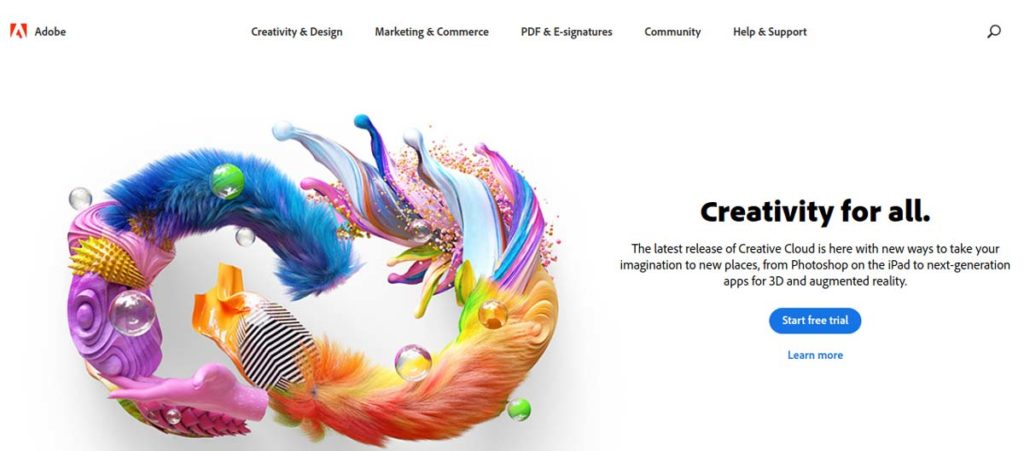 Adobe Photoshop®
Currently, one of the most popular graphics programs – It is used for editing raster graphics, digital photography processing, designing 3D models and handling vector shapes. 
With it, you can perform both simple editing and advanced illustrations as well as complex printing projects and those intended for websites. Available on Windows and macOS.
Adobe Illustrator®
A graphics program designed to create vector graphics. A flagship tool from Adobe that provides multi-dimensional possibilities for creative expression. 
Perfect for icon design, logos, typography and illustrations for printed and digital materials, interactive movie applications or mobile devices. 
Available for Windows, macOS and (coming soon) iOS.
Procreate
Graphics program for iPad and iOS, top-rated among its users. 
An award-winning, versatile and richly equipped creative application that, thanks to the presence of many brushes, provides incredibly natural creative effects and possibilities that go beyond standard working methods.
Clip Studio Paint Pro
One of the best applications for creating manga, comics and illustrations. 
You can draw freehand with the stylus or create vector graphics on vector layers. 
You can also choose from a wide variety of patterns and patterns to use, including lines, stars, ribbons.
Anime Studio® Debut
2D animation program. Just import characters from other programs or easily design. You can also enrich the movie with sound. 
You can save your finished movies, export them to many popular formats and even share them on YouTube.
Corel® Painter® Essentials ™
A fascinating variation of the Corel Painter program, which, like the original, is mainly used for painting. 
For this reason, it is equipped with a rich set of digital brushes, other tools and exciting textures that look like various types of paper. 
Also, with this program, you can edit a photo or drawing to make it look painted or sketched. The program is available for both macOS and Windows.
Corel AfterShot ™ Pro
Advanced graphics program for photo post-production. 
It enables precise photo processing and cataloguing.
 You can make changes very freely, non-linearly, and thanks to the use of layers, it's easy to undo. 
The program is cross-platform: it works with Windows, macOS and Linux.
Corel PaintShop® Pro
A program for retouching, cataloguing and sharing photos on the Internet. 
Advanced processing, precise removal of selected objects from the frame, or quick mass retouching thanks to the Express Lab function – all these are only part of Corel Paintshop's capabilities. 
With its help, you can create, among other things, a professional photo book and an impressive slide show.
ZBrushCore®
Used by professional filmmakers and game designers, a 3D digital sculpting and painting program. 
Create digital 3D prints and animation characters. ZBrushCore® works on both Windows and macOS computers.
GIMP
Free raster graphics creation program. Available under an open-source license. 
It is perfect for basic and more advanced photo editing and illustration design. 
This is a great solution, especially for beginner graphic designers or enthusiasts, who do not have to buy a more specialised tool. Available incl. On Window and Linux.
Worth Reading: Drawing Tablets For Beginners & Professionals 2021
Recommended Graphics Tablet Models
A graphics tablet for creators and enthusiasts
1 – Wacom Intuos Pen
A pointing-type graphics tablet, without a screen, with a resolution of 2540 LPI and with an included proprietary stylus with a 4096-degree sensitivity level. 
Perfect for digital drawing, painting or photo editing. 
Easy to use, light, handy and very intuitive in operation. 
It is additionally equipped with four keys for even more practical use.
2 – Huion H420
A screenless graphics tablet with a wireless stylus. 
The active area of ​​the Huion H420 working surface is 101 x 56 mm and has a resolution of 4000 LPI. 
The pen is sensitive to 2048 pressure levels and is equipped with programmable buttons. Works well with drawing and handwriting.
3 – Huion H1060P
A pen tablet without a screen with a 10 x 6.25-inch work surface for a comfortable working space. 
The system of this model is distinguished by its impressive speed, smoothness and responsiveness of operation. 
The refresh rate here is 233 PPS with a screen resolution of 5080 LPI. 
Combined with 12 programmable buttons, this ensures that the creative process is convenient and lag-free.
4 – Huion Kamvas Pro
Model of a graphics tablet with an LCD screen and an IPS matrix with a diagonal of 13 inches. 
The display is distinguished by 120% sRGB coverage and the availability of up to 16.7 million colours. 
The pen attached to the tablet is battery-free, has a pressure sensitivity of 8192 levels and records inclination lines.
5 – Wacom Intuos Pro L Paper
A pen tablet for modern traditionalists. 
Wacom Intuos in the Paper version is a device that combines the classic form of drawing with the digital form of editing and finishing the work. 
The graphics tablet comes with a Pro Pen 2 with 8192 levels of pressure, a Finetip Pen with three nibs, and ten sheets of paper. 
Creating on this device is exceptionally natural, intuitive and convenient.
A Graphics Tablet for Artist & Professionals
6 – Wacom Cintiq 16
A pen tablet with an LCD screen with an IPS matrix, viewing angles in the range of 176 ° and resolution in the FullHD standard, additionally covered with a special anti-reflective coating. 
The Cintiq 16 also comes with a great Pro Pen 2 with 8192 levels of pressure sensitivity.
7 – Wacom LCD Cintiq 22HD
A graphics tablet with an LCD screen with a diagonal of 21.5 inches and an aspect ratio of 16: 9.
The screen matrix is ​​IPS with Full HD resolution and viewing angles up to 178 °, which ensures good visibility of the image regardless of which side you look at it. 
The colours do not lose their intensity, and there are as many as 16.7 million in the sRGB palette with 72% colour coverage. 
Also, the tablet is equipped with 16 programmable buttons, a rotating stand and an HDMI port and Pro Pen 2.
8 – Huion Kamvas Pro 22D
A comfortable and professional pen tablet with a 21-inch IPS LCD screen with 178 ° viewing angles. 
The screen of the device is covered with anti-reflective glass, which was installed in the laminating technology. 
As a result, the distance between the glass and the panel has been reduced, and the parallax phenomenon has been reduced. 
In this way, the brightness and clarity of the screen has been increased, which translates into 120% sRGB colour coverage. 
The tablet is also equipped with 20 programmable buttons and a pen.
9 – Apple iPad Pro
The Apple iPad Pro is a multi-functional multimedia tablet that is also great for graphic work. 
It goes well with the Apple Pencil (not included), with which it forms an unsatisfactory duo for professional creatine tasks. 
The screen of the Apple tablet consists of the proprietary Liquid Retina display, which is distinguished not only by a wide range of intense colours but also an instant response time.
10 – Wacom Cintiq Pro 24
Wacom graphics tablet for particular tasks. 
It is equipped with an LCD screen with a resolution in the 4K standard (3840 x 2160 px) with 99% coverage of the sRGB colour palette. 
The display with a brightness of up to 350 cd / m2 has been covered with an anti-reflective coating, which in combination with the Pro Pen 2 stylus gives an exceptionally natural experience of use. Just like paper and pencil.
Conclusion
If you are interested in digital graphics or broadly understood creative work, it is worth taking a closer look at graphic tablets. 
They are a beneficial device that forgives much more than a sheet of paper. 
Which of the presented models did you like the most? 
What are you going to create with it? 
Tell us more about it in the comments.
Last update on 2023-05-06 / Affiliate links / Images from Amazon Product Advertising API