The 11 Best Graphics Tablet for Artists
For artists today, a graphics tablet is an indispensable tool. It allows you to digitally draw, paint, and edit images with the natural feeling of putting pen to paper but with the flexibility and power of working digitally. With so many graphics tablets on the market, how do you determine which is best? This comprehensive guide examines the key factors to consider and reviews the best graphics tablet for artists.
Why Use a Graphics Tablet?
Before we dive into the options, let's look at why a graphics tablet should be an integral part of any digital artist's toolkit:
Natural drawing/painting feel – Graphics tablets allow you to hold and use a stylus like a real pencil or paintbrush, providing excellent control and nuanced input for digital artwork. This makes the creative process feel seamless.
Pressure sensitivity – Most graphics tablets detect the amount of pressure you apply with the stylus. This means you can create beautiful variations in line weight and opacity, just as with real artistic media.
Expressive capabilities – Besides pressure, tablets can sense the tilt and orientation of the stylus, allowing you to add expression and texture through the angle and rotation of the stroke. Real traditional media can't do this!
Artistic capabilities – From drawing to painting, comics to concept art, graphics tablets excel at many disciplines. Their capabilities rival or surpass what's possible with mouse input.
Efficiency – Tablets save you time on repetitive tasks through shortcut buttons and powerful software integration. You can also instantly undo mistakes and easily edit previous work.
Portability – Lightweight tablets and wireless styluses mean you can be creative wherever inspiration strikes. Many are highly compact for travel.
Critical Considerations for Choosing a Graphics Tablet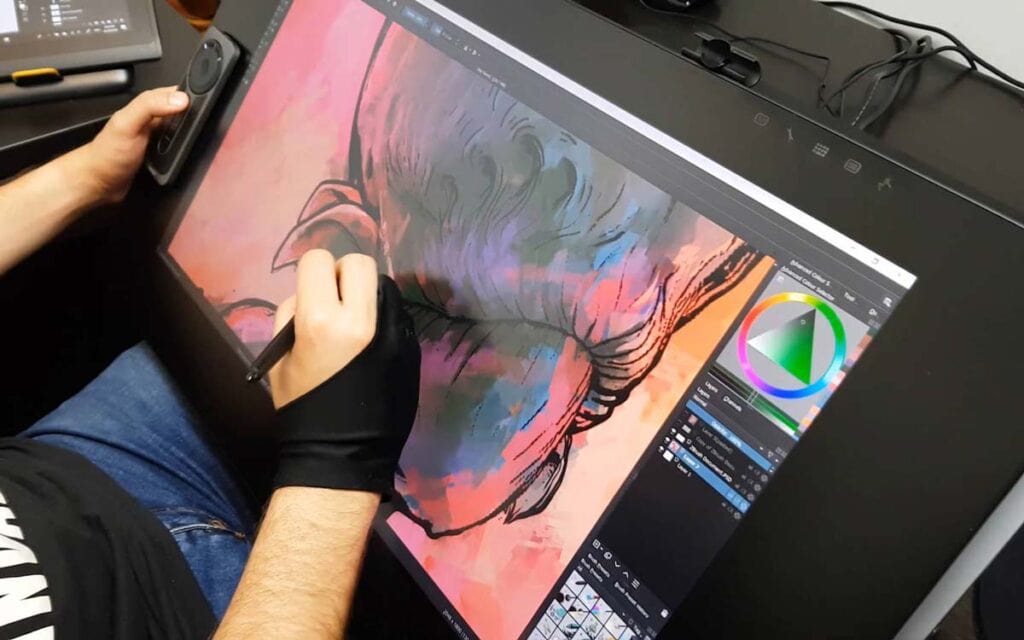 Now that you know their benefits, how do you pick the right graphics tablet from the options? Here are the critical criteria to consider:
Drawing Surface Area
The total active area you have to draw on is a top consideration. Are you doing intricate illustrations or large artistic compositions? Make sure to get a surface area large enough for your needs. Areas range from just 4×3 inches on small tablets to nearly the size of a full sheet of paper (8.5×11 inches) on larger models.
Pen Pressure Levels
This determines the sensitivity range and nuance you can achieve simply by varying the pressure of the stylus. Entry-level tablets often have 1024 or 2048 pressure levels, while high-end models boast 8192 or more. More is generally better here for refined control.
Pen Technology
The stylus is your paintbrush, so its capabilities make a big difference. Key factors are pressure sensitivity, tilt support, ergonomics, shortcut buttons, and whether it needs to be charged. Battery-free pens provide a more natural feel. Look for a stylus well-suited to your needs.
Controls and Shortcuts
Good graphics tablets provide customisable express keys, touch rings, scroll wheels, and other shortcuts to boost efficiency. Positioning these controls is also vital – you want them conveniently accessible without looking.
Software Bundle
Many tablets ship with creative software included. Software like Corel Painter Essentials and Autodesk Sketchbook provide excellent tools if you're new to digital art. For pros, check if the software you already own is compatible.
Connectivity
Graphics tablets connect to your computer via USB, USB-C or wirelessly via Bluetooth. Wireless capability means less cable clutter and offers complete freedom of movement. Just check that your tablet's wireless connectivity matches your computer.
Drawing Texture
Drawing on slick glass can feel unnatural and slippery. Many tablets feature textured surfaces that recreate the subtle friction of paper. Try out different textures to see what feels best for your purposes.
Price Range
Tablets span a wide range, from around $50 for essential starter tablets to over $2,500 for cutting-edge professional models. Consider how serious your artistic pursuits are and choose a price point accordingly. Expect to pay $200-$600 for a capable mid-range tablet.
Top 11 Graphics Tablets for Artists
Based on the critical criteria outlined above, these stand out as some of the best graphics tablets available for artists today:
1 – Wacom Intuos Pro Creative Pen Tablet
Sale
The best overall choice for serious artists
The large active area up to 13.9″ x 8.7″
8192 levels of pressure sensitivity
Advanced Wacom Pro Pen 2 technology
Abundant express keys and controls
Optional wireless connectivity
Textured surface options
Included creative software suite
The Wacom Intuos Pro represents the gold standard among graphics tablets for outstanding pen performance, a natural drawing feel, and powerful software integration. The high-pressure sensitivity enables remarkable control. Plus, a wide range of size options allows you to choose the ideal active area for your creative work.
2 – XP-Pen Artist 15.6 Pro Drawing Monitor
An extra-large pen display drawing tablet
15.6″ HD tilting display
Battery-free pen with 8192 pressure levels
16 express keys and red dial wheel
1920×1080 FHD resolution
120% sRGB color gamut coverage
VESA stand compatible
This XP-Pen tablet combines a generously sized 15.6-inch display with impressive pen capabilities for a highly immersive drawing experience. The 1920×1080 HD screen provides vivid colours and clarity for artwork. Fold the screen flat or tilt it to your preferred angle. Built-in shortcuts boost efficiency.
3 – Huion Inspiroy H1060P Graphics Drawing Tablet
Sale
Huion Inspiroy H1060P Graphics Drawing Tablet with 2 PCS Digital Pen PW100, OTG Adapter Included
OS Android 6.0 Supported – Windows 7 or later, macOS 10.12 or later Android 6.0 or later. You can easily connect your phone to the tablet with the OTG connector after firmware UPDATED; ONLY mobile phone and tablet powered by Android 6.0 or above are supported, while iPhone and iPad are NOT at the moment. NOTE: The cursor will not show up in SAMSUNG Galaxy S series at present. If you are not sure whether the product is compatible with your Phone or if you meet any problems, please contact us.
Tilt Function Battery-free Stylus – Provide you ±60 levels tilt recognition for accurate cursor positioning with different angles; Outfitted with PW100 battery-free stylus of 233PPS report rate, 10mm sensitive height; Lightweight design and eco-friendly, no need to charge.
8192 Levels of Pressure Sensitivity – With 5080LPI screen resolution, makes every stroke more fluent; Its pressure sensitivity is four times higher than most of the homogeneous products recently in the market.
A top-budget tablet pick
10 x 6.25-inch active area
8192 pressure levels
Battery-free pen
Six customisable express keys
Pen tilt recognition
LCD writing tablet display
Portable, lightweight design
For artists seeking great pen functionality on a budget, the Huion Inspiroy H1060P delivers. It provides a responsive drawing surface with ample room to create. The pressure-sensitive battery-free pen enables you to inject expression easily. While the controls are minimalist, they remain thoughtfully designed and user-friendly—an excellent value tablet.
4 – Wacom Intuos Graphics Drawing Tablet
Wacom Intuos CTL4100WLK0 Wireless Graphics Drawing Tablet with 3 Bonus Software Included, 7.9″ x 6.3″, Black (Renewed)
Come with all original accessories.
4096 levels of pressure sensitivity, gives you control and precision when drawing, painting and photo editing in any software program
Connect wirelessly with Bluetooth to your Mac (OS X 10.11 or later) or PC (Windows 7 or later)
Small compact size (7.87 inch x 6.3 inch) with larger active area (6.0 inch x 3.7 inch), is perfect for limited desktop areas and can be setup for both left and right handed use
Four customizable express keys that put your favorite shortcuts like undo or copy/paste at your fingertips
A wallet-friendly smaller Wacom choice
6 x 3.7-inch active space
4096 levels of pressure
Includes Wacom Pen 4K
Built-in Bluetooth connectivity
Eight customisable express keys
Lightweight, slim design
Bundled creative software
The entry-level Wacom Intuos offers beginner artists an affordable introduction to working with a responsive pressure-sensitive pen and valuable creative software. While the drawing area is modestly sized, this tablet's intuitive controls and overall build quality make it worthy of consideration for hobbyists.
5 – Huion Kamvas Pro 16 Drawing Tablet
HUION KAMVAS Pro 16 Graphics Drawing Tablet with Screen Full-Laminated Tilt Battery-Free Stylus Touch Bar Adjustable Stand, Compatible with Windows, Mac and Linux, 15.6inch Pen Display Black
[Outstanding Visuals] You can enjoy immersive viewing in great clarity and fine detail with the help of 15.6-inch full-laminated screen and anti-glare glass of the Huion Kamvas Pro 16 drawing tablet with screen. For a good feel while drawing, the graphics drawing monitor contains smooth but slight texture.
[Brilliant Color] See your creations in vibrant and true-to-life colors on this pen display with 120% sRGB (92% AdobeRGB) color gamut volume(16.7 million 8-bit). 1000:1 contrast ratio shows shadow details clearer and sharper.
[Optimized Workflow] Kamvas pro 16 drawing monitors comprise with 6 customized express keys and a touch bar which is helpful to get access to favorite shortcuts of keywords or mouse to achieve different operations like zooming in and out, adjusting brush size, saving time and keystrokes.
An advanced pen display drawing tablet
15.6″ fully laminated HD screen
120% sRGB color gamut coverage
PW517 battery-free pen
±60° tilt support & 8192 pressure levels
16 customisable express keys -VESA mount compatible
Built-in stand for 19-degree inclination
Offering one of the best-in-class pen experiences thanks to innovations like its PW517 stylus, the Kamvas Pro 16 will delight creators with its responsive and nuanced drawing performance. The 15.6-inch HD display renders your artwork with excellent clarity and colour reproduction—convenient express keys round out a top-tier pen tablet that feels like the future.
6 – Apple iPad Pro & Apple Pencil
Apple iPad Pro 12.9-inch (6th Generation): with M2 chip, Liquid Retina XDR Display, 256GB, Wi-Fi 6E, 12MP front/12MP and 10MP Back Cameras, Face ID, All-Day Battery Life – Space Gray
WHY IPAD PRO — iPad Pro is the ultimate iPad experience, with the astonishing performance of the M2 chip, superfast wireless connectivity, and next-generation Apple Pencil experience. Plus powerful productivity features in iPadOS.
IPADOS + APPS — iPadOS makes iPad more productive, intuitive, and versatile. With iPadOS, run multiple apps at once, use Apple Pencil to write in any text field with Scribble, and edit and share photos. Stage Manager makes multitasking easy with resizable, overlapping apps and external display support. iPad Pro comes with essential apps like Safari, Messages, and Keynote, with over a million more apps available on the App Store.
FAST WI-FI CONNECTIVITY — Wi-Fi 6E gives you fast wireless connections. Work from almost anywhere with quick transfers of photos, documents, and large video files.
A versatile portable pen tablet solution
11″ & 12.9″ size options
Liquid Retina display with ProMotion, True Tone, wide colour
Apple Pencil with tilt & pressure, magnetic attachment
Powerful Apple A-series processors
Extensive app ecosystem for creativity
Face ID and USB-C connectivity
While more of a tablet than a dedicated graphics tablet, the Apple iPad Pro and the Apple Pencil make for a competent mobile pen interface. The Pencil delivers immense creative flexibility, while the bright Liquid Retina displays offer stunning image quality. Thanks to its app support and portable form factor, it is ideal for working on the go.
7 – Microsoft Surface Pro 8 & Surface Pen
A premium 2-in-1 pen tablet
13″ high-res touch display
Surface Pen with 4096 pressure levels
Intel Core processor options
Long 13+ hour battery life
Runs full Windows 11 OS
Kickstand and detachable keyboard
USB-C and Bluetooth connectivity
Combining tablet portability with total Windows environment productivity, the Microsoft Surface Pro 8 is a versatile, high-performance pen tablet. The Surface Pen enables nuanced digital inking capabilities. Under the hood, Intel Core processors drive robust performance – making this an ideal solution for creative pros seeking power and mobility.
8 – XP-Pen Artist 22R Pro Drawing Monitor
Sale
Drawing Tablet with Screen XPPen Artist 22R pro Computer Graphics Tablet 120% sRGB with Battery-Free Stylus Full-Laminated Technology, 21.5 inch Pen Display with 20 Shortcut Keys & 2 Red Dial(Black)
【Brilliant HD LCD Screen】 XPPen Artist 22R pro art tablet comes with a strikingly large 21.5-inch display and features 1080p resolution, allowing you draw, design, model and create directly onto the 22R Pro's surface, letting you unleash new creative possibilities.
【Full featured connection】XPPen Artist 22R Pro graphics display supports Type-C to Type-C connection, letting you directly connect your iMac/Mac Book Pro and other Windows computers that support Type-C input to the 22R Pro without using a Type-C to HDMI &USB adapter. (The full-features USB-C cable is included).
【20 shortcut keys+2 dial】XPPen Artist 22R pro features two easy-to-control red dial wheels and 20 customizable shortcut keys that are conveniently placed on both sides, making it equally accessible for left and right-handed users.
A large pen display with vivid colour
21.5-inch FHD tilt display
16.7M color gamut coverage (sRGB 121%)
Battery-free pen with 60 degrees tilt support
Dial wheel and express keys
178° wide viewing angle
75% screen production ratio
Height adjustable stand
The expansive 21.5-inch screen paired with XP-Pen's latest pen technology results in significant, bold, creative capabilities. Your work comes alive thanks to the vivid colour reproduction and generously sized display area. The adjustable stand lets you dial the perfect viewing angle as you draw.
9 – Xencelabs Pen Tablet Medium Bundle
Sale
XENCELABS Wireless Drawing Tablet Medium with Quick Keys, Pen Tablet with 2 Battery-Free Pens, 12″ Graphics Tablet for Windows/macOS/Linux, Black
Professional Graphic Tablet: Our Pen Tablet was co-designed with the input of industry leading creatives. The active area (10.3"x5.75") has true 16:9 aspect ratio to match industry standard displays. A minimal design that prioritizes comfort and functionality with features for faster workflows, and a great drawing experience.
Quick Keys: Working in unison with the pen tablet, the shortcut keys gives you 5 sets of 8 keys – a total of 40 programmable functions per application. Includes a physical dial with 4 settings that perform two functions. There is also an OLED display that shows you each key assignment at a glance. This enables you to make logical key groupings for specific steps in the workflow.
Two Battery-free Pens: Two different sized pens come standard with our drawing tablet, both fully customizable to your workflow. The wider barreled, 3 Button Pen has three programmable buttons + eraser to transform this pen into your fully customized tool. The smaller barreled, Thin Pen handles like your favorite pen or pencil and has two assignable buttons + eraser. 8192 levels of pressure sensitivity, 5080LPI pen resolution, tilt recognition, and virtually no lag.
A high-end tablet with unique Quick Keys
10.3"x5.75" active area
Battery-free pen with 8192 levels
Includes Quick Keys dial controller
OLED displays on keys for labelling
Granite-like textured surface
Slim, premium aluminium design
Bundled with Corel Painter Essentials 7
What makes the Xencelabs tablet unique are its Quick Keys – eight customisable shortcut keys with small OLED screens that label the keys according to your set functions. Combined with advanced pen performance, these thoughtful shortcuts enhance your workflow.
10 – Gaomon PD1560 15.6″ Pen Display Monitor
Drawing Tablet with Screen GAOMON PD1560 Drawing Monitor Art Tablet with Adjustable Stand, 10 Shortcut Keys, 15.6-inch Graphics Tablet for Mac, Windows PC
【10 EXPRESS KEYS】– 10 shortcut keys on GAOMON PD1560 drawing tablet monitor are programmable.【 8192 PEN PRESSURE SENSITIVITY】8192 levels pen pressure gives you better control of lines. About 2 hours to 2.5 hours for full charge of pen lasts 350hours work. 【HIGH QUALITY IPS FULL HD SCREEN】– Report Rate: 233PPS Viewing Angle: 178°Screen Resolution: 1920 x 1080 (16:9)
【10 to 90 DEGREE ADJUSTABLE STAND 】– You can find a perfect and comfortable position by dragging the switch to adjust the angle of GAOMON tablet . 【3-in-1 CABLE】– To reduce the cable clutter. f there is no hdmi port on your computer, you need extra hdmi adapter. 【PRE-APPLIED SCREEN FILM】- to protect the surface screen ,also providing paper-like drawing experience. 【PEN HOLDER & 8 NIBS】– nibs are inside pen holder. 【Gift 2-finger Gloves】
【NOT STANDALONE PRODUCT】GAOMON PD1560 is computer graphics tablet. It has to connect to a Windows/Mac computer to work. 【Left/Right Handed Supported】 【GAOMON PD1560 digital drawing tablet support multi-screen mode. 】
A large pen display on a budget
15.6-inch FHD 1920×1080 resolution
Battery-free pen with 8192 levels
Ten customisable express keys
60° tilt support and 266 RPS report rate
75% screen ratio with 16.7M colours
VESA mount compatible
Integrated cable management
The Gaomon PD1560 provides digital artists with a big 15.6-inch canvas to draw on while keeping the price surprisingly affordable. Responsiveness and accuracy are acceptable despite the low cost. The generous array of express keys offers ample shortcuts for speeding up graphics work.
11 – Huion HS610 Drawing Tablet
Drawing Tablet HUION HS610 Graphic Tablet with Battery-Free Stylus 8192 Pen Pressure Tilt Function, 10×6.25 Inches Digital Tablet for Animation & Design, Compatible with Windows/Mac/Android
Android OS Supported: HUION HS610 is compatible with Android OS 6.0 or later. You can easily connect your Android devices to the drawing pad with OTG adapter. With 8mm thickness and 600g weight, HS610 is lightweight and easy-to-carry, making it a great partner for drawing at anytime and anywhere with your phone
Multifunctional Touch Ring: HS610 can offer you an ultimate smooth drawing experience via the newly-design touch ring. It can help you easily zoom in or out for your canvas, adjust your brush and scroll the page. You can also customize the 12 press keys as you need to further enhance productivity
Battery-free Stylus: With 8192 levels of pressure sensitivity and 5080 LPI pen resolution, the PW100 is highly accurate in response to pressure signals. The battery-free EMR(electromagnetic resonance) technology needs no battery and charge, which ensures you more flexibility and enables you to focus more on creating
A highly portable pen tablet
10 x 6.25-inch compact active space
Battery-free stylus with 8192 levels
Integrated pen holder for easy access
Six customisable press keys
Pen tilt recognition ±60 degrees
Lightweight design at 12 oz.
USB-C connectivity
The New 1HS610 from Huion fits the bill nicely for travel-friendly portability and strong pen capabilities. Despite its compact size, the drawing area remains very usable. The easy-press keys provide helpful shortcuts on the go. The integrated pen holder guarantees you'll always place the stylus correctly.
Final Thoughts on Finding the Best Graphics Tablet
Our options highlight the range of excellent graphics tablets available to suit different needs and budgets. Focus on the drawing surface size, pressure levels, pen capabilities, express controls, and software bundle that best fits your style and requirements. And pay attention to ergonomic factors like the drawing texture.
Investing in the right graphics tablet pays dividends through more fluid, enjoyable, and robust digital artwork. It may enhance your creative skills over time. You'll never look back once you incorporate a pen tablet into your workflow! With so many compelling choices on the market, finding the right fit is simply identifying the best match for your artistic goals and then honing your digital skills.
Frequently Asked Questions About Graphics Tablets
What are the main advantages of using a graphics tablet?
Graphics tablets provide a natural drawing/painting feel, pressure sensitivity, expressive capabilities, diverse artistic uses, efficiency through shortcuts, and excellent portability – advantages over just a mouse.
Should I get a pen display or a non-display tablet?
Pen displays allow you to draw while viewing the screen, providing a more direct experience. Non-display tablets take some acclimation but offer larger active areas for less cost. Either can be highly effective.
How much pressure sensitivity do I need in a stylus?
Many budget tablets now offer 8000+ levels, which provide ample gradations, but serious artists may benefit from going higher-end with a stylus boasting immense sensitivities exceeding 60,000 levels.
Is wireless connectivity on a tablet worth it?
Wireless freedom can improve the drawing experience and creative flexibility. But wireless lag can be an issue for some. Both wired and wireless models have pros and cons to weigh up.
What software should I use with a pen tablet?
Popular choices like Adobe Photoshop, Illustrator, and Corel Painter have excellent pen tablet support. Some tablets also come bundled with great starter creative software. Look for pressure sensitivity in your apps.
Last update on 2023-12-01 / Affiliate links / Images from Amazon Product Advertising API