How to Implement UX Optimisation To Your E-Commerce Checkout Process For Better Conversion
E-commerce is growing at an unprecedented rate as more and more people are opting online shopping to purchase a variety of commodities.
For aspiring e-commerce entrepreneurs, this profound opportunity for success and sustainability is exciting, promising and fascinating.
At the same time, the trend is resonating so strongly with consumers that online shopping is here to stay for a long time to come.
According to a recent report by Statista, the retail e-commerce sales worldwide are expected to touch $4.8 trillion by 2021 from $2.3 trillion in 2017.
That said, an essential aspect of this extraordinary growth in online shopping is user experience (UX).
From initial interaction to the final purchase, customers expect a seamless UX.
They want all their concerns addressed effectively, sensibly, and consistently.
So an impressive user experience is one of the best bets for an online store to succeed.
When it comes to making online sales, the checkout process is the final and one of the most critical stages.
This is the instant when people tend to make a second guess; this the moment when people abandon shopping carts without making a purchase.
As per a study conducted by Baymard Institute, almost 70% of online shoppers will abandon their carts without buying anything.
If you are facing a similar problem with your online store, you have to implement an effective UX optimisation in your checkout process.
A better UX optimisation will enhance the usability of your checkout page while making it more ideal for customers to make purchases.
If your site is based on Magento or Shopify, it is a good idea to incorporate Magento 2 order management extensions to improve your overall e-commerce experience.
These extensions are incredibly effective in better order management, improving conversions, increasing sales and making your customers happier.
Your UX efforts should focus more on usability and user interaction, rather than just improving the pure design of the website.
User experience is all about building a sense of trust and security in your customers along with making it hassle-free for them to complete their transaction.
Here are some crucial tips to implement UX optimisation to your checkout page:
Reduce form fields to streamline the checkout process
First and foremost, eliminate the number of form fields your users need to fill out.
Unnecessary fields in the checkout page sometimes act as digital hurdles because they keep your consumers from completing the checkout process.
Fewer hurdles means more conversions.
For that, you need to focus on the design of your forms.
The size of the field should be indicative of the information you are expecting the user to enter.
When it comes to an effective checkout process, MOO makes it fast and easy: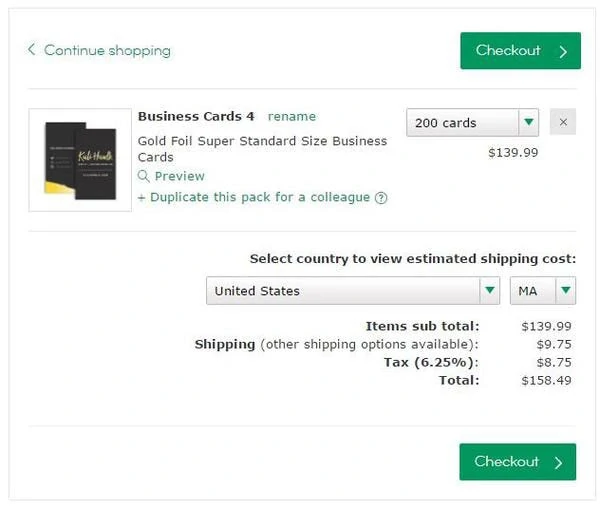 Make sure you provide clear guidance regarding what information you are asking the users to enter.
You need to ask only the essential information, which they can comfortably provide.
The more information customers are asked to furnish, the less secure they feel.
Lesser fields are also important because they narrow the gap between decision making and final purchase.
The following is a good example of single page checkout process by Charmandising, a French online retail company, which increased its purchases by 67%.
If possible, bring in automation to make the process even more comfortable for them.
An effective way to do this is integrate a standard address validator so that you get valid information for your customer database.
You can also reduce your form fields using the following methods:
Use autofill to save time of your customers
One-click-payment to bypass the entire checkout process. Amazon's "Buy with 1-click" is the best example of that.
One-page checkouts
Quick and simple redirects
Capture your customers' email addresses early on
As a natural tendency, shoppers don't easily give you their data, either because: they are too lazy, or they don't feel safe to do so.
For that same reason, they don't like it to create an account for checkouts.
If you insist on having them create accounts before the checkout process, you will lose them out big time.
So instead of doing this, it's better to ask for their e-mail address, which wouldn't be a big deal for them to provide.
Let them freely decide whether they want to create an account or proceed as a guest.
Since you have already got their email address, you can use them to upsell or cross-sell in future.
Email addresses are digital footprints, which you can also use to contact visitors who didn't complete the checkout process.
Then you can offer them discounts as well as incentives.
Offer multiple payment options
The payment process is essential for businesses as well as consumers.
If you don't have a user-friendly payment page, your customers are more likely to leave it.
On the other hand, a more straightforward payment process will help you increase sales and conversions.
The checkout page is very critical regarding a customer purchase journey because it's the juncture where they finally part ways with their hard-earned money.
Thus providing multiple payment options would be a good strategy, to begin with.
56% of customers expect different payment options on the checkout page.
Even, if you have set up your site for credit cards and PayPal, but that's not enough.
A significant number of shoppers also use other options such as debit cards, e-wallets, bank transfers, and even Cash On Delivery (COD).
In the meantime, when it comes to making the payment, customers always feel a little bit insecure.
You should provide reassurances on security and privacy to your customers.
Use clear calls to action
The call to action (CTA) is a crucial element on a checkout page that can conveniently nudge customers toward conversion.
It acts as a signpost that lets users know what to do next.
Without putting clear CTAs, your users may not know whether to make a purchase or signup for a newsletter.
As a result, they are likely to leave the site without accomplishing their task.
Make sure visitors don't find it hard to locate a relevant button that will advance them to the next stage.
Many experts believe that you can use the CTA button in more than one place on the page.
Following are some strategies to create effective CTAs:
Use a colourful button that contrasts with the colour of the page to get consumers' attention.
Make it visible and large enough to be noticeable.
State a clear benefit that users will get from completing the transaction.
Use an actionable text that gives clear and direct command of what to do.
Make it short, concise and impactful.
Zappos uses clear and easy to locate CTAs:
Provide a mobile-responsive experience, fast and secure website
The use of smartphones has nearly doubled in the past three years, and as a result, the rise in mobile phone traffic to online stores has also skyrocketed.
According to a report, over 50% of traffic to e-commerce sites is coming from smartphones and tablets.
That is why creating a mobile-friendly website is not just required, it is a must.
A mobile-responsive checkout process helps you capture more sales as it helps customers place their orders without any hassle.
Apart from the responsive website, you must have to improve your website page speed and must be under 3 seconds.
You must have to choose a dedicated and secure web hosting services like HostPresto and implement SSL certification on your E-commerce website, especially on the checkout process.
Also, it would help if you optimised the responsive checkout specifically for the screen size of devices your customers are using.
It helps them complete their purchase faster with less scrolling, resulting in more orders for your store.
Your users can add or remove products from their shopping cart without any difficulty.
It's also essential your checkout page keeps updating whenever changes are made, which will further allow your customers to track changes in real time.
Instil confidence by displaying trust signals
On reaching the most sensitive part of the checkout process, that is a transaction; consumers start thinking about their details and credit card information.
Not just from the account security standpoint, consumers also feel jittery about the timely and safe delivery of packages.
If consumers are visiting your site, they want to be convinced that purchasing your products is the right decision to make.
This is where trust signals and testimonials come into the picture, which can instil enough trust, thereby enabling users to shop with confidence.
There are different types of trust factors that can be used on checkout pages.
For example, customer reviews, SSL certification, security validation from experts like Norton, McAfee, etc., security badges, and logos of available payment options.
Final Words
Every e-commerce marketer understands the value of the checkout process, but not all of them take enough measures to make it as seamless as possible.
The above optimisation tips are aimed at improving the user experience of your checkout page.
As a result, your customers will experience a smooth transaction, and eventually, stop abandoning shopping carts.