14 Secrets About SaaS Marketing Which Can Change Your Business 
Software as a Service (SaaS) has unquestionably altered the nature of international business. Thanks to cloud computing, the benefits of incorporating SaaS into enterprises have been possible for firms.
According to a business study, for 38% of businesses, SaaS powers practically every aspect of operations. This figure is likely to rise further. Its appeal among businesses is a more cost-effective and efficient alternative to expensive, one-time-purchase software.
The technology is excellent for businesses that use SaaS for their internal operations. However, SaaS application development companies may have trouble promoting their goods. SaaS is a service rather than a tangible product, making it challenging for marketers to develop a marketing strategy.
Let's review 14 effective marketing techniques you may employ to advertise your SaaS solutions.
What Is SaaS Marketing & What Are The Most Important SaaS Marketing Channels?
Creating awareness and assisting in selling software is essentially what software as a service (SaaS) marketing is all about. Sales incentives software can increase output, streamline the sales process, and improve prospecting effectiveness. 
Sales software and SaaS marketing teams are essential for a product-driven company's growth. SaaS marketing aids in introducing a product to the market, positioning a product, and aids in raising awareness of a SaaS company.
The key SaaS marketing channels you should use are determined mainly by your product, ICP, and marketing objectives. But a few enduring favourites are:
SEO: To generate leads. This is our speciality; you can read more about SaaS SEO tools here.
PPC: Google pay-per-click marketing to promote product signups and MRR
LinkedIn and Twitter: for lead generation and brand building
Email marketing: for converting leads and nurturing them. Find out more about how to succeed at SaaS email marketing here.
Podcasts: For website click-throughs and brand exposure
Youtube: For client retention and retargeting
14 SaaS Marketing Secrets Listed for You
Before Producing Content, Develop A Strategy For Content Promotion
Your objective with content promotion is to increase social shares and high-quality backlinks to increase traffic.
Discover the typical number of backlinks and social shares of your rivals' content before writing about a topic.
This will assist you in comprehending two things:
The number of backlinks and social shares that your content may receive.
Sites and directories to obtain backlinks from.
Say you want to write an article about "project management tools" for your target audience.
This term has a monthly search volume of 13K, but you'll need about 108 backlinks to rank in the top 10 search results, according to Ahrefs Keyword Explorer. It's challenging but not unattainable, especially if your website has some authority already.
Let's use Ahrefs Site Explorer to investigate the article's URL now at the top of the search results for this phrase. It has 148 specific backlinks, as you can see.
Let's use Ahrefs' Referring Domains report to see where they originate. Since we're only interested in do-follow backlinks, we've filtered the report only to include them.
The 79 websites linked to this post with the highest ranking are now on our list. Blogs, forums, discussion boards, and several other platforms are included.
Since each of them has linked to an article on the same subject, they are all possible link-building targets for your content. Examine this list, then add more related websites to it.
When you publish the content on your website, export the list as a CSV file and contact these websites. You can also find a similar article we just looked at in Ahrefs by searching for the URL on Twitter, Facebook, or LinkedIn.
This will display a list of everyone who has shared it on these social media platforms.
You may also search on BuzzSumo for your chosen topic to find out how many social media shares the most popular article has.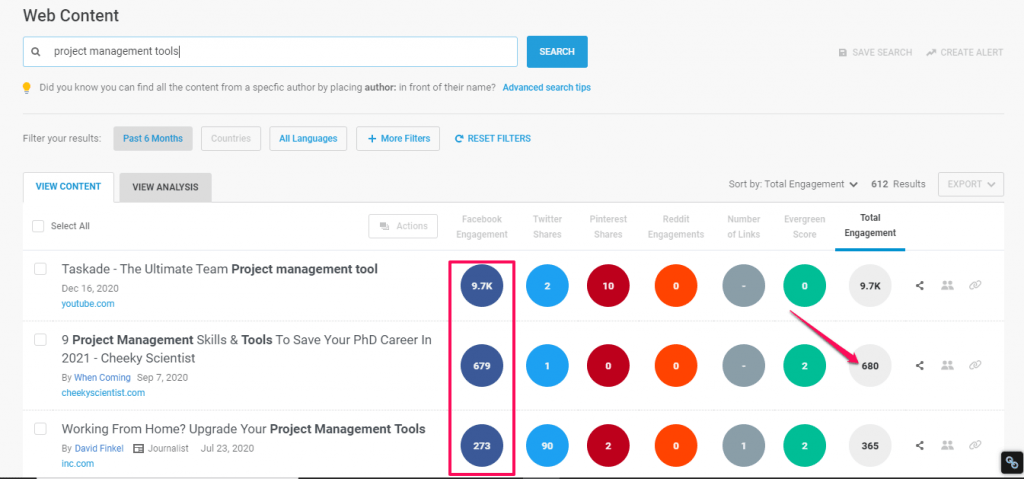 As you can see, Facebook and Twitter are commonly used to exchange content on this subject. To identify the precise individuals who shared these articles, use BuzzSumo. Write an article if you see that the subject you intend to discuss receives lots of social shares and backlinks.
By doing this, you'll see which topics are well-established and acquire a list of the websites from which you can obtain backlinks to your article.
Create SEO Content 
Most internet activity (over 68%) begins with a search engine. Customers might use search engines to explore information, look up brands, discover answers, or investigate new items. This is a significant turning point since most of the buyer's journey occurs before they ever interact with your organisation.
The correct audience is more quickly exposed to your company thanks to content marketing for tech companies. You may improve your search engine ranking by improving your content. However, today there was a change in how marketers use SEO. Before now, the primary goal of SEO strategy was to trick Google's algorithm. The content you publish now matters more to SEO than your writing style.
Although they continue to be crucial to SEO, keywords are not the focus of content marketing.
Search engines will view your material as more relevant and rank you higher if you produce high-quality content supported by research, high-quality links, and consumer engagement.
Turn Your Negative Into Positive
Instead of using your standard negative language, tell your consumers and customers things positively.
Perhaps use language like "You had 82 per cent subscriber retention on this campaign" rather than "18 people unsubscribed from this campaign."
Try to be friendly to your readers, customers, subscribers, etc. 
Recently, Buffer switched its messaging from negative to positive (early 2014).
Here is the email they sent to their subscribers:
And here is the after…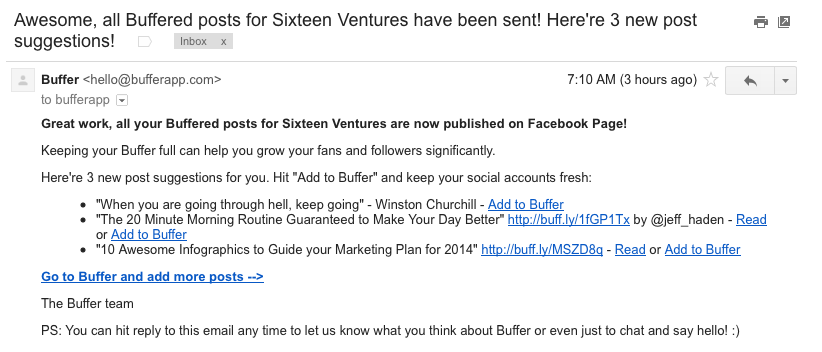 Got anything?
Put Product Videos Where Customers May See Them
Nearly eight out of ten customers have purchased software from SaaS businesses or an app after watching a brand's video, and video marketers receive 66 per cent more quality leads annually.
However, creating a video is well-known for taking a long time. If you don't have a strategy for distributing your videos, all your effort—whether outsourcing or managing your internal video production—is wasted. 
However, substituting the video with a logo can be handy if you have trouble finding enough time to create high-quality product videos. You can save time and make use of online logo generators. Logos also represent the brand image and create an excellent impression.
With over 2 billion logged-in active members each month, YouTube is a terrific place to develop a video marketing plan for SaaS enterprises, as you've probably already heard. If you use the site as a FAQ for your industrial niche, it works well. As your videos have a chance of ranking on Google, YouTube is a great place to start an inbound marketing campaign.
Avoid creating video marketing content if you use it on social media. Consider creating evergreen material, and use the same SaaS keyword research strategy for your video as you would for your blog article.
Second, if you aren't producing videos for search, share them everywhere. See if you can incorporate movies into your email sequences, landing sites, and sales funnel. 
Your company model will undoubtedly influence your video strategy, free trial offer, customer acquisition strategy, self-served or sales-led, target audience, value proposition, product, and many other factors. Establish a video strategy that works best for your company.
Retarget the Interested Clients
Customers are inundated with data; therefore, it seems sensible that they could forget they visited your website. You may get them to return to your page by retargeting campaigns. The retargeting strategy uses the "cookies" that websites frequently notify us about by monitoring consumer site visits and showing them pertinent adverts.
With a pixel code on your website, you can show retargeting advertising. In the user's browser, the code creates a cookie. The cookie gives data to your system when a visitor takes activities on your page, and you can use this information to show appropriate adverts.
You can use email marketing, Facebook ads, or Google ads. Utilise the platforms where your target audience is active to retarget them precisely.
Engage With Your Audience As Much As You Can
More than only product sales are involved in IT marketing. If you want to be successful today, your company should take a backseat in your promotional campaigns. Customer-centric companies generate 60% more revenue than those that aren't. Customers with a good experience with a firm will also spend more money there.
Knowing your audience and engaging with them during the buyer's journey is one approach to enhancing the customer experience. For instance, you might take the time to respond to their social media remarks. In addition, you can go to forums and groups where decision-makers talk about SaaS-related issues.
By interacting with customers, you may establish trust and give them a satisfying experience, laying the groundwork for turning them into devoted clients.
Write Content That Acquires & Retains 
Although keeping clients is less expensive than finding new ones, 53% of marketers in the US still prioritise acquisition.
Focus on pieces that demonstrate to current customers how to gain more value from your product and to new users how your product differs from rivals the next time you plan content for the upcoming quarter.
This is an example of what we call "product-led content," a SaaS marketing tactic that naturally incorporates your product into a piece to demonstrate to readers how it is an indispensable remedy to their issue. Ahrefs is a leader in this strategy.
Please note how its piece instructs existing customers and prospective users on maximising the benefits of its SEO package for local keyword research.
Give leads who read posts with a strong buying intent a score. The better their score, the more probable they will be prepared to listen to your pitch. 
Your readers enjoy the information you've created and want to share it with others. It has also drawn traffic from search engines. They cannot, though. because your website lacks social media sharing options. Not the best, is it?
This error deserves to be mentioned because I see it on many SaaS blogs. Make sure that doesn't happen to your guests. Except for the homepage, add a straightforward and user-friendly social media sharing widget to each website page. It can be included immediately following the post's title or at the end. On the other hand, the floating social network widget is constantly accessible to your visitors if you add it to the screen's side.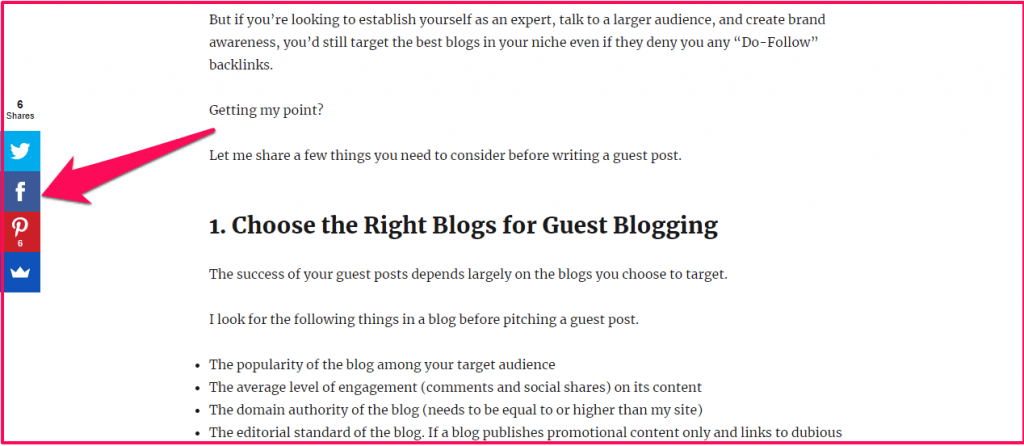 For free, you can use several WordPress social media plugins to add this feature to your website.
However, ensure the widget you include on your website has a responsive design so that people using mobile devices can use it.
Provide Free Demos & Trials
Customers can test your items for free through demos and free trials to determine whether they meet their demands. For B2B sellers, free trials have a conversion rate of 14%–25%.
Demos and free trials serve two purposes for marketers. First, offer free trials to your readers as a non-committal move in your content marketing. People love free things, so when they sign up for a free trial, they don't feel like they're taking any risks, giving you another chance to persuade and convert that lead.
Second, free trials are a great way to gather lead data. You get the name and email of each person who registers for a free trial so that you can nurture them.
Try Giving A Chance To Co-Marketing
Any company that wants to grow its customer base, raise brand awareness, or provide new content can benefit from co-marketing. The process aims to expand two or more firms simultaneously by collaborating.
In the SaaS sector, many organisations work together by launching co-marketing initiatives with other businesses that fit their product offerings and have similar beliefs or business strategies. HubSpot and LinkedIn are an illustration of such a partnership.
Customers may leverage LinkedIn Sales Navigator data on their HubSpot client and company records thanks to a connection the two businesses developed.
Typically, both businesses work together to produce a single idea. It might be an eBook, webinar, or joint research publication. The two businesses may function as cohesive units and establish clear expectations.
Create Case Studies That Focus On Conversions 
Case studies add continuous value to your marketing and sales initiatives to the point where they assisted Surfer in growing its Russian customer base by 55%.
Using case studies in a SaaS marketing strategy is encouraged by a digital marketing manager, Kelly Newcomb.
A case study shows your experience and the value you deliver, regardless of whether the client is a well-known brand.
In Kelly's prior position at Plume, after two weeks of publicising their career masterclass case study, their team obtained many high-quality inquiries. In addition to showcasing our design work, she continues, "We also collected leads from SERPs asking for Masterclass substitutes or a Masterclass-style LMS." In short, Case studies vastly increase credibility.
Host A Webinar 
GoToWebinar estimates that software and technology companies produce 29% of all webinars. Webinars are a great way to showcase your product and engage with customers or website visitors. You can host a webinar to demonstrate new features of your SaaS product, provide advice, answer queries from users, and share tips and tricks.
You can set up your webinar as a live demonstration during which you can interact with your clients, record it and send it to them via newsletter, or upload it to your website so they can access it whenever they want. Create a YouTube channel to grow your audience and inform them if your SaaS product needs regular updates and enhancements.
Your customers will benefit from it since they will quickly access all the news regarding the SaaS service they have signed up for.
Utilise Your Professional Network to Widen the Reach of Your Content
The adage "Your network is your net worth" must be familiar to you. When it comes to the promotion of content, this is true. Your material will spread quickly to the more prominent individuals you know in your niche. Two of the most popular websites in the field of digital marketing are Problogger and Copyblogger.com. 
The respective owners of those two websites, Darren Rowse and Brian Clark, frequently referenced and initially linked to one another's content.
Here is an article from 2007 on Problogger as an illustration.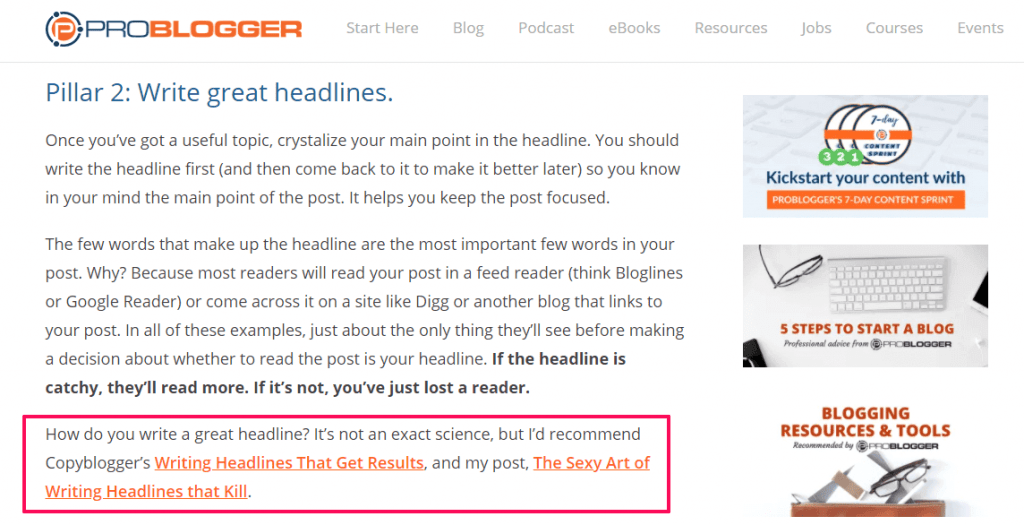 Here is a 2006 Copyblogger piece as well.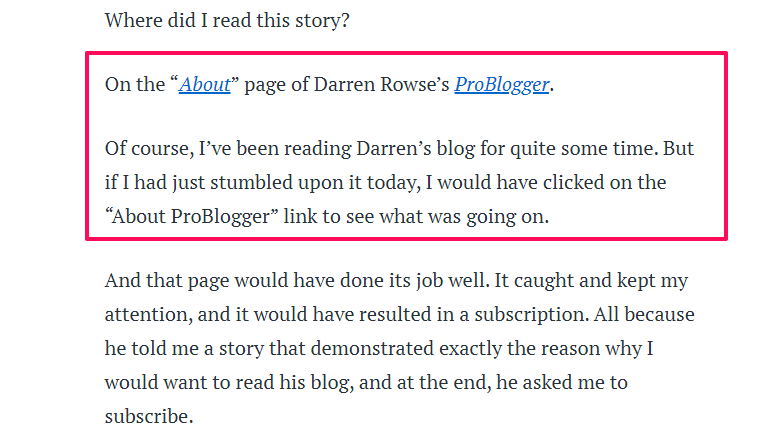 They did this on purpose for years, and it was successful. Together, the sites grew, utilising one other's audiences to expand their communities and increase traffic to their respective content.
Although Google's algorithms no longer support reciprocal linking, you can still use your relationships to increase traffic to your site, acquire backlinks, and spread the word about your content.
Get Hyper-personalised Via Targeting
New SaaS technologies continually develop and grow to make your SaaS marketing more effective. Some excellent technologies can help you target your advertising campaigns and create personalised sales flows based on user demands and personalities.
I believe everyone has learned to be much more effective with their actions over the last few years. And their strategy must be so narrowly focused.

Let's use marketing campaigns as an illustration. How are you utilising intent data to target the people you are pursuing effectively? Or do you use data scrapers to learn what technology they employ and then modify your standard marketing plan accordingly? I believe the current areas of attention should be efficiency, targeting, and personalisation.

—Adam Goyette, Help Scout's VP of Marketing.
How can your marketing efforts become more professional if you feel they are personal? Develop content and flow alternatives more suited to the personas you aim for.
Remember that not all prospective customers must enter the same flow. For instance, if you're marketing to a 10-person company, there's a good chance that an individual will want to—and be better able to—move through your sales process much more quickly than someone in an enterprise, where getting your SaaS product approved will require numerous approvals.
It would help if you used end-to-end targeting and personalisation. PPC advertising for brand awareness to customer success and onboarding processes. A first name is just the beginning of it all!
Bottom Line 
Because clients are more knowledgeable and can access more information, marketing will be more difficult today than in 2018. The correct marketing methods, on the other hand, can help you stand out from the crowd and produce more high-quality leads.
Author bio: Trevor's career began as a freelance learning applications developer and designer. After finding success in software, he moved into SaaS consulting and started the SaaS growth agency, Inturact. Over the last 10+ years, Inturact has helped many SaaS companies find scalability and get acquired. Inturact is now also an investment vehicle for Inturact Capital – a private equity fund that acquires, grows and exits SaaS companies.