How to Design a Restaurant Website That Reflects Your Brand
Having a website for your business is no longer something you should have but must have if you want to set yourself apart and attract new customers. Restaurants are no different.
When building a restaurant website, you must pay close attention to your branding; the final product must reflect that. In the article below, we show you what to focus on when designing a restaurant website that will strengthen your brand image and make you a household name in the local community.
Why You Need a Restaurant Website: 7 Unmissable Advantages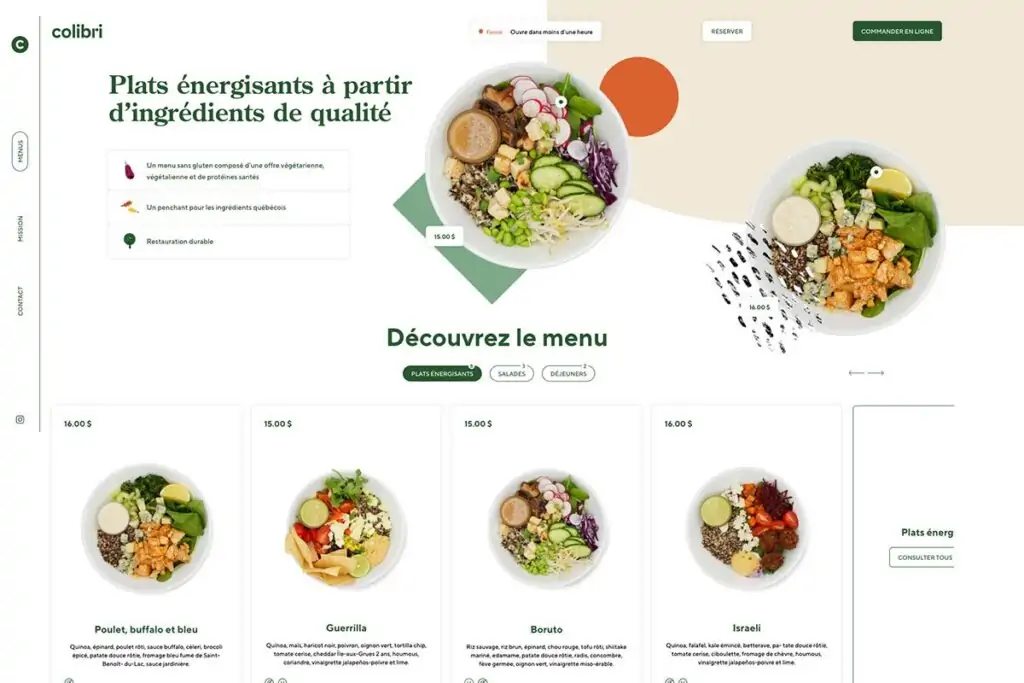 1. Strengthen your branding
Your website and your brand are inexorably linked. If you want to build a strong brand identity for your restaurant, you need a website that reflects it. That way, your brand will become instantly recognisable when people visit you online and offline.
Consider the logo, brand colour, or tagline of some of the most popular food brands in the world, such as McDonald's or Starbucks. It's impossible to see these elements and not associate them with the brand. This should be your goal as a restaurateur.
Your website is your digital business card, acting as the main avenue through which potential customers discover your brand online. You need a uniform brand image to construct a long-lasting brand.
2. Increase legitimacy and trustworthiness
Nowadays, a business without a website might affect the customers' perception of it. It can seem illegitimate or scammy.
Regarding restaurants, potential customers would much rather go to a competitor with a website than roll the dice and visit yours without getting a good look at what to expect beforehand.
People like to research businesses online before they visit them. Give them the chance to learn more about you on your official website, which brings us to our next point.
3. Help customers learn about you from you
With so much information at our fingertips, controlling what people say about your business online is difficult. While you can't control it, you can lead the narrative by having a website where people can learn about you without going to third-party sources.
Whether customers want to learn your opening hours, get directions to your restaurants, check out your menu, or book a table, your website should be a one-stop shop.
You can also use your restaurant website to share more about your brand, background, and story. Are you a mom-and-pop restaurant bringing traditional Italian recipes to the U.S.? A fusion restaurant born out of a desire to experiment with different flavours? Share that part of you with customers to forge stronger connections.
4. Stand out from the competition
Not every restaurant has a website; significantly smaller restaurants. But you can stand out and attract the local crowd by optimising a website for sales and search engines.
When customers search for your cuisine in their area online, having a website will propel you to the top of the searches, increasing the chances of people visiting the website to browse the menu, find out your address, or order takeaway.
A website can differentiate between a sale gained and a sale lost, especially if you have a lot of direct competition in the area (restaurants with the same cuisine and a similar menu).
5. Increase your search rankings
Since we have already touched upon online searches, you should know that SEO (optimisation) can boost your website's Google rank if done correctly.
Optimising the content on your restaurant website to contain keywords relevant to your location and cuisine will signal Google and other search engines that they should display your website higher.
Put your brand at the top of customers' searches before third-party websites and apps where you have to compete for their attention with other restaurants in the area.
What better place to tell customers all there is to know about your dishes, special offers, or future events than your restaurant website?
Avoid complicated website designs where customers get lost trying to find relevant information. You don't need more than a one-page restaurant website for vital information such as menu, opening hours, address, food photos, and social media handles.
The menu button, in particular, is your bread and butter, so make it pop in a contrasting colour above the fold so it's impossible to miss.
7. Sell your food online
Another advantage of having a restaurant website is that you can accept orders online for pickup and delivery without sharing your profits with food delivery apps.
Adding an online ordering menu to your restaurant website will boost conversions and unlock a new income source.
The process will be incredibly easy for your customers, who can enjoy your food in the comfort of their homes in just a few clicks. This will strengthen brand loyalty and get you more return customers.
5 Key Considerations as You Plan Your Restaurant Website Design and Development
1. Learn about your target audience
For your restaurant website to convert and reflect your brand identity, you need to take a closer look at your target audience and learn more about their wants, needs, likes, and dislikes.
If you've been open for a while, you've probably already collected precious information from interacting with your customers daily. But this can only take you so far when anticipating their needs online.
To ensure you're giving customers what they want, consider creating surveys and polls inquiring about what they want to see on your website. They will feel like their voice is heard and you're trying to cater to their preferences.
Social media is another excellent tool for interacting with and learning more about your target audience. Your followers will tell you what they like or don't like in comments or direct messages. Make sure you check them often and reply to show them you care.
2. Refresh your mission statement
Your restaurant's mission statement tells customers why it exists and why they should choose you over the competition. Review your website before starting to work on it to ensure it still represents you.
The reason is that this mission statement should be illustrated on your restaurant website. After all, it makes you who you are, and that's what you want potential customers to see.
Is your goal to provide good food at affordable prices? Then, focus on highlighting promotions and special offers. Are you an environmentally friendly restaurant? Share details about your green initiatives and inspire customers to make a difference.
3. Identify your priorities
Before you decide on a design for your restaurant website, put pen to paper and outline your short and long-term goals. This will show you what your priorities are, which, in turn, will tell you what you need to highlight when building a restaurant website.
Do you want to start selling your food online? Then, prioritise finding an online ordering system that you can seamlessly integrate into your website without breaking the bank. Additionally, centre your design around the Order button since that will be your main selling point.
Would you like to start branching out into organising corporate parties and events? Dedicate a section on your homepage to highlighting this information and giving customers an easy way to reach you if they want to book your space.
Use your restaurant website as an online catalogue that allows you to promote your top-priority services and features. Since these might change regularly, ensure there is an easy way to update your website to reflect these changes and save time and money.
4. Settle on a brand voice
If you haven't yet found your brand voice, do so before you launch your website. Brand voice is as powerful as a logo or a tagline when it comes to brand recognition. That is why it should be the same throughout all customer communication avenues.
Brand voice affects everything from how you write your menu to how you reply to comments on social media. All the content on your restaurant website should be written in that voice to preserve uniformity.
So, let's say you own a quirky little restaurant targeting mostly corporate Millennials. Reflect on your website by using puns in your dishes' names, humour in the menu item descriptions, and promoting events like office board game night or 90s nostalgia.
5. Think of a promotional strategy
Launching a restaurant website is more than just putting it out into the world and hoping customers find it. Even if you do search engine optimisation and propel your website to the top of Google searches, you shouldn't just rely on that to bring you more customers.
If you already have a loyal crowd for your brick-and-mortar location, they're the first who should find out you're opening a restaurant website. Print flyers to display on every table announcing the launch and where they can find you online. Bonus points if you can also include a discount for their first online order.
The same goes for your social media followers. Tease your restaurant website weeks in advance and encourage them to place an order with an exclusive discount coupon code that will strengthen their loyalty.
Another great place to promote your restaurant website is your Google Business Profile. A filled-in profile will increase your online visibility and provide customers with information about you at a glance. Add a link to your website and one to your online ordering menu on your profile to boost visits and increase conversions.
10 Must-Have Components for a Restaurant Website That Reflects Your Brand
1. Relevant domain name
A good restaurant website starts with the right domain name. Since your website reflects your brand, the domain should contain your restaurant's name.
However, this is not enough to secure a domain because there are so many restaurants with similar names in other areas that might have beat you to it.
You can add your location to the URL to create a unique domain name and optimise your website for local searches. You can also add your cuisine if that's the thing you want to highlight.

For example, let's say you own a burger place called Bold Burgers in Brooklyn, New York. Here are some domain names that could work for you:
boldburgersbrooklyn.com
boldburgersny.com
eatboldburgers.com
If you can't find an available domain name that ends in .com, you can also try .net or lesser-known extensions like .kitchen, .menu, or .eat. Just ensure that your domain name isn't too long because people might forget or misspell it or too general because it won't be a good mirror for your brand.
2. Logo and brand colours
No surprise there: your restaurant website should contain your logo and brand colours to make your restaurant recognisable to people who have already dined with you.
The logo should be visible at the top of every page, on the left side of the header. That way, it is in constant view to leave a lasting impression on website visitors.
If creating a logo from scratch, circle back to your mission statement and brand identity. If you're opening a fast-casual restaurant, you can have more fun with the logo using solid and vivid colours, edgy fonts, or fun icons. In contrast, a fine-dining restaurant will probably use a toned-down, letter-based logo in black and white or neutral colours.
The same rules apply to your brand colours. Use them to send a message about your restaurant's vibe and attract the right crowd. If you used a lot of reds to decorate your restaurant interior, replicate the same feel in your online location.
3. On-page search engine optimisation
We've already touched upon search engine optimisation when discussing the benefits of having a restaurant website. But let's dig a bit deeper and see what you can do to make sure more people find your website online:
Find relevant keywords: Suppose you own a Vietnamese restaurant in Scranton, Pennsylvania, that offers dine-in and delivery. A few relevant keywords for you would be: 'Vietnamese restaurant in Scranton,' 'Vietnamese food delivery in Scranton, Pennsylvania,' or 'Vietnamese takeaway in Scranton.'
Optimise your title tag, headlines, meta description, and image alt: Once you have some relevant keywords, it's time to sprinkle them throughout your website content, including in areas where they're not visible for customers but they are for search engines, such as alt texts when you're optimising your images.
Focus on local searches: As a rule of thumb, local search engine optimisation is more relevant to you because you aim to target people in your area and convince them to visit your restaurant or order from you online. That means you shouldn't forego location when searching for relevant keywords. It also means that if you have more than one restaurant location, you should create a separate page for each site, each optimised with its relevant keywords.
4. Essential information like address and contact
Don't forget about basic information when designing a restaurant website. While it's good to test your creativity, and you can do so with images, promotions, and other sections, most customers visit a restaurant website to find information like address, directions, and phone number where they can reach you.
Have that information available at a glance on your homepage. Don't make customers look for it because they won't have the patience. Instead, they'll leave your website and go to the competition.
Other essential information includes your opening hours, the areas where you deliver and the delivery fees for each, so customers can make an informed decision when ordering food.
If any of this information changes, don't forget to update your website to reflect it. Otherwise, you might wake up to bad reviews from customers who wanted to visit you but found out you were closed despite the information on your website.
We've already discussed how you can optimise your restaurant menu content to reflect your brand. Now, where and how you position it is also relevant.
The menu and order buttons should be positioned at the top of the homepage, above the fold, in a contrasting colour to the background so it stands out.
Make the header sticky so the button remains visible as customers scroll the page. Don't be afraid to add the button in other places on the homepage. The more accessible it is, the better it will be for you.
Make the button work for your brand by customising its colour and font to reflect your branding. This will make it even more memorable in the customers' eyes.
6. Food photography
Food photography is an excellent way to represent your restaurant brand. How you arrange and shoot your food says much about who you are. One thing's for sure regarding all food photography: poor quality is unacceptable.
Posting photos of your dishes shows customers what to expect. High-quality, professionally shot photos can make them crave the food and click the order button.
Depending on your specialisation, find the most flattering way to shoot your dishes. For example, burgers are best shown parallel to the dish to show off their height and individual layers, while pizzas should be shot either from above or at a ¾ angle.
7. The About Us section
While not everybody will have the time or patience to read more about your restaurant's backstory, an About Us section will give you the space to share your mission, voice, and ideals.
You don't need to write a novel to make it relevant. Keep it short and snappy to attract people's attention. Share your Unique Selling Proposition and emphasise how the brand was born. Don't forget also to excite the food as the star of the show.
End with a solid call to action to encourage users to visit your restaurant or order food online.
8. Daily specials and promotions
Riddle us this: when you scroll on a restaurant website, what gets your attention the most? The photos might make your mouth water, and the About Us might tug at your heartstrings. But seeing a discount or special offer will most likely stop you in your tracks.
This is human nature. We all want to get a bargain for our money or take advantage of an offer that will get us more for less. Take advantage of this opportunity to appeal to your target audience and represent your brand.
For instance, if you own a family-friendly restaurant, advertise meal bundles for the entire family at a fixed price, discounted kid menus, or food combos.
Customers might not trust you to describe your business online accurately, but they charge other customers. Give them access to what people say about your restaurant by posting links to your homepage's most popular review platforms.
To double your efforts and ensure that potential customers see good reviews, ask for testimonials from satisfied, long-term customers who will love to rave about your restaurant.
Another must-have element on any restaurant website is links to your social media profiles. These are, after all, an extension of your brand and a place for customers to interact with you.
10. Announcement section for highlighting news or events
Show customers what makes your restaurant unique by promoting special events, new menu releases, limited-time products, and new features on your website. Have a dedicated announcement section that you update whenever you have something new to share with the world.
Don't forget to include all relevant information in the announcement, such as the day and time for events or the deadline for limited menu items. That way, customers will know precisely how and when to take advantage of the opportunity.

How to Design a Restaurant Website That Reflects Your Brand: Key Takeaways
As we wrap up this article, let's recap what you should remember when designing a restaurant website that will strengthen your brand image:
Learn more about your target audience to cater to their needs
Have a clear mission statement
Use your brand voice throughout the website
Find a relevant domain name
Use your logo and brand colors
Optimise your content for relevant local searches
Make your menu and order button pop
Rely on food photography to reflect your brand identity
Tell customers more about you
Attract more customers with targeted promotions
Give your audience new ways to reach you online
Keep customers in the loop about new releases or events
Author Bio: Laura is an online marketing specialist at Oracle's GloriaFood, a free online restaurant ordering system. She creates content to help restaurateurs promote their business online and start accepting food orders on their website without breaking the bank.