How to Formulate a Successful Restaurant Brand Strategy
Today, restaurants compete in a highly oversaturated industry; it is estimated that approximately 60% of restaurants fail during the first year and 80% during their first five years.
With so many restaurants vying for a slice of the market, you need your restaurant to stand out to "secure the bag."
Creating a solid brand identity is a surefire way to help your customers quickly identify your products.
What is a restaurant brand strategy?
Simply put, it is the process of easily associating your restaurant with the client's experience.
The restaurant brand strategy should forge a unique experience and invoke positive emotions in the client. The aim of a successful brand strategy should be to build brand loyalty.
For example, what comes to mind when you think of Starbucks? Excellent coffee, exceptional customer service, and details like the employees' green aprons.
Today, we will take a deep dive into how you can build a specific brand that your consumers will love.
13 steps to develop a successful restaurant brand strategy
Create a clear mission statement
Define your demographic/target audience
Study your competition
Work on the visual elements
Build a menu that fits your brand
Create promotions that fit your branding
Put a face and voice to the brand
Keep your branding homogeneous
Take a progressive role in the community
Take representative food photos
Develop a customer service strategy
Tactfully respond to negative feedback
Continuously re-evaluate
1 – Create a clear mission statement
The first step in building a restaurant brand strategy is defining a solid mission statement and a set of core values. 
When crafting your vision statement, you should ask yourself:
Who are we? – Give your restaurant a name; it should be straightforward to remember.
What are we doing? – Decide whether you will provide delivery, dine-in, takeaway, or curbside pickup.
Why are we doing it? – Sure, all businesses exist to make a profit, but what else? What is your motivation for opening this restaurant? It may be that you visited Italy one summer, fell in love with their recipes, and decided to bring them to your local community.
What do we hope to accomplish? – Identify whether your goals address the needs of the community.
Your mission statement will be your guide in the initial stages of building your restaurant brand and as your business starts to experience growth.
Try as hard as possible to follow your mission statement as that helps build trust for your clients and strengthens your brand identity.
Your core values dictate your central beliefs and set goals that everyone can work towards.
2 – Define your demographic/target audience
The next step in building your brand is to define your target audience; whom do you want to appeal to more? This step may be highly dependent on your restaurant's location.
For example, your restaurant may be located next to a high-traffic area like a subway station; your target audience would be individuals in a hurry who do not have time to wait for you to cook meals.
You also have to decide how you are going to reach these clients.
Are you going to provide your service strictly to walk-in clients, or will you also allow them to place orders online? Which of the many online ordering systems are you most likely to use if you offer services online?
3 – Study your competitiors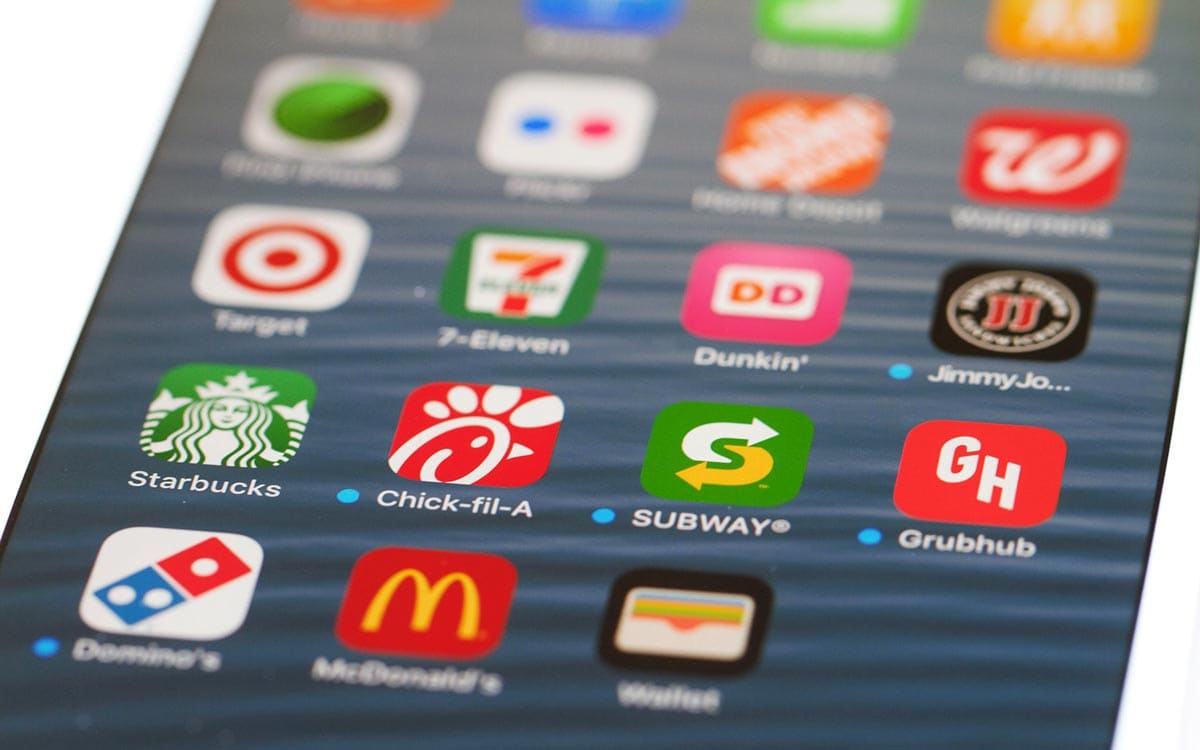 After you have identified your niche market, look at other restaurants that offer the same services as you are.
Pinpoint strategies that they are executing effectively so that you can adopt them in your restaurant brand strategy.
Alternatively, identify tactics that aren't working that well and come up with ways in which you can improve them.
Before adopting one of your competitor's strategies, ensure you take a look at your mission statement. Not every one of their strategies may be in line with your goals.
4 – Work on the visual elements
One of the most critical aspects of your brand strategy is defining your restaurant's look.
The look of your restaurant has to do with everything from your brand's colour scheme to the decor of your physical location.
Let's dissect each of these elements and see how they affect your brand.
Choose the right colours
When selecting the colour scheme for your brand, it is essential to know how colours affect the human psyche. 
Colours are not just visual aids; they play a part in conveying emotions and feelings. Consider the below explanations:
Red – is viewed as a powerful colour and is used to portray passion and energy.
Green – is often used in health and nature branding.
Blue – it may instil trust, responsibility, and security.
Yellow – represents optimism and vibrancy and can also be used to motivate.
Orange – is a cheerful colour and is mainly used to get the attention of children.
Pink – Dark pinks symbolise energy, and light pinks represent romance.
Brown – symbolises earthy and old-fashioned.
White – Represents cleanliness and purity.
Logo design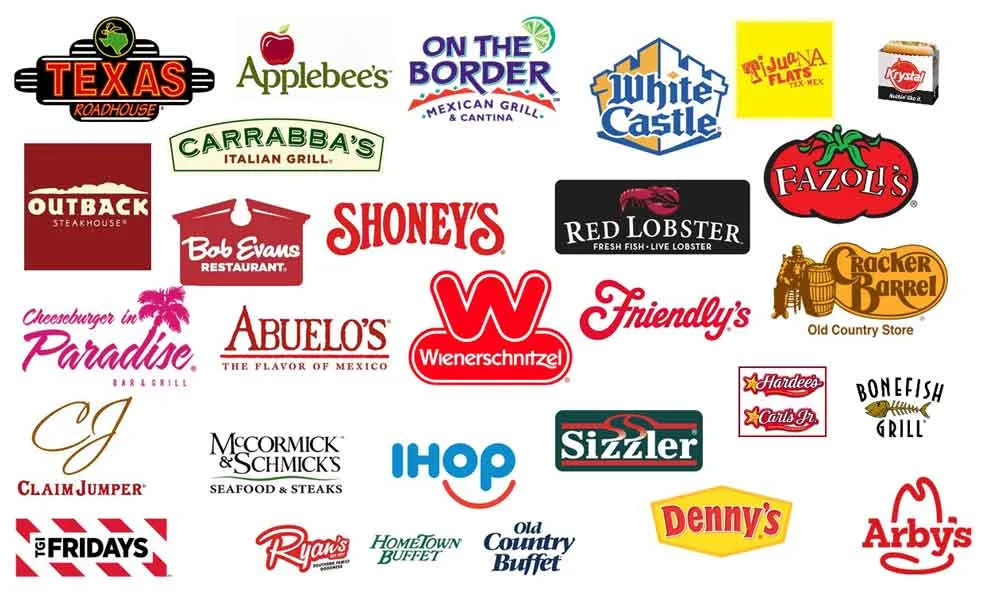 After you have selected your colours, you need to have a unique logo design that is easily recognisable at a glance. 
Pay particular attention to the logo's typeface; you do not want the characters of the logo's text to be challenging to identify.
Simplicity goes a long way; think about Nike's logo; even without text, the logo is easily recognisable.
Create a tagline/slogan
Again, please keep it simple; don't overthink it.
Let's use KFC in this example; the slogan "Finger Licking Good" is so simple yet conveys the intention of the product perfectly.
As a general rule, try to keep it under five words; your clients need to remember your slogan.
Work on the ambience of the physical location
The physical setting of your restaurant is what gives it its vibe. All of the individual pieces should contribute to the overall feng shui of the location.
It would help if you gave close attention to:
Fixtures, furniture, and layout
Employee dress and attire
Print material and signage
You may want to consider hiring an interior designer to help you with this aspect as this is quite a lot of work and requires professional assistance.
Your menu should be curtailed so that it aligns with your brand.
If the brand image you have established is a high-end restaurant brand strategy, you might not want to have cheeseburgers on the menu.
Alternatively, if your restaurant is a fast-food chain, you might not have lobster on the menu. Your menu should also be priced according to your brand.
If your prices are too low, you might attract the wrong clientele, and you will lose sales if your prices are too high.
Use as many flavours invoking descriptive words as possible. Menu items that have longer descriptions are proven to sell more than those with shorter descriptions.
Instead of saying "Tuna Fillet in Tomato Sauce," try saying "Tender Peruvian Tuna Fillet served with a home-style Pomodoro tomato sauce."
6 – Create promotions that fit your brand
An excellent way to help your restaurant stand out is by creating a unique promotion that your clients can connect to your brand.
You can try making happy hour specials or exclusive deals for every day of the week.
If your restaurant is family-oriented, meal bundles will work best, whereas happy hours might suit you more if your restaurant is a local watering hole.
Loyalty programs also act as a great promotion strategy. An efficient loyalty program lets your returning clients accumulate points and rewards them with discounts or gifts after collecting a certain amount of points.
7 – Put a face and voice to the brand
Over the past few years, social media has taken over the world; everyone is on at least one of the most popular platforms like Facebook or Twitter.
Leverage social media platforms to promote your restaurant, and consider using a well-known face to endorse your business.
You can make use of social media influencers as your brand ambassadors. Consider having them eating at your restaurant and then sharing a story about it.
8 – Keep your branding homogeneous
Having branding that is uniform across all platforms is a fundamental aspect of your restaurant brand strategy.
Your website should match the look and feel of your physical location, and the imprints on all your social media accounts should be consistent.
It would be best if you considered performing an audit on all printed material like flyers, posters, and menus to ensure that the logos are identical.
9 – Take a progressive role in the community
One of the most creative ways to successfully add value to your brand identity is by getting involved in some philanthropy.
People love it when a business they support gives back to the community; it gives them the sense that the company cares about the world they live in.
Philanthropic activities can be but are not limited to:
Charitable events like food drives
Disaster relief efforts
Outreach programs
Food banks
10 – Take representative food photos
When it comes to the images you use to represent your food on social media platforms, you should not be cutting corners.
The photos should ideally be taken by a professional photographer or using a high-end mobile device.
You must bear in mind that the images need to leave your clients yearning for that particular dish.
The colour palette of the photos should also be representative of your restaurant brand identity.
It will make your restaurant more recognisable and give your Instagram profile a very satisfying, uniform look.
11 – Develop a customer service strategy
Excellent customer service is a pivotal aspect of the success of every business.
Developing an effective customer service strategy entails documenting every possible scenario that may arise with customers and putting measures in place to deal with those scenarios.
For example, your documentation may include steps that staff should take if a customer finds a hair in their food or what to do if the meal is not up to the standard of the client.
An effective customer service strategy also includes the language and tone the employee should use when high-stress situations arise.
Always remember that a satisfied customer is converted into your brand ambassador. Clients who leave your establishment happy will surely spread the word to their friends and family.
Word of mouth marketing is just as important as the other forms of marketing you will be using in your restaurant.
12 – Tactfully respond to negative feedback
No matter how impeccable your customer service is, someone, somewhere down the line, will have an issue with it.
A bad review on platforms like Yelp or Google can cause serious harm to your brand image.
How you respond to these bad reviews will tell clients everything they need to know about your brand. Start by apologising for the mishap, then assure that you will look into the matter.
Ask for more details in private, and then you can reward the customer with a discount on their next meal for taking time out to send feedback.
You should also assign only one individual to respond to reviews; other staff will respond differently. Whomever you choose should respond using the brand's voice.
13 – Continuously re-evaluate
As your brand begins to evolve and experience growth, you should take some time to reexamine your mission statement.
Market trends change as time goes by, so it is essential to ask yourself, "Are your customer service practices in line with your mission? What can be done to improve the guest experience?".
Whatever you decide, remember to use your mission statement as a guiding light.
Conclusion
In closing, creating an effective restaurant brand strategy should be of paramount importance to you.
If it is executed properly, it will set your restaurant apart from the millions in operation today.
Start by creating a clear mission statement, then gradually make your way up the steps provided in this article, and you, too, will have an easily recognisable brand presence.