Juicebaby Smoothie Bar
London Logo Design & Branding
Background
Juicebaby smoothie bar and health food restaurant is a newly opened shop on the King's Road in London.They focus on bottled, unpasteurized cold-pressed juices, also offering smoothies, snacks, and desserts with an emphasis on organic, gluten, dairy and egg-free produce. Their aim is to create a healthy, grab-and-go food outlet serving fresh and nutritious plant-based items. Creating only natural products, Juicebaby promotes a diet high in raw, unprocessed food and drinks that provide the best nutrition, while being easy, accessible and delicious. Essentially, they are the answer to an increasing demand for healthy fast food, which can be consumed on the go.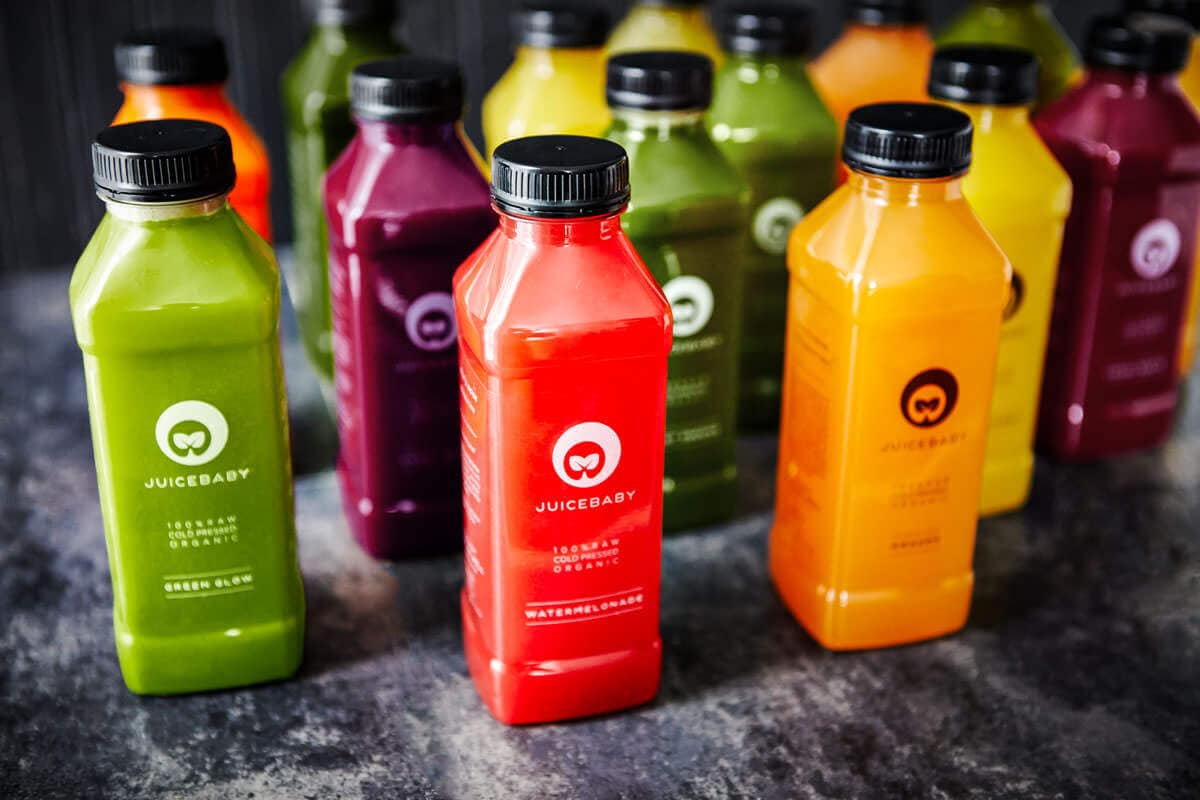 Objective
As a newly started business, they had no existing
logo design
or brand to speak of. In a competitive industry, their brand could literally make or break them. With the Juicebaby image being a focal point of their products, they hired
Inkbot Design
to create a full
brand identity
for their newly opening London store in 2014. Requirements for the logo design set out in the brief, was that it should be "classic meets quirky", "straightforward" and "creative". Visual contrast with the produce, especially the colourful drinks in the bottle was important – working both in black and white was key. Finally, it was to be "gender unspecific", with a fairly broad target audience being considered.    
  What makes us unique in relation to other fast-food stores is that so many food companies don't produce natural, 'real' food anymore – simply because it's more expensive and too time-consuming. Our society has been forced into being part of a mass-producing, processed-food ridden industry, and as a result we're not giving our bodies the nutrition they require. We are sicker than ever, spending more on health care than ever before. Most people don't even really know what they're even eating. Processed products equal long shelf lives, meaning more profitability for the food companies. It also means less nutrition for the consumer, along with additional chemicals, preservatives and many unpronounceable products. We're consuming more dairy and animal products than ever, yet diseases are still prevalent. Our unique selling point is that we want people to have access to healthy food and understand the importance on consuming more high-quality food and vegetables – by making it accessible, delicious and as affordable as possible. It's better for both our bodies and the environment.
Outcome
Passing through quite a few iterations before arriving at the final logo design, various aesthetic and conceptual directions had been explored. Once the symbol had been created, we both knew it was 'the one'. The
logomark
itself symbolises a very simple premise, yet can be understood in a variety of ways. The 'core' idea is that the leaves in the centre represent growth or life, inside of the outer form. In other words, the natural, life or energy inside the fruit, inside the bottle, or inside the consumer once they've consumed. Leaves are easily associated with organic, natural products, yet this doesn't push them as the most important form or over-emphasise them conceptually. Typography complements the organic and playful mark, with a font appropriately entitled "Fun City" for the logotype. It's rounded ends keep things personal, with it's geometric and balanced look overall a level of professionalism is retained in the overall design. Complementing Fun City is a secondary typeface called Azo sans which was chosen because it was: "full of nuances that soften the strictness of pure geometry, making the typeface more human and pleasant to read in longer body text, while maintaining a sober and rational appearance." It is used on labels for body text and works well in a justified and well-spaced form, even down to the smallest scales like on the 250ml bottles. Talking of labels, a full set of various dimensions was required for the square bottles. A large 500ml template was created, that could be adapted downwards to allow for consistency through the different sizes, without simply downscaling in which the logo would be presented in varying sizes on the shelf. This template allowed for additional labels to be produced efficiently, keeping the style, layout and scale reliable throughout the products.
Need help Branding your Business?