How to Make Money Online With Graphic Design
The thought of making money online is very appealing to most people. The benefits are many.
Freedom to choose your work timings, working from the comfort of your home or anywhere you want, not having to make small talk with every person you encounter in an office lobby are just some of the perks of online work.
If you're a graphic designer, you're a tad bit luckier than most other professionals. Let's dive a little deeper into how to make money online with your skillset.
The Rising Demand for Graphic Designers
Remote work and freelancing are on the rise after the pandemic decided to set foot in this world.
Graphic designers are needed everywhere.
From creating social media posts that lead to customer acquisition for big and small businesses to designing the UI of startup websites, a graphic designer is the name of the game.
Graphic design is among the ten most in-demand jobs right now. It's time for you to rake in all the opportunities and grow your own remote graphic design business.
Whether you decide to work as an independent contractor or become a remote entrepreneur, all odds are in your favour if graphic design is your expertise.
It's all about putting in the hard work and finding the proper gigs.
Wondering how to find those high paying clients for your graphic design skills? This article covers precisely that and more.
What are The Work Options for Graphic Designers?
Graphic designers can find work almost anywhere and everywhere online. There's always someone posting a requirement on LinkedIn or a remote job opening on some portal.
There's plenty of it all over the Internet, enough to make you dizzy and utterly confused. This is why it's crucial to understand how to make the most of your time when you make as much online as possible.
Let's break this down and understand the three paths that you can take to make money online with graphic design.
1 – Full-time Remote Graphic Designer Job
This is for those who want to enjoy more freedom in terms of work timings and the place of work.
If you're someone who likes to have a secure monthly income, then this is a proper full-time job that pays you a fixed amount of money every month.
Pros:
● Job and income security.
● The flexibility of work timings.
● No commute = more savings on time and money.
● Work from anywhere.
Cons:
● Fixed income = limited monthly earnings.
● You can't choose your tasks.
2 – Freelance Graphic Designer
Freelance gigs are for those graphic designers who prefer to work a lot more on their terms.
It isn't only about the work timings for them but also about having the freedom to choose their tasks.
If you're someone who resonates with this idea, freelancing is for you.
Pros:
● Freedom to choose tasks.
● No earning limit when you make money online.
● Work from anywhere.
● Find clients across the globe.
● The flexibility of work timings.
● No commute = more savings on time and money.
Cons:
● No security of fixed income. This could make personal monthly budgeting difficult for some.
● Some months could be 'zero' income months. This could lead to low morale and subsequent deterioration of quality in upcoming projects.
● Unclear growth opportunities. Not having an answer to "what's next?" can lead to stagnation.
3 – Remote Entrepreneur – Your Own Graphic Design Business
Sounds like a dream, right? It very much is, but it doesn't come without its set of pros and cons too.
Many people fancy being entrepreneurs but lack the necessary attributes to become successful business owners.
If you're a graphic designer, you can thrive with a remote work model in place if you're committed and passionate about your work.
Pros:
● Freedom to choose clients.
● No earning limit to make money online.
● Work from anywhere.
● A team of employees/freelancers that executes the tasks.
● Find clients from all over the world.
● Manage work and teams remotely. No overheads (bills and rentals that come with a physical office), more savings.
● Clear growth opportunities for you as an entrepreneur. You can set revenue milestones to achieve and plan the expansion of your business from time to time.
Cons:
● No security of fixed income. This could lead to delayed payments to freelancers/employees that work for you and, eventually, a high attrition rate. It is best to create a business plan before starting to navigate through such problems.
● A team of employees/freelancers means some non-negotiable expenditure every month – salaries, reimbursements, etc.
All three options for a graphic designer come with their own set of challenges and perks.
You can weigh your options by understanding the pros and cons of each by your current situation and long-term plan.
Once you decide to pick one, you need to know all that you need to get started.
Most importantly, you'll need to know where to find the right clients before you set sail for success.
What Does a Graphic Designer Need to Make Money Online?
1 – Tools and Tech
If you're a graphic designer already, you know most of these tools.
If you're new to graphic design or are planning to become a graphic designer, here's a list of tools that can help you create various types of designs for different purposes.
● Adobe Creative Cloud is your one-stop-shop for all your graphic design needs. Here, you'll find various desktop and mobile apps that will help you create and edit your designs. From designing logos to editing videos, there's nothing that you won't find in Adobe Creative Cloud.
● Corel Draw is your go-to software if creating vector illustrations and layouts are your primary skills.
● Suppose you're a newbie starting with mobile applications to create attractive yet straightforward designs – portfolios, social media posts, photo editing, etc. In that case, Canva and PicsArt are worth installing on your device.
● A laptop, iPad or desktop computer can house heavy-duty software without lagging or affecting your work.
These are just a few of the essential tools you will need. Besides these, you'll find plenty of other apps and software to support your graphic design work.
You can pick and choose the ones that work the best for you.
2 – Apps that Help You Organise Your Work
Whether you're a freelancer, full-time remote worker, or a remote business owner, as a graphic designer, you'll need to keep track of all your work.
To better organise your work and your time, these apps could be of great help. After all, you wouldn't want to lose a client because you missed the deadline!
● Microsoft To-Do helps you manage multiple task lists and also allows you to set timers that can help you manage your time better.
● Calendly is a lifesaver. As a graphic designer, you'll have multiple client meetings in a week for taking briefs and notes or even pitching to a new client. Calendly helps you manage your meetings, and it prevents you from being double-booked.
● If you're an Apple iPad user, there are Good Notes that can help you manage your tasks well. What's more? You can design your notes too! A very cool planning app for designers.
Many apps will help you plan and organise your tasks effectively and deliver on time. You'll find them on your device's store.
Most are free, easy to use, and come with features that can help you organise better.
As a graphic designer, you must keep track of your projects, deadlines, and upcoming meetings to work more efficiently.
3 – Apps that Manage Your Online Transactions
You'll be working with a global clientele unless you choose to go for a full-time graphic designer role in your home country.
To receive money from international clients, you'll need an app that supports global currencies.
It is best to set this up in advance (don't forget about the graphic designer contract template) to avoid any last-minute problems when you start your online graphic designing journey.
Here are some trusted, global portals that you can use if you make money online:
● PayPal is easy to set up, and your account will be ready within minutes. A hassle-free platform for all your global online transactions. It is valid even if you choose to become a remote entrepreneur and build your graphic designing agency. Paying employees from other countries is much more accessible via PayPal than choosing other traditional payment methods.
● Revolut is another power-packed app that helps you send and receive money across borders. What's more? It also lets you check analytics. You can understand your income and expenditure and refine your budgeting accordingly.
Everything is set up now. You have your designing tools, organising apps, and money management platform ready.
Where are the clients? Well, we didn't forget about that! It's an essential part of the guide, and it's always good to save the best for the last.
How Can a Graphic Designer Make Money Online?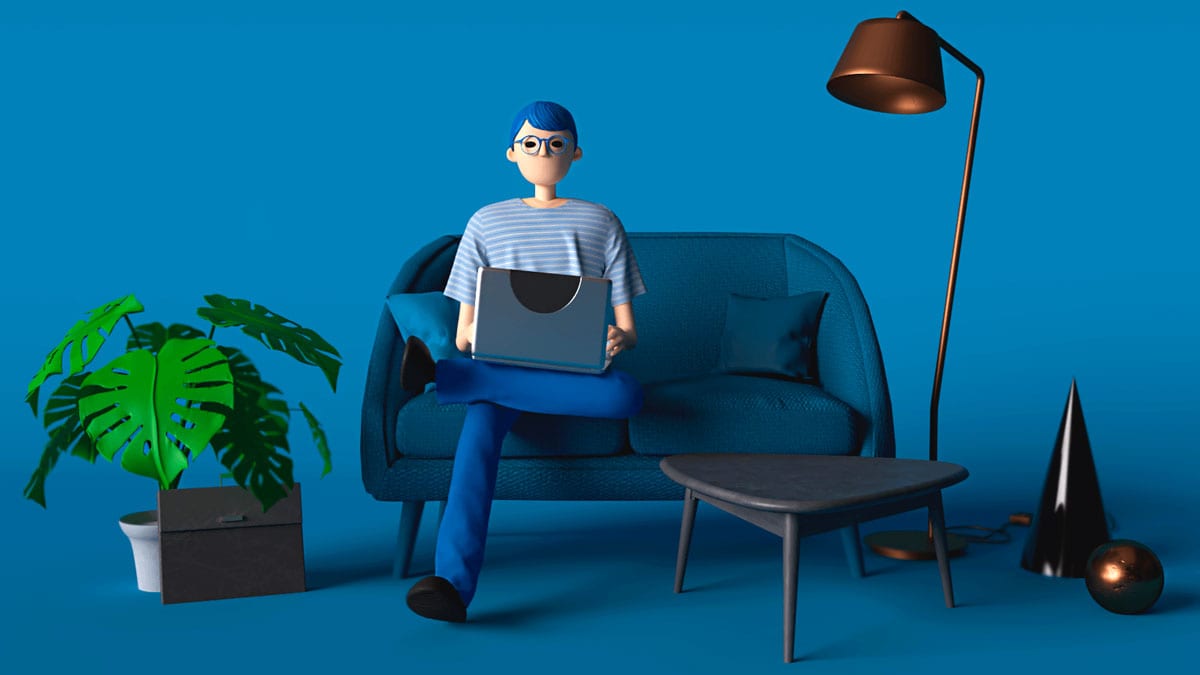 1 – For Full-Time Remote Graphic Designers
If you're interested in joining the remote workforce, there are various places where you can submit your portfolio and resume.
● LinkedIn
LinkedIn is a professional networking website that allows job providers and seekers to connect.
You can share your opinions and insights from the graphic design industry to establish your expertise and increase your visibility to potential recruiters.
Points to keep in mind:
– Fill in all the details in your profile and write an impressive summary.
– Put a professional profile picture.
– Add your portfolio to your profile. Make sure that the portfolio showcases your skills and expertise.
– Reach out to employers who are looking for a graphic designer via LinkedIn messages.
– Apply for jobs in the LinkedIn job search section.
● Job Portals for Remote Workers
There are dedicated job portals for remote workers that can be very useful if full-time graphic design is what you're interested in.
You'll find a lot of graphic design jobs on these portals:
– flexjobs
2 – For Freelance Graphic Designers
Freelancers have multiple channels to tap to make money online. Since they have no cap or limit to the amount of work they can take up, it is best to have a profile and portfolio on most of the below-mentioned platforms for maximum exposure.
You never know where your next client could be browsing!
● Upwork
UpWork is a platform where freelancers and clients meet. You can approach the clients of your choice by using "connects" (an in-platform currency).
● Behance
Acquired by Adobe in 2012, Behance is a community of artists and designers from across the globe where they showcase their work.
It is a great place to interact with fellow graphic designers, and there are high chances that a client might like your work and offer to buy your art/services as a graphic designer.
Your Behance profile can also act as a portfolio.
Besides these, you can also look for freelance work on LinkedIn, Fiverr and Dribbble.
3 – For Remote Entrepreneurs – Graphic Design Business
This is a broad area for you to explore.
There are plenty of things you can do as a remote entrepreneur that specialises in graphic design. What are your options?
● A service-oriented company
If this is your plan, you will build a team of graphic designers who will work on tasks allotted to you by a client.
This is an agency model where you don't produce any products. Instead, you work on client briefs and deliver designs accordingly.
These designs could be social media posts, portfolios, menus, product packaging design, and more.
You can find clients for this type of remote business model almost anywhere, from LinkedIn and UpWork to Behance and other social media networks.
The idea is to build a portfolio that showcases your company's credentials, pitch, pitch, and pitch!
● A cool tee company
If custom-designed T-shirts are what interests you, then it's time for you to get down to it and become a remote enTEEpreneur!
You can choose to sell these on your own via setting up a shop using Shopify.
You can also use shop features on social media platforms like Instagram and Facebook.
Build a small remote team that can take care of the logistics, packaging, and inventory while you can focus on the designs.
If T-shirts are not your thing, consider mugs or any other type of object you can create fantastic designs on.
● A blog and a vlog
There are content creators, and then there are creative content creators.
You're the latter because you'll be able to decorate every piece of content you produce.
It's all about the aesthetics these days, so the ball is in your court. A content creator is an entrepreneur because of the brand they create once they hit the fame numbers.
Once people start believing in what you're telling them, get ready to create merchandise and collaborate with brands that can earn you a living and make money online.
What will you talk about in your blog? Tips, tricks, and the 'how tos' of the graphic design world.
Use visual platforms like YouTube, Instagram, Facebook, Pinterest, etc., to increase your visibility and gain more followers.
There are plenty of other ideas you can come up with. As a remote entrepreneur, you have the liberty to build a team that works for you.
You can implement all of the above ideas as a freelancer to make money online. You'll only need to work a little harder if you're going to do it solo. It could also lead to burnout.
For these ideas, it is best to have a team, even if small, to work with you so that different tasks can be divided.
A Graphic Designer Can Do Anything
Designers have magical powers. They can revisualise the world and repaint it on a digital canvas.
Everything visible to our eyes has been designed by someone or a group of people with an excellent aesthetic sense. However, having talent isn't enough.
Making money online with graphic design is about taking that extra step to showcase your talent to the world.
So, take your pick, choose your path, install those tools, and get started to make money online this year!
Author Bio: Aneesha is a Content Contributor at Think Remote. Her love affair with writing began when she was only ten years old. As she grew up, filling the pages of her diary with poetry transformed into writing real-life stories, experiences and informative articles for national and international publications. With more than a decade long experience in content marketing and business development, her love for all things "communication" is seen in everything she does.